How to use Cortana with Microsoft Edge on Windows 10
By Mauro Huculak last updated
Cortana comes built into Microsoft Edge, and in this guide, we'll show you everything you can do to get the most out of the assistant when you surf the web.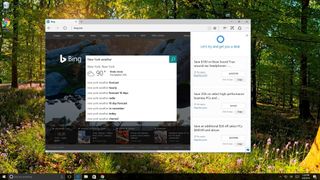 Cortana is one of the biggest features on Windows 10. The digital assistant can quickly help you to create reminders, find files and settings, keep you informed with latest news and things that are more important you, and an array of other things.
The digital assistant also integrates with the Microsoft Edge web browser on your Windows 10 PC. When you navigate certain websites, Cortana will pop-up in the address bar with relevant suggestions that help you get done things faster.
Here we'll explain and walk you through the things you can do with Cortana when you're surfing online using Microsoft Edge.
How to enable or disable Cortana on Microsoft Edge
Cortana on Microsoft Edge is not a different version of the experience on the desktop. It's actually the same Cortana that you know and love, just extended to the web browser.
While there aren't any specific settings you need to configure to start using the assistant on the browser, you'll need to enable the experience if it's disabled manually.
To enable or disable Cortana on Microsoft Edge, do the following:
Open Microsoft Edge.
Click the menu button. It's the three dots button on the top-right.
Click Settings.
Scroll down and click View advanced settings.
Turn on or off the toggle switch for the "Have Cortana assist me in Microsoft Edge" option.
How to use Cortana on Microsoft Edge
Microsoft has integrated Cortana on Edge in a non-intrusive way. Once the feature is enabled, you won't see the assistant until it makes sense. When it makes sense, you'll notice Cortana's circular icon jumping up and down in the address bar at which point you can simply click the address bar to interact with the assistant.
Although Cortana is always evolving and future updates may introduce a different set of functionalities, there are four main scenarios where you'll see Cortana trying to offer suggestions in the address bar, including:
Planning to dine out: When you're planning to eat out, and you visit a restaurant website, Cortana will be able to offer information, such as hours, contact details, directions, and menu.
Shopping online: On online retailers websites (e.g., Microsoft Store, Best Buy, Staples, eBay, Macy's), Cortana can assist you by offering discount coupons for certain items that can save you money.
Websites with apps: When you're a visiting a website and Cortana knows it has an app that helps you make things easier, the assistant will tell you where to download the app.
Watching music videos: Whenever you're watching a music video, the assistant can also pull up the lyrics of the song or a link to listen or buy the song from various sources, including Groove, Amazon, and iTunes.
It's worth pointing out that you can't force Cortana to appear on the address bar. It's a feature designed only to appear when needed. In addition, there are a number of factors that will dictate whether Cortana can help you or not. For example, places like restaurants, online retailers, and other places not only they have to include a proper design , but they also need to make their data available.
How to get quick answers using Cortana on Microsoft Edge
Cortana can also provide assistance when you're visiting a web page, and you want to know more about a certain topic. On any web page, you can highlight a word, phrase, or even an image to get more information.
To know more about a topic or to define a word, do the following:
Highlight the word, phrase, or image.
Right-click the content and select Ask Cortana.
When asking Cortana about a topic, you'll see a flyout jumping from the right surfacing relevant data about. For example, if you're asking about a particular location, you'll see a map, information usually pulled from WikiPedia, weather, images, and related search results.
In addition, keep in mind that Cortana is powered by Microsoft's Bing search engine, which means that Cortana will also appear as you type a search term.
For example, similar to Google, you can go to Bing.com and type a search query, such as "when is Thanksgiving 2016" or "what's the weather like?", Cortana will provide you the answer using Bing's knowledge before you even press the search button.
These are called "instant answers", and these are the same kind of answers you would get using Cortana on the desktop or using any other web browser.
Important: Please note that Cortana is not available everywhere, which means that getting assistant using Microsoft Edge is only limited to a number of regions. Furthermore, even if Cortana is available in your location, keep in mind that some features may be limited to certain regions. For example, Cortana's ability to offer coupons is only available in the United States.
Mauro Huculak is technical writer for WindowsCentral.com. His primary focus is to write comprehensive how-tos to help users get the most out of Windows 10 and its many related technologies. He has an IT background with professional certifications from Microsoft, Cisco, and CompTIA, and he's a recognized member of the Microsoft MVP community.
When will Microsoft realise that they need to give this to the whole world and not few selected countries. I understand the support for them but there are a lot of people outside those areas that can perfectly speak english but can`t use Cortana ....

Switch language or region then. But they are building and they are a US based company so it's only natural US gets first. But they are building so hang on.

Exactly that's the issue danj210, i don't want to change those regional settings

Upgrade to Annivarsary update on windows 10. Could use cortana on you pc

I am on of those guys! I live in Bangladesh and my native language is Bengali. But I can speak well in English too!

I live in the Philippines and I have Cortana on both my PC and phone. After updating to Anniversary Update, I screwed up with a few settings and found "Cortana Language". I selected English (United States) without having to change my region. Tried the same with my phone later. Now I have Cortana on both. :)

Right place where she needs to be for the bigger screen. I want to see Cortana act like Clippy, but a lot useful than just being a gimmick.

is Cortana on the address bar a US only thing? I'm in the UK and even with her enabled I don't see her there.

It only appears for directions, coupons and ratings for restaurants and retail.

In all honesty I havnt found Cortana useful in my day to day life at all, not a single thing. As soon as Todoist integrates Cortana then I may use it but why would I want to air my tasks when I can type it.

Yes, I would love to have insight.

Great Features....but the only answer I get is:
I'm afraid, can't help you in your Region...
use Bing search, meh

It's a starting point - functionality and regional coverage. I'm not particularly interested in restaurants, shopping etc so have limited interest in it at this point, though it's been very useful on my phones. As it improves for all technology, then I'll find it even more of a near-essential tool. At this point, it's not performing as well on mobiles as I would have expected, even for fairly simple things like getting directions - though user error is in place too.

I literally only use it to get to my programs quickly.

Im looking forward to VIV (from the team that created Siri) It looks amazing, and wil set the bar really really high, have a look its in a different AI league than anything Google, Apple or MS have, hope MS buy them!!

How can I get my boyfriends calls,texts,& messages http://www.windowscentral.com/how-use-cortana-microsoft-edge-windows-10
Windows Central Newsletter
Get the best of Windows Central in in your inbox, every day!
Thank you for signing up to Windows Central. You will receive a verification email shortly.
There was a problem. Please refresh the page and try again.