HP Spectre x360 vs. Dell XPS 13 2-in-1: How to tell which laptop is right for you
By Cale Hunt last updated
Should I get the HP Spectre x360 13t or the Dell XPS 13 2-in-1?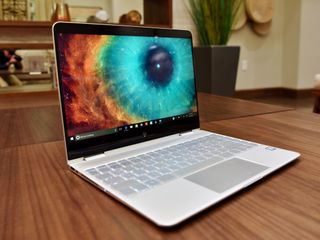 Both Dell and HP have really stepped up their ultrabook game during the last few years. The XPS 13 2-in-1 (opens in new tab) is a recent addition to Dell's XPS line, while the HP Spectre x360 13t (opens in new tab) has been chosen as a top convertible by many.
Are you in the market for a new ultrabook but you're not sure which is best for your needs? We focus on the differences between the HP Spectre x360 13t and the Dell XPS 13 2-in-1 to make it easier for you to choose between these two worthy devices.
Stacking up the specs
Category
HP Spectre x360
Dell XPS 13 2-in-1
Processor
Seventh-gen Intel Core
i5-7200U/i7-7500U
Seventh-gen Intel Core
i5-7Y54/i7-7Y75
Display size
13.3 inches
13.3 inches
Display resolution
1080p touch
4K touch
1080p touch
1800p touch
RAM
8/16GB
LPDDR3 1600MHz
4/8/16GB
LPDDR3 1866MHz
Graphics
Intel HD Graphics 620
Intel HD Graphics 615
Storage
256/512GB, 1TB
PCIe NVMe M.2 SSD
128/256/512GB
PCIe NVMe M.2 SSD
Battery
57.8WHr
46WHr
Wireless
Intel 8265
802.11ac
Bluetooth 4.2
Intel 8265
802.11ac
Bluetooth 4.1
Dimensions
12.03 x 8.58 x 0.54 in
305 x 218 x 13.7 mm
11.98 x 7.8 x 0.32-0.54 in
304 x 199 x 8-13.7 mm
Weight
2.85lbs (1.29kg)
2.7lbs (1.24kg)
Ports
2x USB-C Thunderbolt 3
USB 3.1
3.5mm jack
USB-C 3.1
USB-C Thunderbolt 3
microSD
3.5mm jack
Convertible
Yes
Yes
Windows Ink
Yes
Yes
Price
From about $900

(opens in new tab)

From about $950

(opens in new tab)
Display
While both displays are the same size at 13.3 inches, the Spectre x360 comes in a 4K option that is also compatible with the HP Active Pen and Windows Ink. (There is also now a Full HD configuration that works with Windows Ink.) The XPS 13 2-in-1 only goes up to 1800p — still a gorgeous IGZO display — so if you want 4K, you have to go with HP. All models of the XPS 13 2-in-1 are also compatible with Windows Ink, but the Dell Active Pen is sold separately.
HP did a great job reducing the bezel on either side of its display, but there is still quite a bit along the top and bottom. If it's the absolute least bezel you want, the XPS 13 2-in-1 is still rocking the nearly bezel-free design. If you're interested in nothing more than a 1080p touch display, Dell edges out HP.
See at Dell (opens in new tab)
Performance
HP and Dell have some great customization options on their websites, making the performance category pretty much a draw except when it comes to processors. The Spectre x360 comes with either an Intel Core i5-7200U or an Intel Core i7-7500U processors, and the XPS 13 2-in-1 has the lesser Intel Core i5-7Y54 or the Intel Core i7-7Y75. Comparing the two Core i7 processors, the i7-7500U in the Spectre x360 delivers more speed, but the i7-7Y75 uses only about a third of the power.
Geekbench 4.0 benchmarks (higher is better)
| Laptop | Processor | Single-core score | Dual-core score |
| --- | --- | --- | --- |
| XPS 13 2-in-1 | Intel Core i7-7Y75 | 3,680 | 5,821 |
| HP Spectre x360 | Intel Core i7-7500U | 4,100 | 7,469 |
| XPS 13 2-in-1 | Intel Core i5-7Y54 | 3,136 | 4,589 |
| HP Spectre x360 | Intel Core i5-7200U | 3,688 | 7,181 |
If it's processing speed you need, you'll want to go with the HP Spectre x360.
The XPS 13's battery is a bit smaller at 46WHr compared to the Spectre's 57.8WHr, but, again, the processor sucks up less power. Bottom line: Both laptops will last you a workday under normal circumstances.
The XPS 13 2-in-1 (opens in new tab) does not have a 1TB SSD option, so if you absolutely need a lot of internal storage, you'll likely want to go with the Spectre x360. Also, the XPS 13 2-in-1's base configuration has 4GB RAM and a 128GB SSD — if you'd like a well-built laptop that looks flashy but doesn't break the bank, there's really no reason not to go for the cheaper HP Spectre x360 (opens in new tab) base model with 8GB of RAM and a 256GB SSD.
Function
One area where the Spectre x360 clearly wins is the IR camera. It has a facial-recognition function that works with Windows Hello, letting you log in just by looking at your screen. The camera is also placed above the display in the traditional spot, whereas the Dell XPS 13's webcam is below the display. That's not a huge deal, but some people dislike the placement. To make up for lack of an IR camera, the XPS 13 2-in-1 has a fingerprint reader that's compatible with Windows Hello.
Ports are pretty much a draw. the HP Spectre x360 offers an extra USB-C Thunderbolt 3 port but has one less USB 3.1 port and lacks the SD card reader in the XPS 13.
If you don't use ports other than to connect a few devices here and there, you can get away with either option. Those of you who use a lot of peripherals through Thunderbolt 3, however, will appreciate the extra port on the HP Spectre x360.
Before the XPS 13 was available in a 2-in-1 model, it was easy to direct buyers in the right direction. If you need a laptop that folds around into tablet mode, grab the HP Spectre x360. Not so anymore. If you absolutely need a laptop that is more than just a notebook, both are great options thanks to a durable build and similar hardware. It's best, in this case, to look at the display and compare resolution and price.
Design and mobility
If you're in the market for an ultrabook that looks like it cost a fortune, either of these will do. The Dell XPS 13 2-in-1 has an aluminum chassis with a carbon-fiber inside that is soft to the touch and doesn't get hot when you're putting it through a heavy workload. The HP Spectre x360 likewise has a beautiful aluminum body — out Daniel Rubino, in his review, called it "the top of its class regarding design and premium feel." The only downside, he continued, is the lack of a soft-touch interior like the XPS 13 has.
The keyboards on both laptops have comfortable key spacing and sufficient key travel for easy typing. The touchpad on the Spectre x360 is not a Precision touchpad like the XPS 13's, and you might notice a bit of a delay when using it. It's also quite a bit wider than the touchpad on the XPS 13, and some of you with large hands might notice you're hitting the sides once in awhile when typing.
To be fair, the size and weight dimensions are almost the same, but those of you looking for the absolute lightest and smallest laptop will be interested in the marginal difference. The HP Spectre x360 weighs 2.85 pounds (1.29kg), while the XPS 13 2-in-1 weighs 2.7 pounds (1.24kg).
Why is the XPS 13 2-in-1 lighter? It has more of a tapered design that gets thinner near the front. The back of the XPS 13 is about the same thickness as the Spectre x360 is across its entire body. The Dell XPS 13 also has a marginally smaller chassis thanks to the InfinityEdge display. If it's the absolute smallest, lightest laptop you seek, the XPS 13 2-in-1 should be your choice.
See at Dell (opens in new tab)
Price
The price difference is pretty close when you compare the XPS 13 2-in-1 (opens in new tab) with the Spectre x360 (opens in new tab) — only about $50, and the Spectre x360 is the cheaper of the two. Note that you're getting 8GB of RAM and a 256GB SSD in the Spectre x360, whereas you're getting 4GB of RAM and a 128GB SSD in the XPS 13 2-in-1.
As you scale up in specs, specifically looking at the 4K Spectre x360 model and the top 1800p XPS 13 2-in-1 model, it's clear that the HP Spectre x360 remains cheaper.
See at Best Buy (opens in new tab)
HP Spectre x360 vs Dell XPS 13 2-in-1: Conclusion
In most scenarios, the HP Spectre x360 is the better laptop. Choosing a laptop for yourself will, of course, ultimately come down to your gut feeling, but you now know what you're getting into. Either one will serve you well over the course of their lives, and you won't be disappointed with either of these laptops.
Cale Hunt is a Senior Editor at Windows Central. He focuses mainly on laptop reviews, news, and accessory coverage. He's been reviewing laptops and accessories full time since 2016, with hundreds of reviews published for Windows Central. He is an avid PC gamer and multi-platform user, and spends most of his time either tinkering with or writing about tech.
Let's hope next year Dell move the webcam to the regular position on these XPS models.

If you put the dell in tent mode the webcam is in the traditional place, just sayn'

I know that. But 99% of the time I use my web cam, it's with the device in a regular laptop mode. And the shots I've seen of the XPS webcam location looks like you're looking up the person's nose.

The dealbreaker for the HP are those silver keys. Dells keyboard much easier on the eyes

The Dark Ashe Silver model of the HP has black keys so it's not really an issue anymore.

And they get scratched easoly

First world problem, the webcam is in a terrible place.

HP lasts longer than Dell in all aspects.

Anyone try the 15 inch model?

As someone who has owned both, along with the Toshiba satellite radius, I have to say that, ideally, the Dell is the best machine. It's the best looking. The chassis is the perfect size. It has the best screen (That includes the Toshiba's 4K screen; haven't seen the HP's 4K screen) And the performance from the 4W cpu is just fine in day to day use. The webcam location is irrelevant to me. I ran AutoCAD and Photoshop, and even an older 3D game, and the XPS handled all of it perfectly with no throttling. Meanwhile, the HP, with its 15W cpu doesn't feel any faster at all. The screen doesn't look as nice. And the silver keyboard is awful (unless you are using it in a dark room with the backlight) both visually and to type on. The touchpad is also finicky as well. Fortunately, for me, I use the touchscreen most of the time, so I can live with the lousy keyboard and touchpad. As far as the 4K screen; I really didn't see the point when I had the Toshiba. Most websites are not built with 4K in mind. You can tell the images are almost all lower resolution and scaled up by windows. The text is sharper, but even at 1080 it's plenty sharp. And the scaling of windows itself is not always correct. Especially on AutoCAD and photoshop. Many of the UI elements are still tiny. There is a fix, but all it does is render at 1920x1080 and upscale. So for now, a 1080 screen is the way to go. I would have chosen the Dell; had I not had to return three of them. The first one would not turn on. The second one had a touchscreen that constantly stuttered. The third had the same stutter in the touchscreen, and added a stutter to the mouse cursor as well. (It's worth noting that all three came from Best Buy, not from Dell direct) I used to be a Dell guy, but I have had nothing but problems with their machines lately. The XPS, if you get one that works, is handsdown the better machine. But I wasn't interested in trying a fourth, so I exchanged it for the Spectre. Maybe when they refresh the XPS, I will give it another try.

It's also worth nothing that the XPS supports power sleep (or whatever it's called, I forget)
Wifi remains on in sleep mode, so when you turn it back on, it's ready to go immediately (and uwp apps will update while in sleep mode as well)
The HP does not. When you bring it out of sleep mode, the wifi chip has to power up and reconnect to your router. With some routers this can take 15-30 seconds. Which isn't a huge deal, but is kind of agonizing in this smartphone age when you want to quickly look something up and instead have to wait. Luckily it's faster with my home router (uverse gateway) which connects, I would say, on average, in about 5-10 seconds. At work (comcast gateway) it takes over 30 seconds.

HP No Contest. Dell makes junk, plain and simple.

That's fun, I was thinking exactly the opposite, I had an HP TX1000 notebook that had the motherboard fail in it's 13th month, and every Dell notebook I've had has been crazy durable. Even the Inspiron 8500 from 2003 still works. I'll never buy HP again and Dell has never let me down. Living a few miles from HP HQ makes that situation entirely discouraging, but the reliability speaks volumes.

One more clear HP fanboy review! Are you paid by HP to do this? More noise, more heat, lower quality screen, lower class inner materials, heavier, larger, bigger battery that lasts shorter time...but somehow you conclude it's a "better laptop"?!?

How can I know which models of x360 support active pen?

I've always been a fan of the XPS. But, I also read a lot of reviews on it, and almost all of them are people who have to return it because of performance issues. They say the chance of getting one that works is pretty slim. Anyone else know about this issue?

Please note that the XPS model does come in a 3200x1800 resolution with a touchscreen. In comparing both screens I found the Dell XPS 13 2 in 1 to look better in an outside setting. The screen although slightly less than 4K looked brighter and shaarper to me.

Hey Cale, you're gonna need to check again because Dell does offer the 2 in 1 with the same 3200x1800 quadHD display as they do on the notebook XPS13. You have to pan right when you're on the system select page.
Windows Central Newsletter
Get the best of Windows Central in in your inbox, every day!
Thank you for signing up to Windows Central. You will receive a verification email shortly.
There was a problem. Please refresh the page and try again.