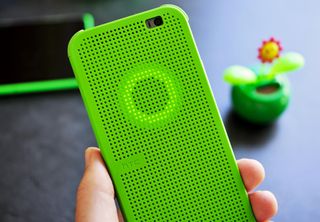 A lot can happen in a week. New apps join the Windows Phone Store or Windows Store. Your favorite apps can get a big update with a new look or new features. Device rumors come and go. Seven days might not seem like much, but it can be an eternity in the tech news cycle. Every week we're going to compile the biggest stories into one post, so you never fall behind – In Case You Missed It.
Windows Phone
HTC One (M8) for Windows
Microsoft + Windows
Apps
Games
Xbox
Misc.
Thoughts from this past week
I was prepared to not like or want the HTC One (M8) for Windows, but I'm starting to reconsider after seeing it in action. It's a beautiful device running my favorite operating system. The Dot View case with Cortana looks very cool.
I'm just still hesitant about HTCs overall support towards the Windows Phone platform. The HTC 8X has yet to receive Windows Phone 8.1 while countless Lumia handsets have received that very update. There's no way to predict how HTC will support the One (M8) with Windows going into the future, but I'm hesitant. Fool me once, shame on you; fool me twice, shame on me.
The HTC One (M8) for Windows was announced as a Verizon exclusive, but AT&T quickly announced they'd be carrying the handset "soon". An international release is likely at this point and I'm holding out hope for T-Mobile to pick up support as well. It'd be fun to play with a high-end device that isn't a Lumia.
On the other hand, the Lumia 830 might be a sleeper hit if priced right. It's expected to bring PureView camera technology into an affordable handset. It'll also be on the smaller size, which should appeal to those tired of the phablet craze and want their phone to be the same size as a phone.
Two weeks and some odd days to go until Destiny lands on the Xbox One. Can't wait to spend hours exploring. That is until the Master Chief Collection comes two months later.
ICYMI Mailing list
Subscribe to my newsletter to get the above content and more delivered to your inbox. I'll share the above content with you, plus share a few extra links to cool stories and products from around the web. You can even submit links to your blog post or apps that you'd like to be shared with the community. Just send me a tweet (@samsabri) with the URL to your story or app and include the hashtag #ICYMI. Note: I'll be sending out today's list shortly and include info on how to win $15 to the Windows Phone Store.
Share your thoughts on this past week of Windows Phone, Windows, Xbox and Microsoft news!
Get the Windows Central Newsletter
All the latest news, reviews, and guides for Windows and Xbox diehards.