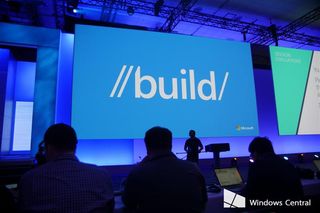 A lot can happen in a week. Seven days might not seem like much, but it can be an eternity in the tech news cycle. Between Windows news, hardware and software developments and Microsoft's fast-paced movements throughout the technology landscape, it's never easy to keep your hand on the pulse of technology. Not to mention everything that's going on right here at Windows Central!
Every week we're going to compile the biggest stories into one post, so you never fall behind – In Case You Missed It (ICYMI).
Windows
This week's news was obviously dominated by Build 2015 and all of the goodies that Microsoft has in store for the Windows platform.
A big part of that was about courting developers of other platforms to extend their work to Windows 10. But this wasn't about begging and pleading, it was all about showing them how easy it would be to bring their creations to the Windows family of products.
Microsoft announced they had created a simple, streamlined process for compiling both Android and iOS apps for Windows 10.
To prove their point, Microsoft dropped a bomb, revealing that Candy Crush Saga, the blockbuster game that just made its way onto Windows Phone fairly recently, was in fact the product of their new compiling process.
Other news out of Build 2015 saw Microsoft's new browser, known up until now only as Project Spartan, don its new moniker, Microsoft Edge. Despite the move to a new browser, Microsoft couldn't help but give a nod to Edge's predecessor, Internet Explorer, in the design of its logo.
We also saw how the Windows 10 experience will compare on PCs, tablets, and phones. It was announced that Continuum would be built into Windows 10 for Phones, which will allow you to connect to an external monitor and essentially use it as a PC. However, make no mistake, you will need a new phone for that to happen.
Additionally, we got a taste of what Windows 10 will be like on tablets
Things wouldn't be complete without a look at Windows Holographic Platform for HoloLens. Though it wasn't as in depth as everyone would have liked, Microsoft did promise to give us more at E3
Other notable items:
New transparency effects and Cortana integration spotted in unreleased Windows 10 build
Microsoft
We were there live at Build 2015, giving you everything you need to know.
Microsoft's goal is to get Windows 10 on one billion devices within three years of its release. That challenge will only be met by beefing up their other products and services surrounding Windows 10 and playing nice with other platforms.
For that reason, it was announced that the new Visual Studio Code will include native support for OS X. Not only that, but for the first time, Mac and Linux developers will also have access to the .NET Core.
Developers will also be able to port their .NET and Win32 apps over into the Windows Store.
And on the business side of things, Microsoft announced new data services for Azure developers and exciting new third-party app and add-in API plans for Office.
Even with all the exciting times ahead, there are still some issues of past and present to deal with. The Nokia acquisition is still on the books, and Microsoft warned shareholders of a possible massive future write-off because of it.
Other notable items:
Microsoft announces Windows Store for Business
Carrier billing for apps will be extended to all Windows 10 devices
The full SDK for the Microsoft Band is now available for developers
Extra and Miscellaneous
Away from the hubbub of Build, there was some positive financial news from some of the major carriers around the world. T-Mobile reportedly gained 1.8 million new customers in the first quarter of 2015, while EE boasted a total of 9.3 million 4G customers.
AT&T is doing well enough that they have decided to acquire Nextel Mexico for a sum $1.875 billion. Sprint had some news as well, teaming up with Boingo to offer their customers free Wi-Fi in airports across the United States.
In other news, our old friend Nokia said that despite previous rumors, they do not have plans to manufacture smartphones.
And closer to home, we gave you a Mobile Nations Community update.
Other notable items:
Share your thoughts on this past week of news! And we'll be back again next week to do it all over again.
Windows Central Newsletter
Get the best of Windows Central in your inbox, every day!
I don't think anyone had in some case missed this awesome week.

Forgot to mention the Game Maker Studio preview...
They announced their W10 universal app export solution at build!
Slick solution for hobbyist developers

Anyone else thinking that MS may release Surface Phones as their High End/Enterprise level range with continuum? And Lumias become the Low End/Consumer range?
Or would they be better to keep Surface brand for tablets and the Lumia brand for phones?
Please note I don't think high end = enterprise, lower end = consumer exclusively, there are lots of cross overs. Yes, this week has been awesome regarding tech news!

I personally think they'll make a superb comeback with a high-end Lumia (or two, judging by the recent report this site featured).

My thoughts: Windows Build actually got me excited for winodws 10 for a change. Especailly the way they presneted whats gong on behind the scenes. I'm still worried about the summer deadline though. I think with all the windows 10 projects and new features microsoft is showing, it sounds like a mountain of work. Even more my expereince with windows 10 technical preveiw is that its far from finished on many fronts. The amount of feedback I've given, but also other feedback I've read is that are still many basiscs to get right. I think if the business model states it to be ready at summer, it will still be a beta at best. I am looking forward to using continuum. I think this is going to be one of the more exciting features. It even got me thinking that I just might sell might desktop and windows tablet devices and do everything with my lumia 1520 and smartTV. Now that is a powerful suggestion that Microsoft has invoked!!!! And if Mircosoft still holds true that current lumas are able to upgrade to windows 10 (with hopefully minimal exceptions to feature excepterions per lumia device because of hardware restrictions) for free, that's a powerful thought too! Another thing I'm looking for is the continued evolution of stylus support in winodws 10. Having used a stylus on a windows device for over a decade, winodws 10 has not shown anything earthshattering so far. But what I can tell from my experiences with the "new" writing pad (on the virutal keyboard) is that ink-to-text recognition does in many instances seem faster and better than the "old" one. But I was expecting more. I thinking the wring pad hasnt changed for over a decade. It should start to comer "out of the box" and be implemented as an integrated sulution into textfield elements and canvasses. I think this will make the stylus a more immersive experience in windows 10 for notetaking and tablet devices. It woulod emulate a more natural form of interaction with the device as a pen-and-paper like experience. I already thought that windows 8 platform was the right platform to already implement it. Now I convinced that winodws 10 must have. If not 10.0, then certainly 10.1. It's the missing piece of the puzzle for me in the surface pro line. I use a surface pro daily and wish I could do more with interacting with windows UI elements such as writing a handwritten note in email with digitial stylus ink, write search queries and webadresses in the search bars and adress bars, annotate documents in word, escel and powerpoint, being able to correct spelling mistakes with the stylus in word documents use quick stylus gestures to navigate quickly bewtween apps, be able to translate pragraphs of notes in onenote to text, instead of single line sentences, and have the immersive experience of live ink-to-text recogntion "in-line" recognition on the wholoe canvas of onenote (instead of the constraints of a single line through the seperate app of the writing pad). The api is there, expamples of software implementing this are already there (see myscriptmobile app, windows journal, and outlook desktop app; The best features of all of these need to be combined into the UI itself, not boxed into an app). Notable items: I saw the build session of continuum. Files app on windows phone was projected to the screen. App looked beautiful and simple. Got me thinking, why there isnt a touch optimized file explorer for windows 10. I tried the wiinodws 10 TP app in tablet mode on a surface pro, but the apps UI is optimezed too much with mouse and keyboard use. But I also use file explorer with touch to drag and drop and edit files around. The UI elements for touch are still too small and the ribbon is too cluttered. Got me wondering why there still isnt one with touch optimezed support, for example in tablet mode. It is not true that with file exploring the mouse and keyobard is per se the best toolcase use scenario. I can be just as fast with touch, if only the controls preview icons and control icons were optimized for touch. That's what the windows phone file explorer in continuum mode projection on the screen showed me!!! As far as my experiences go with windows 10 TP on my surface pro between updates 9926-11074 (so far) I am seeing a lot of improvements with the desktop side of things. But the tablet side experience is still shaky at best. The vibe I'm getting the potential of doing more with action center is being undervalued and that the usecase of the taskbar in tablet mode is being overvulued. In app navigation I am happy to see that slowly the hamburger side menu is starting to emerge as a consensus. It's not perfect, as there a bar almost permanently eating up precious screen real estate and esthetically perhaps disrupting the clean app presentation and arguably the symmetrics of visual design in an app. But I am slowly enjoying its usecase in tablet mode. It's better than the windowed windows app ports where accessing the appbars is done through an unfreindly and mechanical mouse-and-keyboard like intermediary function of "app...command" as an engineering solution. Say bye bye to the simplicity of "a swipe away".I think that is why I still like windows 8 swipe gestures for app bars and the charms menu so much. Immersive yourself in the app and get rid of actionbutton and menu elements out of view untill you really need them (with a swipe!). It felt I as using apps in a more distraction free way. With the (almost) permanent hamburger menu's, however familiar, it has a more business classy feeling, distracting and a less "personal" experience. I think that is what brings up my loathing of the discussion on navigation or other usecases of the hamburger menu. Windows 10 is taking shape. It's getting there but it still needs a lot of work. In my opinion summer is too soon. I see it kind of ready for desktops and laptops with mouse and keyboard for a frist "hmmm, okay" experience. But I don't see it ready for a usecase on a surface pro yet, because tablet mode is still in its infancy and many navigational quirks have to be solved in the interaction between dekstop, tablet, search and cortana "mode" in both landscape and portrait mode orientations. A feeling tells me its difficult to be tempted for a free upgrade and wait for a more mature OS (wild guess) in 12-18 months. But then again not applying to the free upgrade means not being involved in further improving the system through the insiders hub which means potential (but significant enough?) loss of impact for change. A powerful compromise. I must admit micorsoft did a good job on that in the PR deparment, if this was their intention.