Here is how to install Media Center on Windows 10
By Daniel Rubino last updated
Windows Media Center hack now available to run on Windows 10!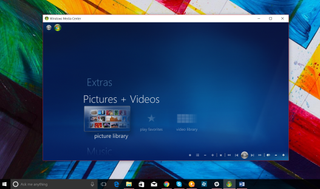 Microsoft's Windows 10 is a big hit with many users, but not all PC users are happy with the upgrade. The depreciation of Windows Media Center began way back in 2009, but fans of the media add-on have been clinging on to it ever since. Indeed, if you were lucky enough to have Media Center on your PC, the app would uninstall with the Windows 10 upgrade. Instead, users were given a free DVD player as a consolation prize, which hardly makes up for the loss of functionality.
Now, users at the MDL forums have managed to create an all-in-one package to reinstall Windows Media Center on current Windows 10 builds (including 10240 and 10532). The project had been in the works for a few weeks now, but starting a few days ago users could successfully install the center to their PCs. The site Windows Blog Italia wrote up on how easy it is to accomplish and indeed, we were able to successfully install it on our PC with ease.
Install Windows Media Center on Windows 10
Note: Before we start, we should caution you are download files from an unofficial source. As such, you should heed with the utmost caution when installing as this constitutes a security concern. Although there are no known side effects make sure you have your PC backed up just in case.
1. Download
Download and extract WindowsMediaCenter_10.0.10134.0.zip from this address.
2. Run
Right-click on _TestRights.cmd and click Run as administrator
3. Reboot your PC
4. Run 2
Right-click on Installer.cm and click Run as administrator
5. Exit
After the installer runs, click any key to exit
Now, doing a simple search for Media Center reveals the app installed on your PC. You can then pin it to your Start menu or taskbar for quick access. Due to our configuration we have not confirmed how well it runs with a TV signal setup, so your mileage may vary. Otherwise, despite looking like a throwback to Vista, the app runs just fine on our new 2015 Windows 10 machine.
Let us know in comments if Media Center is something you still you use and whether you will be using this workaround!
Source: MDL Forums (registration required); via Windows Blog Italia
Daniel Rubino is the Executive Editor of Windows Central, head reviewer, podcast co-host, and analyst. He has been covering Microsoft here since 2007, back when this site was called WMExperts (and later Windows Phone Central). His interests include Windows, Microsoft Surface, laptops, next-gen computing, and arguing with people on the internet.
1) The problem with Kodi is that it relies on Backends like NextPVR which virtually always fails to give a playable recording. I tried about six or seven times with different backends but most of them either failed totally or gave a recording that ended half way through. Much is made of Kodi but I have found it to be honest, way below what most of the hype created states, 2) Mediaportal also failed dismally as far as recording TV was concerned. I still find that it may be old but WMC reliably records and plays virtually anything you want use successfully. Regards Paul

Kodi does not support cablecard "copyonce" content. Kind of useless for cable.

Kodi can't record encrypted or non-encrypted cable television.

Can't rememebr which version it came out with but Kodi now supports multiple PVR backends (argustv, nextpvr, tvheadend...) for recording and playing tv.

Yes, you are right there are no other alternatives if want to get rid of your cablebox and watch or record encrypted channels. I installed it , and it was a complete waste of time. With this hack, You can't even watch copy-once protected/encrypted channels due to licensing. Funny how people say they are happy its gone and that it's useless. That's because they like paying their cable company $10-$20 each for cablebox/DVR.

Kodi can't handle live TV. It has to go through something like MythTV which is horrible.

You can actually use Media Center as a backend for Kodi - ive done this previously and was the best experience i had of any backend.

you must have never used SageTV. :) bought by Google some years ago (for Google Fiber TV) and now recently, made open source.

Using an HDHomerun, Kodi can defintely handle live TV.

I cannot get latest KODI to find any channels on HDHomerun addon, yet the HDHr viewer works

I prefer MediaPortal now that I have switched, but I don't have cable. I know some people with cablecard are happy they can keep Media Center on Windows 10.

Sorry to ask the dumb question but... if media center is the only thing that can watch and record comcast content then why are so many people happy with alternatives unless they don't care for cable content? in which case... why not just buy any set top box or even better a rasberry pi/intel nuc/really any cutsey small form factor computing device with hdmi out, put the OS of your choosing on it and go STRAIGHT to the web based services web sites? or even better! download the app for netflix, hulu, amazon etc. I am re-working my htpc options as I just bought a new home and no one seems to address this or care that our ONLY alternative to media center for getting cable provider content is GONE with Media Center. I just don't get it.. There are plenty less complex options for accessing local content and or web based content like hbo go, pandora etc. Many options that don't require the administrative overhead and setup headaches etc. roku, western digital hub and streamer devices (could even pair these with a NAS if you have a huge local library like me), if all you care about is local content and web based options. Could it REALLY be the MP gui or the Kodi GUI? I have seem both and neither is so much better than a standard set-top box or a actual computing device to get that content.

I use a more or less dedicated old gaming Windows 7 PC that operates as a WMC server with a 3 TB hard drive and to deliver content to a family room 36 inch TV. I have an XBOX 360 WMC Extender driving my living room 40 inch TV. HDHOMERUN PRIME delivers up to three channels on my network. My first main use is TV recordings from Comcast cable. I record up to 8 hours a day in football season and a lot of scheduled stuff off PBS. The XBOX also gives me an easy interface to my other interest which is AMAZON PRIME. I use a WIndows Media Center IR remote control that handles about 90% of XBOX 360 functions. I also use a Wii USB wireless keyboard on the XBOX. Getting this to work smoothly requires 1 Gbit switches connected with ethernet cables across the house. I have a couple wireless connections that have to run at 300 bps. I have three Windows 10 systems. I just made the WMC hack work on all of them but I am still testing. One of them is an ASUS T100 with 32 bit W10 and it's underpowered. WMC plays recordings but it won't do live TV. I have been testing the HDHOMERUN DVR Beta software but I don't like it one bit.

ive downoaded windows media center to my windows 10 pc but cant get it to accept the extender code for my xbox 360. is there a way round this ?

Right now Kodi is not the answer, and may never be (Open Soure code can't handle DRM channels). SiliconDust's HDHomeRun DVR software, when ready, will probably be the answer. Until then it's worth considering running Windows 7 or 8.1 in a VM (Hyper-V, etc) under Windows 10. It's not a bad solution for me, but I have good specs and 32MB of RAM.

That's gotta be an old computer, mid-90's or so?

Dang! I just now realized why you said that. Cue, very cute...

you kno what... this is not a bad idea. I am still lookin gfor alternatives and this may be the best best. Simply virtualize the windows 8.1 box IN windows 10. It isn't too much of a hassel to fire up a VM PLUS if I want I can figure the guest OS to do stuff like auto start media center in full screen mode when launched.

I should warn you that I tried using Virtual PC and couldn't get WMC to run stably. I've been meaning to try again but I rebuilt my setup and haven't had the time. Maybe tonight...

I meant Hyper-V above. This time around I am going to try this. Hyper-V: P2V with Disk2VHD

Do i need a pro version of win10 to use this?

How does this mesh with copyright law? I can certainly go along with those of us who paid for Media Center being able to use it, but this looks like it is freely available to all, which certainly is not kosher with copyright or DMCA.

My thoughts exactly. Odd that WC doesn't seem to have a problem with it. Posted via the Windows Central App for MS-DOS 6.22

What so one rule applies to one blog and not another? Eesh, it's on the internet it doesn't matter where it get's posted about. As once it's on the net - it will stay on the net whether some like it or not. Edit: Well, looks like you two have got your wishes :P - "Error (429)This account's public links are generating too much traffic and have been temporarily disabled!"

I just clicked it with the same result. Good. I'll click it some more later. ;)

confirmed the link is working 3 minutes ago 11/27/2015 black friday

Piss off Posted via the Windows Central App for Android

Thank you for giving us your highly-educated opinion on the matter. We appreciate the deep thought it took you to form such an intelligent and relevant opinion. EDIT: I just clicked your name so I could see what your avatar said (it was too small for my old eyes to read). Now I do understand why it took such deep thought for you to come up with such a brilliant statement. ;)

I've heard that this procedure does not install any codec for MPEG, so it's legal. Your WMC won't play anything MPEG2 encoded until you provide them. You must have your DVD Player app gifted by Microsoft (that comes with its 14.99USD worth codec install) installed, or use some other codec from the community (don't know exactly which). Thus, THIS procedure detailed by WinCentral is perfectlty fine as far as how MPEG codecs fees are concerned.

So Microsoft gave permission for their copyrighted work to be given away free by this entity?

windows or microsoft stated that media center is now no longer supported by them and that they are abandoing it giveing it up which thus makes it abandon wear. they stopped supporting updating and copy righting it back when win 8 came out. so that makes copy right now 7 or 8 years old when it was abandon by them. when did media center get copy righted probly back in windows 98. which makes copy right pertty old copy rights only last so many years.

You obviously have no clue just how long copyrights last. You also have no clue when Media Center came out. Additionally, you don't know what abandon wear is (hint - it isn't what you think). You're probably better off deleting your comments so as not to look such a fool.

hahahaha hi love how no one responded to your troll bate !!!

they abandon it, and gave up copy right and stoped supported it back after windows 8 came out. copy rights only last for so many years and if its abandon copy right does exsit any more.

So how many years is "so many years." I'd venture to guess it's close to ten times what you think it is. And I'm pretty certain (like 150% certain) that Microsoft did not "gave up copy right". Even if they consider the software to be "abandoned" as you do, that does not eliminate their ownership rights of their copyrighted works.

unlike windows 7 or 8 win 10 comes with abilty to play all codecs I did not need to install any codec packages to play movies it just seems to auto play all formats. including DVD support. so out of box on win 10 recap i can play all codex packages with out installing them Mpeg2 avi so forth and also play DVDs if there set up as TS folders. media center installed on 10 plays every thing just fine with out needing install anything tested it on 3 computers. biggest issue with install is sound media center abilty to setup sound system does not exsit and if u put in iwndows 10 5.1 sound when u go to play movie in media center wont play it if u switch it back to stero then it is fine. if u try to setup sound in media center it just does not give you option any more.

In addition to demonstrating complete ignorance of copyright laws, you have now demonstrated that you do not know what comes in Windows 10, which can NOT play DVDs out of the box. If you install something like PowerDVD or one of its competitors, or a freebie like VLC, THEN you can play DVDs. Not out of the box. Microsoft did not pay to license the codec for DVDs (or BluRay for that matter), so you cannot play them without installing other software. Please, for the love of God, delete your comments so that you don't look more a fool.

installer doesnt appear. Just a cmd prompt for a few secs and vanish

That is because you need to run it as an administrator.

tired that did not work but my verson of windows 10 is pro i dont know if that is why

Dou you have another link Daniel? the link you posted is not accessible anymore. thanks

Useless to me, only watch bluray.:)

How can I watch my VHS on this?

Oh It's really simple......just put your VHS tape in the slot and hit play.......oh you don't have a place to put the VHS.....oh geez....

just take the blue ray disc dup it into a TS format that way it can be played as if its a DVD but it have blue ray quailty. warning tho the folder size be any where form 20 to 40 gigs. you legal have abilty to copy movies for your own use as a backup on to ur own computer sysems to host and to watch, but can not reburn and sell or sell file. if u need software to backup movies so forth so u dont have to use the disc any more best best is dvdfab

Will definitely give this a spin when I finish work. Been using MediaPortal for a few weeks since I upgraded and it is ok but would love to have WMC back.

Ditto. Spent the last three days deciding between mp, mp2 and kodi. Was settling for mp. Biggest disappoint with WMC is that the Netflix plugin is not supported (it does suck, but at least my WMC remote could control it).

Legacy people are legacy people.

If you can explain how W10 does it then fine. Otherwise, Media Centre is the most current offering by MS and so is not legacy.

It is legacy cuz Microsoft ain't supporting it no more so it aint current

Define "it". What does MC do so well that makes it so crackerjack? My household primarily does streaming and the Xbox One we have in the living room is a pretty amazing device for this purpose. We also have a HD OTA antenna and am looking forward to when the Xbox can act as a DVR for the OTA stuff.

The big "IT' that is missing from ALL other home media programs is the ability to use a PCI, USB, or network CableCard tuner(s) to watch and record encrypted cable television. And it's not that it does it "so well." It's that it is the only thing that does "it" at all. There is not, nor has there been for years, any other option for this fucntionality. SiliconeDust is purportedly working on a CableCard approved DVR software for the PC, but as yet, it is incomplete, has not been officially release to the public, and lacks even something as simple as an on-screen program guide. Sure, there's a dozen other alternatives if all you need to do is stream your non-"Copy Once" OTA recorded shows and your music and movie collection. I myself use Plex to stream from the living room HTPC to other TVs in the house, as well as our tablets and phones. But Windows Media Center is the only option for encrypted television DVR functionality, and the only one with a proper "10 foot inteface" capable of being fully controlled with a single standard universal remote control.

Actually, you are almost totaly correct about WMC and cablecard. WMC is the only software that provides full content listings and future listings that can recored cablecard protected content. I am using my Nexus Players to watch all of the channels on my SiliconDust HD HomeRun Prime but, it only shows what is currently playing without any detailed information.

MC plays and supports DVD where as a TS folder where there is no other program that does, it also works best with remote and it is able it has cleanest UI for images on the folders. my biggest issue with Kodi was the UI - when u pick movies it forces it self to look up movie and update the data file instead of just using the image folder.jgp and background.jpg that i put into the movie folder. probly is KODI thinks it knows best and reogrnize my collection as it sees fit. media broswer classic does a way better job then Kodi but only support DVD play back if combinded with media center. plextor doses not support any DVD play back in format of TS folders TS folder is a driect copy back up of a DVD or blue ray dic. when i say does not support these programs do not support menu on the dvds correctly. media center does. the best best setup is EMBY running on Media center. its most user friendly. best UI most cutomizable and supports all formats along with a prefect dvd backup TS folder support. I have used all other programs nothing comes close.

@AndyCalling Windows Media Center was discontinued in 2009 when Windows 7 came out and support for it ended by the time Win XP was out the door in April 2014

Yeah. I can't believe people still use an app for 2009. Especially one that sucked then, let alone now that we have so many options for watching media. Posted via the Windows Central App for Android

You know not of what you speak. Please name a better program that is a true "Media Center"? Kodi, etc.? Don't think so, pain in butt to install and make work, doesn't do TV without waving dead chickens around while setting up a backend server. I've looked for the last two years for a substitute for MC, that does as much, is as easy to install, and has as elegent of an interface. There isn't one, tried them all, they all blow in one way or another!

Correct, I have used XBMC which is what it was before the name change. The improvements made too it to change the name only benfit Linux users mostly and those that want to build embedded systems. There is no DRM support for open source software. So as is mentioned several times here, you can not watch your copy-once shows without it. It's not just cable boxes, it flags shows recorded via HD capture devices too if you have Dish Network or DirecTV. Kodi is a solution for cable cutters and those that watch the majority of what they want via OTA and the internet. There is nothing wrong with this but not a complete solution either. I watch House Hunters: International and sorry but feed provided on the HGTV website is terrible and most of the videos are in SD. There also several shows on TLC that aren't available via the RSS feed or on sites like eztv. Some of this stuff MIGHT be on the USENET but I can't confirm it. Years ago where was a box you could buy that would download shows you wanted to watch, I can't remember what it's called but it had a regular GUI/Channel Guide and based on your guide selection it would download that show for you to watch. Unfortunatly I like to watch most sports LIVE and if your team isn't doing paticularly well, then you'll get shut out of national boardcast the majority of the time. As a long time Raiders fan this is an issue and until the team plays better they won't be featured on OTA too much.

waving dead chickens though? I needed that laugh.

I just found out about NextPVR yesterday and that gives me an option to update the Win8.1 PC to Win10 finally since it can use Ceton cards now. I'm going to update the MCE machine today and try this first, hopefully Live TV streaming will work. All of my other PCs are on Win 10 but the one I use Media Center on, it's serving as a TV / DVR with a 4 tuner CableCard and terrabytes of storage - if a better solution exists I'll go to it but this is what we've had for a long time now.

NextPVR is good, but it does not handle pausing and rewinding live TV as well as media center. That's really the reason that I like media center the best - I can pause and go backwards in live programs quite easily. Since I'm often doing something else while live tv is playing I miss things and it's nice to be able to go back a minute and see what everybody is laughing about.

I've been trying out MediaPortal, you can pause and rewind using that too.

Almost all these features are available with the Xbox One and the TV Tuner Add-on

I know this is true, but don't you have to buy an Xbox? I don't have money for all those machines.

i dont know whts happening but when i upgraded from win 8.1 pro with media centre to win 10..the media centre was installed and it was working pretty well..only problem is it was a trial version..now there's a watermark

here's how to install Media Center without any hacks. Install Windows 7.

Eww. So give up all in Windows 10 to get something my cable box already does, lol. I'll pass. This "hack" took all of 30 seconds.

except you dont get any maintenance updates for wmc ie. security holes Posted via the Windows Central App for Android On W10

I updated
windows 10 from windows 7. I was supposed to get the dvd app and it was supposed to be purchased once installed??
Shouldn't I be getting it back once I clean install windows 10??

No, you do not get the DVD player once you do a clean re-install, annoyingly.

Unless you fork out the ridiculous fee just to play DVDs...

same now I cannot play any DVDs on my laptop. Here I come VLC Media Player =D

Really? O_O My first "DVD player" install came as a Windows Update, a couple hours after I upgraded to Win10. I never cleaned-installed the PC since then, but I wonder what is holding MS to reissue that KB Update to the autorizhed machines, since they DO know everything about our Hardware IDs and do know which are associated to a WMC license.

http://answers.microsoft.com/en-us/insider/forum/insider_apps-insider_other/getting-the-windows-dvd-player-app/6c94b519-8b05-462e-a864-b7ad67d5c834?tm=1438117403084&auth=1 Note answer 8.

Well, in that case.. I wouldn't feel so guilty by forcing install the KB update that came automatically the first time but MS forgot to reinstate then. That's the KB3081704 Italian way: http://www.windowsblogitalia.com/2015/08/come-installare-gratis-lettore-dvd-in-windows-10/

My PC that is hooked to the TV is just going to stay on 8.1. It's not like I need 10 to power my TV.

We have TWC and the DVR boxes SUCK period. I don't see how people make comments and say things like this. If all you have ever known is horrible provider boxes then you don't know what your missing. TWC boxes are clunky and slow, so what your solution change cable services? Sorry but even if that was possible there are only two providers and I'm not in the area for the other one. My only other choices are to return back to DirecTV which isn't my decision or re-try U-Verse. Microsoft just didn't want to pay for the MPEG-2 licensing for Media Center. They already charge you $20 for DVD playback. NextPVR and Media Portal all depend on it's user base and programers with free time to make changes. This the problem with "Free"; Kodi is free, NPVR is free, Media Portal is free and guess what you don't get when things are free? DRM suppport yes DRM sucks but it's a nessasary evil for cable card tuners. Everybody likes free, but when real WORK or INVESTMENT needs to happen free doesn't work so well, so you get half-baked product like the ones I mentioned, where the compromise is no encrypted HD content. That is fine when you want to watch something 2-13 but is a problem when you want to watch regular cable channels. Most of the invovations in TV came from Sports and Sports is what keeps lots of your favorite shows on-air. That's fine until you want to watch an out of market game...

It took me a little longer but I got it working which allowed me to install Ceton drivers. However, I get a decoder error when I try to watch live TV. I installed the LAV filters but that didn't help. Any ideas?

Interesting hack but overall seems useless for all nut those who cent let go. I used to use Media to record all my shows but now the apps for Media Center are old and broken. Recording I HD is a joke and newer, better online streaming services don't have an app. I think the boat was missed back when they canned the encoder boxes for HD like they were working for DirecTV. Its a shame since it really had potential.

I have no issues with recording in HD, up to 4 channels at a time, with my Media Center. With a CableCard supporting tuner (there are many out there), the Media Center does the job of a cable box without the additional fees a provider charges - the opposite of acting like they're working for DirecTV, etc. I have a PC with 4TB of storage for recorded TV (in HD) and pay only $5 for service on the card that it needs, that's less than the little non-HD boxes they offer us on FiOS.

Re hysonmb, I agree with you. I'm using Windows 7 and 8.1 and Windows Media Center. My HD recordings using Windows Media Center are at the full resolution available from Comcast and from Over The Air (OTA). This includes recordings of encrypted HBO using DRM too. The recordings and live TV are available on all my TVs because Windows Media Center's whole house media center features using Ceton tuners and cablecards. Easy and family friendly user interface.

I use a 2 tuner USB cable card. My shows record just fine from it or the OTA HD tuner which is almost ten years old. Streaming content is fine until you get to the major sports and then it becomes a problem. As I also said some channels provide dated content in SD via their RSS feeds on their channel websites. I am looking at you Discovery, HGTV and Scripts TV...So if you watch any of those channels, guess what it's not the latest episode and it's in standard def. Using Windows 7 or 8 is the only solution for those wanting to keep Media Center. I use Kodi strictly for archived TV and Movies from my server.

MDL for the win. They've even figured out how to change the 'hero' logon screen.

Yeah!
Login screen image really should've have an option to be changeable based from your user desktop background and an option between background image or solid theme color. This should've been there since new login screen introduction (which is late).

Microsoft is known for obvious omissions :)

If it handles tuning, DRM, and works with extenders, I might actually upgrade to Win10.

Not interested. I moved on years ago.

And your post does what to this thread ? Only trolls post that type of thing... If you are not interested, why even post ?

Now I can upgrade to Windows 10.

Judging for how loyal its fans have proved to be, this particular piece of software must be the best feature Windows ever had. Personally I remember trying it and choosing something else over it at the time.

If you have a decent internet connection it works a treat. Watch tv, record tv, play music, videos pictures from your network, radio, and loads more. The biggest factor though was it made everything so easy.

Yup. Just works. All the alternatives require too much fiddling and too difficult for my wife to want to use.

Not to mention there are dedicated remotes too. If this works without a hitch I'm definitely cutting the Sky Sub come renewal, they lost me at "this isn't a fixed price contract" bs 2 months into the contract.

If it's setup right, and you have CableTV, you can get a cablecard (first is normally free), get up to 6 tuners from a single cablecard, full DVR (cusomizable too), No DVR fees, NO box rental fees. Get a Xbox 360, make an exender and put them in any room and it's the same experiance in each room, all recorded shows, all media, even stuff like stop in one room and contiune in another room....very cool stuff... An if you want to go crazy, WMC supports 32 tuners (with hacks)

only reaosn microsoft droped support as they stated wasnt becuase people where not using it. it was because people where modifying it and not useing it as micrsofted deemend they wanted it used. the UI can be fulled omstized even menus can be changed edited what u want or dont want so forth. people uses it as a lunching program and it has full TS_folder support with menu system nothing elese has this abilty. except Kodi which is a huge hassel. and does not support good UI or a user friendly experince.

It was dropped for lack of use but those who didn't know it existed. When told what it did, again people who aren't advanced PC users didn't understand fully and were put off by the investment. Most people until recently had one PC that everybody in the house used. It wasn't until the price of desktops and laptops dropped severly that more people had a computer of their own and that's because it had to compete with increasingly powerful mobile devices. So you had to buy or build a machine just for Media Center. Well I did just that,I converted my desktop to use as a media center and used it when I needed a desktop. Before Media Center XP edition was available to the public I had been using the software developed for ATI's tuner cards and the great remote they would include with them. It had the same problem, once HD channels became available, you couldn't access them with these tuners = DRM Even so you didn't have cable box control which is something Media Center offered. We had DirecTV and Media Center supported channel changing. So when the software become available to the public I had no problem making the move over. Beyond TV was available too but worked poorly overall. Kodi or XMBC has several problem which is why I have stopped using it as often as I once did. Since it's basically overlayed over Windows it it operates, it sometimes crashes. Software updated don't happen unless you boot into the software. This also means feeds don't get updated and sometimes are broken. Also since it's not officially supported by sites like You Tube, they make you do a two step log-in that I don't like. No need to do the digital two step when I can just boot up my PS3 and it's the same UI as You Tube TV when you use your broswer and full screen it. Kodi now is mostly used for archived content and streaming content, no live content.

Being a avid WMC user since Fall 2004, this would be welcome news. However, during the past five months I've switched to Emby for all my needs. I was just time to move on. Especially since Emby is in active development and it allows for remote streaming of content, including live tv. There was a time when WMC reigned supreme. Remember the "WebGuide" plugin? Thanks for the post though Daniel!

I'll continue to rock media center on Win 7 for the Xbox 360 extender feature. Works great on multiple 360s in the house. If this workaround for Win 10 turns out to be full featured, I might have to consider the upgrade.

Awesome! Thanks Daniel! Posted via the Windows Central App for Android

Wow - Thanks bro ! I am missing it a lot - Used a lot in Windows 8.1 pro and Windows 7 Ultimate (x64bit

When I right click on "_TestRights" or "Installer" - I don't get the option to "Run As Administrator". I only get "Open", "Cut", "Copy", "Delete" and "Properties". Weird. I'll try it anyway. Thanks, Daniel!

Umm - nevermind. I missed the "Extract" step. Duh!!

Extract the files. Then you will get the option.

Did you extract the files from the compressed file (i.e. zip)?

Yeah, I missed the "Extract" step (Duh!). But then I did extract and ran as administrator. When I ran the "Installer" as administrator - I got a brief DOS box that closed after a couple of seconds, and no Media Center.

Anyone know if this is the 7 version or 8? My extender only works with 7. Would love to keep using it.

This version was ripped from WIndows 10 10134, This is left over from Windows 8.... so in a nut shell the Windows 8 version.

Did you follow all the steps given in that order above?

i have the same problem " I got a brief DOS box that closed after a couple of seconds, and no Media Center" despite running as Administrator. Did uou resolve this isssue?

WMC had been dead for years.

It hasn't. It works lovely with a Media Center remote for watching live TV as well as downloaded mkv files.
I'll install it as soon as I get home.

WMC is the most stable application yet for handling multiple tv tuners. Nothing comes close in stability with pausing/rewinding/recording live TV.

Popcorn Time. Posted via the Windows Central App for Android

So can I please have some advice for an old-school guy. I still have a Windows 7 PC with two Hauppauge tuners hooked up to an OTA antenna. It runs Media Center to record shows, which then get converted to MP4's by MCEBuddy. Which then get sync'd over to Plex Media Server running on that PC for everyone to watch, commercial free. Please tell me what is the "2010's" way of doing the same thing? I don't really use MCE for anything else, besides the guide, remote control functionality and the recording. Plex covers the rest...

Dude, you really know what you are talking about! Rock on!

I loved Media Center, based my entire house around it for years. But haven't used it for about 2 years now. Too bad the link is now dead.


Search for the file name in Bing/google, there are mirrors.

Microsoft should just release it as an app themselves; I am glad someone found a way around it to get WMC back in Win10, still not upgrading my PC that is used for TV watching and recording on my HDTV.

"Microsoft should just release it as an app themselves"

The issue I see is when a company releases a product, it usually implies continued support. AFAIK, this app stopped being developed in 2009 and you know how people will get confused. I mean, they could do a big "no support" thing but that's not usually a thing they do, for whatever reason.

They've lost the code, they can't package it into an installation cab without copying it from an existing install.

Yeah you are right about that. But they did do the 'no support' with Expression Studio 4 free release after they discontinued development. Anyway, I think they should do it, way better then someone installing stuff from unofficial sources that may not always be safe, plus it would give MS valuable information about how many people are using it over time and thus determine demand for possible future products.

Unfortunately, the link has been disabled by DropBox for too much traffic.

https://mega.nz/#!zYUxjJBA!JXXFSPokDLJOspzufc7Rs5DIgDU2lXP3pwfuc593NvI

Well the download link isn't working so I can't download it. =(

OMFG. If this works I might be able to finally get my family to move to Windows 10. Also... if this works (DVR specifically) then I question why exactly it's such a huge deal for Microsoft to support? Apparently this group was able to do it with relative ease. So it can't be lack of engineering needed to make it work for Windows 10. If it's licenses, shouldn't the previous OS install cover that license (i.e., we've already paid for the license)? If not, I would gladly pay for a DVR license (since they seem to have no problem doing that with the DVD player app). So... what exactly is left preventing them from just allowing the old app to continue working like this group did with a patch? My only guess revolves around the Xbox One and Xbox TV app. On the cynical side is that they want to force people to buy an Xbox One to use TV... which is bullshit if true. On a lesser evil view, they don't want to support Media Center because they plan to replace it with a modern app... at some point in the future when it's ready? The latter has a lot of issues and pieces that need to fit together before it can be a reality... all of which don't preclude continuing to allow Media Center to run. If they are waiting for a new app, the likely candidate is the Xbox TV app. It's possible it's a universal app and could be brought over to Windows 10. But, even if that's possible I'm not sure what's involved in supporting many different PC configurations and TV tuners vs just the Xbox One and the few tuners it supports. Media Center already supports them all and would seem like a fine placeholder until that TV app is ready. Which brings up the point that if this is indeed the plan... why not tell people that such an app is coming to replace Media Center's DVR (like they did with the DVD player app)? The best I can assume is maybe they weren't exactly sure when a Windows 10 version would be ready with wide spread support? But even then they could've simply gave out a longer forecast like they did with the Messaging app, Edge extensions, etc. Windows 10 is basically a huge "work in progress" so it seems odd that they couldn't also shed light on small things like this. They seem to have chosen to go with message of "there is no first party support for DVR unless you buy an Xbox One". Which is unfortunate because as it is without Media Center my family simply will not be updating to Windows 10. And if they won't take a free upgrade there's no way they are going to buy a Xbox One to replace each PC they currently use Media Center on (worse actually, since I don't think the Xbox One tuner can record multiple channels at once). ​Anyway, I can't wait to test this to see if it works. If so Microsoft can thank the MDL forums for doing the work Microsoft's own engineers apparently couldn't be bothered to do and while they are thanking MDL they can add their thanks for a dozen or so new Windows 10 installs. :)

The name of the "Films and TV" app will definitely make more sense when you can stream recorded TV from your Xbox One in 2016 - Assuming that's where you will see them appear and not from within the Xbox app itself. Really looking forward to the DVR features in Xbox One next year, but I really watch very little Live TV. It will still be really awesome though, I like being able to stream live TV to various devices around the house already, and the DVR side of things will make it even better.
I know centralising around the Xbox One isn't ideal for everybody, so need why some people still want/need Media Centre. For me personally it's all going in the right direction to be centred around the Xbox One. I'm sure at one point the Xbox 360 was going to become the central hub for entertainment, I just don't think the technology and hardware were there to achieve it at the time - The Xbox One could even do with a little performance boost for OneGuide imo. I'm finding less and less reasons to use any device in the Living room other than the Xbox One, I think it has all the On Demand TV and Movie apps my Roku Stick has

"heed the upmost caution". My English teacher is cringing.

If you use your favourite search engine to look for the filename, you'll find more download links.

Yeah, indeed. In fairness, I noticed I didn't save the grammar checked version before uploading here. Should be fixed now. I blame it being Monday.

It's still incorrect. To heed is to pay attention to. You heed a warning. I think you meant to say "use caution" or "proceed with caution."

A popular work around quote Error (429) This account's public links are generating too much traffic and have been temporarily disabled! unquote MS are you listening ;)

There's actually a WMC Edition Windows 10 leak that I'm downloading right now. I'm gonna find out if there's a way to install just the wmc files alone.

That sounds suspect... I wouldn't touch a OS that wasn't official..

No, there absolutley ISN'T

Yep build 10135 that is WMC editition is on the torrent sites, I saw it the other day with seeders... In the early builds, WMC was still included in the ISO by modifying some files (through some commands) you can change the ISO to install ProfessionalWMC this would create an ISO with WIndows 10 AND WMC (it stopped working at 10135 as MS pulled the files after that). The Only flaws, you cant activate it (An activator does work tho) and you NOT get updates on it (and it will expire).

glad to see this Posted via the Windows Central App for Android On W10

Couldn't they made a modern universal version of this app

Windows Media Centre is not an "app". It's a PROGRAM.

Is not a program, is an OS feature

Well, if it can be scripted out by a 3rd party to install on a unsupported OS, it can be come a program, I am sure Microsoft could do that if they wanted to.

"Now, doing a simple search for Media Center reveals the app installed on your PC. You can then pin it to your Start menu or taskbar for quick access. Due to our configuration we have not confirmed how well it runs with a TV signal setup, so your mileage may vary. Otherwise, despite looking like a throwback to Vista, the app runs just fine on our new 2015 Windows 10 machine." Ok, really? Stop using the word "app". Windows Media Centre is not an "app". It's a PROGRAM. I hate this new terminology by Microsoft. It's PROGRAM, not "app".

And the distinction is? I have always used both terms interchangeably. I'm assuming app is short for application, which to me is another word for program. But what do I know? I've only worked in software for 20 years. Hahaha!

agreed. not sure what is up with people under the age of 30 thinking apps mean phone applications only. Been doing enterprise IT from the VERY late 90's, and instore I since 96 and guess what? Programs and applications are interchangable and APP has been used for as long Ias I have been using computers, so from the early 90's, before smartphons. Even then, people in IT since the 80's have used "apps" and "prog" since that time. Apple seems to have caused the younger generation to think that app exclusively means smartphone apps, which is just wrong.

The term 'Application' has been pretty interchangeable with the noun 'Program' for a long time now, you'd be looking back at least a decade into the last millenium to argue otherwise. The term 'App' is just a modern contraction, much like the term 'Prog'. You need to accept that language is an evolutionary thing, because it will remain so regardless of your thinking.

"Ok, really? Stop using the word "app". Windows Media Centre is not an "app". It's a PROGRAM."

It's not a program, it's an EXECUTABLE. lol, enough with being pedantic.

But what if we're all programs and the universe is a big computer and are creators are apps????

Pedantic? Sure. But your article loses it's credibility and appeal with those baby words.

an "app" is a small or stripped down executable designed to run on low end hardware, like phones and tablets, which are incapable of running full fledged "programs". For example the "program" PhotoShop CC will not run on an iPad, but the "app" PhotoShop Express will. A powerful OS like windows 8.1 or 10 can run both.

Re: Luke DeSmith,
Yes. I agree with your definition. We all can choose to use the most precise words possible in our efforts to communicate or we can muddle the language with broad imprice phrases that mislead people. I believe PhotoShop is serious software that runs on a full computer, and is not just an app.
.
Best Wishes

First of all, who cares ? Seconnd of them all, being in IT for OVER 20 years and this is PRE-Windows Mobile days, where phones were flip phones and on PDAs you had programs but, you could not buy programs. Application is a program, a Program is a program. An App is something short started in the last few years for a lower CPU applcation (mobile or handheld gaming application). So App and program cant be used but, Program and Apllcation can be used as they are the same thing. And again, WHO CARES ? Microsoft could make WMC into any of them, and if they wanted to, they could make it an App (not sure where you would get TV tuners but, it could be done).

Its not by MS, its by apple to try and (successfully) change the market where only 'apps' are valid and they can make their 30% of everything sold. They have singlehandedly destroyed the free proram/low cost applicaiton market by conditioning ppl that ANY program is only worth a buck or two, so software creators are bundling more and more crapware into their programs because people won't pay a cent for really good stuff anymore unless its from the walled gardrm of apple's store.

the download link has suffered a dropbox traffic overloadddd. Any other sources?

http://files.fm/u/qrzntrf this is where i got it from. media center works great.

YES! Downloading from that link now. Thank You!

This account's public links are generating too much traffic and have been temporarily disabled! Dan any other link ??

https://mega.nz/#!jY8H3YJZ!NVQIlNrNMR5TZ_GDZr3CO2qCB2NwopDjt4bT0pDpbY8 This link seems to work, though I haven't run and installed the PROGRAM yet. Hope this helps as the link in the article is not working.

Says "file you are trying to download is no longer available"

Apparently, a lot of people are interested in downloading this because I get this message when I click on the link. "Error (429) This account's public links are generating too much traffic and have been temporarily disabled!"

Anybody know if OneDrive does this for Public Links too? If so does it make a difference with either service if you are paying for extra storage?

I haven't used Media Center since...well, Vista, probably. I don't really miss it, and do not envision pursuing this on my own machines. But I'm glad there's an option out there for those who want it. :-) Posted via the Windows Phone Central App for Android

Thank you for your respectful and courteous comment.

Didn't work - and messed up media file /.app associations. Windows DVD player now freezes part way through paying a DVD (video stops, audio continues). WMC never appeared/installed properly. Now doing a system restore.

Once you install it, it is not simply to just search media center...... Go to C:\Windows\ehome\ehshell.exe and start that program to start the WMC.

typing media center in cortana worked for me no problem at all.

Clicking the Microphone on Cortana and saying " Please open Media Center" worked fine for me...

Hello. Thanks for the tip! The install scripts puked on the "cd /d "%~dp0", but WMC seems to have installed in 10 Pro anyway... 73 DE N4RPS KEEP POUNDING!

you can also download from this link http://www26.zippyshare.com/v/K0yE4W15/file.html

Says "file does not exist on this server"

I will be trying this. I use the the add-on 'Media Browser' in Media Center to access the thousands of movies I have on my server from multiple Xbox 360's. The Media Browser interface is awsome and I haven't found anything that looks or works as well.

Is there another download link for this as Dropbox has been disabled.. maybe a torrent file or some other FTP? I really want to get this on my PC again. Thanks guys

https://mega.nz/#!zYUxjJBA!JXXFSPokDLJOspzufc7Rs5DIgDU2lXP3pwfuc593NvI

Once again proving that #PirateDog > #NinjaCat!

Malwarebytes is flagging a lot of outbound traffic to 198.105.244.114 (SearchGuide) after installing this. Sounds a bit sketchy.

Are there any other programs, apps or executables that have an interface on the Xbox 360 for viewing live tv, playing music, viewing photos, watching recorded TV, PVR functionality and movie streaming form personal server? I am not hooked on media center, I just don't know if a replacement that works on the 360 like it does. The 10 foot design of media center just works for my needs. I wouldn't use it as a web streaming service or to play DVD /BR, but for OTA tv and local media, it still works FANTASTICALLY via the 360.

Yes it does. I'm actually thinking of dumping the One and going back to the 360 in our living room. I thought by now, almost 2 years after XB1 was released, that MS would have this figured out. Come on, what are you guys doing up there in Redmond?

There too busy making spyware

Is it specifically DVR stuff you miss from the Xbox One? Of course it's never going to get the capability to be a Media Centre Extender, the biggest thing I'm missing at the moment is a decent remote control. I don't watch much TV but I do it through my Xbox One TV tuner, and I think with a decent remote control it could feel a lot more intuitive for my wife. She uses her iPhone and Smart Glass at times, but it's too much faffing about for her in her opinion. The official media remote for Xbox One isn't as good as the Xbox 360 version used to be (The large media remote was awesome) One thing about the Xbox 360 as a Media Centre Extender is that it's pretty mature and easy to use, where as the Xbox One (Although better IMO, as a non Media Centre user) still has room to improve and become easier to use. I'm hoping the Windows 10 update extends through all features including TV to improve the interface for TV and Media (Outside of apps like Netflix, which are already simple to use)

There is now too much trafic on the dropbox link, so it can't download :(

OMG !!!... Just made my day... Now who cares for old Windows 7 or 8.1 to use this beautiful software???

is the link broken? it isn't working now....really wanted to do this!!!

Please someone give OneDrive link who have already downloaded...

hosting a hacked together peice of Microsoft software on Microsoft-owned servers is probably not the best idea. here's a Mega.nz link https://mega.nz/#!zYUxjJBA!JXXFSPokDLJOspzufc7Rs5DIgDU2lXP3pwfuc593NvI

Much as I would like this, I'm not about to install software from unknown untrusted places, especially as administrator rights are needed. Asking for trouble Posted via the Windows Central App for Android

Didn't work for me either. And now, DVDs don't open automatically with DVD Player even though I've created the association. Right-clicking on the DVD does no longer give me the option to open with DVD player. Can't reinstall DVD Player from the store without paying for it. Not happy.

Possible to have the WMC in another language (Dutch)? Thanks!

For those of you who can't find it's location, it's located here: C:\WINDOWS\ehome\ehshell.exe

The depreciation of Windows Media Center It's deprecation not depreciation.

"Depreciation" could work in that context.

I still have about a year to upgrade my 2 PCs. Sorry but no 10 until we know how Microsoft feels about this hack or see an official replacement.
Win10 development only on my old laptop and on VM machine,
besides we haven't seen public Xbox live services API yet.

Download TVMC It's Kodi but with the addons already installed

Kodi is an unusable mess.

I feel sorry for everyone. I never had Windows Media Player uninstalled from my PC. I got to keep it, haha. Of course, I didn't get the DVD Player, but I'd be an idiot if I gave up WMP for a DVD Player before Groove has any true functionality.

You understand that this is about Windows Media CENTER, not media player, right.

Sorry, harmless mistake. I meant Windows Media Center, and my point is still the same. Windows Media Center was never uninstalled from my PC, although I didn't get the DVD Player.

Just don't do a clean install :P, otherwise you will have neither lol.

The W10 upgrade process said it would uninstall my WMC so I cancelled the grade. But with this package I might just give it a try on my 4 boxes with WPC. Thanks folks at MDL and our italian friends!

Great, too much traffic. Can't download. And MS claim that nobody wanted MC, idiots!

Thanks for posting this. I will definatly use it. Been using since XP Media Center. I did have problems but was able to overcome with fix from this page. I belive it was because of leftovers from previous Media Center install before upgrade. Regaurdless the fix marked as answer took care of it. http://answers.microsoft.com/en-us/windows/forum/windows_8-winapps/windo...

I'm getting the Windows Command Processor when I right click on _TestRights

The Media Center is not opening after I right click and run as admin on Installer. Suggestions?

Sweet! Thanks for the post Daniel, will be following this very closely.

Questions: Will this fix for WMC allow viewing DRM channels on say, HDHomeRun Prime? Will this fix play previously recorded .WTV video files that are copy protected? That are on the same equipment used to record them previously? Or will I have to abandon all those files in my library?

If you upgraded from 8.1 or 7 to 10, it's possable the keys are still there so you can play back DRM'd shows in WMC, IT"S POSSABLE. If you did a clean install, you are 100% SOL, just delete them as there is nothing that can be done with them and there is no HACK to get them working again. They are tied to install they were done on. As of right now, I have tried a channel that is protected and it does not play back.

DavidinCT Thanks for your comment. But what about the 1st question : Will I be able to view and record DRM channels through the HDHomerun Prime?

You know I find this really interesting.... I upgrade my PC to W10 from win7 and I still have installed and useable the Media Player PLUS I received the "free" DVD app from Microsoft.... But when create another session for my wife the media player is not available but the DVD app is...

This article and issue is about Windows Media *Center* not Player... Windows Media Player should still be available and to everyone as far as I know. Did you mean Center?

I upgraded from 8.1 pro with media center and I didn't get the free dvd player. Posted via the Windows Central App for Android

I am SO tired of the "if you don't do things my way then you're lame" attitude some people have. Ok, here's the deal. Not everything on TV is available online yet. Especially if you're not in the US. I know this is a surprise - but there really are other countries out there - and they have their own TV shows that people actually like watching. And that's where things like Kodi and Plex fall down badly. For example, here in Canada we don't have CableCard - we have digital tuner boxes that have to be controlled by IR. So if your solution doesn't handle channel changing with an IR blaster - and can handle the huge range of boxes and controllers - it's not going to work. We don't have any unencrypted QAM channels - so you can't just connect to the cable. And.. almost all TV apps use TitanTV or a similar TV listing provider. Which basically only supports the US. Playing media files and streaming video is trivial. Anything can handle that. Windows Media Player can handle it. But handling live TV well in many countries is HARD.. which is why almost no one does it well. Except Media Center. It does it VERY well and it works almost everywhere. It supports TV listings in many countries. It handles almost every cable box out there. Then there's whole install process. With Kodi, you have to gather all sorts of bits including MythTV which is just terrible. They don't even have a binary app anymore - you have to build it from source code or find yet another provider who handles it for you, So enough with the 'Live TV is so last millennium' rubbish and grow up. Just because YOU personally don't need it doesn't mean no one else has a reason for it. Here's a clue: Microsoft had to start offering a TV tuner for the XBox One in Europe - and then in North America. Obviously there's a demand or they'd not have bothered. What Microsoft is actually trying to do is get everyone to stop using their PCs as TV systems and use their XBox Ones as media centers. Not all of us want to buy a whole $400 game system to replace a $50 TV Tuner card, especially since I have no interest in playing games on it.

Well, I wouldnt mind doing that ESPECIAL IF XBOX worked ! as far as I know you cannot view comcast content (FROM COMCAST, that is the key here. I know some shows can be found online but the traditional channel surfing set up from a remote is what I am refering to here and ALL comcastcontent [minus On-Demand because not even media center can do that])in the united states using anything other than media center. I am desperately looking for an alternative so that I can upgrade at home. It has to be no-techy and something my wife would appreciate like Media Center. it was erasy to use and did everything we needed it to do and I can't seem to find anything that can do that.

If you installed it and you get your guide data from the US (from Microsoft). report it here please, trying to see if anyone got it working, I was part of this project helping out but, I have not seen one person in the US who has guide data working... http://forums.windowscentral.com/windows-10/381657-so-anyone-install-windows-media-center-10-get-guide-data-us.html

Wow. This is great news. Windows Media Center has so many features and unique features that nothing else can match.

My family love the interface. add on that awesome screensaver that is pointing to my photo collection, now that's entertainment

can't download file temporarily disabled

Great to hear. NextPVR does the job (since SichboPVR doesn't work with my EHC3-150 card), but WMC just does everything way better.

I updated to Win10, installed this, and had to call Verizon to get my CableCARD reactivated. Once they handled that, it fired right up! I've got a Ceton InfiniTV 4 using FiOS and it's working just like it did on Win8.1. Thank you for this article! WMC was the only reason that computer wasn't on 10 already.

Did you get guide data working ?

I did not get the guide working.

Also, have you tested extenders?

I didn't test the extender, ended up rolling back to 8.1. It works on 10 but I kept getting "weak signal" noticifations and it would freeze sporadically.

I've got Media Center working in Windows 10, but after running the Digital Cable Advisor and passing, I click on "live tv setup" and get an error that no tuners were detected. It's as if it is only searching for physically installed tuners with no option for setting up cablecard. Any thoughts?

How did you get the DCA to pass?

Hi... can I please pick ur brain about this? I am just looking for something that works. Media Center is the onlren't on windows 10 an you actually watch content from verizon's cable caret up? also how has it been working since the last 4 months? no issues with windowpdates or anything?

I have downloaded this 'fix' but have not installed it, nor have I upgraded my Win 7 desktop as WMC is my DVR. I am following this closely and when I am sure it will work I will upgrade and install the fix. I already have Win 10 on my laptop and like it (I did get the DVD Player app but only use VLC to play DVD's). I really think that Ceton will eventually have/offer some kind of solution to this problem but as of now they aren't giving any clue's out. I love WMC on my computer for the DVR function and thats all. The resolution of the HD recordings is better than my TV shows. I also have a Comcast X1 DVR but it is a lot slower than WMC and you have no option to record or move shows to any home device. I like to keep some movies and shows but that is impossible with the X1. I will not upgrade till Win 10 works with WMC.

There is now a "revised" version available (WindowsMediaCenter_10.0.10134.0_x64_revised.zip) at https://mega.nz/#!zYUxjJBA!JXXFSPokDLJOspzufc7Rs5DIgDU2lXP3pwfuc593NvI Read the _ReadMe.txt file for new/additional installation instructions.

I tried this revised version and it does not get installed at all, let alone not showing the program guide! Had a Win 7 pro upgraded to Win 10 Pro....

Brilliant! Thankyou for posting this. I've tried Kodi and the other one whose name I've forgotten. It might be getting old in the tooth, but the beauty of WMC is the ease of set up. The others are a plethora of plug ins and bespoke configurations. Great, but I want it to just work without hassle first of all, then I'll look at extra functionality

Installed and working, will have to see if it works with my HD PVR though.

Link to file outdated try this one http://d-h.st/e6fL

Dropbox link says that there is too much traffic and is blocked :(

Windows needs a proper new media player. So far groove just isn't cutting it for me.

Dope info. Thanks Posted via the Windows Central App for Android

Rather than being asked to trust someone's setup program, I would like a document listing all of the manual steps to perform an install. List of dll's, folders, and registry entries. Then, I will move the Microsoft dll files myself and make the chages. Trust knowone.

open the install.bat files then , there you go

Deleted accidental double-post

Anybody's download fail at all? Also mine won't detect signal but I may need to play with that a little more and install wintv to verify everything still works.

Can you tell me the name of the wallpaper used on this captures? Thank you!!

OMG OMG OMG OMG OMG OMG OMG OMG OMG OMG OMG OMG OMG OMG OMG OMG OMG OMG OMG OMG OMG OMG OMG OMG OMG OMG OMG OMG OMG OMG OMG OMG OMG OMG OMG OMG OMG OMG OMG OMG OMG OMG OMG OMG OMG OMG OMG OMG OMG OMG OMG OMG OMG OMG OMG OMG OMG OMG OMG OMG OMG OMG OMG OMG OMG OMG OMG OMG OMG OMG OMG OMG OMG OMG OMG OMG OMG OMG OMG OMG OMG OMG OMG OMG OMG OMG OMG OMG OMG OMG OMG OMG OMG OMG OMG OMG OMG OMG OMG OMG OMG OMG OMG OMG OMG OMG OMG OMG OMG OMG OMG OMG OMG OMG

I updated my WMC box to Windows 10, installed this, and got it all set up. For the past two days though, it's been very hit or miss. I'll have a live stream going for an hour or two then it'll lock up. Sometimes it says there's a weak signal, other times it locks up the PC to the point where I have to reboot it. While I really want to upgrade that computer to Win10, it's more of a TV than PC to me and WMC is the best I've tried for the service it offers. I rolled back to 8.1 this afternoon.

Did this hack only works on 64bit Systems?

Hi I am Shanmuga Subramania. I am having Windows 10 Home Edition. I Installed Windows Media Center as per the instructions. Window Media Cneter app also showing in the UI screen. If I click on Windows Media center for opening, nothing is happen. It is not opening. Kindly send the solution.

I tried quite a few alternatives to windows media center to watch/record live TV from a built-in TV tuner. They were all a nightmare to set-up and none worked well or consistantly. I downloaded the media center app from the link on this site and have installed it on two computers, running windows 10. They both work perfectly. Thanks for all of your help.

http://i62.tinypic.com/21otit.jpg I can not get past the _testrights(cmd) Any ideas

Is anyone using this in the UK. Isntalled ok but won't accept the Postcode during the media centre cetup and the OTA EPG doesn't have all the channels.

Tried the WMC instal on my Win 10 box but does not let the DTV tuner work, Does all the searches ok, finds the shows in the EPG and shows the EPG but when I try to tune to a station or play a recorded show just get the message Decoder Error video decoder is not working, is not installed or is not supported. Try installing the codec or restarting your computer. For more information about codecs, see Windows help. I tried installing the codecs packs but still no joy I have a Quad tuner card from Digital Now and it worked without any problems on Win 8.1

I love you guys!! I tried every f***ing software to replace WMC but I failed hard (I don't like them even I used them for a few weeks). I use WMC for my personal music library so I don't care about other functions who had some law problems, all I need is MP3 player with nice library and that's my favourite WMC. Again THANKS A LOT!

Every time I try to run the installer.cmd I get an error 5 access denied message - even though I am running as Administrator. Any suggestions please?

Ola, gostaria de saber se tem como configurar o media center para portugues.? obrigado!

What is the name of the Windows Media Center executable. When I search for eshell.exe, nothing is found.

I cn't run the cmd files as administrator. The 'Run AS Administrator' selection does not appear on the context menu

No one handles encrypted channels other than WMC....no one...yet. Silicondust is offering it's HomeRun DVR now - but it's a pay-for service at $60 a year. I've also heard that JRiver is looking at starting a Kickstarter program that will do everything that WMC did for tv including encrypted channels...if they can get the backing for it. If you would want something like that - they have a poll over at their site!!!!

Okay, I had this installed and working, and then after the November update to Windows, it has dissapeared. This happen to anybody else?

Hi I've installed the media center on my windows 10 installation and it's working with liv tv also, but I'm missng a few menu options, from the sceduld recording menu I'm issing the start option so I can set the the start time for the recordng, can yo help me with that? I'm also missing the "start windows media center when windows starts" option can you help me with that? Michael

A petition has been started to bring back Media Centre - Only a few hundred signatures so far... Might help.. https://www.change.org/p/microsoft-bring-and-update-windows-media-center...

Team, I have installed it and it seems to work . I now can not get it to set up the free to air tv in Australia. Any hints?

so the download link dont work any more

Thanks for this. I upgraded to Windows 10 and installed as per the instructions and it all worked. For what it's worth, the ehshell.exe file resides in the Windows\eHome folder - if you prefer to navigate directly to it rather than search. I have had an issue which appears to be Windows 8/10 related where the sound isn't working correctly but setting it to autovolume solves this. Final question is, how do I configure the system such that the green button on the remote launches media center? thanks Matt

For those experiencing a similar issue where the green button was not launching media center, this worked for me: Click on the Start menu, choose Run, type cmd and click OK Run this command: reg add "HKLM\Software\Microsoft\Windows\CurrentVersion\Run" /v ehTray.exe /t REG_SZ /d c:\windows\ehome\ehtray.exe /f Reboot Try to use your remote control to launch Media Center From here: http://blogs.msdn.com/b/astebner/archive/2007/09/02/4708091.aspx

Thank you Microsoft. Thank you for taking away the only thing I liked about you. When people figure out a way to reinstall Media Center on Windows 10 machines you go and remove it with an update. And when we try and reinstall it after the update it no longer works. Well played @$$holes well played. And BTW, I am going back to Android phone too out of spite. And you have given me the nudge I needed to forgoe Windows all together and look into open source OS. Seriously, why would you delete Media Center with an update?

For those who are still frustrated by not getting Media Center on Windows 10. Try NextPVR for recording OTA. I tried KODI, MediaPortal, and another one I forget the name of. After spending 2 weeks troubleshooting Media Center solution (guide data issues and then having it removed with an update to Windows 10), I settled on NextPVR. Its almost as easy as Media Center (on Windows 7) to set up. The guide data is limited but there with a push of a button. But mostly I use manual recording with the guide data from MSN or AOL TV listings for OTA in my area. Its an extra step but not bad. You can set for daily (M-F) recording shows as well. For what its worth I use HDHomerun as my source and PLEX app on a Roku 3 to play it on my TV. MS can keep its XBOX, if that really is the reason.

This did not work for me. I just upgraded my PC to Windows 10. Followed above procedure exactly. It seemed to do all the tasks but media center is nowhere to be found on my PC.

After following the above installation, I did not get any Media Center link anywhere on my computer. After searching another machine on which I have wndows 7, I found the C:\windows\ehome directory and the ehshell.exe file. I was then able to run Media Center on Windows 10. The real problem is it DOES NOT have the TV Guide which is one of the main reasons I use Media Center. I have 2 TV tuners. Any ideas from anyone?

nollert I spent many hours troubleshooting this same issue. If I could get back those hours spent trying to get program data I would be happier buts it is too late. I moved on to NextPVR. It does have very limited free guide data buy only for a few hours. And you have to go into settings and reload channels. I did a (free) 7 day trial for Schedules Direct and knew within 2-3 days the subscription for $25 a year was well worth it. NextPVR allows you to search by the 14 days of guide data as well. NextPVR was the easiest and best replacement for Media Center. And I tried them all. For a few days, I used TV listings (MSN and/or AOL) from the web and then just manually set up the recording on NextPVR. You can label the recordings so you know what the program is. After I tried out the Schedules Direct, I knew it was better for me. Good luck.

Plz help me. It is saying "Tuner not found". Its windows 10 pro. It is working in windows 7 and 8.1.

azkhn See my reply above. NextPVR is free and relatively easy. Good luck.

I managed to install it successfully. Then, somehow, it got messed up. I tried to uninstall and then reinstall it, but I keep getting an error message saying "<edia Center pack is already installed."! How do I get rid of it so I can reinstall it? Do I just delete the "ehome" subdirectory, or what? GlamRockCowboy

Installation went just as stated but WMC will not start. Anybody else find this problem?

Looking forward to trying this, really miss Media Center. Tried Kodi, hated it. NEVER got program schedule to work, doesn't record program info, WMC is hands-down THE best pvr I (myself) have ever come across. Tried three other programs, none amount to a pimple on WMC's butt. Only my opinion, but if I cannot get this working I will be going back to Windows 7. A pox on the arrogant, um, illegitimate offspring, who decided to drop WMC, and after I paid for it and all on top of that. I mean, at least a refund... What a Luddite, I know. I really do enjoy Windows 10, but to me WMC is a deal breaker, keep your free-for-life OS that is crippled by short-sighted greedy people, I would happily pay real actual cash for WMC all over again. I rant, sue me. Oh, kudos to all the hard working people trying to help, not just with WMC but also with other programs, it's just that I know what I like.

This is not working on Windows 10 Enterprise ???

In windows 10 enterprise I get " No Tuner found ". It is working in Windows 10 pro. Plz help.

Same here on Enterprise...

Contrary to statements in these comments Windows Media Center is NOT dead. It is just not going anywhere. It's still alive because the channel guide still gets updates. One issue contributed a lot to a drop in popularity for WMC. The PLAYREADY DRM software will often fail when a new OEM PC is installed. There are numerous workarounds but the only sure way is a clean install, which is problematic with many OEM PCs becaue no OS bootable media is provided. When an OEM ships a PC it is pre-configured with an OS image that self-expands and runs through a setup. PLAYREADY does not like that. I think the OEMs ignore WMC and don't install it for their images.When the new user turns on WMC, PLAYEADY is already corrupt. I have two gaming laptops that run Windows 7 with a Windows 7 desktop media server DVR I use extensively for Windows Media Center cable TV recording and viewing using a Silicondust HDHOMERUN PRIME to interface Comcast cable to my network. All I needed was a $2/month Mcard from Comcast and 5 minutes on the phone to connect.
I have 2 laptops running Windows 10 and also a new Windows 10 gaming test system I built to use for overclock experiments. I can watch TV on any PC in the house with the HDHOMERUN Viewer. The Viewer also works on Android devices. If Silicondust gets their HDHOMERUN DVR software up to speed I will ditch WMC and upgrade the rest to Windows 10. All that is networked through several gigabit switches and 300 Mbit wireless access points. HDTV streaming requires a good network. I regularly stream cable TV to my three Windows 10 machines using the Silicondust HDHOMERUN Viewer with minimal network issues. I also use my son's old XBOX 360 as a Windows Media Center Extender off the media server to stream cable and recordings to the living room TV. The XBOX makes a really good internet interface for my useage of Amazon Prime and such. An average week I record at least 12 hours of programming. That does not count delay viewing during the broadcast. My media server 3 TB hard drive is usually around 1/3 full. The media server actuallyuses the 40 inch TV in my family room as a monitor and/or TV display. I use a wireless keyboard and mouse with a WMC IR remote control. I have another WMC remote for the XBOX upstairs.

Is there anything at all that can do everything media center can do? I need to be able to access comcast content (not On-Demand) and nothing out there can guarantee that. If I am wrong someone please correct me. here in the united states Pennsylvania area, is there anything else that I can use that will give me 1. Local content (stored on NAS and other file servers) 2. web based content (netflix, hulu, etc) 3. Comcacst content (TV like experience with live tv using a media center remote [traditional remote] to include recording pausing and rewind) I have found a few work arounds for numbers 1 and 2 but I cannot find anything at all that is able to do 3.

Hi all, I've installed WMC on an upgraded W10 box. It seems to work ok except for recoding my scheduled recordings. WMC doesn't record my schedule at all and I'm at a loss to figure out what it is. If I can't fix this I'm going to have to restore back to W7 and I really don't wnat to do that. Thanks all...

I just upgraded my Win7 machine to Win10 and then followed the instructions to install Media Center. Everything worked perfectly thru the configuratioin. MediaCenter loads properly and I can tune all the channels thru my Comcast cable box. However, after a few minutes of watching, the video stops and message appears saying that critical syetem files which are required have been replaced. It suggests that I should restore my system to an earlier time. However my only earlier restore point is my last WIN7 config. Can anyone suggest a way to replace these files manually? MikeK

Cannot get download. "Error (429) This account's links are generating too much traffic and have been temporarily disabled!"

If you read my posts about my Windows 7 WMC system and working with the Windows 10 Hack you will know I am committed to Windows Media Center...BUT...I am also committed to Silicon Dust HDHOMERUN use with a Cable Card. Last year I signed on to SD's Kickstarter campaign to develop a complete new DVR alternative to WMC for cable content recording on Windows 10. I have been experimenting with the pre-release and not real happy with the results. While we have been vacationing in Florida for 2 months SD issued the first real release. Much to my irritation, I can not try it until we get back home. If it works we can all get on Windows 10 if we care to by July 29 while it is still "free". The HDHOMERUN Windows 10 DVR is actually an APP available from the Windows APP Store by redirection from a special SD Kickstarter email. At some point I presume it will be a purchased item on the Silicon Dust website.

DOWNLOAD LINK WindowsMediaCenter_10.0.10134 I'll host it until it becomes an issue - if it becomes an issue. http://stevenlutz.com/WindowsMediaCenter_10.0.10134.0v2.1.rar This is a great return, and I am VERY pleased that it still works with the incredible My Movies ( http://www.mymovies.dk ), however ... As was mentioned, this is NOT an integrated version of WMC - ergo, if you want to midify the menu items using something like MCE Reset Toolbox, you are going to run into issues. The lack of integration means missing Windows files :( Still great to see it bac. Oh, you can edit the background if you would like still, as that is located in the ehome file - the file is ehres.dll and can be edited with a tool like Resource Tuner. Enjoy, Steven

This WMC hack seems a little not ready for the big time.
I tried desperatly to get by the 'Digital Cable Advisor' activation. With no success. When people had trouble with that in the past, they would use an override. Well that didn't work, either. If someone can figure out how to hack that too? Or build that into the WMC script above, that would be good. Then I had to add the codecs into Win-10. I believe I got that part. I installed from Shark. But still I got no picture, or nothing. Thankfully I still have a working Win7 machine. I gotta move everything back to there....d'oh.

After about 3 days of "Uninstalling the pack and reinstalling the pack". I do have a CableCard. The link above was not the one I used. I think it was dated 9/15/15, a few days later. Note: When you uninstall (Reboot)... When Install (Reboot).. Just saying, from my experience. And it finally allowed me to download the 'Guide' data, if you find the latest version. Still I could not get DCA (Digital Cable Advisor) to pass. I tried all manner of overrides, and reinstalls. Nevertheless, all the channels that we normally watch, and record seemed to work. (All HD BBC America, Disney, SCI-FI, HALLMark...) I installed the Shark filters. I'm making my wife learn to use KODI at the same time. I just simply having it use the WMC server backend, and its finally starting to work in Windows-10. I used another tool to move my scheduled recordings from my old Win-7 machine something like 'Mc3data 3', and it finally worked. Then to get the recording schedule working. I noticed that in services, the Schedule WMC recording was automatically started, so I enabled it and set it to automatic. But I'm also learning to set it all up in KODI now.

It's me again. My WMC hack died after about 3 days. and I'm tired of trying to resurrect it. I'm switching to NEXTPVR. It's also a real headache to install, and the real headache it to get the guide-data, and my old recordings setup in a new system. But this hack as I said in my 1st post is just not ready, too many problems.

Hi, So.. I click on the link, it opens the dropbox window and it says: "Error (429) This account's links are generating too much traffic and have been temporarily disabled! " What shoud i do ;-; i really need wmc ;-;

Have a roasty toast.. *sadface*

Did not work for me, severe stability issues. There is a much better method to keep using WMC in a reliable manner while still upgrading to Win10. The secret: Create a dual-boot system. Here is how. 1) Make image backup of your entire Win7 partition (using Acronis or the like). 2) Upgrade your Win7 installation to Win10 using the free online upgrade method offered by Microsoft. 3) restore your Win7 installation back again (thus overwirting your new Win10 installation; bear with me, I have not gone crazy!) 4) create new partition of about 100GB on your machine (use Partition Wizard for this, it is free). 5) Download Win10 installation disk from the web and use it to install a fresh Win10 on this new 100GB partition, you won't need an installation key, see below why. You now have created a dual-boot system (Win7 & Win10). Win10 will automaticaly be activated and legal because you upgraded to it in step 2 (the Microsoft host in redmont, WA will now always remember your machine hardware signature as legal for Win10). So if you want to watch TV using WMC, boot in Win7. If you need features specific to Win10, boot in Win10 at machine startup. I myself have gone one step further in this whole concept - With my Lenovo machine, I can either boot in WinXP, or in Win7, or Win10. This allows me to still use old hardware that requires WinXP (a high-end document schanner and an EPROM programmer), or watch TV in Win7, or boot in Win10 when I want to feel "hip and modern".

I currently use Media Center with a Haupauge dual tuner card, to watch and record over the air digital TV. I receive around 25 channels and via Media Center, I can download the Zap2It tv guide and automatically record anything I can actually receive. This is my main TV, i.e., my PC plugged into a pre-digital projection TV. Has anyone gone through this Windows 10 installation with a similar comfiguration? The card came with WinTV software, but it is not so easy to use.

I gave up with Windows 10 WMC hack for now. I re-installed Windows 7 on the desktop that had Windows 10. It is now my new WMC server. It is physically closer to my cable modem and HDHOMERUN adapter. I run the server, modem and HDHOMERUN on a UPS to avoid short power incidents. I have cloned the C drive for all my Windows 7 systems and allowed the Windows 10 upgrade. Then I re-installed the original Windows 7 C drive. After 7-29-16 I can still go to Windows 10. Don't know how much longer WMC will live after that date. There woiuld be a larger number of users on Windows 10 if MS had not decided to eliminate Windows 10 support for WMC.

I love u guys! My biggest disappointment with Win 10 was the lose of the media center.Having media center back makes Win 10 alot more likable.Kudos and Thanks Again (: Len

I installed the HD Homerun Prime software that works on my Windows 7 PC on a Windows 10 test machine with latest updates then installed this WMC package and ran Cable Advisor. All the HDHR software works and I can view live TV on HDHR. I can view recorded TV with WMC. But when I try to setup the TV signal it says it cannot find any tuners and I cannot go any further.

No one has said if this workaround works. Does it work?

So, I got the download did the instructions and nothing worked. Is there something I'm missing here?

No channels to be found... MCE founds my two tuners, but the channels...

The download link is not working with dropbox..is there an alternative site avaliable?

This link is working currently http://www26.zippyshare.com/v/K0yE4W15/file.html

This used to work for me but it no longer starts when clicking on it. It shows a wait cursor then nothing. I have uninstalled and re-installed successfully but still nothing. I have all the applicable services running but still nothing. Is this killed by MS for good?

Event Logs - Getting this: Application: ehshell.exe
Framework Version: v4.0.30319
Description: The process was terminated due to an unhandled exception.
Exception Info: System.InvalidOperationException
at MediaCenter.Store.SqlLite.SqlLiteErr.LogAndThrowException(Int32, System.String, System.Object[])
at MediaCenter.Store.SqlLite.ObjectStore.Open(System.String)
at MediaCenter.Store.SqlLite.ObjectStoreManager.Open(System.String, Boolean)
at Microsoft.MediaCenter.Store.ObjectStore.Open(System.String, System.String, System.String, System.Reflection.Assembly, Boolean) Exception Info: System.InvalidOperationException
at Microsoft.MediaCenter.Store.ObjectStore.Open(System.String, System.String, System.String, System.Reflection.Assembly, Boolean)
at Microsoft.MediaCenter.Store.ObjectStore.Open(System.String, System.String, System.String, Boolean)
at Microsoft.MediaCenter.Store.ObjectStore.AddObjectStoreReference()
at Microsoft.MediaCenter.Store.ObjectStore.get_DefaultSingleton()
at ServiceBus.UIFramework.UserControlPoint.Launch(System.String) And this: Faulting application name: ehshell.exe, version: 6.3.9600.16384, time stamp: 0x5215efc2
Faulting module name: KERNELBASE.dll, version: 10.0.15063.483, time stamp: 0xaa6457d1
Exception code: 0xe0434352
Fault offset: 0x0000000000069e08
Faulting process id: 0x37dc
Faulting application start time: 0x01d30c8fe1592021
Faulting application path: C:\Windows\ehome\ehshell.exe
Faulting module path: C:\WINDOWS\System32\KERNELBASE.dll
Report Id: 35095895-5b3d-4981-858f-e2bd96635e0c
Faulting package full name:
Faulting package-relative application ID:
Windows Central Newsletter
Get the best of Windows Central in in your inbox, every day!
Thank you for signing up to Windows Central. You will receive a verification email shortly.
There was a problem. Please refresh the page and try again.