The latest Xbox One Preview has delivered some tweaks to the main dashboard
Microsoft is hard at work polishing up the current Xbox One Preview wave for a public launch, bringing bug fixes and new features.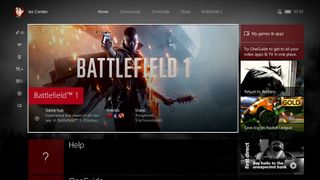 While the headline features of this preview wave are Xbox Clubs, Looking for Group and Arena, various other smaller tweaks are slipping through, occasionally unnoticed.
The latest update has brought changes to the main dashboard and additional features to the context menu. Here's a quick look.
Available on Xbox One Preview build 14393.2100, this update adds a ton of new information to the main tile. It adds a menu button prompt on the left, giving quick access to the selected title's Gamehub and description, as well as icons of friends currently active, and a run-down of sharable achievements, screenshots and game clips.
When you hit the start button, a brand new context menu appears, which is similar to the blade-style guide menu on the Xbox 360. Moving from left to right allows you to select the Gamehub, see which friends are playing in more detail, and also shows your most recent capture content.
Image 1 of 2
Interestingly, it appears developers will be able to tap into this new feature, and it could work similarly to Windows 10's jump lists, only providing more visual content considering the implementations currently on offer. It could be a neat compromise for UWP apps that have rich Live Tile content or even apps with chase-able tiles, given that Live Tiles are currently unavailable on Xbox One.
I tested a few apps to see if they had the new context menu to no avail, save for the OneGuide app, which provided quick access to TV listings, as well as suggested movies from the Xbox Store. It's easy to envision how an app like Readit could provide quick access to different subreddits through this new context menu, or even Microsoft Edge giving quick access to favorites, and so on, bringing added intuitiveness to the dashboard.
Xbox One continues to evolve at breakneck speed, and there's every chance we could hear more future Xbox plans at next week's Microsoft event in New York. Stay tuned.
Windows Central Newsletter
Get the best of Windows Central in in your inbox, every day!
Jez Corden a Managing Editor at Windows Central, focusing primarily on all things Xbox and gaming. Jez is known for breaking exclusive news and analysis as relates to the Microsoft ecosystem while being powered by caffeine. Follow on Twitter @JezCorden and listen to his Xbox Two podcast, all about, you guessed it, Xbox!
Great new addition. Especially if devs can take advantage of it. Imagine pressing menu and launching into whatever game mode you want without actually starting up the game yet.

Sounds like a beneficial feature for sure

Be nice if us "other" preview members could feel the love. #1608

Right? I'm still stuck on 1608 as well.. been almost a month since the last preview update. Makes me wonder if the rest of us preview members are gonna get the latest preview updates before they go public.

Are you in the correct preview branch?

The main dashboard needs more than a few tweaks, it needs to be kicked to the curb.,

XBox needs a faster processor and GPU. Or they could do super-basic UI like Playstation and it will be faster. This is a compromise.

The userinterface is very easy on both the CPU and GPU since it is loaded in memory. Neither a faster CPU nor GPU would do much difference.

They need to go back to the pre-NXOE UI with itsw proper X-bar design that worked perfectly on the horizontal screens we all have and not a dumbass vertical design the UI is today.

When is it rolling out to everyone

Would any preview members mind sending me an invite? I already have had a few but still haven't gotten in to the program... Thanks in advance... GT: Big Ol Ern

Sure will send one later.

I did send one in for you. Three times.

same here, pls. can u send me an invite pls? :)

Can you send me one as well GT- FoundGrain7

They're not accepting invites anymore sorry

Do you work for Microsoft?

I have invited many, most have failed. Good luck though.

YouTube seems to support this feature as well. Interesting addition anyway!

I've had this update I think.

This deeper menu also happens when you hold the orb when unlocking an achievement which allows you to set the image as a background or share it quickly

And still no music videos in Groove...

He has a point.... It WAS there a while ago. Still hasn't returned.

I don't think they've officially announced that they will bring it back, so. Not very surprising that they haven't added it.

I love how if I hit minimize an Xbox's app, the 'options' on the menu of Comedy Central app for instance, it shows your shows list, no need to go in-app and dig. Or the NFL app shows you higlighted videos.

Not showing up. Only for the S model?

Shows up on mine and I'm not on S.

Interesting. I just tried again, and no joy.

Still haven't fixed that delay to "Go Home".... Priorities....

You are right. Performance fixes are at the lowest priority when adding new features.

Hulu had a context menu like the above for me. It basically seemed to reproduce at least the first image of the carousel at the top of the main page of the app. I didn't look at it too long, so I'm not sure if it updates in real time and shows more than just the first item.

I like it. Im able to
Click on a game and find my clips faster. It's great.

How does the performance stack up on these previews? I am very disappointed with the current state of the performance, especially on the dashboard. Navigating to the side menu (for left) IS REALLY SLOW! It really takes a few seconds to load up. Pressing Start to return to the dashboard takes a few seconds. Navigating from top level menus, "Home | Community | ... " is very laggy and has bad response times. This causes the UI to pause and then fly through many commands a few seconds later. Viewing the store is troublesome because when I "Go back" the UI yet again pauses and then processes several commands at once. Bottom line, the performance is terrible. In game or in App is fine. But the "OS" is the problem. Anyone else?

I'm in the preview and I have noticed of late that the overall performance of the "dashboard/Start screen" is very laggggy! Cortana is the same way. I love the look and all but the performance of late is bad.
Windows Central Newsletter
Thank you for signing up to Windows Central. You will receive a verification email shortly.
There was a problem. Please refresh the page and try again.