Maps for Windows 10 Mobile updated with new drive mode, cleaner UI and better search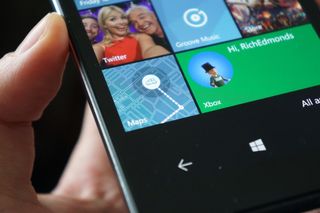 Earlier this week, a Microsoft employee foreshadowed changes coming to Maps for Windows 10 and mobile, hinting at a redesigned turn-by-turn instructions, a new search interface, cleaner UI and more. The features are now being rolled out to Insiders with the latest update to Maps.
The changes, as highlighted in the official Windows blog, include a tabbed interface for search that lets you view several search results in a single map at the same time.
Turn-by-turn navigation has received an update, with the icon positioned at the top on desktop and at the bottom on phones. The move is designed to allow for better one-handed operability on phones, and Microsoft says this was achieved as a direct result of feedback from the Insider community. Navigation's user interface has also been tweaked to improve glanceability.
Other enhancements include the addition of labels for search results, along with the ability to minimize searches, directions, and location info. Your favorite locations will now be accessible even if you're offline, and it's now easier to follow public transit routes thanks to detailed instructions.
The update itself is available for Insiders, with a wider rollout slated for a later date. The new features certainly make the native Maps client a much more enticing option, but a lot of work still needs to be done to make up for HERE's departure from the platform.
You know it's updated just for the fast ring, right ?

As per the last paragraph.

The last paragraph says insiders, not fast ring. There are two other rings for insiders.

No, the last paragraph (as of my writing this), only says "Insiders" without any details as to which ring you need to be on. The entire article is that way. It also fails to mention if this is only for Insiders on the Redstone branch or the 10586 branch or both, which also will affect a large number of Insiders.

I wish that when using Cortana for directions they would return the choice of Maps, Sat Nav etc and not only default to Maps. It's a start but needs work.

Quite the opposite. An ecosystem is a complex community of interconnected elements of differing origins. Maps passing off directions to another program for navigation fosters the ecosystem. Maps denying users the ability to the software they want for navigation hurts the ecosystem.

An ecosystem is connected elements that rely on each other. If Cortana did voice and directions and didn't connect to anything, that would absolutely not be an ecosystem. But Maps depends on Cortana to direct users who want directions, and Cortana depends on Maps to navigate users. It is an ecosystem, it just doesn't all for the feature you want. That said, Cortana does allow apps to integrate with it to add commands and functionality, an example is Cortanium. Once map apps developers start to build these features in, we'll have access to the features that are great, and needed IMO.

Cortana and Maps are both Microsoft products. And they both ship with the OS. They are features, not part of the ecosystem You're suggesting that if I run and catch a ball, my legs, arms and hands have formed an ecosystem becuase they worked together. Different parts of an OS working together is not what people are talking about when they use the term "ecosystem" in the technology context. The ecosystem is the economic activity that the platform produces beyond just the OS/device itself. Thus, iOS and the iPhone, for example, have an extensive ecosystem becuase they have tons of non-Apple apps, tons of cases and chargers for the iPhone, lots of other devices that readily connect to iOS, etc. Those are the "ecosystem." Cortana (or Siri) are just features.

I was trying to be humorous/sarcastic. I'm not very good at that. I agree with your comment about the benefits of interoperability. MS apparently wants to keep it all "in the family."

Looks nice, just need polishes now, I think it will be ready to Redstone. Windows Central app for Windows 10 Mobile.

Microsoft hates "polish" and *stable*. :-)

It's a development branch.

Agreed. The UI is much nicer, and the new drive mode is gorgeous.

so they just gave up on mcdonald menu?

They realized that Google is moving away from it and that future android and iOS apps wont have a Hamburger menu. So I guess they're trying to catch up Posted from Windows Central for Windows 10

iOS is never been officially adopting Hamburger menu system on 3rd-party apps as far as I know. Android did but at least they use it properly and they have the best implementation so far in comparison to some iOS apps and Windows 10 in general. What I'm really annoyed by the fact that Microsoft recently don't take advantage or use Pivot navigation as often while Android starting to feels like Windows Phone in ease of navigation. Windows 10 is taking a route to older clunky Android UI of old back from Gingerbread days. Groove Music is the best example of this, using Hamburger exclusively with clunky way of opening it (the swipe gesture is "hack-y" at best). Google Music as I tried use Pivot navigation which reminds me of good old Zune/Music Hub on some aspects.

Great.......goodbye hamburgers.....and more 3D touch, which we had first anyway.

I don't see any 3D touch.

I don't agree that it Is behind Here. Here was garbage. I have two devices and Here nonstop locked up ok both of them, as well as to two family members with their devices. You wouldn't even know it locked up until you drove eight miles past your turn. Hugely overrated app...or crapp in this case.

thats a direct lie.. here drive never locks up

Always did and crashed running in the background. Had to turn off the screen so my battery was not dead by the time I arrived(even though on the car charger) and I never got any warning :) GF 535 always got stuck with the navigation as well

I never had many issues with it crashing but I had the problem with battery consumption. Even when plugged into a good charger in the car the battery would drain (albeit at a slower rate) rather than actually charging if HERE was being uses for Nav. I used to switch to Waze sometimes which would allow me to charge AND use gps navigation at the same time

I tried Waze. But never got turn by turn directions on my Bluetooth receiver. No support for Windows phones either.

Yeah it rarely gets updates that's true. I think it got adverts of all things but would be nice if they made a W10M version, just doubtful they will - I've settled on Microsoft Maps lately, Waze has the advantage of all the users across the various platforms for it's traffic info which is nice

I use Waze a lot and love it. It's not great on ui and battery consumption, but it saves me time driving in traffic, which is a top concern here in central TX.

I never had the problems you describe using Here on Lumia 900/920/1520/950XL, and I was a power user. As discussed here several times, the biggest difference between Here and MS Maps was the UI. I'm excited to try the UI improvements to MS Maps. For me, the UI deficiency has been the comparatively small size of the control icons and the inefficient use of display real estate whilst in landscape mode. Also, I rather liked the 3D images of buildings Here presented in urban areas, as well as the commuter feature. I guess it's not completely fair to get into Here transit and City Lens as comparisons to MS Maps.

This is not a direct lie. After upgrading my 635 to the insider preview I have had Here Drive lock up multiple times. Once I finally noticed that it was no longer working I would have to close the app and reopen it and start the Nav over and it would work for a certain amount of time before locking up again. I believe it came down to being devices with 512MB of RAM but I don't know that for sure. So before you start throwing around attitude maybe you should realize that just becuase it hasnt happened to you does not mean it didn't happen to anyone.

Exactly the case with me. It used to lock up randomly and often I was like wait, this stopped like wayyyyy back. Then I had to start all over again. Posted from Windows Central for Windows 10

I'm the one that said it locks up. I'm laughing about the person who said it was a direct lie. You misinterpreted my second comment. I was upset someone claimed I was lying.

I haven't experienced major issues with Here apps before, at least when I was still using WP8.1. On my W10M devices, Here tends to crash but I kinda hard to point out whether it's the app or W10M or both having issues. Apps crashing is more expected on W10M, but the issues so random that experience may vary per user (which is unfortunate since it's harder to bughunt and it shows that there is deep root issue in W10M that causing so many inconsistent issues).

Unless you meant it sarcasically, I'd have to disagree. Here Drive was so crash prone on all my windows phones (Lumia 820, Samung Ativ and Lumia 90). I only stuck with it because it was the only one at the time that was somewhat reliable, and even then, with very very BIG warts. It would just reeze repeatedly and the phone had to be restarted. Got sick of rebooting after the 20th time and looked for an alternative Eventually, I forked out the cash and bought the Sygic maps. Now using the Maps for win 10 Mobile and loving it even more than the paid app.

Based on the number of dislikes, yours is the 'direct' lie lol

I've experienced it lock up before so it's not a lie. The last time it happened to me was probably over a year ago though.

On my 930 it froze often..

It sure did for me. What am I talking about? According to you Im lying to myself HERE Maps was awesome, except it wasn't.

I've been using Here for 4 years on multiple devices from the 520 to 1520 and I NEVER had issues with it.

I completely agree. HERE wasn't very good.

I used HERE almost exclusively for years. I had a couple of pauses (I won't call them lock ups, since it did resume, eventually). It always seemed to be related to loss of GPS signal. For the most part, however, HERE was a very good system. That said, I always kept Navigon as a backup just in case :-). Now with Windows 10 I just use Maps and Navigon. I am in the USA, however, and from what I've read Maps is lacking in other parts of the world. Hopefully they can close that gap before HERE fully retires.

I can confirm this happened to me on several occasions. I'd realize I was bearing left but the map said I was going straight still and my heart would sink. Now I have to restart it while hitting a tree
EDIT: it really mainly happened when I was going for 2-5 hour drives

Oh. What's it like anyone please. Any good? Sent from Lumia 950

It looks great, with sensible layout and options but it's unfortunately not working. It finds my location fine, plans my route fine, but when I press 'go' it sends my location around half a mile south (always) then tells me to proceed to the route to follow the directions. It then won't update my location and says 'searching for GPS signal'
If I could paste screenshots for you, I would.
I'll be sending the feedback to Microsoft when I get home. Posted from Windows Central for Windows 10 L950XL

Well least its a start. Lol. Hopefully be working better better the time it it hits slow ringers Sent from Lumia 950

It's honestly a great start except for that fatal flaw!
I'm glad I'm not in a city I don't know because I rely on maps quite a lot. I'm surprised that nobody else is complaining about it though.
I'll check the feedback app again and see. Posted from Windows Central for Windows 10 L950XL

Exactly what happens to me on my 950 dual sim with this new version. And no voice commands. Directions is totally broken now.

It look very good and has imporved usability. Since you have a 950 like me you can get it on Redstone :)

Fast ring only. Also got an update on People app

read it was for the fast ring insiders at the moment.

Of course. If you're on the Fast Ring you're on the Redstone development branch.

I don't own any of the new devices

Neither do I, which means we can't get this update yet.

We'll get it soon. Gabe said that the next build will expand the Redstone builds to everyone whose phones are eligible for W10M. So my 640 included :)

Which is good for my Lumia 640 (my backup phone). I've been dying to try the Redstone builds for ages.

Me too. So glad I bought this 640 to replace my 820.

Only for Redstone Insiders

the update is available for which ring(s)? just fast and slow or for insider release preview too? @Harish Jonnalagadda would be nice to have that (important) info in the article, not?

It's in the article. Redstone only.

The Windows Central article absolutely does not mention Redstone only, nor does it state which ring. A lot of people are claiming that and it is false. The article does, however, link to an article from Microsoft that explains the update to maps more clearly, and Microsoft's blog article LINKS to another article that explains what Insider track and build you need to be on. Yeah, you have to follow 2 links to get there. It SHOULD have been stated in the article. Hate to complain, but it was something I was specifically looking for, and had to jump through hoops to get the "official" information other than people just stating it in the comments section. People's opinions in comments are not always reliable.

Too late... Moved to sygic. There's no comparison even with HERE. Best navigation app so far for WP (from my point of view).

hehe.. what do you mean too late? Meaning you're not going to update it? Have you uninstalled it? Too late for what? You know HERE is still available?

Sygic doesn't have spoken street names in voice nav.

I have used Sygic for some time now and it does say street names.

Yes, in fact it does but the catch is you have to pay for a license. There is a free introductory trial (7 days I think) for new users of what Sygic calls "premium features" including turn by turn voice directions with street names. It is a very attractive application, colorful and purpose built for navigation on Windows 10 devices.

How to switch between slow and fast insider builds
I have updated last build as slow ring now not able to get fast builds what to do? Posted from Windows Central for Windows 10 mobile from Lumia 730

Just chose option for fast ring in windows insider app, then your mobile will restart and then u r in fast ring Windows 10 on Lumia 730

Sir i did exactly what you said many times eg.15 times it's showing m on fast build in insider app but not showing any update when i try to update from settings app Posted from Windows Central for Windows 10 mobile from Lumia 730

I don't think older phones can get Redstone builds until there's a W10M 10586 image available in WDRT. Should be soon though for those devices that get W10M upgrade from 8.1

Currently the Redstone builds are only for handsets that shipped with Windows 10 mobile. Microsoft will have to add more handsets to the fast ring before you will see it on your Lumia 730.

Redstone updates are not released yet for windows phone which came with 8.1 OS..... All fast ring updates are for the phones came with Windows 10 like 650. 950 etc..... i checked like 10-20 times for the updates so far but no UPDATES were shown..... we have to wait for weeks to get Redstone updates.

But the list will include devices like the 640 "soon."

Redstone has been a wild ride for me lately. First build I installed was actually pretty stable. Last couple, not so much. I think you are better off just waiting for a bit anyway.

I've been waiting for someone to say how Redstone runs on the 950XL. I'll stick to .164. You'd think that they'd run better but I guess not

As far as performance, it runs fine on my 950. There are however bugs, which is to be expected.

I'm failing to see the "lot of work needed to make up for HERE's departure". For which HERE app are we talking about - the one that is leaving and haven't had a feature introduced in years, or the iOS/Android app that is constantly updated?

Just face it Microsoft, you f'd up. With 40% of user base not getting the update to W10 (despite your promises!), market share dwindling almost to 0%, over priced new Lumias, developers (and users) leaving the platform, it's over. I must have been blind when I bought a phone from you. I hoped, I was optimistic, but you robbed me (and others, too). The end is near, your crimes will not be forgotten Microsoft...

LOL drama queen, upvoting you, keep it coming

I have no idea what this has to do with the Maps app being updated. And how is you CHOOSING to purchase and use a device with a Microsoft OS equating to you being robbed? Or are you just another First World snot with privilege issues?

I am an angry customer who bought a Lumia 930 almost two years ago who is now stuck with a dead OS. At this point, only a blind fanboy would defend those fraudsters.

Take a chill pill, there will be another wave of updates for older devices.

No, they won't man. They promised it but now they just said F you. I'm sorry, but that's it. The final nail in the WP coffin. How I used to love the platform...

@R3mis. The 930 is getting updated to WM10. The only x20 phone is getting updated is the 1520.

Take a deep breath and repeat after me..."Its only a phone"..."Its only a phone"..."Its only a phone"...

What the f are you talking about? 930 got the W10 update, which doesn't seem like a dead OS to me.

The x2x phones didn't get it, that's what I'm talking about. I got the update for my 930 of course. But let's face it, it is a dead OS, everyone is leaving. Look at the ghost town of a store, news of developers leaving, complaints of users and rants of leaving all over the forums, dwindling market share. I mean it should be pretty obvious now the platform is done.

That's what I thought too until 2-3 month ago. New high-end phones are being announced, the W10 core is unified and ready for the UWP (which will be huge, no doubt about that). Yes, W10 mobile needs to be polished a bit more, but from now on MS will be more focused on adding features and pushing boundaries with things like Continuum and Hololens. The consumers share might suffer in 2016, but seeing businesses embracing W10 and W10M is definitely a good sign. I'm not sure if I'll be using Snapchat in March 2017, but I'm sure that W10 as a whole will make even bigger progress in terms of features, apps and marketshare compared to 2015-2016.

For every person ranting and crying there are 10 others that are perfectly happy. But you don't hear from them because people don't wake up and decide to jump on the forums to scream about how wonderful everything is. Just like product review sites! I don't even like replying to whingers like yourself as we get called "blind fanboys" just because we don't buy into the hysteria and "doom'n'gloom" mentality. I freaking love my new 950 (my first WP device was a HD7) as it does everything I want and I have dozens of XBL games to play. Maybe I'm different as I don't use and don't care to use snapchat, instagram or any such things. My mobile does everything I want and more. I might feel differently if I hadn't upgraded, but as it is the 950 & W10M has been a joy to use.

My Lumia 820, a 3 year old mid range phone, is running W10M just fine via Windows Insider. I would never consider leaving. Do you think any cheap Android phone will be running the latest OS version in 3 years time? Most of them are out of date when you buy them.

My 930 is on W10 and has been for some time now........Windows Insider ;)

I had a 930 before I purchased the 950. The 930 was an excellent phone! The only reason I got rid of it is because I couldn't get Tmobile LTE bands.

2 years !!!! Try getting a droid phone thats 2 years old and running droid 6, or 5 for that matter, there isnt many of them. Stop complaining and get a new phone. Posted via the Windows Central App for Android

Good lord, that's some serious drama right there. If you think it's unfair that some phones haven't got the update yet, despite the fact that most of the ones missing it right now are about three years old with ancient processors and it's not even something that affected you personally, then get a phone with an OS that works for you and move on. Seriously, even my three-year-old doesn't cry over her toys as badly as this.

Unfortunately, some of us are on Verizon and the only available phones are 2 years old. My Icon is almost the same as a 930, but is not on the upgrade list. It has no problems with processors or memory, just Verizon not updating it.

I'm sorry but Verizon is to blame for that. I've used Win10M on my 930 for a while and it works rather well.

@augustaville I feel for you, truly I do, but Verizon treats it's Windows Phone customers abominably. My mother had to downgrade from her 1520 to a 735 when she went with Verizon and she can't stand talking to the reps about her phone because they view it with utter contempt.

Well with emjey and Kamesh (wait is the 'K' in caps?) I'm afraid this will continue... I was going to let them know that there is a W10M app to help with their med schedule... but they are on Android, so...

"... your crimes will not be forgotten..." You cra-cra

Does anybody know if this update is Redstone-only because it's a beta and will eventually come to TH2 or if it's a Redstone exclusive? Thanks.

I guess it's for Redstone only. In release preview on my 950XL and not seeing the update.

Looks good, still some English strings around when running on German OS. This is the right direction!

Not got the update? Is it specific to build .164? Posted via the Windows Central App for Android

Not that you should have to (it should say in this article) but it is only for the newest redstone build.

Map app crashes as soon as I change from road to aerial in both Mobile & computer. Posted from my 950xl for Windows Central!

Turn by turn navigation still has a dreadful robotic sounding voice in the UK despite the blog saying it now uses Cortana.

"Maps for Windows 10 Mobile updated FOR REDSTONE INSIDERS with new drive mode, cleaner UI and better search"

I don't think it needs to do much to catch up to HEREs suite, I already thought it was much better

If they now add public transport overlay to maps, nearby bus and train stations with real-time departure times and compass support it could start to replace the HERE apps suit.

All I need is map data because I'm from Cambodia and there isn't any road on the map.

Oh look, only for Redstone branch..how many phones are on it? ah..yes, only 5. FFFFFFFFFFFFFF

Sweet, I represent 20% of Redstone users!

Hey You and I, that's 40%... one more person and we are at 60% and that's a majority!! We can REALLY make things happen then!

MS does some weird **** man. Redstone only available for phones sold with w10m. Most phones out there have better specs than say the 650 which is getting redstone builds and beta's that come with it. I don' get it.

New Edge with extensions, new Redstone build, new Maps....huh, maybe Microsoft has more than one programming team after all :-)

Messed up my location by a significant margin. No audio output for directions.

Thanks for the click bait article.

Instead of saying something like this, why not explain why you feel the article was click-bait?

Really looking forward to the general release of this update. The new driving UX looks like its hugely improved. Just one question though, do you still have to input a destination to get into the UX, or can you just toggle into it and use it while driving around without a particular destination?

Unfortunately I don't see any toggle for this, a simple "drive mode" is my main request at this point. The app is improving nicely though.

Don't get too exited about the new drive mode UI, as this doesn't work for me!!! . You still have to put a destination ! no "casual" drive mode similar to the Here one for your daily commute etc... . The new Drive Mode UI, is not exactly as shown on the blog for me... I still have the horrible full height "next direction bar" (next street /exit name) taking nearly a 1/3 of my top screen in landscape mode !!! This is still as high as the top left "arrow" rectangle with the text centered in the middle (not at the top of the screen!)... . the bottom bar for ETA, remaining distance etc is much more readable than the square on the left bottom corner, but reduce even further the map space in height in landscape mode ! Now, on top of the bottom bar, there is another grey bar with the name of the current road you are driving on... In short, my screen space in landscape is reduced in height by: nearly 1/3 for "next direction" bar + 2 bars at the bottom... That doesn't leave much space for the map anymore !!! I would rather prefer to have it as displayed in the original blog (top bar only as high as the text) at the top of the screen. Also, if you are driving on the motorway and your next exit is in 17 miles, why does this need to be displayed so far in advance !!! There is no use for me to know the name of the exit 17 miles away (but would like to see it 2 miles of so from the exit, ie when the road sign are indicating it !) Even less useful to know that after my exit in 17 miles I will then need to take the next exit 14 miles after...!!! Most Satnav will hide the info (appart from the arrow) so far in advance and let you see/hear it on demand with a tap on the Arrow! - Traffic info don't display on the "new" driving mode UI (no green/amber red colour on the road), even if you enabled it before searching for direction and go button and have perfect mobile data signal ! - As many, the map location is no longer accurate! I am always driving 2-3 blocks away from the location on the map, leading to constant "route recalculation"... On the motorway, for instance, the map always recalculate when I pass a junction as the map beleive I took the exit !!! The previous map version was pefectly accurate! not this one ! Anyone else experience this with the "new" driving mode UI ? I was looking forward to the new driving mode and ended up disappointed... the new tabbed Map UI (not driving) is quite nice and functional... Hopefully they will correc this soonest.

Heh, it's good they made it easier to use on a phone screen/one handed, but really, they needed the community to tell them this is how it should be designed for a phone? :D Maybe Nadella fired a few too many of the Nokia UI folks who actually had years and years of experience and instituational memory and e.g. produced the N9 UI? ;-P

I must say that this Here drive/microsoft map navigation debate is making me very unsure if I want to upgrade to windows 10 mobile. I've used the here suite of maps for over two years as my daily navigation driver fore work and recreational purposes. It has been my trusted source. The biggest issue I missed was that there was not way to search for my contacts. For this I used a workaround via the people hub or used a third pary car dash app by Rob Irving. That combo of Rob's app with Here drive is heavenly! I can't accept anything less in functionality and features with the windows map app navigation. I've got a taste of what it could do in windows 10, its okay and a nice merger of the here suite in one app (I wish that was the case with more native windows apps, hint hint, cough, cough, people+skype+messaging+socail media etc. cough cough) but I do miss that I can not access contacts from the maps app for navigation and a way to organize my offline POIs in favorites. I need to be sure this app works well out of the box on a lumia 1520, because it is my daily driver. Anyone have any experience with the windows map daily navigation use on a lumia 1520, 930 or icon. Is it a good replacement for Here drive + or is it wise to wait a little longer for a possible windows map navigation update. My wish is to upgrade so that I can use my phone almost flawlessly for work out of the box after the upgrade. I can't wait for an update after the upgrade. I need it to work optimally immediately after the upgrade. Anyone?

Maps on Windows 10 Mobile is leaps ahead in quality compared to Here and/or Maps on 8.1. This is my personal opinion form several hours of use with each.

He is not talking about maps though, Here Drive is a different app. Even i am not updating to Windows 10 for few months as Microsoft will take time to update the drive mode and as seen in this article and comments, it is still in beta like state.

Are favourites from Bing maps synced to device though?

You should likely mention that this is only for Win 10 Phones on the fast ring running the newest build. Obvi this can be found if you click the links in the article, but to keep traffic on your site, just put that in the article. Saying something is available to Insiders, which is now 50 shades of gray, isn't very accurate. Otherwise, I'm impressed with these new updates, and looking forward to seeing them soon on my 1520.

Is that true that voice navigation now works only in cortana-enabled languages (basically nowhere in the world)?

Guys,
How can I move/copy my favorite places (Here Maps Collections) from my Here Account into my Microsoft Maps (account)?
This is my biggest problem, right now.

Is this on fast ring? I am on fast but no update. Att Lumia 950.

Can anyone help: How to download maps offline.? I want all India maps. Trying to download through WiFi in sd card but it is not happening. I am using Lumia 730.

Can someone explain why this is only for phones that sold with w10m? Seems like a small user base for testing. Windows 10 is out in the wild. And aren't all Insider phones running .164 now? Preview's should be made available to all w10m users who are Insider's.

As others have noted I think one of the best alternatives is Sygic. Its got lane guidance and looks great as well as retaining the downloadable maps.

Any pictures of the updated app interface? Posted from Windows Central for Windows 10

I really hope they get it sorted, Nokia/Here maps is the main reason I moved to windows phones when Symbian died. Now I've taken the windows 10 upgrade I find out that it's going to be the only phone os you can't get it on (here maps will be withdrawn from windows in June!) but they're continuing with ios & android. I'm gonna miss being told 'speed camera ahead dude, either slow down or say cheese' (surfer dude voice on here drive)

Damn... I miss Surfer dude. I think I might bust out my old N97 or E7 just to hear the old guy...