Microsoft Edge takes a wider lead against Chrome in JavaScript benchmarks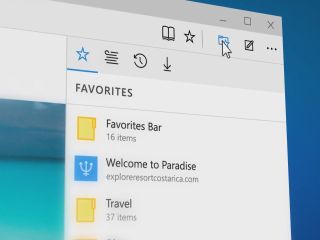 Microsoft has just released build 10240 of Windows 10, and the company claims this build also offers some performance improvements for its Microsoft Edge web browser, with faster speeds in JavaScript benchmarks compared to Chrome and other browsers.
Microsoft has already shown that Edge runs faster compared to Chrome, Firefox and the old Internet Explorer 11 when using Google's Octane 2.0 and Apple's Jet Stream JavaScript benchmarks. Today, Windows Insider head Gabriel Aul revealed that Windows 10 build 10240 has some additional performance improvements in Edge:
On WebKit Sunspider, Edge is 112% faster than Chrome
On Google Octane, Edge is 11% faster than Chrome
On Apple JetStream, Edge is 37% faster than Chrome.
Microsoft will continue to offer the old IE 11 browser with desktop versions of Windows 10, mainly so that businesses can keep using legacy web apps without the need to update immediately to support Edge. The new browser will be the only one for small tablets and Windows 10 Mobile smartphones.
Source: Microsoft
if it isn't faster than Netscape then goodbye.

Comment of the month right here

"if it isn't faster than Netscape then goodbye." Bwahaha! LOL! Good one.

It....seems faster....than Netscape :)

Considering that Netscape evolved into Firefox and that Edge is faster than Firefox I would say it is faster than Netscape

Hahaha... Homerun !!! Ding ding ding !!

Netscape was fast, Netscape was king, Netscape slow down, IE racing good, Netscape get scared like fox, change into Mozilla, get angry like fire...

The real question is the windowscentral.com test :)

And that site is HORRIBLY slow on Edge lol

Most sites are slower on Edge. I've got a top of the line system and I gave Edge a chance, but it only took an hour to figure out it was slow in the real world. Hoping the final release changes that though!

Previous versions were definitely slower than the current version. You might want to try it again.

One thing I noted with Edge in build 10166 is that flash slowed it down a ton on all sites. It's actually pretty responsive with flash turned off. I am using a SP3 with 4 GB of RAM.

Just did a quick test, this very page downloads about 6 MB's of data. Which is a lot (you could fit Moby Dick in it five times). This site could save a bunch by not loading so many external javascripts/css/images. Also, the comments are loaded by default which includes downloading an image for every user who posted a comment. Hiding the comments behind a "Show comments" button could save a lot of loading time.

Well, the scrolling on windowscentral still chugs along but so far is better. It has only gotten slow and not frozen for several seconds several times in a row like it usually does.

Windowscentral is quite slow in every browser

That is slow on every browser, it's horrible. Whoever signed off that design needs shagging.

.......shagging?.......that's not a punishment where I come from....

It is if it's up the arse with the broad end of a trumpet. Expression.

sir, you are right.... windows central is the real test for any mobile edge on my lumia 720 is crashing as it enters windows central!

windowscentral.com is brutal on all browsers. Thank God for the app. Posted via the Windows Central App for Android

Windowscentral.com is like a thorn in the flesh for every browser out there. Daniel should do something about it.

Seems faster? It is faster! AYYYYYY LMAO

- no adblock ( on/off ) integration - no bing translator integration - not able to download files more than 1gb from mega - right click on favorite bar to create new folder , and to create sub folder in new folder and to rename new folder - right click on favorite bookmark in favorite bar : to rename favorite bar , refresh etc - ability to long left press on favorite bookmark to move to other folder - please add downloading speed + ( current mb downloading / total size of file ) and also show percentage to make more easy for consumer - when downloading some file ( and press clear all for downloaded file - it also clear current downloading file ) - pathetic - when we downloading file ( please add go to download manager ) at bottom where downloading appears at time of downloading
- please bring ability to background downloadng + pause : start - integrate downloading with proper speed , total mb , current downloading into ACTION CENTRE ALSO - add a round edges in your tab ( not like current simple rectangular ) need round edges space between per tab

Tell your suggestions to Microsoft. The folks at Windowcentral.com don't have the power to change the code.

@jeffro02 dude Aakash is all over it everywhere. He isn't just a windows central poster ;). Keep up the good fight Aakash!

i know already submitted these to uservoice , windows feedback , email to microsoft product manager of ms edge just telling what we still needed

For the first time in...ever, I feel like these will all get added/fixed. Microsoft is truly listening to its customers.

Hope that big list doesn't kill the speed of edge. If i have an issue with a webpage which rarely has happened, I click the ellipsis and select open in internet explorer.

All is good suggestion except the round tab.. It's ugly as hell and isn't consistent with the whole OS design

Do you have a thread with links to your suggestions? I'll go vote some of them

Just search aakash006sharma - in Microsoft Edge uservoice ( you will find )

aakash can you also fight for wifi direct? most needed feature. thats the only thing these android users piss me of compare my lumia 920 to galaxy star which hass wifi direct.

@jeffro02:
Well, he kind of followed your advice (in advance).
In case you missed the memo: Sam Sabri has switched to the dark side and is working for the empire and the cruel emperor Skullya Nadells for quite some time now.

I don't really care about most of those things but if the download manager is that (for lack of a better word) shit then that's a real bummer! Ms better prepared for a backlash then

There isn't a browser that has adblock integration. We all have to download ad block. Downloading plugins will be a future feature in Edge.

Ya I think some people that Post forget that.

@Christian Peterson, IE has tracking protection lists and is in layman terms an integrated version of ad block.

Check the new browser - UC BROWSER PC ( worlds best fully featured browser ) and is beaten all browser with fast and never crashing

UC is just Chrome with a different UI. It's not any better.

You don't say! The question is, WHEN. Another year??

I agree with all of that except for adblock integration and round edged tabs. Adblock shouldn't be built into a browser, it should be an extension someone downloads, and extensions are coming later. As for rounded tabs, I like the way they look now better.

I would prefer rounded tabs. Personal preference.

I think we will see most of that come through the extensions. My guess is they are keeping things sparse. But we need some extensions and good ones to start from MS. I think the mega issue is on their end, just bad coding.

I just wish it would support CSS reflections.

also LastPass integration wouldn't hurt... that's the only thing keeping me from changing browsers

This is for LastPass folks to fix I think...

Deffo needs Ad block of some sort.

Hey there Aakash, As it so happens I'm actually a dev who works on Favorites for Microsoft Edge, and I can therefore respond to your Favorites inqueries. I may or may not have been scowering the internet to see what the people were saying about my feature... 1. Currently all favorites management (other than removing) needs to be done in the hub, but just so you can rest easy know that we are working on complete favbar management as well. 2. You can unfortunately not rename the favorites bar folder by design. Sorry. Not sure if that's what you were asking but that's our folder. The other ones you can have, let us have that one. 3. The pane is refreshed every time you go into or out of a folder, although a refresh button is definitely something that's being tossed around. 4. Unfortunately long press drag and drop is only active in mobile edge at the moment. We'll likely turn that on in the coming months for desktop but don't hold me to it, I'm not in charge. Luckily the great thing about Windows 10 and Microsoft Edge is it's an ongoing process and we are able to actually update it pretty fluidly in the next months and forever and all eternity. Believe it or not we've actually been listening avidly to feedback.

What's up sambri! Good to see you back in WC forums since you left dude.

As per usual, we will hear claims of how Microsoft cheated, optimized their JS engine to perfom better on these benchmarks, wrote the benchmarks to perform better on Edge (even though these are benchmarks written by Google and Apple), perf of JS is not that important because fractions of a second during a day doesn't help the user, and so on. Then when Chrome and Safari suddenly start performing better on these benchmarks, it shows how much better those browser are, they do it without cheating, it will greatly benefit the user, and it shows how much more standards compliant they are (I have never been able to figure out how perf equates to standards, but that argument has been used before).

I agree... I am not seeing edge being faster than chrome on my laptop, and some elements are displayed incorrectly for some websites

I don't think you're actually agreeing with him.

He's agreeing to being one of the people nohone is talking about.

When I tried running the Peacekeeper benchmark FF got 50% better score than Edge, though I'm unsure how the score was composed; it might be that the lack of codec support affected the score, might be it didn't. edit: it seems the score depends only on JS performance: http://peacekeeper.futuremark.com/faq.action

You should compare the results of tests that worked on both browsers. You are most likely correct that Edge got dinged because of specific tests that aren't supported.

Meh, Apple and Google will just create another custom benchmark tuned to their browsers.

Yeah, and it will start checking to see if the browser is Edge, and, if so, automatically slow down the scores.

TH1 Professional 10240 is now downloading

I find it funny that Chrome initially touted to be the fastest and lightest, but has gradually become slower and heavier on systems. I used to do ALL my browsing with Chrome, now I only use it to test compatibility with my websites. IE11 is my workhorse now, has been for a while. Keep it up Edge team.

I tried Chrome and immediately hated it, particularly the UI. And this was back when I hadn't yet been disillusioned regarding how evil Google is. I always thought the Chrome logo was the creepiest logo I had ever seen, and became all the more so after the infamous Wi-Spy case outed Google as the biggest hypocrites in the tech industry.

As a web developer I can tell you that Chrome is the slowest browser for running our unit tests (automatically running and testing all the JS in our apps). Firefox is almost twice as fast, and Edge is even faster.

Chrome is a resource hungry browse in my eyes, rarely use it these. I mostly use Opera, Firefox or IE11

Opera is a great browser but not many using it because they don't come as bloatware with other frequent programs that people install on their PC.

Edge has a lot of potential being a browser build from zero with new technologies and such. but of course Microsoft needs to work hard on it, don't rest and just keep updating it, not only to have adblockers and stuff we already have on IE. but also great features that will make mobile and desktop edge be the best.

Thanks for your insightful post. I'm glad you took the time to write that, as I really enjoyed it.

He definitely had a very thought provoking comment. He made me question myself to see if I was missing something in his comment, lol.

"keep updating it"
My thoughts exactly, and when I was asked to give feedback about Edge, that's pretty much exactly what I said. We don't want it to end up like IE -- neglected over the years and abandoned for Chrome.

Does it work like chrome with multiple tabs?, I rely on having multiple tabs opened (around 15-30) for my job, love FF but it sucks in this regard and even while Chrome is RAM hungry I really appreciate the way it handles tabs.

What browser does not have multiple tabs these days?

I think he means, does it still perform well with 30 tabs open. Obviously all browsers have tabs.

Multithreading should be adequate. If MS does this correctly, they should suspend processing in other tabs except for audio

MS should block Chrome from being installed to get even for the Youtube app nonsense for windows phone that Google caused.

And loose at least half of the people using their OS

Right.. where will they go? ChromeOS? LOL.

A screen that asks a user to install a better browser when they start Chrome, like Google does on their sites. Regular people fall for that crap so it would be super effective.

do you really think that users would buy a fricking macbook just because they cant install chrome? Yea right. Its actually a good idea, you dont want to give us youtube app for windows phone? Fuck your chrome in our OS.

Microsoft doesn't need to stoop to that level to win. They need to focus on providing the best software, best services, and being as open as possible to allow users to choose how they want to use their technology. If people still want to use Chrome on Windows, then so be it. The browser itself doesn't really make MS money anyway. It's just something they need to tie their products together if the user wants the most integrated experience.

Thank god you don't work at Microsoft. There's a difference between not making apps and blocking software. Also the EU would fine Microsoft within the hour.

Which is sad. Because theres still other options for browsers but there's really only one option for YouTube. So tell me how they can get away with something but non google can't?

Maybe because other options aren't as well uses or liked idk. I agree that Google has a monopoly with YouTube but they don't enforce it, anyone can make a new YouTube but from what I've seen those don't catch on. So the situation is different.

Displaying a message that says Edge is now faster and better than the other browsers wouldn't be illegal. But I think people trying W10 would also use Edge. I will as soon as I get W10 on my W7 PC.

If they do that, a hefty lawsuit will be coming their way. IE has been subjected to lawsuits before, so this won't be good news for Microsoft Edge either. Also for a ton of people Internet Explorer(and by extension Microsoft Edge) is just a tool to download Chrome and nothing more - I imagine Micorosft doing this will massively piss people off.

11%, 37%, 112%? With Google's own benchmark showing only 11%, which is SO far off of the others, it sounds to me like Google has already been stacking the deck in their favor quite a bit in order for it to be that far off. Even with that, Edge still had the edge. (Yeah, I did that on purpose. Try not to slap me for it.) I'll bet the Webkit test is the most accurate, looking at where the other 2 come from.

Slap. Sorry, had to do it :)

The problem is how to block ads with this browser. It is so annoying to browse without an ad blocker

I am my own ad blocker ... if a website's ads are too annoying I don't use that website ... otherwise I am not taking money away from people running the sites by adblocking ... quality sites will find a good balance. Sketch sites will not.

I also support few of the sites i usually browse, but I block most of the other sites' adds. Some of them are really annoying and with tones of adds.

Nothing is as annoying as starting up your browser, with last sessions tabs, and finding out some site decided to load and play a video ad, max volume. I don't mind ad banners or ad-screens(/dialogs) when entering a site, but sometimes the ads are done so very very poorly (like making the whole background of a site a clickable ad). Those sites get no mercy from me. Then again there are sites with well done ads, like WindowsCentral.

Extensions are coming this year.

Who cares about ads. I don't even notice them anymore.

Just use a host file much better than an ad blocker

Need to block ads? Here you go. This even works great on Windows RT along with TPL. Download hosts.zip file. Extract the folder and run the .bat file.
http://winhelp2002.mvps.org/hosts.htm

You all missing the feature Reading mode. It removes all the crap on the website including ads. I love that feature when you see annoying ads and content.

Explore Resort Costa Rica... Pura Vida! :D I like Edge so far!

I love it.. They are Edging out the competition so far. :)

What about html5 tests? Why is it only based on Java? I saw somewhere its only 325/555 or something, and chrome is 525/555. Still needs significant html5 improvements.

Enough with those stupid HTML5 test scores. If you look up half of those HTML5 functions you will find that they are either "proposed" or "draft" status. In other words, they aren't part of the HTML5 specs yet. It's actually very irresponsible for browsers to support things that are not in the HTML5 specs and even more irresponsible for web developers to implement them. Unfortunately, the average person only knows that "higher score is better."

Forget about html5test.com, html5 is not standarized yet, Adobe Flash is still being used in about 50% of the world PC's. What is important is to test the speed of the browser when you boot (open the browser for first time) and I think Chrome is loosing the race, on my PC it takes forever for Chrome to start. I should have kept Chrome of 3 years ago, it was a much faster browser than it is today.

you dumbfu@@s who complains about add blockers - use hosts file to block all the ads. and be selfish and deny content creators their payday.i pray you will lose your jobs because someone somewhere thinks its ok for you not to get paid.

Mmmmm adblock. My online love. :S

Just shut up already if you have nothing to say... I just LOVE Adblockers!

And that's a surprise? I've run the WebKit SunSpider now in Chrome and in IE 11. Turns out, IE 11 is 82.7% faster than Chrome.

Edge will be my favorite browser! Currently using Chrome but i'll change to Edge! :)

Not surprised, Chrome is too bloated today, it takes more time to boot and feels slower than IE11, and is not my PC, I have Intel Core i7 Broadwell CPU + 8GB of RAM and Chrome doesn't take advantage of the faster specs. The only OS which Chrome is better than IE is XP but its much less popular than 1 year ago.

Completely agree Gabriel. At my job my PC was running XP so I used Chrome and sometimes Firefox because it was the best browser for XP. But I had begin to hate Chrome because it was becoming slow and crashing. At home I would use IE11 on my laptop and Modern IE on my tablets. (Sidebar: I will miss that Microsoft Edge doesn't do swipe forward and backwards like Modern IE) Anyway after complaining to our IT department forever to get me a Win7 PC like the rest of our employees; I now use IE11 pretty much exclusively now that I have a Win7 PC at work.

Thanks for your feedback, I also got my work PC updated from XP to Windows 7 this year and recently upgraded from IE8 to IE11, never use Chrome again, unless there is an app that only works for Chrome which probability is very slow. My company has more than 100k employees and I think all should now start using IE11 which feels much faster and smoother than Chrome. It is hard to convince the IT department since they just 1 year ago officially told Chrome was going to replace IE8 as the main browser, but now that IE11 is certified and available, is time to convince IT department to put IE11 as the default again, employees will be much happier.

Sunspider Test: WINDOWS 7 32bit DUAL CORE E5300 4gb RAM ATI RADEON 4650 IE11 >>>> OPERA 12.16 >>>> PALEMOON > OPERA DEVELOPER 32 > CHROME > MOZILLA Latest version of all browsers (and FINAL version of Opera 12, sigh!!!) The first two (IE11 e O12) by a large margin. And IE11 by a large margin on O12.

50% more crashy to ie right now.

Wow. Cant wait to have the final version on my phone

Why can't I pin a page to my start screen on my dell venue pro 8 anyone else having this problem.

So IE is not totally dead yet. At least, we will still see that round "e" until then.

Yes IE is in windows 10 for compatibility reasons. It is hidden from the average consumer though.

All we need now is extensions.

Is not just about speed, Microsoft! Some of the elements are wrong on certain sites.... Don't screw up the compatibility please.

Okay now market these results to the max in a commercial or something.

I really hope that edge works well Coz I am really tired of my chrome taking 10 seconds for the first launch everytime. I couldn't find what is the problem (Firefox keeps crashing with JS and IE11 doesn't work well with the slow internet speed in India). Right now Chrome is my only option and hope that edge works good on slow internet speed and not end up like IE but I can only hope.

Html5 test on Edge showed 402 out of 555 points in the 10166 build.now lets see what's changed :)

I'll be happy so long as it doesn't have the shitty disappearing webpage issue of ie 11. I'd like to move away from Chrome or Firefox but currently IE is horrible.
Windows Central Newsletter
Get the best of Windows Central in in your inbox, every day!
Thank you for signing up to Windows Central. You will receive a verification email shortly.
There was a problem. Please refresh the page and try again.