Microsoft may have an Xbox gaming event planned for March 26 (update: confirmed)
Keep that momentum rolling.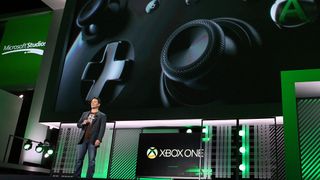 (Image credit: Windows Central)
March 18, 2021: This event has now been confirmed real!
Original article:
A short while ago, noted Microsoft expert Paul Thurrott tweeted that Microsoft is planning a series of events in the near future revolving around Xbox and Windows, with the gaming show slated for March 23. More recently, through our own sources, it seems that this event looks to have shifted slightly to Friday, March 26. We've heard that the show may offer a glimpse at some upcoming Xbox games for 2021, and possibly beyond.
Details on exactly what this event will contain are scant for the time being, so it may be wise to temper expectations. It may be a tech and platform-oriented event with some smaller game announcements, or something more. Either way, given the fact Microsoft just completed its blockbuster purchase of Bethesda and its subsidiary studios, Microsoft has a mountain of momentum it can capitalize on right now. It has a ton of projects in the works between its home-grown Xbox Game Studios, its partners at ZeniMax and Bethesda, and third-party devs, all for Xbox Game Pass.
With the pandemic still affecting in-person trade shows, E3 and many other events have already been canceled. Many companies have adopted Nintendo-style "Direct" showcases to talk about their upcoming product slate, and Microsoft is no different. Last year it did a few gameplay showcases, one for partners and smaller studios, and another where Halo Infinite made its gameplay debut. Additionally, Microsoft showed off Perfect Dark at last year's Game Awards.
It still may be too early to hear from the likes of Hellblade II, Forza Motorsport 8, Fable, and others. But Xbox architect Jason Ronald recently revealed on the Iron Lords podcast that there are still some games planned for 2021 on Xbox that have yet to be revealed. It stands to reason that some of these games could appear during the March showcase, but I would temper expectations for something like that.
Microsoft may want to leave some of its heavy hitters for the traditional E3 window. Microsoft has been generally supportive of the E3 tradeshow and the ESA, and the company behind E3 is planning a digital event of its own for 2021. It's with that in mind that this March showcase may be to give airtime to some of Microsoft's smaller partner games, such as The Ascent, 12 Minutes, Scorn, and other games that have appeared at previous shows. We could potentially catch a glimpse at some of the bigger games, too, to keep people's appetites satiated.
Either way, always remember that plans can change and shift. Until there's an official announcement, nothing is set in stone. We're pretty confident about this one, though. March is looking like a pretty exciting month for Xbox.
Windows Central Newsletter
Get the best of Windows Central in in your inbox, every day!
Jez Corden is the Managing Editor for Windows Central, focusing primarily on all things Xbox and gaming. Jez is known for breaking exclusive news and analysis as relates to the Microsoft ecosystem while being powered by caffeine. Follow on Twitter @JezCorden and listen to his Xbox Two podcast, all about, you guessed it, Xbox!
I hope Xbox Design Lab is coming back soon.

Some possible good/bad behind this: Bad: It seems unlikely there is something near release that we haven't heard of. In that sense, more "we're bringing you games someday" isn't likely to resonate well with people. Other than maybe giving a new gameplay update of Halo Infinite or updating Psychonauts fans, I'm not sure what they would have to offer from a first-party standpoint. Reminding us they have a bunch of studios working hard on things we aren't getting anytime soon is uninteresting on its face. A few years ago, Phil said they would be less prone to announcing things way in advance. Since then, they've shuttered a bunch of studios, opened a new one, and bought some more. It seems they don't have much impending content to share, and it feels he has gone back on that premise out of necessity. If Microsoft doesn't have new games with release dates to discuss, I will be rolling my eyes at another "games are coming" conference, and I doubt I'm alone. Good: Letting people know of stuff coming isn't a guaranteed bad thing. Being able to formalize dates on ZeniMax titles on Game Pass is SOMETHING (though I personally couldn't care less about that). If they have something GOOD to show for Halo to build hype, maybe something as crazy as a summer demo plan, cool. They might have a firm release for Flight Sim, and if they have a surprise announcement of Xbox VR, people (myself included) will be pretty excited. There is SOME degree of "games are coming" announcements that can alleviate fears, if they're "here are the games coming in 2021" announcements. If we can get confirmation of Forza for 2021, I think that's a positive, even if it's 6-8 months from being out. If they show off MLB The Show (out in April) on Series X, people could get excited (especially if it were in Game Pass). I like the above suggestion of announcing Design Lab's return too, but I'd rather hear that they're fixing the Elite Controllers finally...or cutting the price significantly because of how failure-prone they are. There's stuff they have to work with, sure. I'm just pessimistic overall because the last few conferences have brought more bad news than good, IMO. I'd be interested to hear if Compulsion (who has been dead silent since they released We Happy Few after MS bought them) has a new project in the works.

Hopefully they will talk exclusively about VR games.

it will be my dream!. a vr compatible headset to series x to play racing games like project cars or assetto corsa (like pc).
Put i thin microsoft dont have interest in vr for xbox :-(

@David Perez Perez Microsoft does have interest in VR for Xbox. However, if I recall correctly they are aiming for an untethered experience as you have a less of a trip hazard from no cables. The last thing you want to do is pull your console out from your media centre and by extension pulling down your TV lol. I reckon Zen 4 APUs will be able to handle the latency penalties and by then we should have truly Wireless VR headsets at cheap price points that don't weigh too much. Currently, you need a beefy PC to run a very decent VR set up for demanding games. If Microsoft only want to run games like Beat Saber then they could have enabled VR in with the Zen 3 consoles. Given the nature of people who have low to no understanding of tech - they would demand to run AAA games via VR wireless on hardware that's designed to be compact as possible and cheap as possible - without being a extremely loss leading product (90 to 95% loss - financially unviable, currently the conoles are barely breaking even on the bill of materials + R&D cost for the xbox series X/S and PS5).

It could be like last year, where Team Xbox had their third party showcase to highlight upcoming titles. Playing armchair quarterback, I would have it be a smaller showing of upcoming exclusives... indie and maybe a couple of third party exclusivity deals that aren't big enough for E3.. and then at the end Phil Spencer comes on to say he almost forgot something, and they play a short teaser of Starfield that states that it's only coming to Xbox and PC, and to look forward to an extended look at this holiday release at E3. That would most definitely get the industry and fans buzzing.

Yeah if it does go ahead I expect something smol/platform-oriented.

Hit them hard, MS. Hit them in the gut. Allow yourself to be the winner. Seize it.

Ooh, I hope it remains fixed on the 26th March as it's a Friday lol (have more free time on Fridays 🤣... or may be not if the project I am working on increases in scope 100 fold before then... 😬😖).

Make yourself happy, give them for their money, don't tell ridiculous or incomplete.
Windows Central Newsletter
Thank you for signing up to Windows Central. You will receive a verification email shortly.
There was a problem. Please refresh the page and try again.