Where to get those cool coffee mugs in Microsoft's Surface ads
If you look closely at some of Microsoft's recent marketing materials, you may notice some very cool-looking coffee mugs that fit the Surface style perfectly.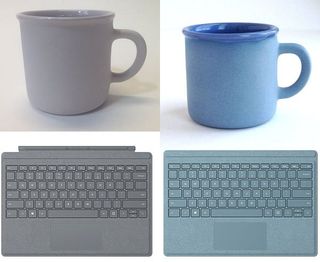 I'm a simple man. There are few things in this wide world that I love more than gadgets, coffee, and beer. I love me some slick Surface hardware. I adore a good pourover made from freshly-roasted Kenyan beans. And I never pass up a well-aged Belgian lambic. And fancy beverages deserve fancy glassware, or as we beer geeks call it, "Proper Glassware." If there was ever such a thing as proper glassware for Microsoft Surface users who love java, this is it.
Surface coffee mugs?
Some Surface Pro marketing images caught my eye earlier this year, when I spotted a very familiar mug from the tiny Oakland, Calif.-based pottery house Atelier Dion. I had purchased the very same mug, albeit in a different color, at my favorite San Francisco coffee shop, Sight Glass, last year. And it's so distinctive that I recognized it in Microsoft's Surface Pro imagery immediately.
I'm a big fan of Atelier Dion — I've since purchased two more of the company's mugs — and it appears that someone in Microsoft's marketing department or photo team is too. Another style of Atelier Dion mug recently appeared in Microsoft's new Surface Book 2 marketing photography.
Both mugs are beautifully and flawlessly handmade, but perhaps the coolest thing about them is that they come in a number of different colors, including some shades that match the Surface color lineup nearly perfectly. And I can't help but think both mugs would pair particularly well with Microsoft's old "Surface coffee table."
Retro review: Microsoft's 2008 Surface "coffee table" in 2017
They're not cheap, at $25 and $42 each (plus shipping), and they're made in very small numbers and often sell out. But my Surface-gray Atelier Dion mug is my favorite coffee cup ever, and I have different types of mugs from roasters and coffee shops all over the U.S. (I know, I'm a total nerd.)
If you're a big Surface fan, like many of us on Team Windows Central, and you're in the market for a new coffee mug (or maybe even a gift for a coffee-loving Surface user in your life), you could definitely do worse than a cup from Atelier Dion.
See at Atelier Dion
Windows Central Newsletter
Get the best of Windows Central in in your inbox, every day!
Al Sacco is content director of Future PLC's Mobile Technology Vertical, which includes AndroidCentral.com, iMore.com and WindowsCentral.com. He is a veteran reporter, writer, reviewer and editor who has professionally covered and evaluated IT and mobile technology, and countless associated gadgets and accessories, for more than a decade. You can keep up with Al on Twitter and Instagram.
Cool? a mug? Give me a break!

I am not going to go defending this article for not being extremely niche however some people really like to have a single colour theme desks/workplaces. For those people this article will be great.

Much cooler mugs in the Microsoft Company store.. https://microsoftmerchandise.com/Shop#/product-search/78f6861a-bbae-43b5...

YES! That Minecraft mug. And I don't even play Minecraft...

That's one expensive mug - $42.00!!! :0

The blue one doesn't color match any of the Surface covers, at least in the pictures. Also, $42 for a mug is probably the most ridiculous way to burn your cash I've heard of lately, and that includes a €1329 smartphone from Cupertino.

I think this article crashed the site. I would love to have one to match my Surface, but someone said they were $42 and I ain't rich.

Better mugs for computer desks have a wide bottom that tapers more narrow to the top, like this one:
https://www.amazon.com/Trudeau-Corporation-Donoti-Design-Stainless/dp/B0... They're much more tip-over resistant, unlike normal coffee mugs or that ridiculous black 'V' shaped one in the photo.
Windows Central Newsletter
Thank you for signing up to Windows Central. You will receive a verification email shortly.
There was a problem. Please refresh the page and try again.