Microsoft's Surface Duo down to an insane price of just $410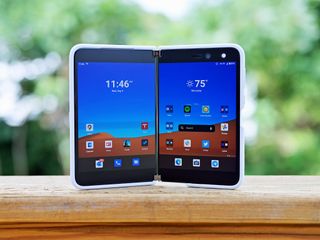 (Image credit: Daniel Rubino / Windows Central)
Microsoft's Surface Duo is down to just $410 right now, which is its lowest price ever. Even if you bump up to the 256GB model, it's still only $510. When the Surface Duo launched, one of people's biggest concerns was its price. It started at $1,400 but has steadily dropped in price over time. The downside of the current deal is that it's locked to AT&T, but if you're already on that carrier or are willing to switch, it's an excellent bargain.
Woot's sale on the Surface Duo is only available today and could end soon if supplies sell out. If you want to grab the Surface Duo, now is probably the best time to pick one up.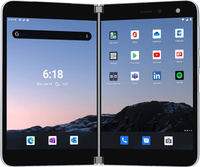 (opens in new tab)
Surface Duo (opens in new tab)

The Surface Duo is down to its lowest price ever right now. The dual-screen device is incredibly thin and provides an experience you can't get on any other phone.
The Surface Duo has two 5.6-inch AMOLED displays that can work side-by-side. You can run different apps on each screen or span an app across both displays. You can also flip the second screen around to use it with just a single display. Despite having two screens, it's almost impossibly thin.
While the Surface Duo is unique, it's received mixed reviews. Our Zachary Boddy recently wrote a piece on why you still shouldn't buy a Surface Duo. At the time of his article's publication, the Surface Duo was down to around $750. Maybe an additional $340 off will change people's minds.
The Surface Duo is a unique device that some early adopters still want to get their hands on. It has its flaws, but people who want one know who they are. At $410, ordering the Surface Duo is easier than its ever been.
News Writer and apps editor
Sean Endicott brings nearly a decade of experience covering Microsoft and Windows news to Windows Central. He joined our team in 2017 as an app reviewer and now heads up our day-to-day news coverage. If you have a news tip or an app to review, hit him up at sean.endicott@futurenet.com (opens in new tab).
Can you get this to work in the UK if it's locked on AT&T? And how much does it work out with shipping if you can :-P

Don't forget your nice customs bill.

It's possible to unlock this, but it's a fight from what I've seen on the SD subreddit. But the subreddit has some advice on the best processes to get an unlock code via MS, rather than AT&T. But sadly it's not available for international shipping outside the US, unless you have a proxy...

Why would you? I wouldn't use this device for free.

I don't know why he wouldn't use it, apart from the bad camera image quality the device is very nice and has incredible potential. and it's very much usable.

As you say, lousy camera. Also, no wireless charging exacerbated by a fragile charging port. No NFC for either pairing with audio devices or contact-less payments. Massive bezels. Tiny screen size (sure, there are two of them, but they are each very small and totally the wrong aspect ratio for consuming any media). And the speaker phone, which I am using all the time in a COVID world, is really poor. My ancient Galaxy S8 is still more usable than this thing. It has a (much) better camera, tap to pair and Samsung Pay, wireless charging and, when I put it on speaker phone, no one ever complains that they can't understand me. It's nicer than the Duo and it isn't even for sale anymore. That is why I say I wouldn't use a Duo even if you gave it to me for free.

You definitely never owned a Duo if you think that Galaxy 8 is better. Lol....

I explained why it is better. I use NFC and contract-less payment (not to mention Qi) all the time. I also take lots of pics of my kids. I suspect there are more people who value those capabilities over a mostly useless second screen. FWIW, I also use a Galaxy Watch, which is the only good Android compatible smart watch, and it happens to work best with a Samsung device. So yeah, the S8 is better for me and I suspect for most people.

I don't think you've ever owned a Duo before. Regardless, if you're using a Smart Watch, why would you care about the lack of NFC anyway? Just use the NFC in the watch. Taking pictures of your kids is understandable but I've never had any problems with making most photos look good on the Duo except in low light. And you definitely don't represent "most people" regarding the S8. "Most people" tend to use whatever they want to use, whether that's iPhone, Surface Duo, Galaxy, OnePlus, and many others.

Nope, don't agree, I've got an S8+, I rarely use Qi, it's too slow, certainly not even a contender for a feature I want in any new phone. Never have used NFC. If I want to take pictures I've got a selection of cameras that are infinitely better than even the latest phones, let alone the S8+. I've got a smart watch, it's battery lasts more than 25 days, which for me makes the other so called 'better' smart watches useless. On the other hand, I'd love a dual screen, but I wouldn't suggest I'm most people and certainly wouldn't argue why someone shouldn't buy the duo. I'd love this, but being locked and with a possible second generation, I'm still wavering, more importantly I'm not sure my wife would be happy and she'd certainly notice.

I don't know about you, but contact-less payment is not a widely used system in the US . It does not work at Walmart, Publix or home depot for me (Moto android user), at least not in the stores I use. In time I assume these stores will update their registers and it will become more common.

Before the pandemic that was true. My understanding is that more than a third of PoS payments in the USA are now done contact-lessly. That's certainly more widely used than dual screens! And certainly nearly all of my sales are done that way. Also, FWIW, Samsung Pay has magnetic secure transmission, so it works *everywhere* (although the version in my Watch doesn't). I have used it with the jankiest of systems where the people say "Oh, we don't support Apple Pay" and then it works and they go, "What?!?" (I have definitely used it at Home Depot.) (Finally, this isn't really worth fighting about, but the speed of Qi is really of no import to me. I drop my phone on the charger at night at whatever level it's at and it's 100% when I wake up. That's fast enough for me!) Anyway, if you want a buggy phone missing features that have been standard on mid-rangers for 5+ years, go for it. Frankly, I wouldn't be able to be happy with this garbage phone.

I've used Samsung Pay at Publix. For some bizarre reason Home Depot took a step backwards and stopped supporting it. It works at every grocery store I shop at. Even Costco accepts it.

So you are one of THOSE people that talk on the speaker phone in public? Nice.

If you mean in a conference room where we have two or three people gathered around a table but are also masked and trying to stay six feet apart, yes, that's me.

Man, this is really tempting. All of these sales make me confident we're getting a new Duo in the fall, though. I think I can hold off a couple more months. Rather have the right device at a higher price than the wrong device on a bargain.

Yes, it is very tempting to scoop up this device. But, I'm with you. I'd rather wait to see what the second Gen has to offer. If it offers better specs and software experience out the box, I will consider upgrading from Note 8. Dont get me wrong, I'm not necessarily concerned about the current specs of the first Gen, but understanding that it was never actually meant to be a phone, but a companion device/pocket PC, I'd rather see what the Duo 2 has to offer, now that it's focus will be as a phone and a device that can be use as a daily driver for most people. I would love to see MS make a bumber/case that can house the Surface Pen slim, or just make a slightly smaller version of the slim. But, I would imagine that will not likely happen, unless the Duo 2 sales like crazy and has very positive reviews as a device that can be highly recommended to the average consumer, as a daily driver.

Ide love to see them work on a note style pen for the duo 2. Im definitely tempted by a duo of some sort for my next phone but will be keeping my note 9 for another 12 or so months.

Wasn't supposed to be a phone, but a $1400 companion device? You are confusing the narrative around Andromeda with Duo. They started saying that as an excuse around it not having any apps or usability with Windows 10X. The Duo is most certainly designed to be your primary phone.

No it was literally designed to be a pocketable Windows 10X powered Surface that happens to make phone calls, not a phone, hence why the camera is made for video calls and not high quality photos, why there's no NFC, why there wasn't any dual screen support on Android until Microsoft managed to shoehorn it in, etc. The Duo 2 will clearly be designed around the phone functionality, which is why you'll see the phone-centric parts of the device getting a major update and why you are seeing dual and foldable screen support hit Android 11.

No, I wasn't confusing it. In the press release, they stated it was a pocketable PC with phone capabilities. It was never marketed as a phone first device. I'm sure Microsoft understood that many people would consider it a phone first, becasue they decided to run Android on it. I'm assuming this decision was because they didn't have software ready to run on it and wanted to get the device out to show the potential of dual screen device for multi-tasking on the go. This device was geared towards business/enterprise and anyone that could use such a device. Before you go into the idea that a single folding screen is better than having two folding screens, that is merely an opinion and many reviewers that own both the Zfold and Duo would argue that productivity is much better on two seperate screens of the Duo and that's where the Duo shines over the Zfold. Additionally, they usually make the point that the Zfold is a consumption device, verses a multi-tasking device, despite the fact you can multi-task on it. However, as a daily driver, many of those same reviewers would suggest the Zfold as a daily driver for the average consumer., because of the camera and specs.

Because nobody wants one that's locked.

If you already use AT&T, what difference does it make?

Updates are usually 2 weeks behind. Plus, more bloatware.

What a precipitous drop! It doesn't bode well for the brand cachet of the "Duo" when the phone drops to a third of its price within one year of coming out, or thereabouts.

Gen 2 is likely going to be such a radical update, they know no one is going to want Gen 1 after it's released. I think if this was your typical yearly incremental update coming up, you wouldn't see these clearance prices.

Not worth it at that price... Only two years of support left if you are lucky... Old processor, no nfc, bulky form factor etc etc... Just buy a Samsung phone if you want the best Android experience...

Which $410 Samsung do you recommend?

A72... Close to four years support and a better camera...

at that price, none compared to the productivity you get out of this device!

Have you received any support beyond Microsoft making it work as it was supposed to out of the box? A year later and it still is on Android 10.

And Android 11 is coming in August, as already discussed here before. Troll harder.

I love mine. The only real issue for me is the camera. In addition to being low quality, the mechanism of flipping the screen to address the subject is still, after numerous updates, horribly broken. It's nearly impossible to get a quick shot before everything changes. I didn't realize how important the camera was...I just need a decent, reliable camera. That said, I can't give up having two screens...when you need it, there's nothing better.

Buy a used Pixel 3 for pictures. I still use my Pixel 2 Xl.

or get a digital SLR and appreciate true photography ;-)

Purchased two on sale for our kids. After checking them out, and if the specs / hardware show improvement, Duo 2 might be the upgrades for our og Gen 1 Galaxy Folds. The Duo is actually very nice.

Ok, if this is not too much of a stretch, but got to try Can I be one of your kids?
If Yes - Send me (one of your children) my DUO
Else - "Reconsider by adopting me"

I got an LG Velvet for free and bought a dual screen case for 200. I also picked up a Wacom pen for it. It doesn't do native dual screen for apps like Outlook but it's still great.

Finally copped one. Too much temptation to pass this up. At this price, you can't go wrong, even if it only has one more year of support left.

I got this a few months ago for $600. I wish I could have gotten this deal. It is a very interesting device. I love how I can multitask, get a lot of work done better then any other phone. Also all day battery.
Yes Camera is okay, no nfc no wireless charging, but its literally a mini surface for me. Also I got the AT@T version and was able to get it unlocked from micrsoft. It does take time but unlocking it through them is the only way.

Has to be the clearest sign yet that a second version is incoming. Nice :)

Or its a VERY clear sign that no one is buying these and there is no point in a 2nd version. Remember the Invoke speaker. Why would ANYONE buy a new version of this at full price? Wait 6 months and get it at half price.

Because a lot of people have the disposable income to do so, and don't need to justify their purchases to you.

Have it run Windows variant, give a slot to hold the stylus and 16gb of ram.

There is no "Windows variant". There is only Windows. Why would you want Windows on an 8" screen? Or worse, on two 5.6" screens? Or even worse, any Windows software on an 8" screen? It would be totally unusable.

Because is works fine on the 950XL, and would be even better on the Duo, if it was not a piece of ****.

If Windows 11 will run Android apps, then why not have a good android phone to feed more eyeballs to your windows powered 11 PC ecosystem? MSFT is happy if you use their cloud services over an Android, iOS, or Windows device. they are happy with a duopoly market. Let Android and iOS run the sub 8" screens and let Windows Mac and Chrome run larger devices? There is that grey area between a smartphone touch-enabled device and a tablet device. There is also the concept of digital stores. If Windows 11 store is successful then you will have more than just the Apple store and Google store. You will have Amazon store and others develop providing new markets for app developers to sell their services.

And the dumpster fire known as "dual screen Android tablet" continues. The fools who bought this at $1,500 four months ago must be REALLY chomping at the bit to buy a version 2 now.

People who spent $1,500m four months ago are early adopters and don't really care about price. Think of an app developer that wanted a device to see how their app and others worked on a dual-screen device. There a 1000s of small app developers. Or guys who just spend $1000's every few months on new computers etc. This is not a mass-market and really just a demo period for the duo platform. I would like to own one, but It must have a good camera system. I would also be interested in how a system I use every day, all day (AppFolio) would work on a dual-screen device. AppFolio basically runs my operations and I can get buy on a single screen device. On a dual-screen device, it may move my time on the phone from here and there out in the field to more frequently while I am not in the office.

So, you haven't bought Duo, you don't know people that bought Duo, but you are quite confident into estimating of emotional reaction of those people? Just for the record I don't think that single small developer has bought this. I am a small developer and I know a lot of other small developers and... well first we are not that rich to spend 1400$ just for fun and test and second... none of us is interested to develop for the phone that was sold in few thousands of quantity. Everything below hundred million is a waste of time and money.

ddn123, you are full of ****, you know nothing about what we "Early adopters" feel in this situation. I am quite pissed that I paid this much for this Pile of **** that has had no progress in its function.

It's a sale, not a new price. These trollish overreactions are as ridiculous as ever ...

I still think that the Duo have the potential to be a very interesting device but the gen 1 have to many compromises for me personally. The challenge as I see it is the very slow rate of improvements from Microsoft. After 9 month the updates is still mostly focused on bugs and make the initial promises of functionality to work in a proper way. Very little of new functionality and new programs have been added. That is not a good sales point for the next gen. It is not expected that a mid-range 400-500 $ device will get anything beyond a security patches and bug fixes, a flagship costing 1400 plus is an other thing. Here you expect growth in functionality and new apps. I think this may be the Duo's biggest failure.

MSFT is certainly figuring out the price elasticity of the system. I assume the Duo 2 will sell at the $1400 price when released. But they would move the price down towards $1000 within 3 months, and then towards $800 in 9 months.

I so want one but my Note ten plus blows it away in capability. I'm totally hooked on Samsung Pay, wireless charge, great photos, etc. Not ready to go backwards.

it is still a BPOS and that its 1000 cheaper than i bought it for less than a year ago, MS can go **** themselves if they think I will buy anymore products from them. I am done with all this tech bullshit and you tech pimp websites have fun whoring yourselves to the tech giants and the upcoming corporate congress.
Windows Central Newsletter
Thank you for signing up to Windows Central. You will receive a verification email shortly.
There was a problem. Please refresh the page and try again.