Minecraft Dungeons 'Howling Peaks' DLC: Features, release date, and everything you need to know
Another expansion and a companion free update.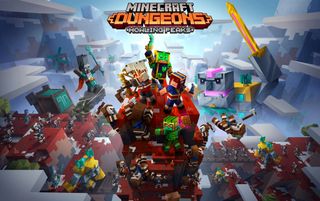 (Image credit: Mojang Studios)
Minecraft Dungeons is an extension of the growing Minecraft universe, and it continues to expand with new updates and content. The latest DLC expansion to come to Minecraft Dungeons is Howling Peaks, which follows the precedent-setting Jungle Awakens DLC and the fantastic Creeping Winter DLC. Howling Peaks not only adds new levels and a host of content just like previous DLCs, but it also comes with, like with every DLC before it, a complimentary free update that further balances the game and adds some new goodies for players who don't purchase the DLC to find.
Here's everything you need to know about the Howling Peaks DLC for Minecraft Dungeons: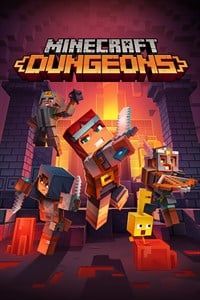 Not your average Minecraft
Minecraft explores the dungeons.

Minecraft Dungeons is the next saga in Minecraft's story, and Mojang Studios have knocked another one out of the park. Awesome co-op combat paired with powerful loot, all at a crazy affordable price? There's not much more you could ask for in an epic dungeon crawling ARPG.
What is the Howling Peaks DLC for Minecraft Dungeons?
Howling Peaks is the third DLC expansion for Minecraft Dungeons and was announced at Minecraft Live 2020, alongside a ton of other news. In fact, the Howling Peaks DLC was used to demo cross-play across platforms in Minecraft Dungeons - a feature players have been waiting on for a long time. Want to play with your friends on other platforms? Check out our guide on how to enable cross-platform multiplayer in Minecraft Dungeons.
Howling Peaks arrives after the completely free cross-play update, alongside its own complimentary free update that promises to give players fresh content to try out and sets the stage for even more expansions coming in 2021 and beyond (at least three more have been confirmed!).
Expect Howling Peaks to be similar to the previous two DLCs, Jungle Awakens and Creeping Winter, in that there will be a new island on the Minecraft Dungeons map, with three levels to play and explore. A new boss, mobs, gear, and secrets will all be present with Howling Peaks, alongside sweeping quality-of-life-improvements, bug fixes and balancing, and some goodies that all players will be able to enjoy with the free update launching alongside Howling Peaks.
What do I need to know about the Howling Peaks DLC for Minecraft Dungeons?
We're not going to reveal absolutely everything about Minecraft Dungeons' Howling Peaks DLC, but we've broken down all the most important aspects of Howling Peaks, so you can quickly and easily check to see if Howling Peaks is the next Minecraft Dungeons expansion for you. If you've played Jungle Awakens or Creeping Winter, Howling Peaks is similar to both of those expansions in overall size. So what does this mean? New levels, gear and items, mobs and bosses, and missions to complete (which were originally introduced in Creeping Winter).
Another island with new levels
Source: Mojang Studios
Like with previous DLCs, Howling Peaks includes two primary levels to explore, with a third secret level that is up to players to discover for themselves. Let's give a quick breakdown of each level in Minecraft Dungeons' Howling Peaks DLC:
Windswept Peaks. This level looks to take players over dangerous mountain tops covered in snow, coarse dirt, and rock. However, not all civilization is missing from these desolate areas, as players cross ravines using ornate bridges, explore burning farms and fields, and will need to solve brand-new puzzles in order to progress.
Gale Sanctum. The Gale Sanctum is the area at the center of the Howling Peaks, across the Windswept Peaks, and the home to Howling Peaks' terrifying new boss. A gorgeous temple inlaid with gold and emerald green holds new challenges for players to overcome.
Colossal Ramparts. The nearly impregnable outer defenses for...something. Players will have to navigate corridors, bridges, and narrow passageways, dealing with mob ambushes and clearing objectives to get across the ramparts in this secret level hidden somewhere in Howling Peaks.
Powerful new gear and items
As with every expansion released for Minecraft Dungeons, a plethora of new equipment will go along with Howling Peaks, from artifacts, weapons, armor, and more; there should be lots for players to experiment with.
Since Jungle Awakens added a modest amount of new gear focused around its setting, and Creeping Winter added a decent amount of gear centered around the ice and cold, Howling Peaks expectantly follows the same trend. This means wind, hinting at powerful knockback abilities, incapacitating tornadoes, and more. Below we'll list some of the new Artifacts and Unique gear present in Minecraft Dungeons' Howling Peaks DLC:
Chill Gale Knife. This powerful knife has a good mix between power and speed and slows down mobs while speeding up your own movements.
Resolute Tempest Knife. This knife is identical to the Chill Gale Knife, except it mixes up its appearance and increases damage to wounded mobs instead of slowing them down.
Echo of the Valley. A crazy looking bow with a mysterious name, Echo of the Valley pulls in enemies with its charged shots and has a chance to ricochet as well.
Burst Gale Bow. The Burst Gale Bow is similar to the Echo of the Valley in stats, but instead of ricochet, it charges your next shot whenever you roll, granting you a split-second advantage over your enemies.
Gilded Glory. If you want to make emeralds and spend them too, Gilded Glory could be for you. This armor increases your attack speed, but, more importantly, it both increases the chance to spawn emeralds while exploring and allows you to spend emeralds to escape death.
Opulent Armor. This emerald-studded armor still increases your attack speed and chance to spawn emeralds, but it also grants brief moments of invulnerability while you're collecting emeralds.
Rugged Climbing Gear. Custom-made to conquer the Howling Peaks, the Rugged Climbing Gear armor gives you environmental damage resistance, freezing resistance, pushback resistance, and decreased artifact cooldown.
Goat Gear. Model yourself after the mountain goats that call Howling Peaks home with this armor, which gives you an extra roll, decreased artifact cooldown, and pushback resistance.
Scatter Mines. This artifact lets you scatter three explosive mines on the ground that will automatically explode when an enemy mob approaches.
Satchel of Elements. This curious but powerful artifact chooses one of three random elemental attacks and strikes nearby mobs. Will it freeze, burn, or electrify?
Updraft Tome. The signature artifact of Howling Peaks, Updraft Tome lets you launch enemy mobs into the air, causing damage and stunning them in equal measure.
Enchanters Tome. One of the most unique artifacts, this artifact grants two random enchantments to up to two of your allies, leading to unexpected boosts in battle.
Mobs and bosses
Like with gear and items, every expansion so far has added new mobs to Minecraft Dungeons, both friend and foe. Howling Peaks overall looks to be a combination of vanilla Minecraft and Creeping Winter, as we see the Iceologer and Frozen Zombies of Creeping Winter alongside the same classic mobs we've all grown accustomed to. However, Howling Peaks still manages to mix things up with a couple of key additions that drastically change the battlefield.
Here are a few of the new mob variants and types you can expect to see in Minecraft Dungeons' Howling Peaks DLC:
A new Pillager variant. Pillagers are back, and they're the same as ever, but they've donned new gear to help them survive the perilous environment. They protect the Tempest Golem and look great while doing it.
Wind Caller. There's a new Illager that joins the ranks of Iceologer, Enchanter, and more by possessing unique abilities. They look quite menacing with their windswept hair and staff and have wind-based abilities to control your movements and pin you in place.
Squall Golem. Spoiler alert: the boss is the Tempest Golem. However, there's also a lesser version of the Tempest Golem scattered throughout the artwork, which indicates a similar situation to the Redstone Monstrosity and Redstone Golem. One is the super-powerful mega-boss, while the others are more numerous and far less in strength (but will still pose a challenge for players).
The Tempest Golem. We know that the big boi boss of Howling Peaks is known as the Tempest Golem, and from the tiny sneak peek we got in the artwork, we knew it was going to be powerful. The Tempest Golem possesses powerful windy abilities and a unique set of attacks that will make it a challenge to defeat. Scale the Howling Peaks to defeat the powerful golem that awaits your arrival.
Mountain Goats! While not the most exciting way to end this list, Howling Peaks will also add Mountain Goats to Minecraft Dungeons, which will also be added in Minecraft's 'Caves and Cliffs Update'. Are they pets? No. Companions? No. Can you find them scattered all over Howling Peaks? Absolutely. Hunt them for food if you dare; they may fight back.
Challenging Missions
A new feature that was introduced in Creeping Winter was Missions, or specific scenarios for levels that mixed up the rules a bit and presented unique challenges for players to complete. These Missions are more difficult but also reward players with more powerful gear they couldn't otherwise obtain. It's a great way to inject variety into the game, and Howling Peaks continues to add new Missions for players to find and complete.
We expect Missions specific to new Howling Peaks levels, but there will also be some new Missions available for existing levels as well, adding onto what's already available. These Missions can do everything, from "The players have increased Knockback, but every mob is a Creeper" to "You deal 10x damage, but you're not able to heal" and everything in between (I'm not sure those are Missions, but they could be!).
Will the Howling Peaks DLC have a free update for Minecraft Dungeons?
Following the precedent set by previous Minecraft Dungeons expansions, the Howling Peaks DLC is launching alongside a completely free update that will be available to all players, regardless of whether or not they bought the expansion. This free update will include quality-of-life improvements, bug fixes, and balancing changes, but will also sneak in some new content for players to enjoy.
Originally, it was believed that Minecraft Dungeons' Howling Peaks DLC would launch alongside the Apocalypse Plus mode, which promised to drastically improve the endgame content in Minecraft Dungeons with much higher difficulties, power levels, and more. However, Apocalypse Plus mode launched with the Spooky Fall Event, so Howling Peaks is doing something different for its free update.
Alongside all the general improvements mentioned above, Minecraft Dungeons' Howling Peaks DLC is adding a total of six new enchantments for weapons and armor, which players can discover just by picking up new gear as they play. While not the biggest addition made so far with an expansion release (Creeping Winter was notably impressive by adding new camp vendors like the updated Blacksmith), there's still more for all players to enjoy in Minecraft Dungeons.
When will the Howling Peaks DLC release for Minecraft Dungeons?
At first, it wasn't clear when Minecraft Dungeons was going to release, but Mojang Studios gave players plenty of time to jump into this brand-new expansion before the holidays came and went, with the Howling Peaks DLC releasing for Minecraft Dungeons on December 9, 2020. In addition to the release of Howling Peaks, Minecraft Dungeons released the full Howling Peaks soundtrack on Spotify the week before, so be sure to check that out if you're a fan of Minecraft's signature sound.
Minecraft Dungeons' Howling Peaks DLC will be the last major update for Minecraft Dungeons in 2020, but that doesn't mean Minecraft's ARPG spin-off doesn't have a big 2021 planned. New expansions are coming and will be set in fan-favorite Minecraft locations. More on that below.
How much does the Howling Peaks DLC cost for Minecraft Dungeons?
Those who have been closely following Minecraft Dungeons so far will know that the first two expansions for the game, Jungle Awakens and Creeping Winter, could be purchased separately but were included in the Hero Pass, which offered a few other goodies and a discount for players. Howling Peaks is the third expansion for Minecraft Dungeons, and that means it sits outside of the Hero Pass.
Like always, you can purchase Howling Peaks by itself if you're only interested in specific expansions, but completionists and Minecraft Dungeons super-fans will definitely want to invest in the replacement for the Hero Pass: The Season Pass. This one-time purchase gives you Howling Peaks right now, but it also promises you immediate access to three more Minecraft Dungeons DLC in the future, all at a slight discount.
Howling Peaks is available right now, but three more expansions have already been confirmed for Minecraft Dungeons, thanks to a sneak peek we got during Minecraft Live. While it's still far too early to know what exactly these expansions will include, we do already know where they're going to be set:
The Nether. It looks like that mysterious broken Nether Portal in your Camp will finally be put to good use, with the first Minecraft Dungeons DLC in 2021 taking players to the Nether.
Underwater. The second expansion is taking players through the Aquatic Update for Minecraft, with beautiful underwater levels and new environments.
The End. Finally, Minecraft Dungeons is heading to the End. It's genuinely not clear if this is actually "the end" of Minecraft Dungeons expansions, but it's the last one that will be included in the Season Pass.
You can purchase Howling Peaks by itself, or go ahead and secure the full Season Pass, right below.
If you're interested in bringing a little bit of Minecraft into the real world, be sure to check out some of the Best Minecraft Toys, especially if you're in the market for some Minecraft-themed gifts. Also, don't forget that Minecraft Dungeons is available on Xbox Cloud Gaming (Project xCloud), where it's our pick as one of the Best Games on Xbox Cloud Gaming.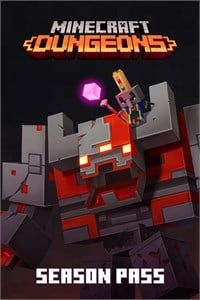 The next era of Dungeons
Minecraft Dungeons: Season Pass
Explore new worlds in Minecraft Dungeons.

It's been a busy first year for Minecraft Dungeons, and now the ARPG dungeon-crawling Minecraft spin-off is looking ahead towards its future, with four new expansions planned. The first one, Howling Peaks, is available right now, but players can also grab the new Season Pass to gain immediate access to all four expansions as soon as they launch.
Image 1 of 6
Main
Get the Windows Central Newsletter
All the latest news, reviews, and guides for Windows and Xbox diehards.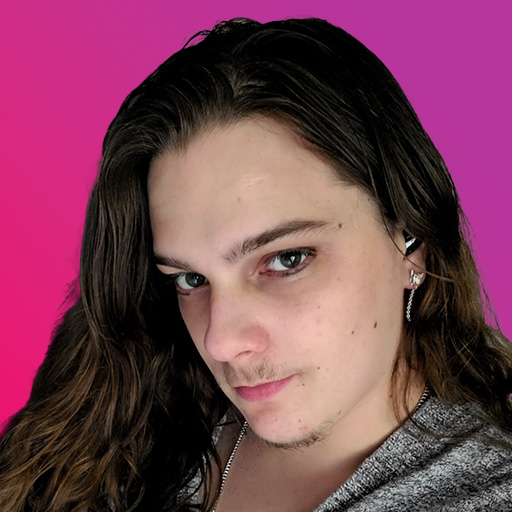 Zachary Boddy (They / Them) is a Staff Writer for Windows Central, primarily focused on covering the latest news in tech and gaming, the best Xbox and PC games, and the most interesting Windows and Xbox hardware. They have been gaming and writing for most of their life starting with the original Xbox, and started out as a freelancer for Windows Central and its sister sites in 2019. Now a full-fledged Staff Writer, Zachary has expanded from only writing about all things Minecraft to covering practically everything on which Windows Central is an expert, especially when it comes to Microsoft. You can find Zachary on Twitter @BoddyZachary.