Mobile Nations Weekly: MrMobile!
Say hello to the one, the only, the MrMobile.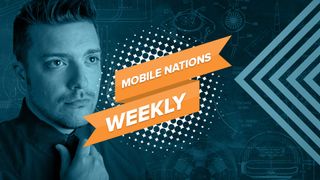 Michael Fisher is back in action, ladies and gentlemen! As the one and only MrMobile, he'll be bringing to YouTube, Snapchat, Facebook, Twitter, and Instagram his own unique take on the latest and greatest in technology.
MrMobile launched officially with the above amazing video, plus a review of the new OnePlus 3, a nerdy in-depth examination of the Star Trek Bluetooth Communicator, and a look at Tesla's EV offerings.
Give MrMobile a subscribe for even more great videos from the world of mobile technology!
Windows Central — Tap to build
Microsoft pushed out two more updates this week for Fast Ring Insiders with build 14371 and 14372 going out to Mobile and PC users. The updates bring more fixes and improvements to the expected Anniversary Update due at the end of July.
Verizon surprised many of us with a Windows 10 Mobile update for the aging Lumia Icon, and AT&T followed by updating the Lumia 1520.
Roku and Sirius Radio launched new apps for Windows 10 as does anime-fave Crunchyroll.
Microsoft also did a soft-launch of their Wallet and NFC Tap to Pay feature for those in the US with select banks. The company also put out a decent promo video for when the new convenience tool goes wider later this summer.
Check out the latest Windows 10 #DoMoreEveryDay Gems!
Android Central — Chrome domes
Honor unveiled its latest budget device, the 5C, in Europe early on this week. It seems to have a lot going for it at a solid price, following up on the Honor 5X. And for those interested, it's available right away in the UK.
We just keep learning more about running Android apps on Chromebooks, and relaying that information on to you. Questions about how to update apps, using a mouse, and checking out the dev channel are all being answered.
In further Google news, you now have yet another way to enable two-step verification with a super easy "prompt" on your phone to authenticate log-ins. Use it!
CrackBerry — Earnings time
This week, BlackBerry held their annual meeting of shareholders and announced their Q1 2017 earnings. With all of that being in play, BlackBerry CEO John Chen also hit the media circuit to discuss the earnings, BlackBerry's future and more.
iMore — Thunderbolted
It's been a week since WWDC 2016 came to an end, but the beta period has just begun. From now until the fall, Apple will be releasing developer betas for iOS 10, macOS Sierra, watchOS 3, and tvOS 10, likely on the company's usual two week cycle. That's a lot of betas and a lot of time, but we'll need all of it to really dig in and go over what it all does and, more importantly, what it all means.
Oh, and Apple just discontinued its Thunderbolt Display. But don't worry, we've already rounded up the best Thunderbolt alternatives, and the best 4K displays for Mac.
Tesla Central — Solar buy-out
Tesla surprised everybody — the markets, customers, and their target — with a $2.7 billion offer to buy SolarCity. Tesla CEO Elon Musk (who is also Chairman of SolarCity), explained the acquisiton as "a no-brainer" and the only way to build an end-to-end clean energy company.
But not everybody is buying it, so to speak. Tesla and SolarCity are both loaded with billions of dollars in debt and face equally arduous paths to profitability. But, should it work out, Musk thinks that the combined Tesla could someday be worth a trillion dollars. (We'll see.)
In the near-term, however, Tesla's big project is stil the Model 3, and we for the first time got a good look at the interior of a Model 3 prototype. It's a spartan layout and we can't guarantee that the production car will look the same, though the uniquely clean design bodes well for the future of Autopilot. But if you want a car that won't change appearance, might we suggest you enter in Tesla Central's Model S (for kids by Radio Flyer) giveaway?.
Derek Kessler is Special Projects Manager for Mobile Nations. He's been writing about tech since 2009, has far more phones than is considered humane, still carries a torch for Palm, and got a Tesla because it was the biggest gadget he could find. You can follow him on Twitter at @derekakessler.
Hey... when did Mike leave Pocketnow? Or did he? Great to see him here nonetheless.

Last March if not mistaken Posted via the Windows Central App for Android

Congratulations Mobile Nations! Michael Fisher is one of the top two most credible mobile reviewers in the world.

Michael Fisher!? WTF is he doing here? What happened to PocketNow? I know, they took in Juan Bagnow, and released Mike.

PocketNow still exists. Glad to have Fisher with Mobile Nations :)

The only star left is Jaime Riverrrrrrrrrrrrrrrrrrrrrrrrrrrrrrrrrrrraa!

Good to see him back. My top tech journalist of all time. He has my respect.

Great addition to the Mobile Nations team!

Captain 2phones is now Mr.Mobile... Alrighty then.

My husband Mike Fisher!!! YAS

No he's mine! Just kidding (mostly anyway)...

Holy molly! Tony Stark in Windows Central. Darn! Its this real? I'm pincing myself tonight.

"win a tesla model s FOR KIDS" haha i almost spit my coffee

The last thing we want is PocketNow Windows haters. Mr Mobile go back to pocketnow. We don't want your anti-MS bs here.

Actually he is a big fan of Windows Mobile. Just not biased and acknowledge the issues with software/hardware.

Yeah Man, do your research. Fisher been a huge Windows Mobile Supporter, which is probably why he is here now. Though I agree, PocketNow Sucks.

i always wondered what happen to him, i'm always looking forward to his videos for reviews. he's one of the least bias on pocketnow and he does his reviews the right way as opposed to his former co-workers. im glad to see him back doing reviews and happier he's with Mobile Nations. Congrats Michael and i have already subscribed to you on youtude and definately on twitter

Rule the world! Wherever you turn your head, you will find us and NO ONE else.

Welcome back to the world of tech reporting Micheal Fisher. Although no one can replace Ashley Esqueda, your credentials are noteworthy!
Windows Central Newsletter
Get the best of Windows Central in in your inbox, every day!
Thank you for signing up to Windows Central. You will receive a verification email shortly.
There was a problem. Please refresh the page and try again.