Mobile Nations Yearly: A quick look back at 2015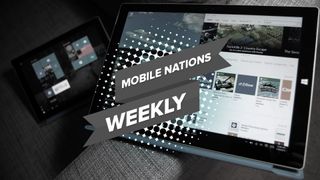 For our final edition of Mobile Nations Weekly in this calendar year, we're mixing things up a bit. To be honest, a look back at the last week would be pretty dull anyway — thanks to those holiday things, the people who make the news take some time off, which means the people like us that write the news and the people like you that read the news get to take some much-deserved time off too.
So instead of a week-long look back, we're going to to a year-long look back at the biggest news to hit Android, BlackBerry, Apple, and Microsoft in 2015. It's been a long year, so let's get right into it!
Windows Central — 10 for all
2015 was the biggest year yet for Microsoft with the company's hardware and software roadmaps finally aligning in October. This year we saw the release of the Surface Pro 4, ground-breaking Surface Book, Band 2, Lumia 950 and 950 XL and who could forget HoloLens? Combined with the Windows 10 being on nearly 150 million computers and Microsoft's refocus on gaming on the Xbox One at E3 and the company increasingly has turned itself into a hardware juggernaut.
However, not all is perfect as Windows Phone market share continues to slip and some of that new Surface hardware requires some bug-fixing software updates.
What will happen in 2016? The highly anticipated 'Surface phone' is expected to be released in later in the fall and the Windows 10 OS will undergo even more feature additions as multiple updates under the 'Redstone' banner begin in earnest. Can Microsoft's one OS future succeed? We're about to find out. At the very least, we can all agree Microsoft is now one of the most exciting companies in tech to watch.
The 25 absolute best games to play on your new Xbox One
Android Central — Nexus Notes
2015 was a big year in the Android world. (We say that every year, right?) But seriously, there's a lot to look back on — the phones, the software, the companies and beyond.
With all that happened in the year it's tough to narrow things down, but here are just a handful of stories that are a great reminder of all the big stories from 2015.
CrackBerry — PrivBerry
2015 was an interesting year for BlackBerry and while the verdict is still out, it could ultimately be one that changes the course of the company for years to come. I mean, come on. They released an Android device. While it's incredibly hard to run down every single highlight in this short section, here's some of more interesting tidbits, including where BlackBerry showed off the all-new BlackBerry 10 slider that really wasn't, announced the best version of the BlackBerry Passport and shocked many by taking out what was considered by many to be their biggest threat in the EMM space.
iMore — iPad goes big
2015 was the year Apple took everyone who'd been complaining about lack of spring releases, new product categories, and old product updates, and made us all beg for mercy. So. Much. Stuff. It's impossible to list it all here—we'll have a separate roundup for that!—but here are the highest of the highlights.
Derek Kessler is Special Projects Manager for Mobile Nations. He's been writing about tech since 2009, has far more phones than is considered humane, still carries a torch for Palm, and got a Tesla because it was the biggest gadget he could find. You can follow him on Twitter at @derekakessler.
When will you review the 550?

Maybe when they get back from holiday.

It's been a great year, even for me. Why? Because I discovered windows central and even the app on my Windows phone.
Microsoft:
I think as a proprietary tech giant, they have to take responsibility for being proprietary. If you won't go open-source, then you've got to get things right and straight. I think Windows phone will grow in the coming days and I think it's the windows-as-a-service fashion is a great material for every windows phone lover. Now, they -Microsoft- can choose the suggestions and ideas to give us more productivity and efficiency. I think Microsoft has given us all a Steve Job's role with the WAsAS idea. I love windows phone and I know they'll grow. One platform will grow. The synchronization across platforms works perfectly and moreover, looking deep at the partnership they made with Nokia while entering the mobile business platform, we should expect more intellectualism in the coming days.
Android:
I used an android tablet once and I really can't explain the power of open-source. Android will always do fine, unless they themselves falter or more competitively, some other tech giant beat them at their game.
Apple:
I've never used any Apple product but I think they've got some sort of power. But, what if the mobile investment falls? Can they really survive?
Blackberry:
When BB released something different from the Blackberry Os-Android, I was disappointed. I love BB for their solitude. Their productivity is best. You can switch across apps and even efficiently and some others. But, why go Android?
Finally, the way mobile phones and os's are thriving, I think we all have to choose what we like and what work for us, not what's best because soon enough, there would only be a tiny differences that would last for maybe not long.

I enjoyed this a lot. Nice change from most other comments I read here. :)

Apple: "made our wallets beg for mercy"

I think MS was a bit ahead this year even though the stuff needs some fix, it was a really great step by MS

No doubt the windows 10 news overshadowed most of the technological news... But sadly not the windows phone news... If this continues then the next Mobile Nations yearly article will be read only by android central and iMore users /s

I think that today's flagships are unnecessary pricey and I would like to see their prices drop by at least 50% in the 2016. It was started by Apple and then people started buying the iPhones. Seeing this, others started to copy the strategy to increase their profit margin. But this needs to stop.

Buy a hspa handset then if you think lte handsets are expensive

Or buy a reasonably priced flagship like the Moto X Pure. There's no reason besides greed that such limited pocket computers would be selling at the same price as a Surface Pro...Once we get a Surface Phone that can be used for much more PC-like tasks, similar to the following, then I can easily justify paying the price of today's so-claimed flagships: http://www.pcworld.com/article/2907539/this-fake-microsoft-surface-phone... Money is no problem. Just better be justifiable.

Lol then they cant start charging to protect our data from viruses/Trojans? no thanks

No. The phones would run Win32 apps that are put in the Windows Store. They are all certified by Microsoft and shouldn't have any chance of causing viruses.

Lol, you still pay to keep your Windows device protected from viruses/trojans? How long have you been living under a rock for? Microsoft Security Essentials has long been available for Windows XP up to Widnows 7 and has been built into Windows since Windows 8.0 as Windows Defender...that's more than enough Virus/Trojancs software security for me, most of the security is handled by me thinking before I click, and haven't had any malware problems since 2007. Regardless of that, as I_am_flashfire4 stated, that'll be further protected from via the Windows Store...but hopefully they don't limit such SmartPhone to the Windows store just 'cause of scaredy cats who refuse to think before they click.

The year windows phone died

You're either completely mental... Or meant windows phone 7/8/8.1 dying in the stead of Windows (10) Mobile... The only flaw MS had this year is not delivering their promise of releasing Windows 10 Mobile to the mass for OEMs to begin their roll out as well. The adoption rate is going to be massive and push the UWP even more, which is the only thing holding back MS mobile, and Windows 10 PC for that matter. Looking back, people abandoned Windows Phone 7 for the prospects of 8, then 8 for 8.1 with universal apps in the horizon, but then we heard about Windows 10 and what that hope to bring to the table. Now, deva won't ever need to worry about that got future releases, as Windows 11 or whatever the next iteration of MS's combined OS will be will be an improvement of what is being built right before or eyes with the Windows Insider Program. So again, with all due respect... You must be mental to suggest windows phone is dead.

It is windows central, I don't understand why there is no full review of the lumia 950 xl. Even iVerge made one. No full camera review either, is the camera better than competition?
Windows Central Newsletter
Thank you for signing up to Windows Central. You will receive a verification email shortly.
There was a problem. Please refresh the page and try again.