Patch Tuesday: Most Surface tablets now getting July firmware updates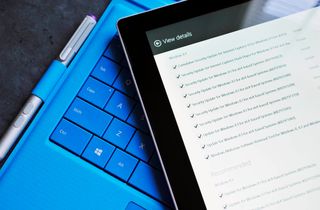 Microsoft will release firmware updates for nearly all of its Surface family of tablets today, including the new 12-inch Surface Pro 3, which will get another update later this month.
Here's the change log for the Surface Pro 3 July 8 firmware:
Surface Pro Embedded Controller Firmware (v.38.2.50.0) reducing power consumption, and enhancing system stability.
Surface Pro System Aggregator Firmware (v. 3.8.250.0) enhancing battery life, and increasing efficiency and reliability in low power states.
Surface Type Cover Firmware Update (v. 2.0.1021.0) improving trackpad reliability and system stability.
Surface Accessory Device (v. 2.0.1012.0) helping the on-screen keyboard (OSK) appear and disappear at the correct times.
Wireless Network Controller and Bluetooth (v. 15.68.3042.79) enhancing system stability, reducing power consumption in low power states, and improving some WiFi connection scenarios.
Microsoft also announced that a second firmware update for the Surface Pro 3 will be released on July 16 "to further improve Wi-Fi connection and throughput scenarios."
The Surface Pro 2 gets just one minor update today
Wireless Network Controller (v 14.69.24054.176) enables functionality on wireless networks utilizing hidden SSIDs
The Surface Pro gets a rather detailed firmware update for July:
Surface Pro System Aggregator Firmware (v2.84.0350) improves battery management when a Surface Cover is attached.
Surface Pro UEFI (v1.6.350) provides support for PXE boot with the new Surface Ethernet Adapter.
Intel(R) HD Graphics 4000 (v10.18.10.3496) improves Miracast wireless display experience and enhances display stability.
Intel(R) Display Audio (v6.16.00.3135) enhances compatibility and improves the display experience for DisplayPort monitors.
Surface Accessory Device (v1.0.338.0) improves the experience when using Surface accessories.
Surface Power Cover Firmware update (v1.0.339.0) improves the experience when using Surface Power Cover.
While the regular Surface 2 tablet won't get an update, owners of the LTE version do have to download some new firmware for one issue:
Modem Firmware Update (v5.706.306.1) enhances the performance and reliability of AT&T 4G LTE network on Surface 2 4G LTE.
Finally, even the Surface RT gets an update today:
Surface Home Button Driver (v1.0.255.0) enhances system stability in both the active state and the sleep/wake transition state.
What do you think of Microsoft offering new firmware updates for most of its Surface tablets?
Source: Surface History page (opens in new tab)
Get the Windows Central Newsletter
All the latest news, reviews, and guides for Windows and Xbox diehards.
Nice. One of the best reasons to buy a Surface is the support, good to see so many fixes for the SP3, the best gets better.

Yeah, some Surface love :D

It's the only right thing to do by Microsoft if the firmware needs updating. That simple

They've always provided updates..... Remember patch Tuesday?

This is an odd comment only because it goes without saying. Did you read somewhere that they were refusing to support their products?

:D these are really a lot of updates! I'll tell my cousin to update her surface rt :P

Yay! My Pro3 and 1 getting some love today. Maybe I will finally be able to use my Power Cover on my SP1!

Oops, wrong Surface, carry on.

What do you mean by that? The power cover is supposed to work with the SP1 for power just as well as the SP2.

Looks like I misread and thought he was referring to the SP3, thanks.

I think power cover works with SP3 as well, just doesn't cover the display all the way. I will test it later!

FWIW: Power cover has always worked well on my SP1.

I have been through 3 of them and none of them have registered being folded back. My touch and type covers work fine. Also, today's update still did not fix it :(

I was really hoping they would fix the issue with the NVIDIA Tegra Audio Driver and its issues with causing battery drain for the Surface 2 on Connected Standby. I'm on my third unit after exchanging two and it is still not fixed. Have tried all sorts of fixes and it still drains. :(

So....that's why my Surface 2 drains to zero in 2 days. I'm worried battery life has been effected. I have to turn mine off to avoid this issue.

Yes, that has been the only "fix" I have found to work. It is frustrating.

Also could be the micro SD driver. That draws a hell of a lot of power when in connected standby.
Considering Surface 2 is 8 months old and has so many bugs, I think that the support has been too slow.. I still get the sleep of death issue..

You are wrong, there is a 554,7 MB update for the Surface 2. Office 2013, Win RT and more. Downloading right now.

That's likely an update for Windows RT itself; this is just for the Surface firmware

10th time the surface rt gets the home button driver update haha. Nothing else? Like, eh, 5th core unlock?

For the benefit of the brainless consumer groups, the start button doesnt work reliably since 2012 September, when the product was launched. The same goes for another "minor" feature called Wifi (which feature I humbly consider quite a fking essential feature for a device that can be really used only if it connects to the internet). Surface 1 had wifi issues. Surface 2 had wifi issues, now we hear Surface 3 has wifi issues as well. Thats the price of the "Hey, license a brand new SoC every year for every new model, dont let the drivers mature at least 6 months". Dont even wait 1-1,5 year for a "matured" SoC, where the amateur driver programmers could write at least a semi-stable driver for the Wifi, and the GPU. Hell, not wait! Issue as it is (=crap) and let the consumers buy our crap (thats their civic duty anyway, to consume). Fingers crossing, if we are lucky, after the 5th or 6th firmware update, most of the issues will be fixed. If some remain, dont care! By that time the next new semi-finished crap model is due, and these stupid consumers feel even happy to buy our next semi-fininshed crappy hardware as well! The group invented the consumer society must be awarded by eternal life, just to such the blood of the humanity forever with their similar ideas in the next 1000 years.

Have you even used a Surface? Because your rant suggests you haven't. These issues aren't as devastating as you'd have everyone believe. I know, because I've owned every model and used them just fine, tyvm.

Yeah I'm with you on that... I've had the Surface Pro 2 and now the 3, and honestly I've had zero issues with them. The most frustrating thing for me was the not having tap to click and drag on SP2. Other than that, they're wonderful machines.

Just because 20-25% of the owners are extremely lucky, and actually dont face any issues, do you guys above are all phisically unable to imagine a situation, where the other 75-80% indeed has issues with the same type of equipment? I dont want to send mine back for replacement due to display flickering issues (the cable may have contact issues) and loss of touch-recognition in a well defined region of the screen. Mine was smuggled from the US and in the country where I live and use it, there is no official MS warranty: M supportline told me I need to take it to a person in a neighbour country (where there is official warranty), so the dispatch person could go there by car, and grab my faulty one, and resend to the same address a replacement, so I can go back to the same person 1-2 weeks later to grab this new one, and take it back to my country. Sounds convenient... I better live with the display issues as soon as it is still operating -sortof-, then I throw the whole thing into the junk.

Wow... I'm sorry you live in a country where you have to smuggle in products that may have been tampered with in the process of shipment! I'd be glad they're even willing to warranty a smuggled device once it's in a country where it is actually legal to own it!

Smuggling was a strong expression. I bought it in a MS store when I was in US, and took it home to my country. Its still a shame that 2 years after the launch, even Surface 1 is not handled by the local MS company for warranty purposes. All surrounding countries are on the list.

And I was just talking about the home button firmware which always gets updated but that button never had any problems whatsoever, but you guys brought this to a whole new level of discussion xD

I think it's great,MS committing updates,to even the surface rt,to which I own and love!

Very much agree. ANY update is always just that: AN UPDATE. Meaning, somebody over there is working on it, hopefully for the better. Be it big or small, even minimal, it is something that has been worked on.

This is a weird kind of love, dude.

Nice. I still love my OG RT. However, it has become borderline unusable due to overall lag. I even tried refreshing it.

Dude, instead of refresh format and delete everything. Brought my RT back life. Mine slowed to a crawl after 8.1 update.

I will probably do that this weekend as I've been neglecting it due to it's performance. I'll do a complete format.

I'm happy to see all these updates for my original Surface Pro. Glad to see they still care about it after releasing the 3rd generation device.

Did you realize that this "prehistoric" Surface 1 Pro is 1,5 years old? I mean we dont talk about 15 years old Pentium3-class machine or something like that. The surface 1 pro was available in 2013 february (not the launch date, which was in September 2012, but the time you could actually go into any MS shop, and could buy it), hardly 18 months ago. Thats actually a shame, there are already 2 newer generation out. Guess how long MS will REALLY work on updates for the now-grandfathered earlier models. The value of your money gets down super fast, if MS releases a new model every 6 months, and depcrecates all previous models.

First of all: You do realize the Surface RT - the original Surface device, running Windows RT - is currently running on the latest version of Windows 8.1, and receiving regular updates to software and firmware, right?
Secondly: you placed the word "prehistoric" in quotes, but nobody actually used that word, or even claimed it to be "prehistoric." For your own sake, troll, please come out from under your bridge or rock, or whatever cover you're hiding in. You could probably use some sunlight!

Microsoft has always provided excellent support.

I have to agree. Never had trouble with support on my Surface 1 RT as recently as 4 months ago.

My Surface 2 got an update. I'll check with my son to see if his Surface 3 gets one.

Yay they didn't forget about the RT

Why would one think, that they forget about rt? this isn't android...

Hopefully this fixes the "the device thinks the type cover is still connected so the screen won't rotate" bug.

Updating my Surface RT right now. 535.8 MB

Change is the only constant :-)

Omg is it possible that they solved the surface rt launch bug that made him unable to turn on

So no more firmware updates for Surface 2? Great...

Only thing I hate is usually the wsus servers are behind by a few hours so it ends up being deployed the next day

All the updates are already there for wsus, except firmware. Those are never on wsus for some reason I can't fathom.

I know considering they used to allow xbox users that. My problem is my home server always seems to miss the updates because the time of the day I choose to sync is to early. Guess I should figure in time zone of which most of the wu/xbl servers publish the update to the public

Yay my surface rt gets something :)

That's cold.. the SP2 could benefit from all the stuff the SP3 is getting.

I still haven't seen any "surface" related updates in Windows Update.

Constant updates are really the best differentiator from other platforms. Go on, Microsoft!

Looking forward to it for my Surface Pro

Awesome news. Doing an S1 vs S2 update race as we speak...

Happy to see my Surface Pro Classic still getting updates. -SAB

See comment above... Is the sp1 (18 months old) really "classic". "original" maybe... But not classic.

Awww no love for my Surface 2 today.... Sniff sniff

On the contrary, my Surface 2 got a BUNCH of updates today! May not be firmware updates, but they're updates... 544MB worth!

Is anyone getting trouble installing the updates?

I'm hoping this one finally fixes my biggest issue by turning my RT into a Pro 3!

Happy for the updates, hopefully the WiFi on my sp3 will have a stronger connection. Thanks msft!!!

Hmm, 5pm Pacific time and still no firmware updates. Had a few minor ones this morning, but no firmware...SP3

Now 9 pm Pacific time and I still haven't gotten the firmware update for SP3. It's being rolled out in stages, so I'll keep checking.

I'm still not seeing them in windows update.

Good job updated the RT , btw I love my RT , I don't get the bitching in this forum, my RT does a hell of alot more than some tablets out there !!!! That's fo Shizzle !!! :))

Did anyone else with an RT receive everything except the firmware update? It doesn't appear in the update history list or pending, even after checking for new updates multiple times.

It's almost 9 pm here in CA, and still no sign of the Surface RT hardware update for me. Got everything else. MS sends out the updates in stages, so I'll keep checking.

My sp3 performs much better, Bluetooth especially, I connect with no more issues. Awesome, yayyya patch Tuesday.

I think my wifi was fixed too! Fingers crossed.

got the update on my pro 3, battery seems to be draining a lot more slowly, still having issues with arc mouse staying connected though

7/9, 5pm Pacific. No sign of firmware for SP3...I know it's staged and all that, but patch Thursday I guess?

Speaking of monthly update, I count up to 22 updates for Surface RT, that must be a record......

7/10, 3:30PM EST and still no firmware for SP3. I can't wait to get this firmware so it can finally address the Wifi issues.