Newegg is selling the T-Mobile Lumia 635 for just $99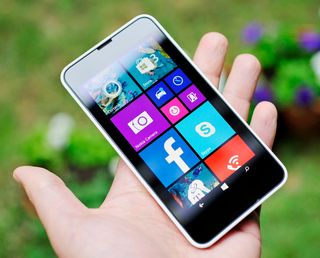 Black Friday and Cyber Monday are coming up, but you don't need to wait for those days to save big on the Lumia 635 for T-Mobile. Right now, Newegg is having a flash sale where you can get the affordable Lumia 635 for just $99 with no-contract.
The Lumia 635 is one of our favorite affordable Windows Phones around. You can read our review to get the full scoop on this sweet smartphone.
With the Lumia 635 you get a 4.5-inch IPS ClearBlack display, 1.2 GHz quad-core Snapdragon 400 processor, 512 MB of RAM, 8 GB of storage, microSD card support and more!
This is a great deal on a great smartphone, which recently picked up an update for better in-flight text messaging support!
Anyone going to grab the Lumia 635 on Newegg? You're saving 60% by buying it for just $99. This deal lasts until Thursday, so you have a few days to decide if you want an extra Windows Phone for those rainy days.
Source: Newegg (opens in new tab)
Thanks for the tip Trevor H!
We have even more discounted offers here on that

When the heck is blc player coming to wp 8.1??? One week is already over..

Clearly they've been waiting for Newegg to lower the price on the 635 before releasing it. I can see why you asked that question on this article.

Superb deal but i have already got one!

You can have one for 99$ and when the offer end, you can sell it higher and you get your money back plus 30-50$ plus :)

This "offer" is no offer and it won't end. It's been priced at $99 on amazon for 2 months now. This is not a new deal.

I'll wait for the front facing camera and more ram.

I own a 620, and except for the screen size, it is a better phone than the 635.

620 has a way better screen size than the 635!

loL. Oh wait. Posted via the Windows Phone Central App for Android

I actually read "seems legit" like 3-4 times to realise xD

Nice display and size for the price.

Finally T-Mob figured out everybody else is cheaper :) Great phone tho...the wife and I really enjoy our 635's. Thanks WalMart!

Get outta here with your WalMart. They di int even have an app for windows. When I ask them they simply reply we don't have any plan for the window platform. I feel like writing them back and say "seriously, are you really that cheap?"

Lol We dig the low price leader! They have the lowest prices on the pet supply brands we buy. We'll probably get a new LED big screen there after the Black Friday ripoff deals are done and pricetags drop again :)

Love this phone... just wish it had flash and ffc. Been trying to use this instead of my 1020 when I don't expect to need great pictures, but when I get in a dark restaurant I really miss flash. But love the design and speed of it... GREAT value.

I really hope you're not in restaurants flashing your camera while people are around you enjoying their meals.

Lol, that's what I was thinking, too.

I know these kind of guys. Already argued with one.

Maybe I'm too nice but a couple of pics aren't that bad.

Does "night mode" not work on this phone or people never used it?

Does it support 3 column start screen. Confused why the pic wouldn't display the full capacity-potential of the screen

Anyone knows where to get a cheap unlocked 635 in the US? Or 830 for that matter (with US LTE bands). I've only found international versions unlocked :(

It was a tight squeeze on my 925 but I needed it. My HTC One handles it beautifully

I bought a Nokia 635 from Walmart, the T-Mobile version. I had it unlocked already with my carrier, Family Mobile (uses T-Mobile network). Are you interested in it ? Used it for 2 months. It's like new.

I actual y WOULD like that. Ricardito90ss@outlook.com !

Yes, yes it does support 3 columns. :)

Well then.. Nice device. Cheers. Lets get that market share moving upwards ;)

Because 3 column start screens look rubbish on displays smaller than 5"...
(1020 owner).

3 column start screen is the new default mode with no option of changing it in settings if you check new phones like Lumia 730/735 which is smaller than 5 inches.

That's a shame....i really like the combination of two columns and folder support.
3 columns is just too busy IMO.

I use 3 columns on my 620's 3.8" display. It doesn't look bad at all.

Best buy has the AT&T one for $70

Black Friday the ATT will be $39.99

Yep. Will be getting one @$39! Will be a good test device to go along with the 520 on the 512mb line.

Microsoft store will also have it for $39.99.
https://www.windowscentral.com/e?link=https%3A%2F%2Fclick.linksynergy.co...

Yup and this TMO version has been $99 for 2 months on Amazon.

Meh. Cricket is selling the 635 for $75. Free after rebate. Comes with better coverage as well.

Waiting for 1030 for zero dollars Black Friday 2015...

Waiting for 730 at this price

I got the 635 at at&t on gophone for $99.99 about six weeks ago. Still that price. I never use ff camera so its lack is not an issue for me. It does have the 3 tile colums if one wishes. And the pull down notifications like android and ios is hansy as hell. Great budget phone with 8.1 and cyan preloaded

To me, it would've been worthwhile if it was at least 1GB RAM.

Agreed. Taking away the dedicated buttons, especially the camera, make it lesser than the Lumia 521.

I bought this off Amazon for 99 weeks ago

Thanks, apparently no one other than us noticed which I find amazing. It's been at that price for 2 months now.

off topic...i went to 2 att & tmo stores yesterday in my place in carson, ca but sad to say 830/HTC was not avail on there stores...what a great marketing strategy of MSFT.:(

Microsoft Store will have this for $39 on Wednesday.

635 sales
Ms store $39 att no contract 11/24 WalMart had had it online for $99 on T-Mobile for a few weeks at least. Think they are clearing stock for 530 and 535?

I can tell the difference in performance between 928(broke) and the 635, I'm fine with the 635 wish had gotten it first instead of the contract and over priced Verizon plan.

You mean you cannot tell?

If it was a gb of ram I would get it

this has been the amazon price for over a month.

At least 2 months actually, I've been checking. Apparently you, me and another user are the only ones who noticed :)

Hey Sam! Not to burst your bubble, but it's been selling for that price for about 2 months now on Amazon.com... Here's a link:
http://www.amazon.com/T-Mobile-Nokia-Lumia-635-Contract/dp/B00LIWB34Q/ref=sr_1_1?ie=UTF8&qid=1416795118&sr=8-1&keywords=lumia+635 I actually expected TMO to bring it down to $80 for Black friday, $99 isn't any special pricing at all at this point.

Yeah the 535 has a front facing camera.. No? Then there is the 730/735 etc. Yeah for people who can't wait or are new to windows phone and does not mind an outdated phone... Alright. When the 535 come out this is outdated.

512 ram windows phones are obsolete

Just a few games you couldn't play. It's as fast as any 1GB RAM phone.

Obsolete in what way? Please explain.

Just bought 1 for $39 @ the Microsoft Store ! Great deal. Jump on it ASAP!

Amazon has same price and the at&t version is even cheaper

I want this price in India

Microsoft store has it for $39.00 today (AT&T version)

Just picked one up from Microsoft for $39.

The Microsoft store has it for $39 right now!!!

Best 920 replacement. I love this phone

I'm just going to wait the Lumia 535
Windows Central Newsletter
Get the best of Windows Central in in your inbox, every day!
Thank you for signing up to Windows Central. You will receive a verification email shortly.
There was a problem. Please refresh the page and try again.