#OneCast Ep 28: The VR craze, Titanfall 2's missteps, Black Friday bargains
By Matt Brown last updated
Join Jez and Matt for this week's episode of the OneCast, discussing virtual reality, Titanfall 2's subpar sales, and Black Friday deals!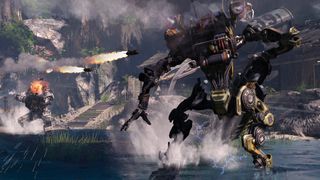 The latest episode of our Xbox and Microsoft podcast, the OneCast, is now available and accessible through major podcast distribution services. On this week's episode, the OneCast duo talk about the shortcomings of VR, the dilation of the triple-A landscape, and the hot deals available for Black Friday!
This week's episode is available from the following sources:
If you're using a podcast app, copy and paste the RSS feed URL into the search bar, or search for 'OneCast Xbox'.
OneCast is our Xbox and Microsoft podcast, hosted by the staff of Windows Central. A new episode of the OneCast is recorded most weeks, with topics surrounding Microsoft news and the gaming industry.
OneCast on Soundcloud
This week's hosts
This week's discussions
00:00:00 - What we've been playing this week
00:12:15 - Titanfall 2 and triple-A sales
00:36:50 - Fake news and the effects on the gaming industry
00:48:40 - Virtual reality and its shortcomings
01:05:15 - #AskOneCast: Improving Xbox Live Clubs and social features
Further reading on this week's topics
Ask OneCast!
Leave your topic suggestions in the comment section below, and we'll consider discussing them at the end of future shows!
Matt Brown is Windows Central's Senior Games Editor, Xbox & PC, at Future. Following over seven years of professional consumer technology and gaming coverage, he's focused on the world of Microsoft's gaming efforts. You can follow him on Twitter @mattjbrown.
Oh you guys still do this podcast then? ;-)

I think some of the criticism given to Titanfall 2 is a little unfair. There is a microtransaction model - that was the plan since the beginning, and it is actually coming out tomorrow. There will be an in-game store with cosmetic items that you can purchase. No RNG or anything like that - you just buy what you like the look of. As for the Titans being squishy powerups, I dunno, I'm not a great player but I can still do some serious damage with my Titan and make it last quite a while. Maybe you just suck, Jez =p I get what you mean about the campaign though. It was good and enjoyable, but I didn't think it was incredible. The multiplayer, on the other hand, I can't get enough of.

Thanks for listening! I'll make sure to have a look at the new model and talk about it on next week's episode! Thanks for the heads up!

I loved the first Titanfall game. Got every achievement. I planned to blindly buy Titanfall 2. Played the beta, and quickly became un-impressed. To me, and possibly others, I think there were multiple issues. GoW 4 just came out, Battlefield 1, and CoD were being released. Massive competition, and no way Titanfall competes with those franchises. This may sound odd, but going multiplatform rather than being exclusive, probably made the game loose some appeal to fan boys. Gear of War and Halo are great games, but there is some appeal even after all these years of playing a game that other consoles cannot play. They tweeked the game the wrong way. The 'die hard' Titanfall fans liked the way the game was, and rather than give us more of the same, they decided to do something different and it backfired. Do not change the way one chainsaws in GoW for example. Take the core gameplay and add more features. I'll get Titanfall 2 when it is in the bargain bin for less than $10.

I was pretty unimpressed with the Beta too, but I loved the first game and found TF2 last week on Amazon for $30. After finishing the campaign and playing a good 20+ hours of multiplayer, I would have gladly paid full price for it.

Agreed Xerostomia. I loved the first one. Hated the tech test. They may have changed things since the test but now I just don't care to play it anymore. Maybe when it hits EA Access I will play. Others games I would rather spend my money on right now.

Been waiting for a new one guys. Where ya been?

We have some plans for the podcast very soon! They're finally going to be a lot more frequent now ;P

Overcooked is one I nearly bought in the sale. Does it have a single player mode? Looks like something my partner may enjoy.
Windows Central Newsletter
Get the best of Windows Central in in your inbox, every day!
Thank you for signing up to Windows Central. You will receive a verification email shortly.
There was a problem. Please refresh the page and try again.