Outlook Calendar now automatically adds events for Amazon deliveries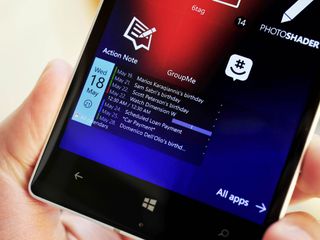 Keeping track of your Amazon deliveries is now a little easier thanks to Outlook Calendar. Recently, we've noticed that Microsoft's Calendar has begun automatically creating events for scheduled deliveries from Amazon, which should come in handy if you happen to place a lot of orders through the online retailer.
As seen in the screenshot above, the events pull information from Amazon order confirmations, and include details like the order number and item name within the body text. The delivery address is also included, along with, of course, the date.
Do note that while a few of us have seen this feature recently, it doesn't appear to be working for everyone just yet.
Have you seen Outlook Calendar automatically create events for any of your Amazon deliveries? Let us know in the comments!
Dan Thorp-Lancaster is the Editor in Chief for Windows Central. He began working with Windows Central as a news writer in 2014 and is obsessed with tech of all sorts. You can follow Dan on Twitter @DthorpL and Instagram @heyitsdtl. Got a hot tip? Send it to daniel.thorp-lancaster@futurenet.com.
And I thought it was because of Cortana taking data from the Mail app.

Shouldn't Cortana be enough for taking care of all this?

This has been happening for the past one week. Old news. :P

Started Monday with three separate delivery dates

It's definitely been happening with my account for at least a week now. Probably a gradual rollout.

Not sure why you're getting thumbs down. I too have noticed these calendar events for the past week from both Amazon and Ebay.

Because this is not a "Breaking News" service. WC publishes articles at their own pace with a somewhat "teaching the audience" style of publishing.

Might be old to you but a lot people like me doesn't even know it exist

Pretty nice little addition.

That's nice. Now about those Outlook Tasks...

I have seen this for Ebay this week too. Though nothing I've ordered this week (or last weekend) has arrived on time or even at all so far :(

How does it know that I am awaiting a package without an Amazon app??

Your email address. If any of your emails are used to order things on Amazon, it will note that for you. I have never used the Amazon app.

Well, rather, as the article states, it pulls the information from the notification you receive in your e-mail. And then only in e-mail accounts that you've enabled for Mail and Calendar use.

Because the apps are basically just instead of a webpage. Nothing is done in the app, it all happens through the online services.

Not just Amazon. It automatically added an event for me today from a purchase I made on eBay. It was pretty neat.

Correct. It is not limited to Amazon.

I noticed this recently, and I think it's pretty cool. Also, it works on iOS too after logging into your email. Saw it as an event in my Outlook widget on my iPhone. Not sure about Android though.

Even live tile not updating automatically :/

Walmart is also on the list. It works for me for a while now.

Does this work through the email app with every mail adress or only with your Microsoft account email if this is the same as the amazon account?

If Amazon or any retailer has your email address, and they send you a confirmation or tracking information that you can see through Outlook/Mail app on your phone, it will get added to your calendar. Don't forget, on a computer you can switch from one to another from within the app, essentially working together as a single app. I think the People app is being added to the mix as well now.

How they do it? And why they don't ask us before? And since when? Only for the US? I got a package just yesterday but without any event in outlook.

Ok now I can read the whole article. It's probably made with the email from Amazon? Pretty clever. Would be great for more events even from personal emails. Or from the university.

Will this add the event on a calendar for that specific email account? I use one account for my calendar (my outlook account) but other accounts for email - Gmail, university address, etc.

I was just thinking the same thing. I use Outlook.com's calendar, but receive e-mail through Yahoo. So I'm hoping it creates the events on the default calendar rather than the calendar in the account receiving the email.

Right. But is there even a default calendar for Outlook calendar? It seems like it always uses the last used calendar, which is frustrating, compared to the much better approach One Calendar uses of allowing you to set a default calendar for new events.

I noticed eBay doing it the other day. Handy I suppose, but 2nd class post is about as reliable as a 1980's Alfa Romeo.

Wow! Can't wait for Silk Road to be added!

think this is a new feature in the migrated outlook.com. Under options, calendar, there is a section to add events to calendar. Package delivery is a option to add.

Hey, I tipped you guys about Wunderlist integration coming to Cortana. You can add it as a connected account.

Awesome - been waiting for that!

How about just emails from FedEx, ups, usps ?

Cortana already picked up on those. Maybe that has been switched over too. Haven't checked yet.

Cortana only gets maybe 3 out of 10 for me.

That provides an answer for me as well. I had thought that Cortana had made this happen. I booked an air flight (Ryanair) yesterday and then saw entries in my calendar for both legs of the journey. So, it's working as well in the UK (I have a 950 and on latest release via Fast Ring)

The feature is about a mnth old, it integrated my flipkart orders too

Whats up with you desi guys. This is not a race. Do you want a medal for finding out first?

Hes not the first one to say that, other people from other countries have said so too. Nothing is wrong with him or others who are commenting about their experieces but sth is seriously wrong abt you. You have a very racist mindset. And its not a good thing.

I like these integrations, love them actually everything is just right there when I need them LOL who said W10 was dead?

"LOL who said W10 was dead?" Mostly Android users.

Off a different subject. I do not recall having seen Cotana pickup my airline travel reservation and add to my notebook. Is there a trick to make this happen or is it just a bug?

I use email aliases to organize my communications and to keep my email notifications from disrupting my day. 90% of the rules I create are to stop Microsoft and its many tenacles from disrupting my day with email notifications. Yesterday I got this notification of an Amazon order. I had to stop and open that notification and turn off all the options that this feature presensts. I am a little perturbed that Microsoft feels that it has the right to monitor and analyse my emails, solely based on their concept that they are enriching my experience. I do wonder what the companies will think about Microsoft monitoring their emails. In the world of "big data", extraction of this data would no doubt allow Microsoft to intercede your actions. For example, if the data reveals that around this time every year, you travel to such and such place. This would allow MIcrosoft to premempt which ever service you use to make travel arrangements with their own options. Now Microsoft is fighting the government to protect your privacy, I wonder if they are really trying to keep the government from knowing just how they are monitoring your life. For the most part, government people that would have access to this kind of information have be vetted. Granted this is not fullproof, example Snowden and this idiot in Glen Burnie, Maryland. This happened because the government has turned over the vetting process to the private sector which no doubt will cut corners for the all mighty dollar. But the people with access to your information gathered by Microsoft, Apple, Google, etc., do you know if they have background checks to the level that is necessary? There are now apps and companies that listen in on your phone and track where your location. So before we get in an uproar over the government monitoring our lives, we need to realize that the government is really behind the curve complared to what these companies are actually doing today. The other thing that irritates me is the fact that Microsoft and other companies just love to OptIn these features without your consent or knowledge. Again behind the guise that we are "enriching the consumer experience".

It's already in Outlook email and displayed in Outlook calendar. Do you have some proof that this information is being sent to an offsite server? It seems as though the "monitoring" is just one part of Outlook talking to another part of Outlook...locally.

I am totally lost for words. But I would feel a lot safer if you personally did not use anything to do with technology. Nothing personal, but could you just think twice before aligning yourself with what ever you think is trendy?

You're only at a loss for intelligible words. Nothing personal? That totally negates your condescending attitude without addressing my point. It's not your fault; the air must be thin on that high horse.

I am being egged on to level on ya, but I am going to hold back just a bit. 1. Where do I state that "information is being sent to an offsite server"? 2. Does it not make sense, that your email is being scanned and gleaned for information? 3. What controls do these companies have on just what information they scrap from your emails? Let's say for example, you order a "sex toy" from Nasty Toys Inc.. And let's say, your kids hop on the computer to do their homework and just use Bing to search for information. And while they are searching, up come ads for "products" from Better Than Nasty Toys Inc, and you also get Bing Rewards to boot. How long is it going to take your kids, or anyone else using your computer to realize you have been buying "sex toys"? Have you heard of PhotoDNA? It's a great concept! All for it. But, while everyone is piling on the government to stay out of their private lives, you have corporations doing just that. It really comes to corporate liability, which means money. But the point is, corporations are not entities of the law. So who draws the line for these corporations? So when Apple wants everything encrypted to protect their users from the government, are you protected by from Apple? Because there is a lot of money to be made by a company that knows where you have been, what you were doing, and for sure, what you are buying. Because they can unleash their bots on you to get what money they can for your activities. Apple has already filed a patent to base their ads on your income and your credit card balance. Believe me, if Apple could lobby a way to get your tax returns, they will. So my point is, down to the level of the individual that has access to this type of information, are they vetted and to what level? Vetting is not cheap, mine back in 1995 was over $35K. Who monitors and verifies this? There was an excellent article by Forcepoint on the threat to IT systems, primarily directed at millennials, but it holds up across the board. So you can bash me for being on my "high horse", but stupid I am not. Point complete.

Level me? Well, I'm not overly concerned about that. ​You have typed a LOT of words that have very little to do with THIS story. THIS story is about one side of Outlook sharing information wtih another part of Outlook. Your implication that this is some sort of spying is where you defacto accusing Microsoft of taking this data off out of Outlook and sending it to their server. ​I've not questioned your intellect, but thanks for letting me know how smart your are.

You are exactly what the article put out by Forcepoint is referring to. And it is absolutely scary.

...aaaaaaaand back on the finger pointing high-horse. Enjoy reading things that only serve to reinforce your point of view. We call that confirmation bias.

You shouldn't have used the word "We", it gave you away.

As seems the norm with you, your snarky retort makes no sense. You're clearly not interested in a productive discussion. I'll leave you to throw insults with someone else. Have fun with that.

Err... just don't use Outlook if you "think" your data is being scanned and used in any other way. But as far as this article goes, an local process on your computer reads the data and copies it over to another app within your computer. No real people or any outside company gets involved in this process. It is one app connecting to another. Kind of similar to searching a file on your computer. It reads the info and presents it in a results page.

@RoxErox, your ad example is handled by cookies ON YOUR LOCAL COMPUTER and has nothing to do with any of the companies you mentioned. Now, to be fair, Google does target advertising to you based on the content of your e-mail. However, neither Microsoft nor Apple do that. As far as government monitoring vs. corporate monitoring, reasonable people can disagree based on their personal preferences and priorities. Personally, I would much rather a corporation have my data to spam me with ads than the government have it with the power of the police and IRS to trample my freedom. For the average person, this is not an issue, but we've seen how people with a different political view than the party in power have been singled out and abused. That said, I can certainly understand why others might see it the other way around: For the most part, the government is looking for terrorists, which has no effect on the lives of the vast majority of people being monitored, and when it does, it may be saving lives to find those terrorists, and spam affects us all every day. With those priorities, I do understand why some would feel safer with the government having access to their personal data than a corporation. For me, the bottom line is that businesses want to sell stuff and make money, which is fine and good for the economy. People (not all, but many, and it only takes a few) in government want power, which is inherently corrupting.

"cookies ON YOUR LOCAL COMPUTER", yes, that is today. And since we recognize that when there is money to be made, what will it be tomorrow? And that is my point, who is going to draw the line and where? As far as the government, when they need to know about you, they will go to a Corporation. http://www.bloomberg.com/news/articles/2016-08-05/this-company-has-built-a-profile-on-every-american-adult Yeah, there is a lot of crappy people in government. But I am afraid the little guy is more susceptible to harm from corporations than the government. Imagine the hey day corporations would have if OSHA did not exist. Who was responsible for the last ressesion? Banks for the most part. Anyone go to prison? Not really. Who suffered? We did. Who paid for the damage? We did. "The little guy". And how did this happen? Lack of government regulation. And what do they want in now? Less government regulation. Let's say you get injured by a corporation. Oh boy, million$ you say. Very, very, very, rarely. A good honest lawyer will sit you down and go over the economic$ of your case. They will tell you, that they charge by the hour, corporations will pile on a staff of salaried lawyers and wear the value of your assets to the point you cannot pay your lawyer. Game over! That is what happens in the majority of cases. Far more than you think. It is even worse if you did not realize that you agreed to say a EULA, which says the corporation is not liable. Or you unknowingly agreed to binding arbittration. If by chance, a nearby educational institution offers a program to sit for the Certified Financial Planner exam, sign up for the tax class. It might help with the perception of the IRS. Remember some years ago, Congress was bashing the auto industry for the gas guzzling SUVs and trucks. Why were they making so many SUVs? And has anything really changed? Ask the instructor about accelerated deductions for businesses. Anybody who could claim the SUV for business use would buy an SUV. eg., realtors. Even though they would use the vehicle to take the kids to school, shopping, going to the golf course, etc.. Don't blame the IRS on that, they get their marching orders from Congress. IRS is for the most part an enforcement agency. I just wish they would take a closer look at these tiny restaurants in strip malls and their cash sales.

@RoxErox, I don't really want to get into politics here, because I respect every Microsoft fan that posts on this site, regardless of political preferences, but you've made some factual misstatements that drive a particular political bias, so I will correct those. It appears from your comments that you are US based (e.g., OSHA is a US department), as am I, so my response here will reflect that. First, you're jumbling regulations (code, the violation of which is a crime) with civil remedies (an employee can sue his/her employer or any other party for damages, which doesn't require any codified law). Second, those have nothing whatsoever to do with privacy concerns or access to data or use of cookies. I'm not aware of any overlap between OSHA and privacy concerns, though I acknowledge it is possible that there may be some rules that are intended to protect worker private spaces (lockers, desk drawers, etc.) as part of OSHA almost inconceivably huge ruleset, on that I'm just not sure. Certainly, that was not part of the original intent -- OSHA was started to protect against people losing arms and eyeballs or sniffing asbestos due to unsafe factory conditions, and has since (now getting into my opinion) metastasized into one of the worst bureaucratic organizations in the United States that is responsible for shearing hundreds of millions of dollars out of businesses and therefore significantly harming employment. The vast majority of businesses have safe conditions not because of OSHA, but because they need to compete to hire good workers against other businesses. That's capitalism and almost always leads government policy, not the other way around (i.e., government enacts regulations to ensure the few laggards have conditions as good as the leaders). Third, EULA is a software agreement between user and publisher and also has nothing to do with OSHA or workplace environment. Fourth, the government will go to a business for information when investigating a crime after obtaining a warrant. Without a warrant, which requires specific probable cause and approval by a disinterested third party (the judge who issues it to the police who are investigating a crime), businesses have no obligation to share information and generally don't. The NSA has much more information on people and presumably the ability to monitor all of your e-mail traffic, at least if it's not encrypted (and maybe even if it is). Data collected by the NSA, however, is generally not admissible in court and so would only really be usable to council external activities (CIA, State Department positioning, special forces missions, etc.) or to prevent terrorist activities at home, at least in principal. The problem arises if you have an unscrupulous person in a position of power (plenty of them in government) with access to that data. That's the weak link. This is why many of us are very uncomfortable with the government having that information in the first place, but as noted before I understand why reasonable people can see the anti-terrorist benefits as outweighing the risks of government misuse. There is absolutely nothing wrong with profit, in spite of what some ignorant people or agenda driven politicians fomenting anger to motivate voters would have you believe. Quite the contrary. Profit is what encourages investment in startup companies and new ideas. It's why business spend their own money on R&D. It is a prerequisite for growth, without which new jobs would never be created. It is also the legal and fiduciary obligation of every business's board of directors to maximize profits for their shareholders. And those equity returns are what fund people's retirement who aren't dependent on the sadly often-negative returns in the government-run Social Security. The best solution if you don't like SUVs is to encourage customers to buy small cars and to personally only buy the things you support. If you can influence enough people, so that aggregate deman for SUV's falls, then there will be fewer on the road and manufacturers will stop producing as many of them. Manufacturers will make whatever their customers demand that produces a sufficient profit for them, and if no one wants SUVs, they'll stop making them. But if you're in the minority, then I hope you'd agree that means by the democracy of voting with their spending patterns, people should be able to buy what they want, whether you share their tastes or not. As an example, imagine something you like or think is good -- now ask yourself, would want someone who disagrees with you telling you that you're not allowed to spend your money on it? What about the legions of parents who drive their kids to soccer in the family SUV because they think their bulk makes them safer; would you want such like-minded parents and safety-focused buyers lobbying the government to ban small cars as too dangerous? Government can screw up the markets, but it generally can't do anything to help them. Same thing for privacy. I have my own opinions on privacy. I don't like sharing my data with anyone. But obviously, most people, at least most Americans, disagree. Otherwise, Google would go out of business. And while I'll not give Google my business for their terrible privacy practices, I fully support their right to provide free services to users in exchange for selling their data to advertisers. The marketplace has indicated that privacy is just not that important to most people. And for those of us to whom it is, we still have plenty of alternative choices. Bottom line -- let the marketplace sort it out. That's freedom and is ultimately the best option for all of us.

Not yet on my 630xl in India.

I've been getting these for 2 months, but they were never consistent.

Wish this feature may reached to all e shopping apps.

Nice. Good to the Cortana function on pC spreading to other apps.

please quit using that pic of a third party app for outlook articles

Well, I won't complain since it's mine (but I'd be happier getting credited for this)... But you are right, it doesn't make sense and is not fair to other third parties. Using a screenshot of the feature described in the article would clearly be better...

Thank God!
What is that app's name?

I was just going through the Outlook settings as I figured I had missed the ability to create a tile like that in a recent update. Thanks for calling it out and shame on you, Daniel.

I have seen it used but in my eBay orders.

US only? Anyhow, I can't even get cortana to track my flights.

I'm from Portugal, so that will be a No, since I had ebay orders added also.

Cortana will track my flights only if I ask her to - However, UK development of Cortana has stalled a LOT lately and I'd guess it's the same in other regions outside the US. They keep showing off features at events, like Insights on the sticky notes app yet never actually mention or talk about when it might makes it's way out of the US. I totally get that they are a US company but that's not necessarily an excuse. The localisation for certain things actually wouldn' be that hard to sort going from US English to UK English so I have no idea why more things aren't making it over here. I don't know for sure, so don't quote me but I'm sure Siri works in many obscure languages - I have no idea how well as I never use it even in English, but the point is MS were way ahead with Cortana in many ways and I really don't want to see them fall behind by taking a focus of Cortana (and that includes all regions where Cortana is officially available IMO)

Annnddd how do you turn it off....?

I'm also interested in this, I'll take a look in the new Outlook site. It's a nifty feature, but I'm not sure I want it in my calendar.

You turn it off in the Outlook.com settings. It was the first thing I did too. I don't need my Calendar adulterated with package deliveries. Not sure why anyone would want that unless they were either Santa Claus or only received one package per year.

Ah, that's why I saw an Amazon delivery in my Calendar today! Was wondering how that got there. And this is in the UK.

It did the same with my eBay orders earlier this week.

My live tile doesn't look like that one in the picture. How do I get that one?!

That is a calendar app in the ap store. Not the default Windows calendar

Do you know the name of that app?

It says "Outlook Calendar" so it is the default Windows Calendar. The picture though is not.

it is an app called chronos calendar.

Seems its working for both Amazon and Ebay, sweet

Hi- I have had this feature for a while, and absolutely hate it. FIrst, the whole privacy issue bothers me. Second, these notification clog up important items in my calendar. How do I get rid of this?

Turn it off in the Outlook.com settings.

Totally agree, it has been seriously annoying. I appreciate the support people have given in terms of how to opt out but whatever happened to opting in??

Received an Amazon delivery today. There is no entry in my calendar

Oh no. Better send it back then.

No. But I would like to see more invitation events that I get via email to be easily added from outlook mail to outlook calendar. Can do this over a decade with outlook desktop app, but not via the windows apps. Strange as this a huge time saver and a great convenience function.

I noticed this last week right after a package shipped. I got an email saying "we've noticed a package has shipped and added it to your calendar". This was on my 950xl

I'm just glad that after 4 years, search in outlook webmail works after the upgrade. Little things like this is just gravy. Still not moving away from Gmail after 4 years of being unable to search. Hard to trust Microsoft again.

Definitely been happening for at least the last week.

Works for ebay packages too.

What app is that picture?????

Right, I'm gonna order something just to see if the feature works... Erm, but not before I get a full refund from a seller, lol

Added Hotel reservations to my calendar too.

Outlook Calendar is terrible, it only shows me US holidays and there is no way to change that (which I have found), and when i put an event in it actually tells me about it a day before (as in it notifies me that it is about to start a day before I actually scheduled it). Another in a long line of broken Microsoft Apps. Also the feature in question apparently doesn't apply to me.

Please support developer. Color Escape+ discounted for next 6 days 30% OFF http://appraisin.com/article/19388/color-escape-discounted-for-next-6-da... via @AppRaisinHQ

Works great...except for when there is a delivery window spanning more than a few days or when worse, weeks, and then you'll get an automatic calendar event for ​every​ day in the windows....yay! Had to turn it off because of this reason :(

You can turn it off in the settings for Hotmail, Live, Outlook Web Access. Go to your web portal (hotmail.com, live.com, outlook.com) and sign in Click the settings icon near your profile photo in the top-right of the page Click Options In the Options pane on the far left of the screen, scroll down to "Calendar" Click Calendar Click "Events from email" Click the radio button for "Don't add events to my calendar from email" Click "Save" All done Hope this helps!

Yes it does! Thanks a lot!

YES!!!! THANK YOU! It also allows the option to continue the service but keep it private so noone else can see the delivery on a shared calendar!!!

This unrequested, undesired feature ruined my holiday gift giving, as our family shares outlook calendars, and the delivery notifications show what you purchased that's being delivered. Now that everyone knows what I bought for them on Amazon, there will be no surprises under the tree on Christmas morning. Thanks for nothing! Of course now I've turned it off, too late! So pissed at Microsoft and Amazon about this...

I HATE this option; the suggested disable within the online app DOES NOT WORK. Every time I see the open bar suggesting what it found makes me furious - there are reasons I boycott Mac and Apple; for things like this!!! I went back to old version until it stops syncing... =/
Windows Central Newsletter
Get the best of Windows Central in in your inbox, every day!
Thank you for signing up to Windows Central. You will receive a verification email shortly.
There was a problem. Please refresh the page and try again.