PolyScreen, Bad Piggies and more are your app highlights for the week!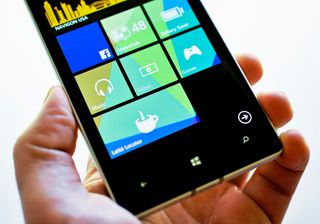 Did anything happen this week? Duh, Windows Phone 8.1 came out through the Preview for Developer program on Monday morning. Since then we've all been spending so much time with Cortana, Notification Center, Data Sense and much more. You can catch up on everything by checking out our Windows Phone 8.1 review. In the meantime, the Windows Phone Store was still busy with new apps and games. Let's take a moment to go back and check out the app highlights of the week!
New
PolyScreen – Looking for a new Lock screen or Start background image? Make your own with PolyScreen for Windows Phone. The app creates low-poly images that look fantastic. You control the size and colors of the polygons, the app does the rest. Download PolyScreen from the Windows Phone Store. (Free)
Clock Hub – Our friends rocking HTC handsets are all too familiar with the HTC Hub app that displayed the time via a large Live tile. Now anyone with a Windows Phone 8.1 can get a similar experience thanks to a new app called Clock Hub. Even HTC owners might want to check it out since the HTC Hub has been hit or miss since upgrading to Windows Phone 8.1. Clock Hub will show you the time in either 12-hour or 24-hour time format and update every minute. This is only available for those on Windows Phone 8.1. That you? Then go download Clock Hub from the Windows Phone Store. (Free)
Transparency Tiles – Want to make new translucent Live tiles for Xbox Games, Xbox Video and others apps on Windows Phone 8.1? Then you're going to need Transparency Tiles. The app allows you to create transparent tiles for your favorite apps that might not support them just yet. Download it from the Windows Phone Store. (Free)
QR for Cortana – This week we all updated to Windows Phone 8.1, but sadly lost the ability to use Bing quickly to scan barcodes and other items. QR for Cortana is an app that gives you a shortcut to that feature you're probably so familiar with. Download QR for Cortana from the Windows Phone Store.
Update
Today's Word – Tired of being faster and would rather be smarter? Then you're going to want to get the app Today's Word for Windows Phone. It teaches you a new word every day, in the hopes that you become a wordsmith in no time. The new update introduces translucent Live tiles, Lock screen support and much more. Download Today's Word from the Windows Phone Store. (Free)
Vieather – Want a beautiful translucent Live tile with weather information for your new Windows Phone 8.1 device? Then check out the updated version of Vieather that introduces those transparent tiles. Beautiful weather app with no ads for free? Any day. Download Vieather from the Windows Phone Store. (Free)
Simple Calendar – Noticing a theme? A lot of our favorite apps were quickly updated this week to support translucent Live tiles. Simple Calendar was no exception and the recent update now supports those Live tiles you're all giddy about. You'll also find the ability to edit/delte appointments, view private appointment details and much more. Download Simple Calendar in the Windows Phone Store. (Free/In-app purchases)
Games
Bad Piggies – Looking for the next game from mobile game maker Rovio? Bad Piggies is now out for Windows Phone users. You probably missed the announcement since it came out the same morning as Windows Phone 8.1. Bad Piggies is a spin-off game from the Angry Birds universe. You'll find over 200 levels of vehicular action and puzzles. Download it from the Windows Phone Store. ($0.99)
WMW? XYY – Disney has been putting out games for Windows Phone and Windows 8 like no other. This week we received a new spinoff of their "Where's my Water" series of games with a popular Chinese TV cartoon character XYY. You'll be solving puzzles with physics-based gameplay. Download WMW? XY from the Windows Phone Store and Windows Store (opens in new tab). ($0.99 for Windows Phone and $4.99 for Windows 8)
Uber Racer – Fans of racing games might want to check out Uber Racer. It's a popular iOS game that has made its way to Windows Phone this past week. You get 10 unique environments, detailed graphics, 4 racing modes, and much more. Download Uber Racer from the Windows Phone Store. ($1.29)
Have any favorite apps or games from this last week? Sound off below and promote them!
Get the Windows Central Newsletter
All the latest news, reviews, and guides for Windows and Xbox diehards.
Yeah, slow week for new apps, but solid few games added this week!

WPCentral app tile doesn't clear if notification is accessed from action centre.

Noticed you guys missed out on the Flickr Booth(ex: 2flicka) update that went live this week. Cool new features added

Not impressed yet as social networking is slacking!

Vimeo got a pretty noteworthy update... Complete redesign with tile too!

Bad Piggies is really fun!

Flipboard beta is out there, and is pretty poor, according to the ratings ...

It's a fake... trust me :)

and you believed that wmpoweruser crap :P

Sam,
Probably smart move from developers to wait and see what kind of wave 8.1 creates... I for one am really happy with all that's happening lately. You and your team members did an awesome job keeping us all in the loop so thanks a lot wpcentral team.
I, and I am sure many with me appreciate all you guys are doing

Highlights of the week were the bugs reported by wp users against wp 8.1 preview release... Do something regarding this.

They weren't bugs. You need to understand the fact that this is preview. You need firmware updates and a hard reset. Most users didn't hard reset. The "bugs" after that are meant related to firmware.

Spoiled brad..... You must be the kind of person that sees a raise from your employer as to little..it should have been more right

Chronos calendar also got updated and now supports transparent tiles.

Darn, you beat me to it! ❤ the app.

Anyone noticed that Simple calendar app and live tile become unresponsive after launching? After device restarting it works again, but only for first launch. I am using 925 on 8.1

Indian live tv streaming app NexgTv updated with a functional UI and fixed login issues.

Still couldn't launch Clock Hub on my 920

I feel polyscreen is a bit overrated

The superb calender Chronos got a update today also.