Sally's Salon, Spectral Souls, and Encyclopedia Britannica are the Windows Phone Red Stripe Deals of the Week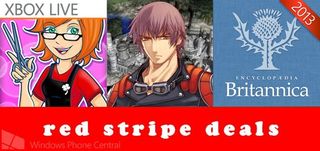 Earlier this week we reported that N.O.V.A. 3 would come to Xbox Windows Phone 8 on Wednesday, but that information sadly turned out to be incorrect. Check out our Monster Burner story for more details, and let's not shoot the messenger!
So what are gamers who've been left waiting for a rigorous and downright manly 3D sci-fi shooter supposed to play this week? Well, besides the obvious answer of Monster Burner, your next best is the Xbox Red Stripe Deal of the Week. The new sale game is Sally's Salon Luxury Edition from Game House! It is now on sale for 99 cents, down from $2.99. Definitely an excellent substitute for shooting aliens full of holes.
In all seriousness, if you need a more hardcore gaming experience on the cheap, you're in luck! Spectral Souls, the console-style strategy RPG is discounted for the first time ever with a whopping seven bucks slashed off its price. The Encyclopedia Britannica app rounds out the Red Stripe Deals of the week.
Sally's Salon Luxury Edition from Game House
Regular price: $2.99 Sale price: 99 cents Download size: 44 MB Store Link
Sally's Salon is a time management game in which players help Sally keep her customers happy by shuffling them between the various stations at a salon. Juggling the needs of a multitude of a room full of disparate customers is both challenging and fun – more so than its sequel Sally's Spa, which ratchets up the difficulty a bit and introduces other problems.
See our full review for more details of Salon life.
Sally's Salon started out at $4.99 before dropping to $2.99 in August 2012. It was also the Deal of the Week back in January 2012 for $2.99, so this week's price is the lowest Sally's Salon has cost.
Spectral Souls from HyperDevBox
Regular price: $12.99 Sale price: 5.99 Download size: 575 MB Store Link (Windows Phone 8 only)
Spectral Souls is the only Japanese-style strategy RPG for Windows Phone 8 (it doesn't run on Windows Phone 7). The detailed story revolves around a three-sided conflict between the established human army, a new rebel army, and an invading force of demons.
As the tale unfolds, players will be thrust into battles against both humans and monsters alike. The combat takes place on small battlefield maps. Each character has a certain range of movement and a unique assortment of attacks and skills they can draw upon in battle. It feels very much like Final Fantasy Tactics. The intricacies of combat can get pretty complex, but thankfully the game has both a tutorial and an extensive built-in manual.
Check out our original article for a more expansive analysis.
Encyclopedia Britannica
Regular price: $4.99 Sale price: 2.49 Download size: 26 MB Store Link
The official app of the Encyclopedia Britannica company was updated for 2013 back in January. It features:
80,000 articles in a fully searchable database
Tens of thousands of images, diagrams, and charts
Ability to download articles for offline viewing, store your favorites and access your search history
Research noteworthy events and birth dates from "This Day" in history
An A-Z browse allows users to browse the entire contents of the Encyclopedia Britannica
The app requires an internet connection to use, and is guaranteed for one year. Apparently it comes in both Windows Phone 7 and Windows Phone 8 versions. Check out Daniel's review of the 2012 edition if you need help deciding on this one.
Thanks to Paras Valecha for the tip!
Paul Acevedo is the Games Editor at Windows Central. A lifelong gamer, he has written about videogames for over 15 years and reviewed over 350 games for our site. Follow him on Twitter @PaulRAcevedo. Don't hate. Appreciate!
Spectral Soul, on sale means instant buy. Now for Modern Combat.

Same here. Bought it as soon as I saw it was on sale.

Ya, except the fact that it is still priced the same and not sale price.

Might give spectral a try.

Damn, no Spectral Soul for me here in Indonesia. It's quite cheap right now.

same here in region Malaysia. Spectral Soul is not available. too bad, Since I want to buy it :|

you can try to change your region to singapore.

Nope, it's available. But I don't have the payment method for Singapore. So I still can't buy the game

actually if you are from malaysia you still can buy apps from singapore region by changing your live account region and add fake information in payment method for singapore.

Wow how..... It's available now here in Indonesia. Bought it instantly

Why have you got 2 links to Spectral and nothing for Britannica?

I am getting the same thing

I would have bought Encyclopedia Britannica, if there wasn't an annual fee

Encyclopedias are traditionally an annual publication.

Surely the advantage of this over regular encyclopedias is that it doesn't need to be updated annually, it can be updated on an ongoing basis as it is connected to the internet. By giving it an annual fee to update they have taken away what could be a selling point.

Could be the only way they can keep their operation in business. A lot of paper-based publishing companies are struggling to deal with the digital age. I dunno, there might not even be a solution that will keep them afloat in the long run.

so what you meant is the app will still function as a 2013 release

Should I buy Spectral Souls? It is expensive for me, so I want to know how good it is

If you like the genre, it's the only game in town! But it IS a full console-quality game that originated on PS2 and can last over 100 hours. I'm not super crazy about the controls, but they're not that hard to get used to, either.

Hi Paul, now waiting for monster burner review... !!!

That will very likely go up on Wednesday the 15th. But I'm going out of town on the 13th and 14th, so I'd better hurry up and get playing if I want to finish the review in time!

Thanks man! Actually, Sam and I are heading off to Los Angeles for a different and unannounced event. You'll hear more about it next month.

Hurry..!! In game it is very tough to earn coins and everything is so expensive. :( :'(

I hope nokia will annouce some gorgeous apps n updates other than a new lumia.

Sounding kinda spoiled arent we? J/j

It's a mobile game and you must work remotely, so how does going out of town affect anything? :P Jk

i have to read the review before committing to the Spectral Souls purchase, even if its on sale

this might be a stupid question... but can I buy a game and not download it to my phone immediately? I can just download it later on once Im ready to play it or something, right or am I wrong in thinking I can do that? i dont have the space for Spectral Souls right now on my phone (thanks to all that 'Other' storage issue.. CMON NOKIA,/TMOBILE! release the firmware update for the 810 already!)

Yes, you can buy it without actually downloading. Just cancel the download or buy it from the website.

FUUUUUUUUUUU

I BOUGHT SALLYS SALON 2 DAYS AGO

Hey Paul did you saw my email for this deal? :)

Yes! But tips only count if they come in before the article goes up, you know. Paras tipped first, so he gets the credit.

I saw the problem i write the email befor 6 hours and forget to send *looool* Sorry my bad Paul :)

I am still waiting for a game called "Sallie's Strip Club"

is there any way to buy a WP8 app if you only have WP7 or 7.8. I wanna buy Spec Souls but WP8 isnt on Sprint yet

I won an iPad at work and Spectral Souls is available for a tenner on the app store. There is also a demo available (unlike on here) and I could easily get a cracked version of it and play it on a bigger, high-def screen.
But will I? No. Even though £5 is is a lot to me right (just bought my first car), I will happily support this dev for supporting WP, so all those stats about WP owners paying more for apps definitely rings true for me. More proof? The only game/app I've ever paid for on iOS is Canabalt, (which honestly I would love to see come to WP), yet on WP I've lost count on how much I've spent (and I could get cracked xaps on my Omnia if I really wanted to).

Is spectral still 12.99 for anyone else?

Ya, not seeing any discount. Tried changing regions but all are normal prices.

When the deals over?....I have waiting Lumia 520 release on my country (maybe for few days) and I hope I'm not running out of time. The payment method (operator billing) in my region have a limit so we can't purchased a single app/game more than $10. I want good RPG in WP8 and Spectral Soul is the best (only) option.

Wednesday the 15th should be the last day of the sale.

In this point it's something wrong... We need goog looking games for phone who have good performance. For this games above I can buy old one Gameboy :)

Are you a bot or just saying something weird and kinda unrelated to the article?

And you try to be a censorship :D
Windows Central Newsletter
Get the best of Windows Central in in your inbox, every day!
Thank you for signing up to Windows Central. You will receive a verification email shortly.
There was a problem. Please refresh the page and try again.