Skype updated for the Xbox One, brings improved chat experience and more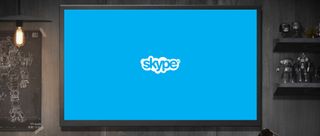 Skype has been picking up some impressive updates the past few weeks. About a month ago the service was updated to fix syncing across all your various devices. At the same time, the modern Windows 8 Skype app was updated. Shortly after, Skype for Windows Phone was later updated to require a Microsoft account only and not a Skype account. Outlook.com picked up support for HD Skype video calls and another update for the Windows 8 app come out with even faster syncing. Not to be left alone, there's now a substantial update for Skype on the Xbox One.
Today's Skype for Xbox One update marks the first update since the console's debut in November. We're looking at a few improvements that will enhance your experience using Skype on your Xbox One. Look forward to the following improvements and additions:
Improved chat
Marvel's Captain America: The Winter Soldier Emoticons
Contact filtering
First time tutorial
Bug fixes
Improved chat capabilities is the most important change to Skype on the Xbox. Skype improvements we've seen on Windows 8 and Windows Phone are now being extended to the Xbox One. Conversations now feature improved sync and reduced missed messages. You'll now have synchronized chatting with push notifications that alert you when new messages arrive. Look forward to longer chat history too, up to 1,000 messages versus just the past seven days.
Another improvement, that was much needed, is the ability to filter contacts based on who or who isn't online. Before this update you'd scroll through your entire contact list to find someone you wanted to communicate with. Now you can just focus on those online.
Last night we told you guys about the new Skype emoticons from the upcoming Captain America film. You'll now be able to get those emoticons on your Xbox One.
Using Skype on the Xbox One for the first time? Look forward to a new tutorial to get you up to speed and calling Grandma in no time. Like most updates, this one for Skype also addresses bugs and performance issues the team has encountered the past few months.
A nice update for Skype on the Xbox One. We're looking forward to the improved chatting capabilities that this update brings.
Skype on your Xbox One will automatically update if you've enabled "Instant On' for your console. Skype will update the next time the system automatically checks for updates. Impatient? Just open up Skype on the Xbox One and you'll be prompted to install the update.
Let us know how you like it and what other improvements Microsoft needs to make to Skype.
Source: Skype Blog (opens in new tab) Via: WinSuperSite
Windows Central Newsletter
Get the best of Windows Central in in your inbox, every day!
Cool. Skype is coming along. If they let you send pics on the phone, id probably switch from kik.

Still no Skype in snapped mode? Wasn't that one of the selling points of the console?

Is this a joke? I'm honestly curious. I was under the impression that Skype worked snapped as well... One of the major sell points for me if I were to get it. If it's true that it doesn't work like this then I am baffled. First they flat out lie about the Skype integration in WP8 and now this? Why can't MS deliver on any of their big promises?

Yes still no snap. MS even shows Skype snapped in its ads

It still works in the background so who cares if you can snap it ? I have often skyped a mate then played a game whilst still talking to them.

It should be able to do all 4: in the foreground, in the background, and in snap. More annoying, though, is that the group video chat doesn't function with Skype running on most other platforms. Ludicrous.

wow. wow. how do they seriously think its a good idea to keep advertising features that aren't available? and if you say "oh well that feature is coming in an update" - thats great... but i'm STILL waiting for skype to be integrated into WP8 like they promised back in june of 2012... MS continues to deteriorate my faith in their commitment to their products.

I Skype constantly when I game. The Skype feature on the One seems really cool imo and it's good to see it's being actively updated.

Skype needs to send out a Windows Phone update or get out of town!

+1 although I wouldn't say get out of town because I need Skype, updated or not :P

You use Facebook Messenger on your Xbox One?

What about contact discovery. Surely this is the BIGGEST issue holding it back. Why does it not use phone numbers ( a la whatsapp) or email discovery to find who else has Skype installed so I have more people I can skype with.

The WP version is still a monstrosity! DO YOU HEAR US MICROSOFT? :-(

I don't see why it's a monstrosity. I mean it needs a lot of improvement but it's really not that terrible imo...

Yes its not that terrible. For video calling its work fine and very smooth but here few ppl who share files on WP are whinning for updates.

Tell that to my mom when she gets my video call notification a day late and when she tries to answer her phone has a black screen!

Build is coming there might be plenty of updates coming to Windows phone

Fingers crossed they are substantial and still in line with their phylosophies. I feel too many people are praying for a sellout to just do what Android does. Kinda like people who pray for a "new" MMO but then cry foul when it's not enough like WoW. We'll see.

Yeah, it's heading to the right direction.

Still missing a 360 version since they shut down messenger

Do you know if they plan on bring to the 360. I've searched online a lot and have never found anything definitive

Happens right after my Kinect stops working. :-(

How about fixing that annoying bug where you keep getting a million call notifications on Xbox One???? Weird that nobody has said anything about this.

Do not like the fact that I have to login to my MS account. Before, I had 2 Skype accounts, one on XB1, and one on the 1020. How do I go about doing that now, with both on the same MS account?

Snap missing. Selling point

Can you Skype your Xbox live friends yet? No? Moving along...

I guess skype needs some updates on Os wp8.1 in order to update its performance/features

Still missing alot. Like snap mode, screen share, sending stuff.

Hey V Turk agree with your points we all are missing some features jobs like Screen share and sending stuff.

Xbox One March update + Skype March update = Working hardware keyboard support I can use my wireless USB keyboard to enter chat messages and navigate the whole Skype UI
Windows Central Newsletter
Thank you for signing up to Windows Central. You will receive a verification email shortly.
There was a problem. Please refresh the page and try again.