Skype updated for the Xbox One, brings improved chat experience and more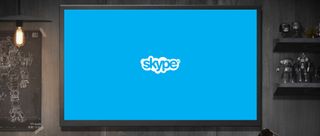 Skype has been picking up some impressive updates the past few weeks. About a month ago the service was updated to fix syncing across all your various devices. At the same time, the modern Windows 8 Skype app was updated. Shortly after, Skype for Windows Phone was later updated to require a Microsoft account only and not a Skype account. Outlook.com picked up support for HD Skype video calls and another update for the Windows 8 app come out with even faster syncing. Not to be left alone, there's now a substantial update for Skype on the Xbox One.
Today's Skype for Xbox One update marks the first update since the console's debut in November. We're looking at a few improvements that will enhance your experience using Skype on your Xbox One. Look forward to the following improvements and additions:
Improved chat
Marvel's Captain America: The Winter Soldier Emoticons
Contact filtering
First time tutorial
Bug fixes
Improved chat capabilities is the most important change to Skype on the Xbox. Skype improvements we've seen on Windows 8 and Windows Phone are now being extended to the Xbox One. Conversations now feature improved sync and reduced missed messages. You'll now have synchronized chatting with push notifications that alert you when new messages arrive. Look forward to longer chat history too, up to 1,000 messages versus just the past seven days.
Another improvement, that was much needed, is the ability to filter contacts based on who or who isn't online. Before this update you'd scroll through your entire contact list to find someone you wanted to communicate with. Now you can just focus on those online.
Last night we told you guys about the new Skype emoticons from the upcoming Captain America film. You'll now be able to get those emoticons on your Xbox One.
Using Skype on the Xbox One for the first time? Look forward to a new tutorial to get you up to speed and calling Grandma in no time. Like most updates, this one for Skype also addresses bugs and performance issues the team has encountered the past few months.
A nice update for Skype on the Xbox One. We're looking forward to the improved chatting capabilities that this update brings.
Skype on your Xbox One will automatically update if you've enabled "Instant On' for your console. Skype will update the next time the system automatically checks for updates. Impatient? Just open up Skype on the Xbox One and you'll be prompted to install the update.
Let us know how you like it and what other improvements Microsoft needs to make to Skype.
Source: Skype Blog Via: WinSuperSite
Get the Windows Central Newsletter
All the latest news, reviews, and guides for Windows and Xbox diehards.