Spider-Man: Into the Spider-Verse packs free Xbox Game Pass on the Microsoft Store
What are you waiting for?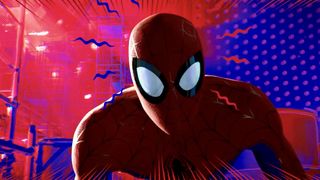 Spider-Man: Into the Spider-Verse is an animated film that has garnered a lot of critical acclaim over the past several months. The title sits at a 97 percent on Rotten Tomatoes — one of the highest scores ever for a "superhero film" — and even went on to win the Academy Award and Golden Globe for Best Animated Feature.
According to Sony Pictures, Phil Lord and Christopher Miller bring their unique talents to a fresh vision of a different Spider-Man Universe, with a groundbreaking visual style that's the first of its kind. Spider-Man: Into the Spider-Verse introduces Brooklyn teen Miles Morales, and the limitless possibilities of the Spider-Verse, where more than one can wear the mask.
If you're an Xbox One owner and want to get in on the deal, then you're in for a treat. According to the Microsoft Store, from February 26 to March 11, you can get a code for two weeks of Xbox Game Pass free when you purchase Spider-Man: Into the Spider-Verse. Keep in mind that the code will arrive within 10 days of purchase through the Xbox Live Messaging Center.
If you're on an Xbox One X you're in for a bigger treat. Microsoft is selling the 4K version of the movie for $20 so it'll look phenomenal on your display, making Spider-Man: Into the Spider-Verse a recommended buy.
There are a lot of Spider-Men
(opens in new tab)
Spider-Man: Into the Spider-Verse
The continuation of a popular franchise

Phil Lord and Christopher Miller bring their unique talents to a fresh vision of a different Spider-Man Universe, with a groundbreaking visual style that's the first of its kind.
Asher Madan handles gaming news for Windows Central. Before joining Windows Central in 2017, Asher worked for a number of different gaming outlets. He has a background in medical science and is passionate about all forms of entertainment, cooking, and antiquing.
Weird since Sony owns (pays marvel for) the rights...

Once again you are fighting your silly fanboy war with more bs.
You're the same guy who tried to start bs in that inspirational article about the adaptive controller...

You seriously think I want to get involved in a fanboy debate with you over this bs?
I don't give a **** about both PSNow and Game pass. Personally, I hope they both fail.

Lol calm down. It's just video games not life and death.

I said:
1) I don't want to have a fanboy discussion.
2) I don't care about these renting services. What made you think I wasn't calm? LOL It's not like you, when you started calling me childish names just because I said some of the games you listed were not exclusive. LOL
https://www.windowscentral.com/everything-xbox-game-studios-working#comm... Sometimes you guys can be really funny... HAHAHA

Lol I'm pretty sure you were the one who had a temper tantrum when I made you upset about your one and done button masher exclusives. And you still don't know what MS exclusives mean? Lol. Again no need to swear or get upset it's just video games. Don't be mad at MS because the PS4 Pro you own can't handle native 4k lol.

I really love this movie.

I'm guessing the fact that the title is vague, horribly worded and easily mis-interpreted as "Spider-Man is available as part of gamepass" (which, admittedly, would never happen, but still...) is purely coincidental.

Crappy writing is becoming the norm for filler articles in this site. Sadly.

Even worse, it's not just limited to this site.

Yes, finally. I'm not the only one who thinks that.
Jez, Brendan, Matt writes brilliant articles, opinion piece and reviews...
Sadly these filler articles are horrible.
This is suppose to be the "Best deal ever". -_- ok, whatever you say...

Awfully confusing and misleading headline. It says that the movie will be available for Game Pass subscribers, which would be unusual. So this is either very bad writing or simply the worst clickbait.

I too was thinking that we'd start having movies included in our game pass, starting with Spider-Man.

Same here. Disappointed now.

Totally agree! But I'm not surprised the author is Asher Madan.
It's sad to see that the number of articles like this really increased since he joined the site. PS: Looks like my post are getting deleted if I criticise an author who writes bad articles and clickbait titles...

The point of the story is you can get game pass with the purchase of the movie. The movie is also $20 on Vudu. But Vudu has a bundle deal that includes spiderman home coming for $26 for 4k. Not sure if that is on Xbox.
Windows Central Newsletter
Thank you for signing up to Windows Central. You will receive a verification email shortly.
There was a problem. Please refresh the page and try again.