Surface Duo 2 FAQ: Price, features, release date, and everything you need to know
Got questions? We've got answers!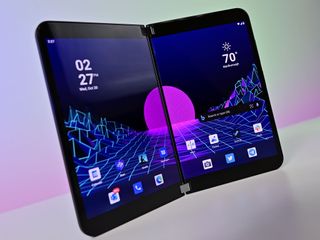 (Image credit: Windows Central)
Microsoft's Surface Duo 2 is now officially available. Just like last year, we've compiled a mega list of questions and answers for those who are wondering about this unique device.
We have the same questions as last time, this time updated for Surface Duo 2. We also have new questions added, and will be adding more as they get asked.
Surface Duo 2 is a significant improvement over the first-gen with much better hardware, attention to detail, and software that is significantly less buggy. There are still issues to solve, however, and the high price will keep many away.
What is Surface Duo 2's release date?
Surface Duo 2 began shipping to customers on October 21, 2021.
What is the Surface Duo 2 price?
The price for Surface Duo is $1,499 for the 128GB model.
The 256GB edition costs $1,599.
The 512GB edition costs $1,799.
Where can you buy Surface Duo 2?
Surface Duo will be available both online and physical stores (where applicable) from:
Is Surface Duo 2 on display in stores?
Yes.
Both the Microsoft Experience Centers and Best Buy stores have Surface Duo 2 on display for users to interact with. Users can hold the device and play with the software just like other smartphones on display.
What is Microsoft Store return policy on Surface Duo 2?
60 days.
No questions asked, no restocking fee. Item must be in its original packaging and "like new" condition.
Microsoft outlines its "Surface promise", where it details its Microsoft Store policies on Surace purchases.
It includes:
Fast, free shipping (2-3 days)
60-day return policy: Must be returned as "like new" in its original packaging
60-day low price promise: If Microsoft drops the price of the Surface you purchased within 60 days, it will refund the difference
90 days free support: Free technical phone assistance for your device
Is there education or military discounts for Surface Duo 2?
No.
Typically, Microsoft offers a 10% discount for eligible students, parents, teachers, and the military. However, as of right now, no such deduction is being provided with Surface Duo 2.
Will Surface Duo 2 be available via Surface All Access?
No.
Microsoft is not making Surface Duo available through its Surface All Access program. However, Microsoft offers financing options, including 0% interest payments over 24 months, through the company directly and other options via third-party retail and reseller partners.
What countries is Surface Duo 2 available in?
Surface Duo 2 is available in the following markets:
United States
United Kingdom
Canada
France
Germany
Japan
Australia
Surface Duo 2 will likely roll out to more markets in 2022.
Can Surface Duo 2 be ordered overseas?
Yes, (unofficially).
Microsoft is not selling Surface Duo direct to customers outside of the markets listed above. However, there are third-party sites like Big Apple Buddy, who can facilitate the transaction. The process is simple: You order from Big Apple Buddy, they order from a US retailer, they ship you Surface Duo 2. Of course, such a service requires a $50 fee, plus FedEx shipping, and any import fees or taxes adding close to an extra $200 to Surface Duo's retail price.
Is Surface Duo 2 a phone?
Yes.
Unlike the first Surface Duo, Microsoft is embracing the idea of a phone with Surface Duo 2. It has added capable cameras, NFC, 5G, and Bluetooth 5.1 along with other upgrades such as 90Hz displays, and bundling Xbox Game Pass too. This is all in an effort to make the Surface Duo 2 a better, more fun phone compared to the first one.
Who is Surface Duo 2 for?
Surface Duo 2 is for anyone who wants to be more productive using their smartphone. With dual screens, Microsoft believes, like, with dual-screen PC desktop setups, people will be able to get more work done.
On a more fundamental level, Microsoft says Surface Duo is for Surface and Microsoft fans, and those who live in the Microsoft ecosystem. Microsoft's chief product officer Panos Panay has stated that Surface Duo is "the Microsoft you love and the Android you know."
Can Surface Duo 2 fit in your pocket?
Yes, it should!
While everyone has different size pockets and pants, Surface Duo is only slightly taller than a standard US Passport and nearly the same width. While it is a wide phone, it is shorter than most modern smartphones and relatively thin.
Will there be a Surface Duo 3?
Microsoft has not publicly announced any plans for Surface Duo 3.
However, our reporting from sources familiar with the project have told us that work on the next Surface Duo is well underway. Like every other smartphone OEM, Microsoft is like to follow a yearly-upgrade cadence, making a late 2022 release for a third Surface Duo a possibility.
What version of Android does Surface Duo 2 run?
Android 11.
Surface Duo 2 is expected to get Android 12 in 2022.
Will Surface Duo 2 get regular Android OS updates?
Yes. For 3 years.
Microsoft is committed to updating Surface Duo with regular Android and security updates. Specifically, the Surface Duo will receive both OS and security updates for three years, according to Microsoft.
Does Surface Duo 2 have an unlockable bootloader?
Yes.
Microsoft confirmed with XDA last year that Surface Duo 1 had an unlockable bootloader. This does not appear to have changed with Surface Duo 2.
Such a move opens the door for users to mod, root, or install a custom ROM to Surface Duo. It is unclear if this action voids the warranty, but typically it does not. It is also unclear if one could force Windows 11 on it, though surely someone in the XDA community may try after its release.
Does Surface Duo 2 have any unique security features?
Yes.
As Microsoft has built Surface Duo 2 with professionals and businesses in mind, the device "utilizes Android security features at the OS level and at the Google services layer."
Specifically, Surface Duo has:
Custom engineered UEFI
Verified Boot
App separation
Google Play Protect
Microsoft Defender ATP (InTune only)
More information and details about Duo's security can be found in Microsoft's documentation.
List of Microsoft Surface Duo 2 specs
Swipe to scroll horizontally
Category
Surface Duo 2
OS
Android 11
Processor
Qualcomm Snapdragon 888
Network
Wi-Fi 6 802.11ax (2.4/5GHz)
Bluetooth 5.1
LTE: 4x4 MIMO, Cat 20 DL / Cat 13 UL | Wi-Fi 5 802.11ac (2.4/5GHz)
Bluetooth 5.0
LTE: 4x4 MIMO, Cat.18DL / Cat 5 UL
SIM
Nano SIM + eSIM
Network bands
FDD-LTE: 1,2,3,4,5,7,8,12,13,14,19,20,25, 26,28,29,30,38,39,40,41,42,46,48,66,71
WCDMA: 1,2,5,8
GSM/GPRS: GSM-850, E-GSM-900, DCS-1800, PCS-1900
Display
Single: 5.8 inches (1892x1344), 401 PPI, 4:3 aspect ratio
Dual: 8.3 inches (2688x1892), 401 PPI, 3:2 aspect ratio
AMOLED, HDR, 800 nits, 90Hz
Memory
8GB
Storage
128GB, 256GB, 512GB
Camera
Front-facing: 12MP, ƒ/2.0, 24mm, 1.0um
Rear-facing wide: 12MP, ƒ/1.7, 27mm, 1.4um
Rear-facing telephoto: 12MP, ƒ/2.4, 51mm, 1.0um
Rear-facing ultra-wide: 16MP, ƒ/2.2, 13mm, 1.0um
Audio
Stereo speaker
Security
Fingerprint reader
Ports
USB-C 3.2 (Gen 2)
IPX Rating
Yes, IPX1
Battery
4,449mAh
Fast Charging
Dimensions
Open: 145.2mm (H) x 184.5mm (W) x 5.5mm (T)
Closed: 145.2mm (H) x 92.1mm (W) x 11mm (T at hinge)
Weight
284g
Color
Glacier
Obsidian
What is included with Surface Duo 2?
Surface Duo ships with the following in the box:
Surface Duo 2
Surface Duo USB-C Cable
Quick Start Guide Warranty and Compliance Guide
SIM Ejector tool
Wired Headphones (Outside USA)
Surface Duo 2 does not include a charging brick, and it also doesn't come with a bumper case like the first Surface Duo did.
Can the protective bumper be removed and reused?
While no longer included, Microsoft still sells a protective bumper case for the Surface Duo 2 separately. The bumper allows Surface Duo 2 to be opened in both directions without interference, but also offers protection to its edges and corners.
The bumper is held on by two-way tape. Users can remove the case, but multiple reapplications will eventually wear out the stickiness. Presumably, using some third-party two-way tape can be used if this were to occur.
Are there more colors for case bumpers?
Microsoft has four colors available for the Surface Duo 2 bumpers, including:
Obsidian
Glacier
Light Blue
Tangerine
Is Surface Duo 2 metal or glass?
Glass.
Surface Duo's dual displays and exterior shell are all Corning Gorilla Glass. The outer frame is ceramic.
Microsoft likely uses glass on the exterior to help with processor and chip thermal regulation (glass does not transfer heat like metal) and longevity (metal cases can scratch or dent). Glass also feels very premium.
Does Surface Duo 2 have an AMOLED display?
Yes.
Surface Duo has two AMOLED 5.8 inch (1892x1344) displays with 441 pixel-per-inch (ppi) and Corning Gorilla Glass Victus for protection. Each display has a 4:3 aspect, but when the two screens are combined, it results in an 8.1 inch screen with a 3:2 aspect ratio and 441ppi.
Does Surface Duo 2 have an always-on-display (AOD)?
No. Surface Duo 2 features a heads-up glance bar feature that appears down the spine when you tap the power button.
What network bands does Surface Duo 2 support?
The Surface Duo supports the following global bands:
5G-NR NSA (mmWave): Release 15 DL 64 QAM up to 6 Gbps, 8xDL CA (800MHz), 2x2 MIMO
5G-NR NSA (mmWave): Release 15 UL 64 QAM, 2xUL CA (200MHz), 2x2 MIMO
5G-NR NSA (mmWave) Bands: n257, n260, n261
5G-NR NSA (Sub-6): Release 15 DL 256 QAM up to 3.2 Gbps, 2xDL CA (TDD+TDD), 4x4 MIMO
5G-NR NSA (Sub-6): Release 15 UL 256 QAM
5G-NR NSA (Sub-6) Bands: n1, n2, n3, n5, n7, n20, n25, n28, n38, n41, n66, n71, n77, n78, n79
Gigabit LTE - A Pro Release 15 with 4x4 MIMO and LAA
LTE DL Cat 20, 256 QAM up to 2Gbps, 5xDL CA
LTE UL Cat 13, 64 QAM Contiguous 2X ULCA
LTE Bands: 1, 2, 3, 4, 5, 7, 8, 12, 13, 14, 19, 20, 25, 26, 28, 29, 30, 38, 39, 40, 41, 42, 46, 48, 66, 71
WCDMA: 1,2,5,8
GSM/GPRS: GSM-850, E-GSM-900, DCS-1800, PCS-1900
Does Surface Duo 2 support GPS?
Yes.
Surface Duo supports the following GPS modes:
GPS
Galileo
GLONASS
BeiDou
QZSS
Is Surface Duo 2 carrier and SIM unlocked?
Yes.
The version sold directly by Microsoft, and Best Buy is carrier and SIM unlocked. That version supports a Nano-SIM and eSIM.
Can eSIM and physical SIM be active at the same time (dual-SIM)?
Yes.
While the unlocked version of Surface Duo 2 supports eSIM (electronic) and nanoSIM (physical), the Snapdragon 888 allows for both to be used similtaneously.
Which U.S. carriers does Duo 2 work on?
The Surface Duo 2 is confirmed to work on all major carriers, including:
AT&T
Verizon
T-Mobile/Sprint/Mint
If customers buy the unlocked model, it should also work on any mobile virtual network operator (MVNO) e.g., Mint Mobile, Boost Mobile, etc.
Can Sprint customers use Surface Duo 2?
Yes.
However, since the companies have merged, customers will need to acquire a T-Mobile SIM to function.
Does Surface Duo 2 support Wi-Fi calling?
Yes.
Surface Duo supports native Wi-Fi calling allowing it to work on all networks that support the feature. The setting is off by default, but it is part of the native Android experience where users can enable it and prioritize using Wi-Fi over cellular and vice versa.
Does the Surface Duo 2 support 5G?
Yes.
Surface Duo 2 features both mmWave and Sub-6 5G data speeds.
Does Surface Duo 2 support Microsoft Your Phone?
Yes.
Surface Duo can connect wirelessly to any Windows 10 PC for phone calls, messages, notifications, and streaming of apps like Samsung phones and "Link to Windows."
Does Surface Duo 2 support Android Auto?
Yes.
Like all modern Android phones, Surface Duo supports Android Auto so long as the connecting car supports the feature. Users can plugin and/or use Bluetooth to pair Surface Duo to the car for phone calls, maps, music, etc.
Which Surface Pen works with Surface Duo 2?
Surface Duo supports all in market generations of Surface Slim Pen, Surface Pen and Surface Hub 2 Pen.
Simultaneous Pen and touch are supported
The pen is not included with purchase. Surface Duo 2 also doesn't support haptics with the Surface Slim Pen 2.
Does Surface Pen Slim attach magnetically to Surface Duo 2?
Yes, sort of.
Surface Duo 2 does have magnets that can hold the pen, but this isn't by design and it will not charge the pen when docked. Microsoft does sell a separate pen charging cover that includes much stronger magnets, which clips to the front of the Duo 2 and allows the pen to be stored and charged.
How many cameras does Surface Duo 2 have?
Surface Duo 2 features four cameras total; three on the back and a selfie camera on the inside above the right display.
The three external cameras consist of a 12MP wide and telephoto lens, and a 16MP ultrawide lens.
Which Microsoft apps are included with Surface Duo 2?
The following apps from Microsoft are preinstalled with Surface Duo:
Microsoft Office: Word, Excel, PowerPoint, Office Lens, PDF reader, and More
Microsoft Outlook
Microsoft Teams
Microsoft OneDrive and Photos
Microsoft Edge
Microsoft OneNote
Microsoft To Do
Microsoft Start
Microsoft Authenticator
Microsoft Bing
Intune Company Portal
LinkedIn
Microsoft Solitaire Collection
Surface Audio
Microsoft SwiftKey
Xbox Game Pass
Which Google apps are preinstalled on Surface Duo 2?
To comply with Google's policies, Microsoft has preloaded the following Google apps on Surface Duo:
Google Search
Google Assistant
Google Calendar
Google Drive
Google Duo
Google Photos
Google Play Movies & TV
Google Play Store
Google Maps
Chrome
Gmail
YouTube
YouTube Music
Contacts
Messages
Phone
Files
Clock
Calculator
Sound recorder
What Android launcher does Surface Duo 2 use?
The Surface Duo 2 ships with a version of Microsoft Launcher optimized for dual screens.
Customers should be able to switch to any other Android launcher freely, however, they likely will not be as optimized for dual screens as Microsoft Launcher.
What unique features can Surface Duo 2 do?
Microsoft and Google have optimized surface Duo and the Android OS for dual screens. The result is the following unique functions to Surface Duo:
Dual screen windowing
Glance bar notifications
Adaptive modes
App Groups
Microsoft 365 Feed
Dynamic dock
Universal Search
Adaptive Camera
Microsoft SwiftKey Adaptive Keyboard
Your Phone Companion - Link to Windows
Do all Android apps work with Surface Duo 2?
Yes.
Any app on Android and the Google Play store will just work on Surface Duo. Opening links in one app will open the app on the other display, so long as there is nothing already present.
There is no app incompatibility, and there are no limitations on what can be installed to Surface Duo.
Developers optionally can optimize apps for Surface Duo to take advantage of the dual-screen functionality by utilizing the official Microsoft Surface Duo SDK. Examples of optimized apps (so far) include Spotify, Amazon Kindle, and Mylio (photo editor).
Gameloft has released three games that have been updated to support the Surface Duo 2's split design. These games are Asphalt 9 Legends, Modern Combat 5, and Dungeon Hunter 5.
Is Amazon Kindle optimized for Surface Duo 2?
Yes.
Amazon has an updated version of its Kindle app for Android, whereby the app can "span" to both display and function just like a book. Each screen will feature a page, and users can simply swipe to turn the page.
Because Surface Duo has dual 4:3 displays and can pivot just like a book, the reading experience on Surface Duo should be exceptionally good.
What colors does Surface Duo 2 come in?
Surface Duo 2 is available in Glacier White and Obsidian Black colorways.
Does Surface Duo 2 support NFC and contactless payments?
Yes!
Surface Duo 2 supports NFC and contactless payments via Google Pay. The NFC tag is located behind the left display, meaning you'll need to fold the Duo 2 into single-screen mode first before you can utilize it properly.
Can Surface Duo 2 charge wirelessly via Qi?
No.
Surface Duo does not have Qi wireless charging. It does support 23-watt Fast Charging through its Type-C 3.1 port.
Does Surface Duo 2 have a 3.5mm headphone jack?
No.
Surface Duo handles audio through the USB Type-C 3.1 port on the bottom (wired) or via Bluetooth 5.0 headphones like Surface Headphones, Surface Earbuds, or any other Bluetooth headset.
Is there expandable storage on Surface Duo 2 or microSD card?
No.
There is no microSD card slot or expandable storage on Surface Duo.
Does Surface Duo 2 support Continuum or docking?
No.
Although Surface Duo's Type-C 3.1 port supports video out, this does not mean it has a "docking mode" or support for Microsoft Continuum. In other words, plugging into an external display will not give you something similar to Samsung DeX.
Is there water resistance or an IP rating?
Yes.
Surface Duo 2 has an IPX1 rating, which offers some basic water protection. The rating is for "dripping water with vertically falling drops ... when mounted in an upright position onto a turntable and rotated at 1 RPM."
So essentially, you can use the Surface Duo 2 in the rain without worry, but don't drop it in any body of water.
Where is your review of Surface Duo 2?
Our review of Surface Duo 2 was posted on October 21. You can find it here.
Get the Windows Central Newsletter
All the latest news, reviews, and guides for Windows and Xbox diehards.
Zac Bowden is a Senior Editor at Windows Central. Bringing you exclusive coverage into the world of Windows on PCs, tablets, phones, and more. Also an avid collector of rare Microsoft prototype devices! Keep in touch on Twitter: @zacbowden.