Panos Panay and the Surface team just finished their Reddit AMA, here are the highlights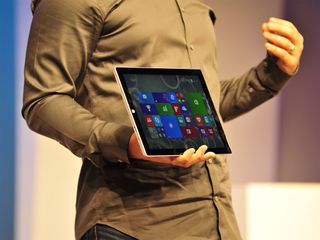 Panos Panay and the Surface have just wrapped up their AMA on Reddit. That's the informal Q&A session with the community at Reddit. The focus was of course the newly announced Surface Pro 3, but the team also fielded questions about Surface in general.
Below we've pulled out all the info that Panos and team shared from the AMA. Just sit back and read all his answers right here.
What's output resolution for the Surface Pro 3 without the dock?
What's the number one thing you'll say to someone asking why they should get the Surface Pro 3 over this laptop and that tablet?
What happened to the Blades concept? Will we see any unique covers or 3rd parties making covers?
Does the omission of a non-Pro Surface during last week's presentation mean the end of the product and Windows RT?
Is the battery tradeoff for the performance of the Intel Core i7 model of the Surface Pro 3?
Does the surface touchpad have gestures like the Macbooks have?
Have you done anything to improve the keyboard plastic so that it does not tear off?
Will it be possible to have the top pen button open the desktop version of OneNote or anything else?
Why is it so difficult in the Windows ecosystem to create a touchpad experience as good as the one found in Apple MacBooks?
As a student already invested in Microsoft's ecosystem (with Windows, Office, OneDrive and Xbox), what benefits does the Surface Pro 3 bring me as opposed to another Windows Hybrid with Office included for free?
Is the i5 128gb model of the Surface Pro 3 powerful enough for me to run Microsoft Office software, Visual Studio Ultimate and other processor intensive software that I may need for 6th form?
How good honestly is the new trackpad on the Type cover 3? Because my laptop trackpad is perfect (because it has real clickable buttons), and the Type cover 2 is almost unusable for my needs.
Which is best, the black type cover or the royal blue one? Because the royal blue one looks so sweet.
Is there any possibility a firmware update bringing Connected Standby on Surface Pro 2 in a near future?
How long does it take for the Surface Pro 3 to come out of Standby when pressing the button? Is it several seconds like previous Surface Pros?
What is Microsoft doing to encourage partners to make everything from cases to chargers to nifty gadgets for the Surface Pro 3?
What happened and why can't I buy a Surface Remix blade at a Microsoft Store?
How is it possible to call the Surface Pro 3 a laptop killer when the device does not come with a keyboard?
How long does it take to fully charge the SP3?
What's the longevity of the batteries in the Surface Pro 3?
Can the battery be replaced on the Surface Pro 3?
How much does the battery cost to replace?
Are there future plans on changing the graphics controller, giving that you have more space in the new larger layout?
Will there be any way to quickly enable/disable the functionality of the Windows button on the Surface Pro 3 so it does not get accidentally pressed while using the stylus?
Can we control power setting? What happened to High Performance Mode on Surface Pro 3 it appears we cannot change it. Is this a Thermal issue?
Has the Wi-Fi been Improved over the Pro2, Throughput / Range?
When will we be able to demo the Surface Pro 3 in store?
When Windows 9 comes around, will we be able to upgrade to it on the Surface Pro 3?
Why won't you release a white Type Cover?
What considerations have stopped mobile SIM card/3G/LTE support being directly included in any of the Surface Pro series?
Where is the thunderbolt link? You could have external GPU's and make it a desktop replacement, I thought the "ultrabook" standard included thunderbolt?
What happened to the darker color on Surface devices?
Photographers use full size SD cards and for those with micro cards there are adapters, what was the thinking behind only offering the micro option?
What are the reasons behind the 3:2 aspect ratio in the Surface Pro 3?
Please confirm on the processor + GPU specs for all models - helps in decision making.
While the double-fold definitely looks like it adds a lot to "lapable" stability and balance, does the extra hinge on the cover also help minimize any slight "bowing" of the keyboard when on an uneven surface?
Is there some kind of anti-fingerprint coating on the SP3's display?
And that's a wrap. Have any other questions about the Surface Pro 3? Sound off below. Don't forget to check out some killer Surface Pro 3 articles linked below.
Yes, I won't be getting one either.

I won't be doing the same because I want one. Just have other priorities before I can actually get it.

I believe you wanted to say " I want one" xD

I understand him dodging the question about bundled keyboards, but it falls flat, IMO. This is billed as a laptop replacement, but the keyboard is an extra purchase. Yes, he said when they initially bundled, people wanted choices. Here is the very simple solution: Every purchase of a SP3 includes a voucher that the customer can redeem at the time of sale for a type cover of their choice. Done. What nobody will admit is it's about profit. Don't get me wrong, I'm going to slap down the Visa like everyone else, but it sure would be nice if that $1,299 price-point included all necessary to replace my other laptops... Also, he referred to "metro." I thought that was a dead term to Microsoft due to some litigation or something?

any idea how much it cost them to make the keyboard? how do you know how much profit they make for each keyboard sale? i see this point being made and i would like to get the inside scoop. thanks in advance.

I have no clue. I'm sure they are costly to produce, just like the SP3 is. My point is the average joe-blow reads an article about the SP3, says "hmm, laptop replacement - I'M IN!" then they stop cold at realizing $799/$999/1,299, watever is really $130+tax more. I know, they will just give in and buy it, but will they? Microsoft couldn't keep these on the shelf if the keyboard was included. That's my opinion anyway. Of course they will still sell tons of them, but if they really want to smash the market, it would be a wise move from a marketing standpoint. You know, that it will replace a MBA or whatever in one purchase. In it's current form, it cannot. Again, I'm a huge fan and placed my order on day one, but it is a bit confusing how it's marketed vs. what's in the box. I know the SP1/SP2 were no different, but the SP3 has squarely marketed itself as a consolidation device. Not possible without a seperate purchase.

They should surprise all the pre orders with free keyboards. Just for blindly trusting Microsoft and sp3 without even touching or seeing our knowing much about it.
Didn't somebody did something like that before? Nokia gave free wireless chargers our something???

I'm one of the ones that don't really want or need a keyboard with the Surface... when I'm on the move I'm more than happy to use the on-screen keyboard. When I sit down at a desk I'm more than likely going to plug in a full keyboard, mouse and monitor. Laptop keyboards are irritating at best over longer periods of time and I currently always use a full keyboard + mouse when doing anything that requires extended amounts of typing or mousing.

There were articles in the past for the original versions that put their manufacturing costs at about $18 if I remember correctly.

oh how I hate this. "it only costs $X to make it, why does it sell for >$X?" because you are only thinking about gross margin. you are forgetting about R&D costs, marketing costs, all other sorts of costs that a company has to account for in order to turn a profit. would they sell more if they gave it away? sure.

I get your point, but at the same time you can get an HP Pavilion 11 x2 with a similar 4GB of ram, 128GB ssd, and i5 processor for $630... and it includes a keyboard with a touchpad, battery, and hinges. Granted the HP case is cheap plastic, has no pen/Wacom, and has a lower quality/res screen... but if HP can make profit at $630, I am at a loss as to how MS sells largely the same thing for $1200 ($1000 Pro 2, and $200 powered keyboard) and still manages to loose money. Surely the housing, pen, and display do not add $570 to the cost. Something is horribly off here.

Your logic. Miniturisation costs a lot of money.

I work for a US retailer and the markup on the keyboards (at least the previous models) is significant, while there is no markup on the tablets themselves. Unfortunately this is a common practice on most electronics. I don't want to get into specific costs but I couldn't see the keyboards costing more than 40-50 dollars to manufacture.

Being that this is also a legitimate tablet on it's own, and like every single other tablet on the market, third party keyboards are the only option. Price competition with Ipads, feature and size competition with MacBook Air's, power competition with Mac Book Pro's. And all that with one device. I don't have any problem with this approach to their product. The Surface Pro 3 offers a category of it's own and nothing on the market at the moment is close. Especially in considering this is the same device with the exact same OS for the "laptop" and tablet.

I personally don't have a problem buying the keyboard seperately (outside of it being aggravating) but I'm willing to be the average consumer is ticked by it. That's my only point. Geeks will do so without hesitation, average joes will pause and go from there - which will result in turned away customers, for sure. Hell, offer a 50% discount if you buy it at the time you do the SP3. Just an idea to lessen the sting for Aunt Betty who wants to get rid of her iPad and 17" boat anchor HP junker.

I dont really understand the angst here. If it had automatically come bundled with a keyboard at a higher price point, you'd be complaining that MS was forcing it on everyone. This way, everyone gets to choose color and whether they even want one at all. God forbid, you have to add two numbers together to get the total cost...

Exactly. You just can't win. I am sure they'd love to give the keyboards away to increase sales, but they need to recoup some of their costs and pay their staff. Plus you know they are well made and are pretty much worth it. Some people will buy it and use a bluetooth or wired keyboard and buy the snap-on cover later. Or maybe wait and see what 3rd party covers come out. MS are giving people choice, no idea why people are moaning.

This epitomizes Microsoft's preference for consumer choice, but at what point does choice hinder a sale vs. help it? If you give people too much choice, they can get overwhelmed and will hold off or just buy whatever is simpler. This is why Apple tries to keep their product lines as straightforward as possible. In this case, when realizing the SP3 doesn't include the cool keyboard, how many consumers will just buy an iPad or MBA instead? Keep in mind that a good chunk of any tablet buying audience might already be in the Apple ecosystem via an iPhone or older iPad, making another Apple purchase more compelling.

Anything larger than 9.75" is not a legitimate tablet.

Until Apple comes out with the iPad pro, right?

Or instead of a voucher, have Microsoft Stores sell it included, and choose color at checkout. Have it available for purchase separately at other reatil stores and leave it up to the store whether or not a "price-match" for the free cover will apply. Would be a great way to sell surfaces and promote Microsoft stores too.

As usual, an MS has a true feature that no other device from no other company has and people have to find ways to make it more of an inconvenience. Sad part is one ass says it, then everywhere you look someone else is regurgitating the same things. "How can it be a replacement for a laptop with no keyboard"... well how come it isn't... because you're not used to seeing it like that?

Seriously. Sometimes I get exhausted hearing the same complaint over and over. Instead of simply saying the PRICE is what they are unwilling to pay for, at which point that becomes an individual choice, somehow people make it look like it's a bad decision to sell the keyboard separately! Its not like the keyboard is scarce or anything is it? People, if the SP3 + keyboard is beyond your budget, no big deal! There are lots of other less expensive computing devices out there! Myself I'd love to have the SP3 but can't afford one now, so what? I'd also like a Mercedes, and a house by the beach too! There's no crime in relatively expensive premium products. These devices are not cheap to make. It is unfair to demand them at much lower price points, that's why we have alternatives to fit most pockets right?

The very simple solution actually is to leave the system exactly as it is. Build a complicated voucher system that other retailers would have to support vs just buy it separately. This situation isn't much different than buying a desktop that doesn't have a monitor included. Is Dell or hp screwing over customers when they show a desktop with a monitor while including the "monitor sold separately" fine print? The Aunt Bettys you are concerned about will learn about the Surface Pro 3 on TV, where the fine print about it being sold separately is right there.

The Surface is priced in line with MacBook pricing when you include the keyboard, so it wouldnt be any cheaper if they bundled it together. Personally when I bought my SP2 the fact that it didnt come bundled with a keyboard was perfect as I chose an origional touch cover saving around £60 at the time. Maybe to keep everyone happy they should just add keyboards to the Surface device page on the Microsoft store so that it looks like its bundled. That way you can choose with or without keyboard as well as a colour. Obviously the price would be exactly the same and in reality they would still send you 2 boxs but at least they would have a bundle price.

They turned that around quickly. It was embarrassing at first, but they made it ok by the end.

yeah, but that performance does make me second guess whether to buy a SP3. I think the points that were made re: the keyboard were on point...how do you expect to replace a laptop without one? I also think that the trackpad answer was awful, and deserves a straight up answer on why its not as good, and how to fix it.

Why not a nvidia video Card?

Because that would literally double the TDP

are you really asking that?........
wow, do you understand intel chips now have the cpu and gpu in same chip?
adding nvidia or amd, would add weight and cost and of course thickness.
Better ask intel to start using money and get good at gpus.

cost, battery life, heat...I'm not even counting the dimension change to accomodate the chip and a fan to cool it.

Some of them didn't feel like answers, but just promoting their product...

He also dodged the question regarding the possibility of dedicated graphics controller. He just listed what they're currently offering.
I think the i7 paired with a half decent graphics card could even be an amazing desktop replacement for us semi pro PhotoShoppers & AE/Premier users.

They seemed to avoid answering some of the questions directly. Interesting...... And I wonder what this means: "When you buy your Surface Pro 3, do me a favor, and take a close look at the power connector."

I'm wondering if the dock you can get for it might have a Thunderbolt connection - seems he was pointing to that somehow having the bandwidth for that type of connection.

"When you buy your Surface Pro 3, do me a favor, and take a close look at the power connector." I'm very curious about this comment as well....

Wow, Americans really don't get sarcasm.

I'm not 'MURICAN, and there was no '/s' to indicate sarcasm.

Was pretty excited to see that and had noticed this before. If you look at the power connector on the SP3 itself, it has a ton of extra connection points. It was mentioned in context with thunderbolt, so could we be seeing some future additional accessories.... maybe external gpu, like mentioned... who knows. :)

Reminds me of when the Surface Pro was released, and everyone noticed new connectors on the bottom where the keyboard snaps in. We later found out it was for the Power cover. It's been mentioned that the Surface Pro 3 dock isn't a pass-through like the Pro 2 dock, and it's connections come from the power connector on the side of the Pro 3. If that's the case, this connection must be a higher bandwidth port in order to support the docks three USB 3 ports, two USB 2 ports, Gigabit ethernet, and a 4k mini-display port. Perhaps it is Thunderbolt, and in the future, we'll have a different dock or peripherals like external graphics cards.

That wasn't fair how that one guy won a Surface Pro 3. ):[

Where is the thunderbolt link? You could have external GPU's and make it a desktop replacement, I thought the "ultrabook" standard included thunderbolt?

"When you buy your Surface Pro 3, do me a favor, and take a close look at the power connector."

I wonder what this means??

Seems pretty obvious to me. Stop demanding to have someone hold your hand and think about it.

He probably was being sarcastic. I wouldn't read to much into that.