Windows 10 builds 16251 and 16241 for PC: Everything you need to know
Check out all the new features and changes Windows 10 is introducing with builds 16251 and 16241.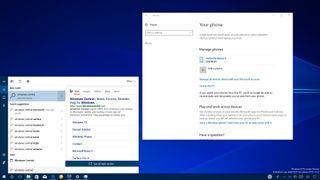 Although Microsoft is now focused on smashing bugs and stabilizing the next version of Windows 10 for its public release, the company still rolling out test versions with new features and improvements. This time, Windows 10 build 16251 is rolling out for PCs enrolled in the Fast ring, and while it's a significantly smaller update, there is a number of new changes.
In this new flight, Windows 10 introduces a new feature to link your Android phone to your PC enabling cross-device web-browsing. Cortana now can power off your device using voice commands, and it shows web results without opening the web browser. The boot experience has been improved, and more.
Also, Microsoft recently rolled out build 16241 as part of the Windows 10 Fall Creators Update unveiling some small changes around Fluent Design, Task Manager, and Mixed Reality.
In this Windows 10 guide, we'll take a deeper look at the features and changes that were included in the last two previews for the next version of the OS.
Windows 10 Fall Creators Update new features and changes
Cortana
Cortana is receiving a new update adding some exciting improvements. Starting with build 16251, you can use voice commands to turn off, restart, lock, and sign-out from your device.
Here are the commands you can use:
Hey Cortana, restart PC.
Hey Cortana, turn off PC.
Hey Cortana, sign out.
Hey Cortana, lock PC.
Once you invoke a command, you'll have to confirm saying Yes for most actions, except when you're trying to lock your device.
These new commands also work above the Lock screen, but you must enable the Lock Screen option in the Talk to Cortana settings page.
Alternatively, you can also open Cortana, and simply type the action, such as restart PC or sign out.
In this flight, Cortana can show results previews without opening the web browser. As you start typing, you'll see a new pane that expands automatically to show you the information you're seeking. In the case, the assistant doesn't have an accurate answer, you won't see the pane expanding, but you can still click the arrow button next to the result to see relevant suggestions.
Settings
On Windows 10 build 16251, the Settings app is also getting a number of tweaks and new features.
Phone
On Setting > Phone, you'll notice that this is a new section that includes a new Phone settings page. This is part of a new feature that Windows 10 is introducing with build 16251 that allows you to link your Android phone to your PC enabling new cross-device experiences.
If you want to give it a try, click the Add a phone button, enter the number of the phone you want to link, then you'll receive a text with the instructions to install the Microsoft Apps application on your Android phone to complete the link.
Once the phone is linked to your computer, you can start browsing the web, open the share experience on your phone, and tap the new Continue on PC option.
After authenticating with your Microsoft account, you'll need to decide if you want to Continue now or Continue later. If you tap Continue now, the website will automagically open with Microsoft Edge on your PC.
Unfortunately, if you use another web browser like Chrome and is set as default, the new feature will still use Microsoft Edge to open the website.
While the new experience only allows you to resume web pages on your PC from your phone, in the future, Microsoft will add more functionalities. Also, at this time, there is only support for Android phones (English), but iOS support will be added in the future.
Taskbar
On Settings > Personalization > Taskbar, the page has been updated, and now under "People," Pop has been renamed to My People.
Sign-in options
On Settings > Accounts, the Sign-in options page has been updated. Starting with build 16251, under "Privacy," you'll find a new Use my sign-in info to automatically finish setting up my device after an update or restart toggle switch.
The new option allows Windows 10 to sign-in automatically to finish setting up your device even after a regular reboot or shutdown when using the available power options.
In addition to speed up the boot experience, Windows 10 will be able to restore accessibility apps and other apps that have the ability to restart in this type of scenario.
The new feature is enabled by default, but you can use the option in this page to disable it.
Alongside the new improvement, Windows 10 is adding two additional switches to the shutdown command that you can use in Command Prompt:
shutdown /sg: Turn off the PC. On the next boot, restart any registered apps.
shutdown /g: Full power off and restart the PC. After the system is rebooted, restart any registered apps.
Game Mode
On Settings > Gaming, the Game Mode page hasn't been updated, but under-the-hood, the feature now is enabled by default for some games.
TruePlay
On Settings > Gaming renames Game Monitor to TruePlay, which is a future anti-cheating system for Xbox Live. No details yet from Microsoft about this feature or how it works.
General
On Settings > Privacy, the General page now includes a new Show me suggested content in the Settings app option. (However, it appears to not be working at this moment.)
Windows Update
on Settings > Update & Security > Windows Update, the Advanced Options page no longer includes the Use my sign in info to automatically finish setting up my device after an update option, because it's been moved to the Sign-in options page.
Input
You'll also find a few tweaks for the one-handed keyboard experience. In build 16251, the keyboard is a bit bigger with thicker borders to reduce accidental taps outside the keyboard that dismiss it.
The touch keyboard experience now supports full keyboard layout for more languages, including English, French, Italian, German, and Spanish. And the typing sound has been softened based on feedback.
On precision touchpad, the two-finger scrolling is smoother, and the pen can now select and drag objects when the barrel button is pressed.
System
Fluent Design
Starting with Windows 10 build 16241, the noise layer of Acrylic Material, part of the transparency element of Fluent Design, has been adjusted to be more softened.
Task Manager
Inside Task Manager with the roll out of build 16241, the Processes tab now shows proper labels for processes of Microsoft Edge.
In addition, the Performance tab introduces new tweaks for the GPU section. On build 16241 and later, the graphics processor name appears on the left side.
The section now shows the multi-engine view that allows you to see the performance of the four most active GPU engines.
You can also see the total graphics memory text counters, and the DirectX version now also shows the highest DX feature level at the bottom of the section.
Microsoft Edge
On Windows 10 build 16251 and 16241, Microsoft Edge is also receiving some changes.
You can no longer pin InPrivate sessions to the Taskbar. If you pinned InPrivate session in the past, now they'll open in a regular session.
Microsoft Edge no longer re-scale websites when using Tablet Mode with narrow viewpoint width.
Narrator Scan Mode is enabled by default, and you can still use the Caps Lock + Space shortcut to turn it on or off.
Mixed Reality
The Mixed Reality experience continues to be a focus for Microsoft, and on Windows 10 build 16241, there are several new improvements.
Under-the-hood, the Mixed Reality incorporates support for motion controllers over USB and improves connection reliability.
The Mixed Reality Portal app updates its default icon, and the teleportation experience has been tweaked to be more intuitive and direct.
If applicable, the app can now notify the user that a USB 3 headset is required. It improves support for ASMedia and other 3rd party USB controllers, and 4K 360 video streaming.
Wrapping things up
While this is a minor update, it includes several welcome additions, and it's by far the most stable build I've tested for the Windows 10 Fall Creators Update. However, it's still a pre-release with bugs and things not working, as such it's not recommended to install it on your primary machine.
You'll also notice that starting with this release Windows 10 build 16251 appears available through the rs3_release development branch for users in the Fast ring, and through the rs_prerelease branch for those who are using the "Skip Ahead" option.
Note that we're not listing the new Lock screen recovery password or Windows Update bandwidth control features. This is because they're previously included on Windows 10 build 16237.
More Windows 10 resources
For more helpful articles, coverage, and answers to common questions about Windows 10, visit the following resources:
Windows 10 help, tips, and tricks
Get the Windows Central Newsletter
All the latest news, reviews, and guides for Windows and Xbox diehards.
Mauro Huculak is technical writer for WindowsCentral.com. His primary focus is to write comprehensive how-tos to help users get the most out of Windows 10 and its many related technologies. He has an IT background with professional certifications from Microsoft, Cisco, and CompTIA, and he's a recognized member of the Microsoft MVP community.