Windows Phone Summary of the Week: April 30 - May 6 2012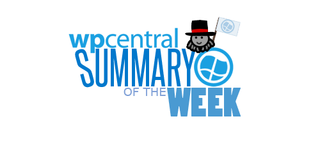 It's time for our weekly Windows Phone news summary, where we round-up all the stories that are worth reading should you be in a position of missing some headlines on the site. Before we kick off with the summary itself, we've had some insightful gaming discussion on our Windows Phone forum covering titles that have been published into our spotlight.
With all the issues surrounding the Lumia 900 since launch, we've asked the community what problems have been experienced through usage. To close off the WPCentral introduction, we've also announced the winners of our Lumia 900 Dicota Hard Shell Case competition. Head on past the break for the full run through of this week's Windows Phone news.
Microsoft has published an article on their official Windows Phone blog detailing plans to maintain quality in the app Marketplace, which will settle complaints from Google surrounding copyright. In light of the recent delays due to "overwhelming demand" of the Lumia 900 in the states, participating UK retailers are offering a free pair of Nokia Purity headphones with any eligible pre-order of the Windows Phone. The Finnish manufacturer has renewed their exclusive partnership with Carl Zeiss, so we can all remain excited for impressive camera technology in future Lumia smartphones.
There have been a number of lawsuits in the news this week. First up is Nokia against HTC, RIM and Viewsonic in the U.S. and Germany. Motorola has attacked Microsoft in Germany with an injunction being granted to block the sales of all products, should it go go through after Microsoft's appeal. Last up we have a Nokia investor suing the manufacturer for fraud with false expectations and hope.
Microsoft has detailed new brand names for cloud products that were developed as part of the Live family and has added 22 new countries to the web Marketplace support list. Business insider has reported that Nokia has been losing sales due to Skype - we call shenanigans. The software giant is set to launch a new Microsoft store in Boston, and we take a look at an unofficial list of store openings that will occur throughout the states. Closing off our highlights is the news of the company shutting down Bing 411 on June 1st.
Pac-Man Rally Kart Rally has been released on the Marketplace, and is the first Xbox Live Windows Phone title that features multiplayer support. Should you be interested in adding this racing title to your collection, it has had its price reduced. Speaking of price reductions, the popular RPG / shooter The Harvest is this week's Xbox Live Deal of the Week.
Microsoft has revealed plans to introduce a new Xbox package that contains the console and Kinect for a subsidised price with a monthly subscription. We post our first impressions of Fable Heroes for the Xbox 360.
We've been asked by readers if there are any PayPal apps for Windows Phone. While there isn't any official support from PayPal as-of-yet, we have taken a quick look at two third-party apps available on the Marketplace. Windows Phone Hacker has released Folders for Windows Phone, a homebrew solution that enables users to create and manage folders for tiles, etc. which would not be possible without granted access. Snotify, another homebrew project, has been spotted in the wild that allows those with interop unlocked Windows Phones to schedule alerts (email, SMS, etc.)
We previously covered Executive Caddie with how Lumia Windows Phone owners will be able to upgrade to a customer version of the app, but the really interesting news is an augmented reality tool called GolfScope. It loads an overlay over the golfer in view of the smartphone camera that details information such as score, name and more. An official Windows Phone app for SnapCrowd, a cloud media streaming service, has finally been released.
At the previous WPUG meetup, we took a look at a number of unique projects that are in development by Windows Phone enthusiasts. MegaTile is one of said projects, which is already live on the Marketplace. The app enables users to create and manage custom tiles for the home screen. Actions available include shortcuts to system apps and settings (WiFi, Areoplane mode, etc). Microsoft has been heavily investing in Skype's infrastructure with updates and improvements, after acquiring the service. Good to see the giant take further steps in advancing the network.
glƏƏk! has been updated to version 1.5, bringing a number of improvements, features and extras (ringtones anyone?) to the table. As well as the update, an issue has been detected within the app and a fix is on the way; in-case you become frustrated. A Russian Windows Phone community has managed to get their hands on (and publish) update information for upcoming versions of Nokia Drive and Transport.
The Amazon Windows Phone app has received some social treatment with new features enabling users to share and recommend products to contacts. Closing up the software section of the summary is HTC updating Sound Enhancer, which could possibly fix sound issues?
We manage to get our hands on the LG Fantasy (E740) Windows Phone prototype, a low-end handset that supports NFC - it doesn't leave us too impressed, but we're sure you're interested to see what the fuss is all about. The manufacturer (LG) has backtracked on its earlier statement covering how the company is steering clear of Windows Phone, though we still believe they're off the wagon for now. Nokia's chairman that tablet "hybrids" are being looked into - possible Windows 8 devices?
The Lumia 900 has been having all kinds of trouble since it launched in the states. One of said issues are purple screens, which have reportedly been looked into by the manufacturer. Looks like future firmware fixes will bring more than we previously expected. The Windows Phone has been added to Orange's website and now has its own dedicated support page, could we be seeing it stocked by the carrier soon? A rumoured shot of a Lumia Windows Phone running Apollo has been spotted across the online world, but we strongly advise taking this with a grain of salt.
Canadian carrier WIND has released the Lumia 710 for $259, or for less with those ridiculous three-year contracts. The Lumia 610 is set to be heading for Amazon Italy on May 22nd and is available for pre-order right this very second. The budget Windows Phone has been NFC certified for MasterCard's PayPass program, which is good news for those who wish to head down the wireless payment route. Should you be wanting something 'more', like the PureView 808, Nokia is gearing for a release this month.
A white Samsung LTE Windows Phone gets pictured, but the question remains: will it ever be released? An interesting look at the Samsung device makes us consider if the design is shared with the Galaxy S III Android handset.
The winner of Ben Rudolph's unique #captionthatlumia competition on Twitter has been announced, while well known actress and singer Priyanka Chopra challenges participants with "Blown Away by Lumia". Nokia has been busy expanding its Smartphone Beta Test, which now covers popular New York subway stations with eye-catching promotion material.
The UK-based Windows Phone User Group (WPUG) has scrapped its usual evening hour-or-two event style for a morning-onwards beer fest, titled WPBarCamp. Developers and enthusiasts are welcome to network, show off and present apps. WPCentral will be heading down to say hello, feel free to catch us there for more information as to how we can help. Microsoft has detailed a Windows Phone developer summit this coming June, sitting just before Google's I/O.
Highlights
Clove offering free Monster Purity headphones with Lumia 800 purchase
Unofficial list of new Microsoft Store openings
Gaming
Gather The Harvest, the Xbox Live Deal of the Week
Wordament Goes Dutch on Windows Phone
Microsoft launching two-year subscription for Xbox 360 console and Kinect bundle
Software
Ask WPCentral: Any PayPal apps out there?
Snotify brings alerts scheduler to Windows Phone but only for fully-unlocked devices [Homebrew]
Skype gets an update for the app and network
glƏƏk! for Windows Phone updated to version 1.5
Nokia Drive 3.0 and Nokia Transport 2.0 for Windows Phone detailed
Amazon Mobile app for Windows Phone gets social in a new update
ESPN app for Nokia Lumias gets updated with new Live Tile support for latest scores
Hardware
We examine the LG Fantasy (E740) Windows Phone prototype
LG backtracks on ditching Windows Phone but not really
ProClip now available for the Nokia Lumia 900
Rumor: Murky shot supposedly shows Windows Phone 8 on Nokia Lumia device
Nokia Lumia 610 NFC certified for MasterCard's PayPass program
Samsung's white LTE Windows Phone for AT&T gets pictured. Will it ever be released?
Is the Windows Phone Samsung Mandel built off of the new Android Galaxy S3?
Media
Developers
UK based Windows Phone User Group presents WPBarCamp
Microsoft details Windows Phone developer summit in June
Rich Edmonds is Senior Editor of PC hardware at Windows Central, covering everything related to PC components and NAS. He's been involved in technology for more than a decade and knows a thing or two about the magic inside a PC chassis. You can follow him over on Twitter at @RichEdmonds.
Guys I know this doesn't concern this article but it won't let me download amazon for my HTC hd7 is this because my phone is a poor windows phone ?
Windows Central Newsletter
Thank you for signing up to Windows Central. You will receive a verification email shortly.
There was a problem. Please refresh the page and try again.