Windows Phone Weekly Digest: November 8, 2015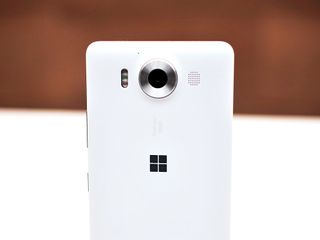 There's a lot going on in the world of Windows Phone. So much, in fact, that it is sometimes tough to catch every important story.
Device rumors come and go. New apps join the Windows Phone Store, and your favorite app can get a big update with a new look or new features.
Therefore, every week we will compile a list of the Windows Phone news that you just shouldn't miss. Welcome to the "Windows Phone Weekly Digest."
Windows Phone
A 4K video sample allegedly shot with a Lumia 950 appeared on a well-known YouTube channel. There is no way to confirm whether or not the video is what it claims to be, but if it is, then we have a lot to look forward to.
A less ambiguous video from another site showed Windows Hello in action on the Lumia 950 XL. The shooter not only gave us a look at the new feature but also seemed pretty impressed:
Meanwhile, Microsoft continues to prepare for the rollout of Windows 10 for Mobile to older Lumia smartphones. They have added a "Lumia with Windows 10" page to their Software Update site, which shows what version of Windows is available on different Lumia phones in each country. Though rumors claim that the first updates could start making their way out on November 12, Microsoft is still officially sticking to their December timeline.
And Windows Camera picked up a significant update this week, adding slow-motion video capture to certain Lumia phones. For the time being, the new feature, which will record video at 120 fps in 720p resolution, is limited to the Lumia 930, 1520, and Icon.
Other notable items:
Windows Device Recovery Tool adds support for Verizon's LG Lancet
Vodafone Australia has pre-tested Windows 10 Mobile for Lumia 630 and 640
Mozo to release leather flip covers for the Lumia 950 and Lumia 950 XL
Lumia 950 and Lumia 950 XL coming to India next month
Apps
The official Vine app for Windows Phone got a rare update this week. But don't get too excited because the update seems only to change the star icon for liking posts to a heart, bringing it in line with Twitter's recent change.
The makers of 1Password released a new universal alpha app for Windows 10. The new version adds support for Teams and officially marks the end of support for Windows 8.1.
Top-notch Twitter client Tweetium got patched as well. With the update Tweetium incorporates Twitter's new UI changes and adds Giphy integration.
The Store app for Windows 10 PC and Mobile picked up some menu changes with its latest update.
And one more company has decided to stop supporting Windows Phone. This time, it's fitness tracker Endomondo. They have decided " to put the development of the Windows Phone app on hold for now" and "don't have immediate plans for a new version of the [Windows Phone] app."
Other notable items:
Windows Insider app for Windows 10 Mobile gets a minor update
Microsoft rolls out minor update for Messaging + Skype
Plex for Windows 10 and Windows Phone updated with some bug fixes
Skype for Windows Phone 8.1 gets another minor update
Jabong.com goes universal for Windows 10, adds Cortana integration and more
Mega Privacy testing update with automatic camera uploads
Movies & TV update brings support for SRT subtitle files and more
Messaging + Skype scores minor update on Windows 10 Mobile, desktop
MSN News, Money, Weather and Sports receive small updates
Games
It wouldn't be a normal week if Game Troopers weren't introducing something new. FusionDot is their latest offering. It's a minimalistic puzzle game with 120 levels on just about every version of Windows for PC and phone.
Game Troopers also updated their game Monster GO! with some new goodies. They've added a new Magician character and introduced pets that you can purchase to help you fight. The update also adds ten new achievements that you can earn.
Bethesda released their official Fallout Pip-Boy companion app for Windows Phone. The app helps you track in-game stats, inventory, map, and radio and lets you play Fallout mini-games.
Other notable items:
Prune is a lovely game about shaping trees that's out for Windows and Windows Phone
Be sure to weigh in on this week's news in the comments section. See you next week!
Windows Central Newsletter
Get the best of Windows Central in your inbox, every day!
You forgot to mention that Camera Roll Bonus will be taken away for all Windows Phone users.

No not here we go again. It's a big issue sorry to say

That isn't directly relevant to this article.

Yes it is.
The ICYMI is supposed to be a recap of the weeks news. OneDrive was the biggest news of the last week..and made the headlines on major outlets around the world.
Yet Windows Central - the supposed hub of all Windows news....has barely given any mention to it.
Why is WC trying to hide this topic?!

It's the smallest issue in the world for me. In fact I'm happy about it just to see a bunch of freeloaders get pissed off it's worth it.

That's a breach of contract, for the past year they have been selling windows phone with 15 Gig of cloud storage. If some windows phone user want to they can sue MS.

stop it's free move on it may come back

Am I missing something. Have Windows Central failed to mention anything to do with OneDrive??
That was surely the biggest news of the week...
(Not at all impressed with WC's coverage)

The story is being buried.

This is a perfect example of the people who are trying to generate controversy. The guy who uses a Nexus (Android) phone and an iPad is the one who is trying to claim the story is being buried. You didn't use OneDrive, you used Google Drive or iCloud. Instead, you need to com here, poke the bear, and try to create panic. same thing happened a year and a half ago. WhatsApp was removed from the Windows Phone store, and all the Microsoft sites were flooded with 1000s of new people, each of them acting like the removal of one app was the ends of their lives, that they were ruined. Over and over again, every article, related or not, they would fill it with comments about how horrible it was. And then when WhatsApp reappeared with the explanation there was a bug and they removed it for a few days to fix the bug, no body was there cheering the return, all those people just disappeared looking for the next "scandal" the can try to use to create a frenzy over. so tell us, as an Android and iOS user, when Apple shuts down a service such as MobileMe, or Google does their spring cleaning, are you tossing a fit?

The Whatsapp issue was a storm in a teacup for Windows Phone users.
The OneDrive changes are much bigger, and far more damaging. They bring in to question whether we can really trust MS to store our data long term.
There are MANY people out there who legitimately use more than 1TB of data. Are Microsoft REALLY turning their back on such people?
There are also hundreds of millions of people who will be buying a new smartphone this year. They have Android on the one hand - with 15GB's of free cloud storage AND free photo storage (up to 2MP), AND 50,000 song storage for free.
Microsoft? Well, we'll take away the 30GB free, and give you 5GB's of cloud storage. You will get no camera roll bonus, music bonus or device loyalty bonus.
Google - ~60GB free if using the music bonus.
Microsoft - 5GB free.
THAT is hugely damaging to ongoing sales. Microsoft cannot afford to be inferior to Google. It has already lost that game with Bing and Windows Mobile. Is it REALLY going to allow Google to dominate it in the cloud space too?!
You need to apply a bit of critical thinking before complaining about those of us that want WC to write some kind of editorial. This is a big issue...and yet it has barely even been touched on here.

Lol. Check back a few days and you will see it has been covered. Its not news anymore. It was news the day it was announced and then the next day it wasnt. Its kinda how news like that works. Shoot, they even did a recap on storage options going forward... Why are people such trolls?

The 'news' is that OneDrive is no longer the obvious choice for Windows 10 users.
That is the news.

I agree, should have at least had mention of OneDrive in ICYMI, even if it would have been pretty hard to miss.

It was mentioned in ICYMI...

In the ICYMI... This is only the WinPhone recap

I want to say is "Without Facebook, Instagram, YouTube n Twitter if these big apps can't get a big update Windows Phone is dead as a rock. "

Instagram beta needs the update the most out of all apps that still in beta makes windows look like a joke imo

who needs instagram beta when 6tag is wayyyy better.

I believe Facebook /Microsoft said that their Facebook, Messenger and Instagram apps will get an update for Windows 10. Hopefully that means no beta tag. Twitter already has a Windows 10 app, just waiting for mobile to be out to publish for phones. But I'll still use 6tag...

What apps we have today Facebook ( but it's newsfeed is old n not fresh check android n iOS apps for motivation) YouTube (Microsoft don't have that app alternate are they but not as good as Google) Twitter ( there is no way to go to up u have to scroll n scroll to see latest n new tweets needs a lot of improvement) Instagram ( updates once two years) so why to put 500 $ for new lumia when u can have all better than this from either android or Apple.

Why are you guys using windows phone if it isn't meeting your needs? Go Android and keep your negativity out of here.

Kinda reminds me why I left XDA dev. years ago.
Reading alot of the mess presented is very discouraging.

Instagram is already working on a Windows universal app likewise Twitter which is already out on Windows 10 desktop. We' ve also seen the new Facebook Beta app for Windows10 . it's a beta and by the time it's done its gonna be on par with the Android and IOS versions.

*coff* For Twitter there's no need to scroll up... Refresh the feed, then click once/twice on the home button up there and it "magically" transport you at the top of the feed

I was going to say the Twitter app has had that feature since forever.

Actually, you just have to hit the symbol at the top and it goes to the top of the feed.

I don't have to scroll up in the twitter app to see the latest tweets. You tap the news feed icon and you're right on top, with the latest tweet first. You're welcome.

Instagram and Facebook new Universal apps are on the way to solve that problem. For YouTube, take it up with Google it's their responsibility to make apps available to their users on every platform, if they can't do that then they are failing some of their users, which in my case is why I don't bother with YouTube or Google services in general by using Microsoft services I know it doesn't matter what platform I use because it will be available what ever device I use. I'm not gonna die if I don't see the latest cat video. As for twitter, I don't use it so can't comment but from reading other comments here looks like you just don't know how to use the app.

So happy to see MixRadio is available for Windows 10...finally. Downloaded it yesterday.

Windows Phone may be "dead as a rock" but I'll be purchasing a 950 XL just as soon as they become available. I've been using an L928 for the past 2 1/2 years and have been very pleased with it and I expect nothing less with the 950 XL.

Awesome. What is dead can never be undead. Stick with the dead os

Well, it's not dead...and will not be!

Once again, the Android user in here making his comments.

Yup, windows phone is dead. W10m is going to kick ass though

Even though the UI is the same and the app issue is still there? Windows 10m really isn't any different than Windows Phone. Posted via the Windows Central App for Android

@Fenoy, I'm in the same boat with Lumia 928, but it's not looking good for us to be able to use the 950 or 950XL on Verizon. Are you switching to AT&T, or just hoping to get at least one of those phones working on Verizon?

The LG V10 you can change the bit rate in you're slow motion video plus placeable 3D sound. Pretty bad ass.

We have our resume in portuguese, Windows Mobile Portugal you can see here http://windowsmobileportugal.com/windows-10-mobile/windows-mobile-resumo... and one article about the potencial of Windows 10 Mobile http://windowsmobileportugal.com/uncategorized/opiniao-windows-10-mobile... . Podes ler os vários artigos que temos em Português. Visita, terás muito para ver em Português.

U haters can complain and bitch, Microsoft has too much invested not to move forward... They will not abandoned their win10 everywhere roll out plan. Once w10 phone is in place and fully launched it will make sense as another option for users and companies... Our company uses office 365, surfaces, their cloud...and when their phone OS ties in seamlessly they'll grow by default. I have yet to use an android phone that hasn't locked up, slowed down over time with malware, etc. YES, i prefer windows phone OS over android. I remember the early android days and ugh, it was awful. Win 10 is far above in their beta stage. I use My gals iPhone from time to time, but don't really care for that OS. Just my preference. I will buying the 950XL.... Awaiting for the pre Order Page to go live.

That picture of the 950 looks pretty good even though I prefer the 950XL with the brown leather Mozo case.

Why does Microsoft punish everyone? Microsoft should suspend the account of those abusing it not screw everyone.

I agree why should everybody be punished but the "abusers" where simply using what they where paying for UNLIMITED STORAGE. Yes indeed the story is being buried.

"Competition is good. If Microsoft wants to take down Google Drive, I say go for it. But don't toy with your customers along the way. That's not a permanent solution in the long-term goal of stealing market share. In fact, Microsoft didn't steal Google's market share at all. It simply borrowed it and swiftly decided to give it back. Unless, for some odd reason, you have a strong preference to use Microsoft Word over Google Docs, there's little incentive to be a OneDrive subscriber anymore. Read more: http://www.digitaltrends.com/computing/microsofts-onedrive-debacle-shows...
Follow us: @digitaltrends on Twitter | digitaltrendsftw on Facebook"
http://www.digitaltrends.com/computing/microsofts-onedrive-debacle-shows...

After 4 years of loyalty... I abandoned WP ship last week. My L720 fell from my pocket and screen ended up broken. I decided to get a new phone and decided to give Android a new chance. I'm sick of Microsoft: latest OneDrive decision, no Cortana in my country, app exodus, app gap, endless promises, etc... were keys for my decision. It's Amazing the difference in progress that Android made compared to Windows Phone in the last four/five years. I'll give Windows 10 Mobile two or three years to develop and convince me to come back.

This. WinMob since 5.0 and it's has always been "better is coming". Well, when better gets here let me know, but between there's still no SnapChat, Facebook and LinkedIn integration feel out, and I can no longer get the 300GB OneDrive (that I pay for - I'm not even asking for something free!), I think I'm out. Just waiting for the Black Fri sales to pick a new Droid (One M9 maybe? Using M8 with Win now and like it). ​ ​ ​

I should have quit after Mango ​ ​

I joined you today in jumping ship.
Never thought I would but I ordered an iPhone 6s Plus today.
My only MS product left is XBox One and piece of garbage RT tablet that I got hosed on.

Off topic, but what GPS navigation app are people using on WP? Here Drive does not seem to be available.

There's always the default app in Windows 10 Mobile

Ohh forgot to mention we all have Android / iphone to use all the missing apps on windows phone ...we are loyal customer of windows so we will use windows no matter it only shows time and date

Good way to use wp as a wall clock with beautiful wallpaper everyday!

This is possibly one of the oddest comment sections I've ever seen

Pretty common among android community. Maybe they have hijacked the comment section.

The frustration of owning a Windows Phone boils over here.
Justified as far as I'm concerned.

Not much complaining about WP from actualy WP owners. Mostly OneDrive which doesnt even relate to this subject.

You forgot to mention that the battery still sucks...big time

What are you talking about? The battery on my Lumia 830 is exactly the same in 10581 as it was in 8.1.

Well, maybe you got lucky in a strange somehow but my1020 before had crappy battery life, now i'm afraid to use it (especialy when i go out) cause using it is like counting the seconds. This is how fast battery drains.

Or maybe is that one L1020 that battery problema?

Well, i always had problems passing 18h mark with it on win 8 then 8.1 made it weaker. But now, with win 10 i don't know if inside is a battery or a timer.... The funny part is that it shows me like i have a day and 18 h of use when is full. After half an hour of use and with alnost 40% of battery used, still shows me like i have a day. Another half an hour and that battery looks at it's 30%, (yeah, timer in all it's glory) the battery saver still shows 10h or so. Is crazy, anyway. Is just a beta so i hope there will be much more improvements, speaking of beta. Just some minutes ago my notification center did not swipe down anymore. Now it seems to recover.

Probably cause it doesn't

Based on the comments here, this site is either getting overrun by trolls or the name of the site should be changed to Whiners Circle.
It's really getting rather pathetic.

I agree. I dont know why people complain so much. I guess they like to? Sometimes trolls cant help but troll.

I bought few Symbian phones N-series. I bought Meego N9. Now hold 3 Lumia phones MS-OS. I was happy, I got 2 15GB camera roll bonus OneDrive for 2 email accounts. Using 2 tablets/laptop to sync each OneDrive. I did convince my family to have Lumia phones(20mp) and will get 4 so I can subscribe 4 lines for $100. They love to take photos and can have 15GB free camera roll cloud to sync then edit them on a computer over OneDrive. But now, that can't be done. 15GB is now 5GB. 5GB is too small for 9-11mb(20mp) photos. What I believe OneDrive "team" demand is that if you want to keep more then 5GB photos, you have to pay. If not, KILL them. For 4 accounts' OneDrive? Here's May be their idea, Pay high and Share? We're not into business and also like to have some privacy. Why not OneDrive makes a better offer for Lumia that might grow your sale and app development rate with Lumia.

Every product ever invented claims the next version is improved. Seems like one of the strangest mantra-complaints. Even Tide Laundry soap will tell you their next version will be New & Improved.

No one care about your Lumia phone features in this blog. Just like iPhone that has lots of bugs and useless hardware features like NFC credit card replacement. 3D screen(useless if more then 3mm screen cover). Also, only iPhone 6s secretly has the unannounced feature "pureview". So what does that do? They did not do anything that hurt iPhone fans' heart like Lumia! Microsoft makes profit with Office365. Big improvement with windows 10 over windows 8.1. Then OneDrive cloud profit too. Suddenly, OneDrive offers for Lumia totally changed. Worst, now Lumia won't get anything special with cloud. App rate has not grow much too. You get great hardware and pay high price! Yes, I'm crazy fan and want 950XL. I'll get it if it is holding a phone that has a proud and valuable OneDrive than ios and Android can't do. That's the cool "Camera Roll" cloud! I like to get my hand to show off the camera!

I totally agree with some user wc is burring one drive news...honestly I do concerned about the huge downgraded but I will decide where to go after my Lumia 830 stops working. I honestly was looking for a Lumia 950 xl but will see....Microsoft loves to be unreliable and making poor decisions.

No, they aren't. This article is only about Windows Phone. OneDrive was covered in Saturday's ICYMI article.