Xbox One audio: Dolby Atmos for Headphones vs. Windows Sonic for Headphones
Should you choose "Dolby Atmos for Headphones" or "Windows Sonic for Headphones" for use with your Xbox One? Read this.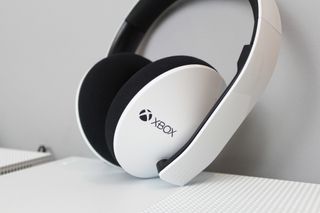 (Image credit: Matt Brown | Windows Central)
Xbox One provides headphone users with the option of two technologies to enhance their audio: "Dolby Atmos for Headphones" and "Windows Sonic for Headphones." Hidden within the console's settings under the "Display & sound" tab, little information is provided on what these options really do. With some differences to consider, we've rounded up what you need to know.
Understanding Dolby Atmos and Windows Sonic
Spatial surround is one of the latest innovations in consumer audio technologies, allowing for increased precision in positioning, depth, and height. Utilizing an object-based approach to mapping, sounds can be output into a virtual three-dimensional space, with speaker outputs configured on the fly. Unlike traditional 5.1 and 7.1 systems, where sounds are restricted to fixed channels and positioning, spatial sound promises one of the most immersive experiences on the market.
While spatial sound is often best experienced with a dedicated theater setup, Xbox One headphone users can also take advantage of the technology. Solutions like Dolby Atmos for Headphones and Windows Sonic for Headphones deliver virtualized spatial sound to the console, with benefits even on low-end stereo headsets. Dedicated hardware is also hitting the market, designed specifically to deliver the best Dolby Atmos experiences on the ear.
While a growing list of Dolby Atmos titles is available on Xbox One, the benefits of both can be seen across the whole Xbox One library. By enabling Dolby Atmos or Windows Sonic, any applications that are capable of rendering to 7.1 channel formats will now treat your headphones as a virtual 7.1 device. While scaling high-channel formats previously combined them through a process known as "downmixing," Windows Sonic's virtualized approach should deliver major benefits, especially to stereo headphones.
The difference between Dolby Atmos and Windows Sonic
Windows Sonic is Microsoft's take on spatial sound, integrated on a system-level for Xbox One and other Windows 10 devices. Introduced with the Creator's Update released in early 2017, access to Windows Sonic for Headphones is free with any up-to-date console.
Dolby Atmos is Dolby's spatial sound technology, backed by a growing ecosystem of devices and applications. Xbox One supports Dolby Atmos technology for use with home theater setups, as well as for headphones. In contrast to the integrated nature of Windows Sonic, Dolby Atmos requires a paid license obtainable for $14.99 from the Microsoft Store (opens in new tab).
Is Dolby Atmos or Windows Sonic better for you?
For the most part, the disparities between Dolby Atmos and Windows Sonic are relatively minor. Speaking among Windows Central staff, the differences between the two come down to personal preference. While both offer noticeable improvements to audio across games, one isn't necessarily better than the other. Some find Dolby Atmos feels shallow, while some find Windows Sonic overexaggerates sounds. Choosing a solution simply comes down to personal preference in how the solutions handle audio processing.
Although a free demo of Dolby Atmos for Headphones is available through the Dolby Access (opens in new tab) app for Xbox One, you'll be mostly diving into the technology blind. The best way to test Dolby Atmos is to buy the license – but this is a hefty price for something you may never use again.
The gains are limited, so sticking to Windows Sonic is recommended for those on a budget. For people looking to secure the best audio for your headphones, buying Dolby Atmos allows you to try it and then choose which is truly best for you.
Your choice
Do you use Dolby Atmos or Windows Sonic for Xbox One? Drop into the comments section below with your thoughts on the duo.
Matt Brown is Windows Central's Senior Editor, Xbox & PC, at Future. Following over seven years of professional consumer technology and gaming coverage, he's focused on the world of Microsoft's gaming efforts. You can follow him on Twitter @mattjbrown.
Windows Sonic for me. Thanks

I'm using this spatial sound feature in my Surface Book. I must say Windows Sonic is the best, Dolby Atmos didn't impress me.

I've used both. Initially, Sonic had some issues but after patching that, I like Sonic more than Atmos. Being free is a bonus 😂

The Dolby ATMOS connected to a supporting AVR and speakers is amazing. Full amazon forest in your living room. Head set was ok. Haven't tried the Sonic yet.

Matt, I don't understand why you're talking specifically about spatial audio on Xbox One when it applies across Windows 10 PC *AND* Xbox One. I bought the Dolby Atmos for Headphones add-on and can use both Windows Sonic for headphones *AND* Dolby Atmos for Headphones on BOTH my Windows 10 PC AND on my Xbox One. So I don't understand why you spent most of the article talking about spatial audio on Xbox One without EQUALLY talking about spatial audio on Windows 10 PC.

Did you read the article title? This should answer your question.

The article's title should be changed to "Windows 10 PC and Xbox One audio: Dolby Atmos for Headphones vs. Windows Sonic for Headphones". My point is that it doesn't make sense to write about it only in the context of Xbox One.

I picked up the Dolby license over the Christmas sale for around $10 and it works for my windows 10 pc's and my Xbox one so i feel like that was a good price for what you actually get. The demo inside of the Dolby app was pretty awesome.

I've just finished evaluating Sonic & Atmos myself on the Xbox One S, purely for movies, and I settled on Atmos because, contrary to the article, I felt it gave a wider soundstage - especially behind & above me. That was with Atmos & Dolby TrueHD signals.

Off topic. Seems it doesn't do anything when selected on my laptop. Maybe it have conflict with DFX app🤔. I'll just stick with DFX.
Windows Central Newsletter
Get the best of Windows Central in in your inbox, every day!
Thank you for signing up to Windows Central. You will receive a verification email shortly.
There was a problem. Please refresh the page and try again.