Best Xbox games coming in April 2020 — Space Engineers, Vampire: The Masquerade, and more
Be on the lookout for these amazing titles!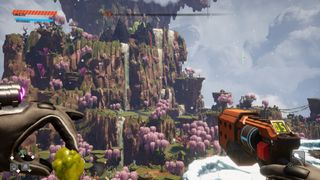 (Image credit: Windows Central)
Every week, numerous games launch on Xbox One, but which ones truly stand out? Here are some of the biggest and most anticipated titles launching across Microsoft's platforms — including Xbox One X — next week. We have three major releases on Xbox One, but there are still a few surprises here and there. Notably, Journey to the Savage Planet: Hot Garbage, Space Engineers, and Vampire: The Masquerade - Coteries of New York are launching soon. With that in mind, here are all the best games hitting the Microsoft Store next week, between April 13 and 17.
Related: Most anticipated Xbox One games for 2020 and beyond
Journey to the Savage Planet: Hot Garbage
According to Game Rant, the upcoming Hot Garbage expansion allows players to explore a new area, unlock new upgrades, and battle new enemies in Journey to the Savage Planet. Kindred Aerospace, the company that the player works for, will be sending an enemy robot to chase them around.
Journey to the Savage Planet: Hot Garbage should launch on April 15, priced at $8. The game is Xbox One X Enhanced. You can purchase it on the Microsoft Store (opens in new tab).
Machinarium
Machinarium is the award-winning independent adventure game developed by the makers of Samorost and Botanicula. Help Josef the robot to save his girlfriend Berta kidnapped by the Black Cap Brotherhood gang. The title won a ton of awards when it launched a decade ago.
Machinarium should launch on April 16. You can purchase the game through the Microsoft Store (opens in new tab).
Space Engineers
According to Keen Software House, Space Engineers is a sandbox experience about engineering, construction, exploration, and survival in space and on other planets. Players build space ships, space stations, planetary outposts of various sizes and uses, pilot ships and travel through space to explore planets and gather resources to survive.
Space Engineers should launch on April 15, priced at $20. You can purchase it on the Microsoft Store (opens in new tab).
Vampire: The Masquerade - Coteries of New York
Developer Draw Distance presents Vampire: The Masquerade - Coteries of New York, that focuses on the conflict between two vampiric factions: the traditionalist Camarilla and the fiercely independent Anarchs. It's a unique, atmospheric, single-player narrative experience, set in a rich, fully licensed, globally recognized universe of Vampire: The Masquerade - 5th Edition.
Vampire: The Masquerade - Coteries of New York should launch on April 15, priced at $20. You can purchase it on the Microsoft Store (opens in new tab).
If you're looking for a break between those heavy-hitters like Resident Evil 3 that released this week, be sure to check out this game because it's a lot of fun.
Play more games
(opens in new tab)
Xbox Game Pass and Xbox Live Gold in one

Xbox Game Pass gives you access to over a hundred games for one monthly fee. Xbox Game Pass Ultimate also adds Xbox Live Gold to the package so you can play online with your friends.
Asher Madan handles gaming news for Windows Central. Before joining Windows Central in 2017, Asher worked for a number of different gaming outlets. He has a background in medical science and is passionate about all forms of entertainment, cooking, and antiquing.
In the week when Death Stranding is released, need for speed and just dance get the headline? FailFish

Death Stranding isn't on Xbox.

And not even on PC yet either.

I'd buy Civ VI again if it were an Xbox Play Anywhere title.

That would be a no brainer. No only Civ but nearly any strategy title.

I think it's misleading and, largely, inaccurate to say "Best" games. That's a VERY subjective assessment. At the very least, the headline should earmark what genre you're talking about. Personally, I find very few genres fun at all, so most games I consider to be bad to begin with. So, if you're going to make a statement like that, it would be better if you provided something to substantiate how "best is qualified--and by whom.

I agree. Plus many people such as myself haven't played a halo game since halo 2 and that was back in 2008. And Halo Reach along with the rest is coming to pc... SO to say its the best like you said is very subjective. As I don't know how great Rach is or the rest that I haven't played. -.- I will find out on the 3rd of Dec when I play reach though I am excitied.

Well considering it's the best according to the writer of the article I'd say that the article is entirely fine. It's best according to the writer at Windows Central. That applies to any review from any outlet also. The review is only the opinion or (paid for biased opinion) of the writer from the media outlet.if you disagree fine. But your on Windows Central. And it's their best opinion.

The title says Xbox One games.

I'm really looking forward to Ancestors, although I will wait for reviews just in case.

Can't wait for Pillars Eternity 2. Will that be on Gamepass as it was made by Obsidian?

The only kinds of games that are fun for me to play are first-person. I stopped playing third-person and platformer many years ago. I just don't see any fun them anymore.

I did that when the original Xbox came out with Halo CE. I was about 18 then. All I played for ages was FPS. As I got older I reverted back to many other genres. And now Platformers and Third person are some of thr best games I play. If anything FPS has become a little stale.

I agree. I used to be FPS all the way but with the abundance and variety of games available nowadays, there's quality all over the place. Two games that I'm currently very excited for are Ori and the Will of the Wisps - a platformer - and Hellblade II - a third person, sword-based combat game. The original Hellblade was what actually got me interested in swordplay in games as an alternative to shooters. Of course, it's all purely subjective and I'm not saying that anyone else should feel as I do, but it's great that there's so much variety and quality all over the map.

I assume Genesis will end up on Game Pass eventually so I'm just going to wait.

Did you literally just list the same game three times?

Beholder looks great, may have to jump on that!
Windows Central Newsletter
Thank you for signing up to Windows Central. You will receive a verification email shortly.
There was a problem. Please refresh the page and try again.