Xbox Series X|S 512GB and 2TB Seagate Expansion Card SSDs announced
More options for more space.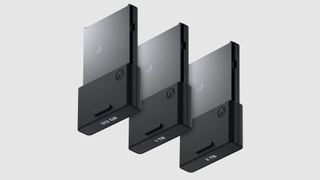 (Image credit: Microsoft)
What you need to know
Seagate and Microsoft launched a 1TB Expansion Card SSD alongside the Xbox Series X and Xbox Series S.
Seagate is now bringing two new models of this expansion card, with 512GB and 2TB offerings.
These cards are available for $140 and $400 respectively and are set to be available in November and December 2021.
Xbox Series X and Xbox Series S players looking for more storage options can rejoice. Microsoft announced (opens in new tab) on Thursday that the Seagate Expansion Card offerings are growing. While Seagate previously offered a lone 1TB card, which is the only way to expand storage for current-generation games on Microsoft's latest consoles, Seagate will soon offer 512GB and 2TB expansion cards.
As the 1TB card is still available at retail for around $200, the 512GB and 2TB cards are appropriately priced lower and higher, respectively. The 512GB expansion card is $140 and available at Walmart right now, with orders shipping in November 2021. The 2TB card is $400, with preorders opening in November and the orders shipping out in December 2021.
Right now, these cards are easily the best SSDs for Xbox Series X|S users, as the high speeds are the only way to expand the internal storage of the consoles in order to play current-generation games, which are built for ultra-fast SSDs. This will become even more important as time goes on, with 2022 bringing major upcoming Xbox exclusive games like Arkane Austin's Redfall and Bethesda Game Studios' Starfield.
Another option
(opens in new tab)
Seagate Storage Expansion Card for Xbox Series X|S
The no-compromise SSD for Xbox Series X and S

Microsoft and Seagate's custom NVMe SSD card is the only external storage capable of playing Xbox Series X and Series S titles. It's now available in a 512GB format at a much cheaper price.
Windows Central Newsletter
Get the best of Windows Central in your inbox, every day!
Samuel Tolbert is a freelance writer covering gaming news, previews, reviews, interviews and different aspects of the gaming industry, specifically focusing on Xbox and PC gaming on Windows Central. You can find him on Twitter @SamuelTolbert.
I need/want the 2tb one. What is taking so long getting more of these

Uh the pandemic, chip shortages, container/shipping jams, etc.

I still can't believe these prices, they are insanely high, Microsoft must be making alot of money selling low end SSDs at the same price as top of the line SSDs. Correction: they are selling these low end SSDs at a higher price then top of the line SSDs.

They are not low end ssds they are pcie 4.0 ssds. In a different form factor

They use PCIe 4.0 but only with 2 lanes instead of 4, so they are no different then your regular low end PCIe 3.0 SSDs, proof of this is if you look at the model number of the internal SSD and see that it's a varient of the WD SN530 that uses PCIe 4.0 2x lanes instead of the regular PCIe 3.0 4x lanes to save cost. They don't even have DRAM cache, a feature found even in alot of Sata SSDs. The SSD on the Xbox is just low end period.

aren't the cards based on CFexpress? if so, these are the cheapest cfexpress cards on the market.
People keep comparing these prices to standard NVME storage, which is like comparing nvme to those nvme drives that are built on PCIe cards. storage tech in the same, but the interface is different. Seems some people have gotten cfexpress to m.2 nvme adapters working, if your don't mind essentially having the full length of the nvme drive sticking out. Wonder if anyone as used the xbox card in a camera??

This has been tested with an adapters, i can´t remember it is on YT it did not work very well (a lot of hack and slashing) and the proper adapter was difficult to find + you had to get a m.2 2230 card.

2TB now, excellent! It always felt silly to spend a bunch of money just to double the storage, but tripling from of 1TB to a total of 3TB makes it a worthwhile investment.

$400 seems unreasonable to me...

Not really when I'm really high-end nvme SSD pcie 3.0 2 terabyte card that I bought cost me $380 $399.99 is not a bad price

In a 1k+ pc build I'd agree. Not so much in a 499 Xbox.

NielsEy, if the price tracks with equivalent tech for PCs, that gives reason to hope that as that tech ages and becomes cheaper, it will for Xbox too. It's currently cutting edge, and so expensive if you want to add an optional upgrade.

The history of storage peripherals for game consoles tells me that this won't be the case.

The SSD you bought was significantly faster and now those SSDs are even cheaper.

I currently have the 1 tb expansion in my series X. Plan on picking up the 2 Tb and replacing the 1 tb, moving that over to my series s. Happy I never did get a second 1 tb with this announcement of the larger model. Price is a bit high though. Should be priced at $320-350 I feel

I was expecting the 1TB to drop a little in price when these were announced and then both of these sitting at a cheaper price point that what is offered. I mean it's been a year and that is an eternity in tech time.