Is your device getting the Windows 10 May 2020 Update on May 27?
Windows 10 is getting yet another big refresh in spring 2020, but it'll take some time to reach every PC – here's how the rollout process is expected to go.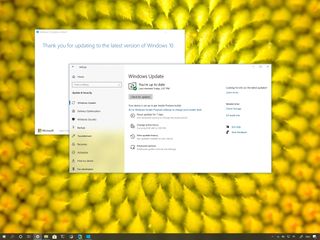 (Image credit: Windows Central)
Microsoft is expected to start rolling out the Windows 10 May 2020 Update (version 2004) on May 27. This is the ninth major update and is a significant release that ships with a slew of improvements and several new features.
Similar to the previous year releases, Microsoft will try to push the first feature update of 2020 as the most significant, and the second feature update as a smaller service pack with a collection of improvements to complement the previous rollout.
As a result, in the first semi-annual update, you're going to find the most changes, some of which include, a new "Cloud download" option to reset your device using a fresh installation image of Windows 10. Option to remove your password and continue with a secure experience using only Windows Hello. Cortana becomes a regular app that will update from the Microsoft Store and focuses only on productivity. Windows Defender Antivirus gets renamed to "Microsoft Defender Antivirus." The Settings app receives a lot of tweaks, such as text cursor indicator and OneDrive file backup options, the Status page has been updated to display more info about the active connection, and much more.
The only caveat is that nothing guarantees you that your device will receive version 2004 as soon as it becomes available.
In this Windows 10 guide, we'll talk about the rollout process that Microsoft is likely to use to make sure every device has a smooth upgrade to the May 2020 Update.
What PCs are initially getting the May 2020 Update?
Using the same rollout template of previous years, Microsoft is planning to offer the May 2020 Update as an optional update, which you'll be able to decide when to download and install.
Starting on May 27, using Artificial Intelligence (AI) and Machine Learning (ML), devices detected to be fully compatible and running the November 2019 Update or May 2019 Update will receive the notification in the Windows Update settings with an option to start the upgrade manually. Typically, devices with modern hardware (such as Surface and other popular brands like Dell, HP, Lenovo, ASUS, etc.) will be among the first to receive the update. Of course, that's as long as they originally came with Windows 10 pre-installed.
While you'll have the choice to decide when to upgrade, it'll all depend on the version you're running. If your computer is using a version nearing the end of service, then it'll get the May 2020 Update automatically to ensure the continuity of support. However, this doesn't happen on day one. The automatic update usually occurs several weeks after the official release.
Once the feature update begins to roll out, Microsoft will continue to monitor and collect telemetry data and real-time feedback from consumers and manufacturers to detect and prevent problems from making their way to more devices. Then when the May 2020 Update is considered more stable, it'll expand more broadly and on devices running an older release (such as version 1809 and 1803).
If an issue is detected, the software giant will enforce a block to prevent devices that could be affected from getting the update, and the safeguard will stay in place until the issue is resolved. If this is the case, you'll find more information about known problems and notifications in the Windows 10 health dashboard website (select the version of Windows 10 from the left pane).
Also, other factors can prevent your computer from receiving the Windows 10 May 2020 Update. Some of the factors could be a specific hardware component or peripheral connected to your device, incompatible drivers, legacy programs, security software (such as third-party antivirus), and your physical location can play a role when the new feature update is available to you.
How do I upgrade to the May 2020 Update manually?
After version 2004 releases, it's recommended to wait until the update becomes available automatically. However, if it's been a long time or you don't want to wait, there are multiple options to upgrade manually, including using the Update Assistant or Media Creation Tool.
Update Assistant
The Update Assistant is a tool that allows you to perform an in-place upgrade when the Windows Update service isn't working correctly, but you can also use it to force the new version as soon as it becomes available.
After the assistant has been updated for the new version, you only need to download the tool from this Microsoft support page. Then it's a matter of launching the tool, and clicking the Update now button to install the new version.
Media Creation Tool
Also, you can use the Media Creation Tools to upgrade your computer to Windows 10 version 2004 without having to wait. This Microsoft tool works like the Update Assistant, but you'll have the choice to perform an in-place upgrade or clean installation.
Once the utility has been updated, you can download it from this Microsoft support page and clicking the Download tool now button. When launching the tool, select the "Upgrade this PC" option and continue with the on-screen directions to complete the installation.
Whatever method you use to upgrade to Windows 10 version 2004, it's always recommended to create a temporary backup in case you need to revert the changes because of problems or any other reason.
On May 27, Microsoft is expected to launch the Windows 10 May 2020 Update in every supported market. However, if you don't see the "Feature update to Windows 10, version 2004" message in Windows Update, then your device may have a compatibility issue, and Microsoft is blocking the update until it's known that you'll have a good experience moving to the new version.
If this is the case, it's not recommended to force the upgrade as you could end up with errors and other problems. You can always stay informed on the latest developments on Windows Central and the Windows 10 health dashboard website.
Get the Windows Central Newsletter
All the latest news, reviews, and guides for Windows and Xbox diehards.
Mauro Huculak is technical writer for WindowsCentral.com. His primary focus is to write comprehensive how-tos to help users get the most out of Windows 10 and its many related technologies. He has an IT background with professional certifications from Microsoft, Cisco, and CompTIA, and he's a recognized member of the Microsoft MVP community.