From modest to monstrous: Get up to $500 off Samsung curved monitors
Do you prefer ultrawide or something less flashy but packing the latest display tech?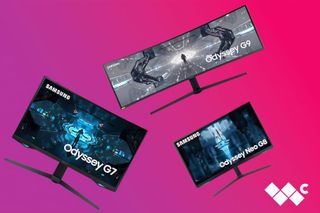 (Image credit: Samsung)
While Amazon Prime Day may be behind us, Amazon is still serving up some sizzling discounts on Samsung monitors that are too good to pass up. Among the plethora of deals, I've sifted through and cherry-picked the three most remarkable savings, all boasting discounts of over 30%.

Leading the charge is the colossal Samsung Odyssey G9 49-inch curved monitor, currently sporting a jaw-dropping $500 price reduction. At a price that rivals even the most enticing Black Friday offers it unquestionably delivers the best bang for your buck among the deals I found.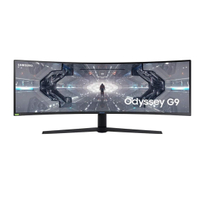 Samsung Odyssey G9 49-inch Curved Monitor| was $1,399 now $899 at Amazon
This machine is loaded with features including a 1000R curve, adaptive sync for both AMD and Nvidia GPUs, QLED technology for beautiful image quality, and a 240Hz refresh rate for gamers. Not to mention all that gorgeous real estate...

✅Great for: Multitasking and productivity, and the most immersive gaming and multimedia experience.
👍Price check: $1,499 at Samsung
The screen's 49-inch expanse is the epitome of screen real estate — it's essentially all the monitor you could ever need. With a 32:9 aspect ratio, a pixel-rich 5120 x 1440 resolution, and a 000R curve, this display engulfs you in the heart of your game. Whether you're engrossed in a Netflix binge or soaring through the skies in Microsoft Flight Simulator, the level of immersion from a screen this big is unparalleled. It's not just for entertainment either, the sheer size provides ample room for multitasking, effortlessly switching between windows while maintaining your momentum. And thanks to Samsung's QLED technology, colors are brilliantly vivid and lifelike.
The monitor boasts an impressive 240Hz refresh rate, ensuring buttery-smooth gameplay. What's truly remarkable is its native support for both Nvidia G-Sync and AMD FreeSync Premium Pro, guaranteeing tear-free visuals, regardless of your graphics card preference.
Connectivity is a breeze with a built-in USB hub, a DisplayPort, and two HDMI ports, making it versatile enough to accommodate your entire setup. And if that weren't enough, Samsung's Infinity Core lighting adds a touch of personalization, allowing you to harmonize the monitor's lighting with your home gaming setup.
Monitor deals at: Walmart | Dell | Lenovo | HP | Best Buy | Amazon | Newegg
Now, if you're seeking a more modestly-sized curved monitor, two additional monitors are offering substantial discounts: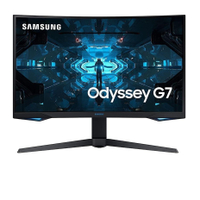 Samsung Odyssey G7 32-inch Curved Gaming Monitor| was $799.99 now $499.99 at Amazon

This curved monitor has a 240Hz refresh rate, a 1ms response time, and supports both NVIDIA G-Sync and AMD FreeSync Premium Pro.

✅Great for: Gamers who want a balance between performance and affordability.
👍Price check: $599 at Samsung
This sleek offering from Samsung, the Odyssey G7, was already pretty good value for the specs. It features the same enveloping 1000R curvature, and the monitor's display boasts a rapid-fire 240Hz refresh rate, ensuring ultra-smooth visuals, complemented by an impressive 1ms response time.

Supporting both NVIDIA G-Sync and AMD FreeSync Premium Pro, it's your guarantee against dropped frames during intense gaming sessions. As a QLED panel, it excels in rendering deep blacks and vibrant colors, offering an astonishing 125 percent more color space than sRGB, thanks to the implementation of Quantum Dot technology, as noted in its listing. With its curvaceous display, lightning-fast response time, and blistering refresh rate, this monitor is your ticket to a truly immersive gaming or media experience.

Next up, another sizeable discount of $500 has been shaved off this Samsung Odyssey Neo G8 32-inch monitor.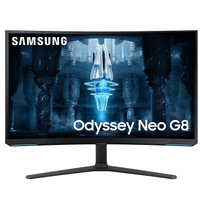 Samsung Odyssey Neo G8 32-inch monitor| was $1499.99 now $999.99 at Amazon

A high-end gaming display that uses Mini LEDs and AI to enhance the brightness, colors, and contrast of the 4K images. This also has a 240Hz refresh rate and supports both Nvidia and AMD graphics cards. Certainly a very expensive monitor, but Amazon are offering a huge a 33% discount on it for a limited time.

✅Great for: Demanding users who want the highest quality display for their money. Offers significant enhancements in display technology.
👍Price check: $1149.99 at Samsung
The Neo range at Samsung is priced higher due to packing some extra technology in its Mini LEDs; these are said to make the display brighter and colors more accurate than ever. They also feature the 'Neo Quantum AI Processor' which is like the brain of the operation, using AI to figure out exactly which parts of an image need a boost and how to do it. Fancy, right?

Basically though, the Samsung Odyssey Neo G8 32-inch monitor is a gaming beast that combines high resolution, high refresh rate, and high contrast. The black levels are deep, the brightness is top-notch, and when it comes to HDR, it's a star performer. What's more, it plays nice with both Nvidia and AMD graphics cards, thanks to support for G-Sync and FreeSync.

It's one of the best gaming monitors on the market but it doesn't come cheap, but with the Amazon saving you can shave 33% off it's premium price. Not too shabby.


Get the Windows Central Newsletter
All the latest news, reviews, and guides for Windows and Xbox diehards.
Jen is a News Writer for Windows Central, focused on all things gaming and Microsoft. Anything slaying monsters with magical weapons will get a thumbs up such as Dark Souls, Dragon Age, Diablo, and Monster Hunter. When not playing games, she'll be watching a horror or trash reality TV show, she hasn't decided which of those categories the Kardashians fit into. You can follow Jen on Twitter @Jenbox360 for more Diablo fangirling and general moaning about British weather.