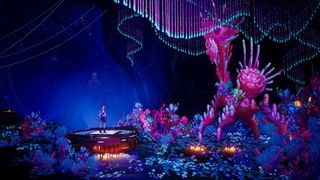 (Image credit: Windows Central)
Indie games have thrived this year, as the COVID-19 pandemic has seen many AAA studios falter during development of their big budget releases. Delays have been common, with indie games filling the void as the less demanding and more adaptive development process of a smaller title is far better suited for these uncertain times. As a result, many excellent titles were released this year, full of innovation and creativity. The games on this list represent the greatest indies of the many we've seen this year, each experience offering something engaging and original. Here are the best indie games of 2021.
A beautiful world

One of the higher budget games on this list, Kena: Bridge of Spirits is a beautiful and well-designed debut game from studio Ember Lab. Players assume control of the titular Kena, a spirit guide, who is tasked with helping spirits lost in the physical world find their way. Combat is fun and varied, while the story remains engaging throughout. The cute creatures you encounter as you progress known as The Rot offer an interesting addition to gameplay during puzzle-solving and combat sections, and add to the game's charm and aesthetic.
(opens in new tab)
A dull task made interesting

Unpacking is a tricky one to sell. Moving things out of boxes into their correct places in the house doesn't initially sound too appealing, but there's far more to this game than that. Players take over the task of unpacking a girl's belongings, as she moves house at various points in her life. Each level represents one time in her life that she moved, with the player learning more about her with each item pulled from the boxes. Solving the puzzle of where each of her belongings goes is immensely satisfying, and the game is a rewarding and relaxing experience.
(opens in new tab)
Shredding in space

A space opera with a stunning art style and fantastic sound design, The Artful Escape sees players assume control of teenage guitar aficionado Francis Vendetti, during a psychedelic, intergalactic journey to leave his folk music roots behind and find himself. The side-scroller features light platforming gameplay, with the player utilising Francis' guitar against various cosmic bosses. Music fans will love this one, as will those with an affinity to striking visuals, something The Artful Escape has in abundance.
(opens in new tab)
Tiny terror

Another side-scroller with great visuals, Tarsier Studios' Little Nightmares 2 is a horror filled prequel to 2017's original game. Former protagonist Six makes a return alongside the new player-controlled character Mono, as they navigate a bleak and unforgiving world. The game retains the feeling of helplessness so present in the first game, while the level design and varied enemies are particular highlights.
(opens in new tab)
A tough Zelda-like

Taking inspiration from the likes of The Legend of Zelda and Dark Souls, the Acid Nerve-developed Death's Door excels with its precise and satisfying combat, and charming art style. Playing as a reaper crow armed with a sword and bow and arrow, you are tasked with collecting souls from the dead, with many enemies not wishing to give them up. The main goal of defeating three bosses to unlock the titular Death's Door is refreshingly simple, as is the combat, which feels demanding but fair throughout.
(opens in new tab)
Free to explore

Exploration is the main focus in Sable, the stunning open-world experience that sees the titular protagonist search for masks as part of a coming-of-age ceremony in her culture, called The Gliding. The world is free to explore at your own pace, and the vibrant, unique art style is inviting for the player while traversing the landscape. Sable is also equipped with a glider, adding a different element to exploration and bringing with it justifiable comparisons to the likes of Breath of the Wild.
Dealing with the devil

A roguelike deck builder at its core, Inscryption takes the player to unexpected places through the twists and turns present throughout. The horror game tasks you with playing cards against a demonic force known as The Game Master. While the card game itself is extremely addictive, the ability to get up from the table and look around the room you find yourself in is unusual for this type of game, and the experimentation of items found in the environment and cards you have available to you represents extremely varied gameplay. Inscryption contains some unexpected moments that keep it interesting, and the game is well worth your time.
(opens in new tab)
Learning to dodge

RPG settings can often feel very similar to one another, with swords, magic, and dragons being commonplace in games of this genre. Dodgeball Academia offers a very different kind of RPG. Set in a dodgeball academy (what a shocker), the game features a robust and exciting combat system, memorable characters, and a story that is easy to get into from the get-go. A perfect game to play in between some bigger hitters in your library.
(opens in new tab)
Getting dicey

The Tim Burton-esque world of Random is a harsh one, where after turning 12, the roll of a dice will determine a child's social class and the location where they spend the rest of their life, separated from their family. For twin sisters Even and Odd, this scenario comes to pass, with Odd transported to the evil Queen's domain, far away from the lower classes that Even resides in. Lost in Random follows Even as she attempts to rescue her sister, with the game full of interesting characters and excellent card and dice-based combat.
(opens in new tab)
Turn-based time tomfoolery

A love letter to classic turn-based JRPG's, Cris Tales features a distinct art style and a truly inventive time manipulation mechanic. The protagonist is a time mage named Crisbell, whose time powers enable her to interact with the past, present, and future. This is illustrated with a three-way split on-screen, with a location visited being shown in each time period simultaneously. A robust turn-based combat system is also found in Cris Tales, and the JRPG aesthetic is blended with hints of traditional Colombian architecture and culture, with developer Dreams Uncorporated being based in that country.
Round we go

Randomly generated endless RPG Loop Hero is a truly unique experience. Inspired by idle games, Loop Hero tasks the player with manipulating the world around the character, rather than controlling the character itself, who is stuck in a constant loop. This is performed with the use of various cards, all with different properties. Placement of a card as a tile in the world results in the spawning of terrain depending on which card is used, while the balancing of stats and dropped loot as a result of battle can improve your character as enemies become more challenging. Bonuses can appear based on how you arrange your tiles, and the game becomes a strategic and addictive challenge for the player.
(opens in new tab)
Across the universe

One of the harder games on this list to explain, Genesis Noir is a profound and visually stunning experience with point-and-click elements and a story that spans the universe. The events of the game revolve around time traveler No Man, as he travels through space in search of a way to stop his love, Miss Mass, from being murdered. The jazz-infused story is a metaphor for the creation of the universe, while the striking black and white aesthetic enhances the film-noir elements found in the game. This is a game that any explanation won't do justice, and one that you must play.
Innovation and imagination
Why you can trust Windows Central Our expert reviewers spend hours testing and comparing products and services so you can choose the best for you. Find out more about how we test.
Outside of the AAA space, these are by far the best games released this year on Xbox and PC. Many of these indie gems broke boundaries for their innovation and uniqueness, and the games featured here prove what a strong year 2021 was for the indie title. One of the outright best games on this list is undoubtedly Kena: Bridge of Spirits, a fantastic debut game for studio Ember Lab, which provided a beautiful world to explore and interesting stories to uncover through progression of its compelling story.
If you're looking for pure innovation with some strong and unexpected twists, Inscryption is for you. Blending deck building with an atmospheric setting complete with escape room-style puzzles, the game delights with its gradual introduction of varied types of gameplay, and is one of the year's more surprising releases.
If the goal in playing an indie is to relax with something simple, short, and sweet, Unpacking is one to consider. Delving into a person's life by sifting through their belongings is extremely satisfying and often nostalgic, while the need to correctly place items presents a surprisingly fun and chilled puzzle experience. Plus, it's fun to see how the game disagrees with you about where household objects should go!