Best laptops with 16GB of RAM 2023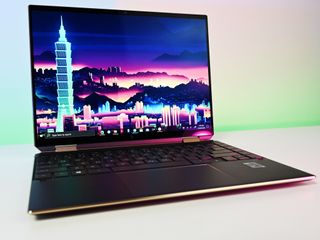 (Image credit: Windows Central)
Whether you plan on running multiple programs at once or need to use more intensive software like Photoshop, having at least 16GB of RAM is ideal. This is because without enough RAM to support multitasking or resource-heavy programs, your computer will slow down and become less responsive. Due to how important having enough memory is, many modern laptops have configurations available with up to 16GB of RAM or more. Our favorite of the best laptops with 16GB of RAM is the Dell XPS 13 since it features excellent specs, a killer display, great battery life, and stellar design, but there are also plenty of other top-notch laptops available with 16GB of memory as well.
Best overall: Dell XPS 13 (9310)
Why you can trust Windows Central Our expert reviewers spend hours testing and comparing products and services so you can choose the best for you. Find out more about how we test.
You'll be hard-pressed to find a better laptop on the market than the Dell XPS 13, as it combines premium Ultrabook-class specs with a display and design that are nothing short of phenomenal. It's available with either an Intel Core i7-1165G7 or an Intel Core i7-1185G7, both of which are excellent CPUs that deliver strong performance. Other notable specs include Intel's Xe integrated graphics and up to 2TB of SSD storage (there's a microSD slot, too). The display is incredible as well, featuring amazing colors, up to 500 nits of brightness, an anti-reflective coating, and both HD and 4K UHD options. Wi-Fi 6, Bluetooth 5.1, and a 14-hour battery life round things out.
Design-wise, the Dell XPS 13 comes with an excellent keyboard with bright backlighting as well as a superb trackpad that doesn't feel loose or wobbly. Dual Thunderbolt 4 ports are included for use with accessories and peripheral devices (a USB-C to USB-A converter is included, as well). It's expensive and the webcam could be better, but overall, this is without a doubt one of the best 16GB laptops available.
Dell XPS 13 (9310)
Possibly the best laptop ever made
Reasons to buy
+
Top-notch specs
+
Superb display
+
Great battery life
+
Outstanding design
Reasons to avoid
-
Expensive
-
Webcam could be better
Best convertible: HP Spectre x360 14
If you want a convertible PC instead of a traditional clamshell, the HP Spectre x360 14 will be perfect for you. Its 11th Gen Intel Core i7-1165G7 delivers plenty of performance, and its Intel Xe graphics are arguably the best integrated graphics you can get right now. It's also got a 1TB SSD, which provides you with plenty of storage space for files. The 3:2 HD or 3K2K display looks fantastic and comes with inking support and an anti-reflective coating, and the quad Bang & Olufsen speakers, webcam privacy shutter, large 66WHr battery, and Wi-Fi 6 and Bluetooth 5.0 connectivity options are valuable as well.
In terms of its design, the HP Spectre x360 14 has a gem-cut design that stands out from the crowd. The large size of the keyboard and the excellent travel of the keycaps makes the typing experience on the device an exquisite one, while the sturdy and stable trackpad ensures you won't need to worry about inaccurate clicks or scrolls while you're doing work or browsing the web. Finally, you get dual Thunderbolt 4 ports as well as a USB-A slot for peripheral connectivity. An option for LTE would have been nice to have, and like the Dell XPS 13, this laptop isn't exactly cheap. Regardless, the HP Spectre x360 14 is an incredible convertible device.
HP Spectre x360 14
A gem-cut beauty
Reasons to buy
+
Excellent specs
+
Incredible 3:2 display
+
Webcam privacy shutter
+
Quad speakers
Best workstation: Surface Laptop Studio
The Surface Laptop Studio is a fantastic 16GB laptop for folks who need more power than what you typically get with thin-and-light Ultrabooks. It can be equipped with the beastly Intel Core i7-11370H, which is one of Intel's performance-focused H-series chips. Other specs include NVIDIA RTX 3050 Ti or A2000 for graphics and up to 2TB of SSD space, which is plenty for the large files you'll often be working with when using editing programs. The 14.4-inch 2400x1600 touch display looks fantastic, and while its anti-reflective coating is lackluster, it does come with full touch support and a 120Hz refresh rate. Other notable pieces of hardware include an HD webcam, quad Dolby Atmos speakers, dual mics, and both Wi-Fi 6 and Bluetooth 5.1 for premium connectivity.
Design-wise, what sets the Surface Laptop Studio apart is its tiltable display that can be tilted forward for "stage mode" or folded down into a tablet-like "studio mode" that's ideal for stylus use. The process of switching between each of these "postures" can be a little cumbersome since the display is rather stiff, but it's just a minor annoyance. The device also features dual Thunderbolt 4 ports for strong peripheral connectivity.
Surface Laptop Studio
The ultimate flexible workstation
Reasons to buy
+
Excellent workstation-grade specs
+
Tons of storage
+
Quad speakers with Dolby Atmos
+
Awesome display that can tilt and fold
Reasons to avoid
-
Display is rather reflective
-
Switching postures is awkward
Best for gaming: Razer Blade 15
16GB of memory is incredibly helpful for work and productivity, but it also significantly improves gaming performance. Our favorite gaming laptop with 16GB of RAM is the Razer Blade 15, which is often considered one of the best gaming laptops in general. Configurations with the beefy Intel Core i7-11800H crush modern games (you can also buy a model with a Core i9 if you want even more CPU power), and you can also preorder upcoming refreshed models that feature Intel's 12th Gen H-series chips. GPU-wise, the Razer Blade 15 can be configured with everything from the NVIDIA RTX 3060 to the top-of-the-line RTX 3080 Ti, and 1TB of SSD space is available as well for folks who need plenty of storage for their games. Wi-Fi 6 and Bluetooth 5.2 are also included.
Depending on what you're looking for, there are plenty of excellent displays available for the Razer Blade 15 as well. Whether you'd prefer an affordable 144Hz HD screen or a premium 4K OLED one, Razer has what you're looking for. You can also get HD displays with 360Hz for maximum FPS support, or you can opt for a QHD display with 240Hz that offers great visuals and a high refresh rate.
The keyboard on the laptop could be better since the keys are rather small, but thankfully the trackpad is stellar. Its dual Thunderbolt 4 ports and up to three USB-A ports (ports vary depending on which model and configuration you opt for) give you all the peripheral connectivity you could ever need, too. Ultimately, the Razer Blade 15 is a fantastic gaming laptop, though it's quite an expensive one.
Razer Blade 15
Get gaming
Reasons to buy
+
Superb gaming performance
+
Wide variety of quality displays
+
Great trackpad
+
Strong port selection
Reasons to avoid
-
Very expensive
-
Keyboard could be better
Best budget: Acer Swift 3 (SF314)
Many 16GB laptops are expensive, but the Acer Swift 3 isn't one of them. It has an Intel Core i7-1165G7, Xe graphics, and 512GB of SSD storage, so its performance is comparable to many pricier options. The display is only a basic HD screen with average colors, and the webcam is looks rather grainy as well. With that said, the display and webcam are still serviceable, and it's easy to look past them if you're in need of something budget-friendly. You get Wi-Fi 6 and Bluetooth 5.0 connectivity as well, which is great for a budget device.
The design of the laptop is OK, but it could be better. The keyboard's keycaps are a bit too small, and the white-on-silver backlighting doesn't look good in regular lighting. The trackpad also rattles when you click it, which is a little annoying. You do get dual USB-A and a Thunderbolt 4 port, though, which is great. Ultimately, even with its drawbacks, the Acer Swift 3 is one of the best budget 16GB laptops out there.
Acer Swift 3 (SF314)
16GB of RAM on a budget
Reasons to buy
+
Great specs
+
Strong connectivity
+
Great port selection
+
Affordable
Reasons to avoid
-
Display isn't anything special
-
Keyboard and trackpad could be better
Bottom line
Laptops with 16GB of RAM chip are some of the best devices on the market if you need something speedy and responsive, and while we recommend all of the laptops on this list, our favorite is the Dell XPS 13. Its specs and display are among the best in the industry, and its battery life and design are phenomenal as well. It's undoubtedly one of the best Windows laptops with 16GB available, and we can't recommend it enough.
Windows Central Newsletter
Get the best of Windows Central in in your inbox, every day!
Brendan Lowry is a Windows Central writer and Oakland University graduate with a burning passion for video games, of which he's been an avid fan since childhood. You'll find him doing reviews, editorials, and general coverage on everything Xbox and PC. Follow him on Twitter.
Windows Central Newsletter
Thank you for signing up to Windows Central. You will receive a verification email shortly.
There was a problem. Please refresh the page and try again.