Best Xbox Series X, Series S headsets 2022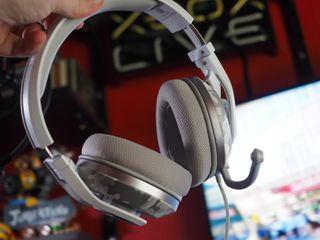 (Image credit: Windows Central)
The Xbox Series X|S represents Microsoft's new-gen gaming lineup, boasting the best value with the Xbox Series S, and the most power with the Xbox Series X. They come complete with ray-tracing capabilities, SSD speeds for world streaming and loading, and a far more powerful CPU for improved frame rates. 4K resolution with 60 frames per second should become the norm with these consoles, although some games like Call of Duty have been pushing 120 FPS. If you're a competitive player who wants the best audio to go with the best frame rates, then look no further.
Your best Xbox One headsets will work on the Xbox Series X and S consoles, but if your products are looking a bit long in the tooth, it may be time for an upgrade. To that end, we've collated the best Xbox headsets we've tested and ones that we have confirmed to be compatible with the Xbox Series X and S, as approved by their manufacturers. These are the best Xbox Series X, Series S headsets.
1. Best Xbox Series X/S headset overall: LucidSound LS35X
LucidSound LS35X (wireless)
Get lucid
Reasons to buy
+
Direct-to-Xbox Wireless
+
Supreme comfort
+
Great soundscape
+
Excellent mic
Reasons to avoid
-
Requires PC to update firmware
-
Wirelessness on PC requires a separate Xbox Wireless dongle
-
Volume dials aren't the best quality
The LucidSound LS35X is a stunning example of what is achievable at the upper echelons of accessory design. From the materials and construction to the comfort, audio, and features, the LS35X is a winner on every front.
The LS35X was the first headset to use Microsoft's Xbox Wireless signal for connectivity, replacing all wires and dongles. It sports an impressive all-day battery life, rechargeable via USB, and comes with on-ear controls for muting, audio mixing, and volume. All of the controls and dials are subtly placed. A detachable microphone with an LED mute light completes the package, with above-average audio quality for headsets in this category.
My favorite aspect of the LS35X is the coolant gel in the earcups, which is simply sublime on the ears, especially in warmer environments. The soundscape is no slouch either, with stunning, punchy sound balanced well between immersion and tactical accentuation. This is simply a tremendous all-around wireless Xbox headset, well worth your attention. And backward compatibility makes it arguably the best Xbox Series X, Series S headset you can buy. The LS35X has a premium sibling in the LS50X, which combines Bluetooth.
2. Best Xbox Series X/S headset for versatility: Astro A50
Astro A50 (wireless)
Versatility comes at cost
Reasons to buy
+
SPDIF optical-in for TVs
+
Solid sound and comfort
+
Great battery life
+
Convenient dock charging
+
Will work with USB on the Xbox Series X/S
Reasons to avoid
-
Most expensive Xbox headset out there
The Astro A50 headset is the priciest option on this list, and for a good reason. This wireless headset comes with a unique magnetic charging dock to ensure you're always topped off and ready to rock no matter how long you've been gaming. This is the headset I use personally, primarily for its versatility above all else. Astro has also updated it for the Xbox Series X and S with a firmware option to enable USB compatibility, making it easily one of the best Xbox Series X, Series S headsets you can buy.
The dock for the Astro A50 comes with compatibility for SPDIF optical audio, meaning you can plug it straight into the TV and use that as your sound source. This means you can use it with basically any console you want since the sound is coming out of the TV rather than the box. You can also be able to connect it via USB to your Xbox Series X or Series S if you don't fancy using SPDIF optical. Additionally, you can connect the USB to a PC instead, mixing sound from your TV while using voice chat programs like Discord and the like on your computer. It's this versatility that comes in incredibly handy if you're a content creator or play across multiple devices. I use this headset while streaming, so I can listen to voice comms from my PC, and receive game audio from my TV.
The A50 is no slouch in the sound department either. Although I'm not a big fan of their onboard Dolby solution personally, Astro's own sound profile is rich, emphasizing tactical audio cues. The microphone isn't particularly impressive, but a flip-to-mute function is a useful tool for quickly tapping out of the conversation. The headset is comfortable and attractive, too, although the leatherette accessories, which are far more comfortable, are sadly sold separately.
This is a headset for people who don't mind breaking the bank for premium convenience and a tidy, wireless playspace.
3. Best wired Xbox Series X/S headset: Turtle Beach Elite Pro 2
Turtle Beach Elite Pro 2 (wired)
Rock solid
Reasons to buy
+
Great soundscape
+
Feels great to wear
+
Sturdy build with a metal frame
Reasons to avoid
-
Basic headset that lacks onboard features
The Elite Pro 2 from Turtle Beach is an excellent all-around wireless headset, with quality construction reinforced with metal, an attractive design profile, a comfortable floating headband, and thick, well-cushioned airy earcups.
The Elite Pro 2 doesn't have many features, although it does come with a high-quality in-line volume control module and a mute button on its 3.5mm cable. If you want more features like mic monitoring, you'll have to add them via software like the Xbox dashboard sound settings, or an additional accessory, like the Elite Pro Tactical Audio controller. This is a headset that's all about nailing the basics, and in that, it does it exceptionally well.
The voluminous soundscape provides a really acute sense of positional awareness when combined with Dolby Atmos or Windows Sonic. However, you can elevate this further by using one of Turtle Beach's amps for more accurate 7.1-style positional awareness, which also bakes in some mic monitoring as well.
I personally used this headset for many months and genuinely adored it, ditching it only because I found wirelessness more convenient in my current desk setup. Turtle Beach doesn't have a competing option in that area. As a wired headset, though, this does not disappoint.
4. Best Xbox Series X/S headset with Bluetooth: Turtle Beach Stealth 700 (Gen 2)
Turtle Beach Stealth 700 (wireless)
Go mobile
Reasons to buy
+
Lets you mix an Xbox signal and a Bluetooth signal
+
Great sound with impressive bass
+
20-hour battery life
+
Great price
Reasons to avoid
-
On/off states are bound to your paired console
The Turtle Beach Stealth 700 grabbed its second-gen version in 2020, building on the refreshed design principles of the original Stealth 700 with improved robustness and overall quality.
The Stealth 700 sports incredible audio, complemented by Turtle Beach's "SuperHuman Hearing" preset, accentuates enemy movements, enhancing tactical play. The broad soundscape and impressive bass make them a great option for music and movies while also elevating singleplayer games with immersive software surround sound.
The Stealth 700 combines the Xbox Wireless signal with Bluetooth, allowing you to mix audio from an Xbox console or a PC via the Xbox Wireless USB dongle with a connected Bluetooth PC or mobile phone. This is great for content creators who want to hear co-op partners through chat programs like Discord without sacrificing Xbox audio in the process. The on-ear volume dials make it easy to adjust the mix to your liking, and a paired mobile app gives you further control over your experience.
5. Best premium Xbox Series X/S headset: B&O Beoplay Portal
B&O Beoplay Portal
The best money can buy
Reasons to buy
+
Highest-grade construction and materials
+
Impressive audioscape and next-level app experience
+
Solid battery life with great connectivity
+
Sleek, subtle design ideal for home and outdoor use
Reasons to avoid
-
Incredibly expensive if you don't plan to use all of its features constantly
-
No Bluetooth and Xbox Wireless sound mixing
-
Poor mic experience
So imagine that money is no object to you. What headset would you buy for Xbox Series X? What is the best of the best, bar none? Look no further.
The Beoplay Portal headset from Bang & Olufsen is without a doubt the best of the best when it comes to Xbox headset design. This headset is without a doubt the best the industry has to offer, with absurd attention to detail, manufacturing, materials, complete with incredible audio and a premium app experience. The kicker? It costs as much to buy as an Xbox Series X console at an absurd $500. Calfskin leather cushions come at a price, you know?
This headset is for enthusiasts who really want a headset that can do everything, everywhere, all of the time. Bluetooth 5.1 connectivity for the office and outdoors, Xbox Wireless for gameplay use, internal mics that keep the headset's subtle, professional look, premium-tier controls and functionality, and utterly mind-blowingly detailed, crisp audio will make you wish you never had to use another headset again. And at that price, you'd better hope it will last.
The main downside of this headset is that you can't do Bluetooth and Xbox Wireless simultaneous mixing, as B&O opted to preserve signal integrity. The microphone is also incredibly unimpressive, as all internal microphones tend to be. Still, this is a headset for those with enough money to make a statement, and in that, B&O delivers.
6. Best Xbox Series X/S headset for wireless value: LucidSound LS15X
LucidSound LS15X headset
Entry-level wirelessness
Reasons to buy
+
Great 15-hour battery life
+
Budget-defyingly great audio quality
+
Mic monitoring sidetone and solid comfort
Reasons to avoid
-
Mic isn't great
-
Controls aren't very intuitive
The LucidSound LS15X is a truly great and affordable Xbox wireless headset, complete with compatibility for both Xbox consoles and PC via its dedicated USB dongle.
Available in both blue and black designs, the LS15X has a subtle profile with synthetic leather cups and generous cushioning. The 15-hour battery life and high-grade comfort will last you across marathon sessions, and while the build quality isn't the best out there, it feels robust enough to survive all but the biggest drops and knocks.
The headset has on-ear controls which aren't the most intuitive in the world, but they get the job done once you learn how to use them properly. The mic also isn't the best. But, where the LS15X truly shines is the audio, with a balanced sound mix that does emphasize highs without sacrificing realism and immersion, with warm bass that is impressive without being overpowering.
This is the cheapest wireless headset I've ever reviewed, and one which easily beats the Turtle Beach Stealth 600 and official Xbox Wireless Headset in my view. As long as you accept that there'll be some compromises to be made at this price tier, you won't be disappointed.
7. Best Xbox Series X/S headset for value: Turtle Beach Recon 500
Turtle Beach Recon 500 (wired)
Don't break the bank
Reasons to buy
+
Impressive sound quality
+
Metal-reinforced construction
+
Airy and comfortable
+
Great microphone
Reasons to avoid
-
Lack of surround sound out of the box that would give it a big edge
Turtle Beach is a mainstay of the headset market, producing solid products year in, year out, for decades. Their recent Recon refresh is not a headset I expected to be impressed with, but it's making the grade as one of the best-value headsets you can grab right now.
The Recon 500 comes in two color options, black and arctic camo, and it looks sleek and modern in both configurations. Where it really shines is the audio quality. It's very crisp and detailed, with accentuation on the highs, giving you a greater degree of tactical awareness.
The build quality and construction are impressive too, with a metal-reinforced headband, comfortable, airy earcups, and a surprisingly capable microphone experience. You could do far worse, and for those looking for the cheapest "good" headset, right now, this is it.
8. Best Xbox Series X/S headset for pure audio: Corsair HS75 XB
Corsair HS75 XB wireless headset
Stunning sound
Reasons to buy
+
Stunning raw soundscape
+
Well constructed with comfortable design
+
Great microphone
Corsair HS75 XB is a newcomer to the Xbox Series X headset space, and it's already quite easily one of the best Xbox Series X, Series S headsets out there. What makes the Corsair HS75 XB so damned good is its audio quality, which is truly distinct with its volume and power. Some reviews have criticized it for being bass-heavy, and indeed, if you're not a fan of that, you can tweak it using the Dolby Atmos app on your Xbox. If you're like me and love to hear the full force of an explosion, it already sounds great out of the box. This headset is an experience and worth every penny.
Beyond pure audio quality, the Corsair HS75 XB just gets so much right. It's balanced well with high-grade comfort and works out of the box thanks to Xbox Wireless. It has a subtle but sexy design, with a detachable mic that also punches above its weight in sound quality. Despite the visual style, it isn't an open-back headset, as some outlets have reported, giving you an immersive experience elevated by a bundled code for Dolby Atmos.
I found the sidetone to be a bit quiet, making the lack of configuration software a bit of a sore point. Arguably, it doesn't need it, though, since it's just so good out of the box: no frills, pure audio, great product.
Bottom line
The headset I keep coming back to, time and time again, is the Astro A50, owing primarily to its versatility. For my setup, being able to feed SPDIF optical audio and combine that with sound from my PC from chat apps like Discord is invaluable as a content creator, making videos on our YouTube channel or game streaming, and so on. It allows me to have a headset permanently hooked up to my Xbox and PC with a single device. The flexibility is something that I find to be ideal for my setup, although the price is incredibly prohibitive for those who won't end up using all of its features. If you can stomach the price, however, you'll find this headset to be nothing short of remarkable, with excellent sound, comfort, construction, and wireless convenience.
For the vast majority of people, though, I would recommend the LucidSound LS35X. I personally find the LucidSound audio profile to reach higher than both Turtle Beach and Astro, and other competing brands, with a good balance between immersive audio and tactical sound cues. I also can't get enough of the coolant gel LucidSound adds into the mix, making them absurdly comfortable. The microphone is also a cut above the LS35X, beating out many of its competitors. The main downside is a mandatory firmware update for this headset, which requires a PC connection, although one would expect that, by now, these headsets are shipping with the correct firmware out of the box.
If you don't want to break the bank but still gun for decent quality, I always recommend the Turtle Beach Pro Tournament 2 wired headset. It might lose some of that wireless convenience, and obtaining elevated positional awareness might need an additional accessory. Still, the soundscape is expansive, with a robust metal-reinforced design, generously cushioned earcups that are easy on the ears, and highly flexible cabling that will stand the test of time. The excellent RIG 500 Pro HX is also a good alternative wireless option.
Another good option is the $75 LucidSound LS15X. Considering how affordable it is, it boasts truly great audio, high-grade comfort, and an impressive set of features, complete with sidetone mic monitoring. The main downside is the mic quality, which isn't great — but does get the job done. It also doesn't have the most intuitive controls, but the price is absolutely right.
Don't forget, all your best Xbox One headsets will work on the Xbox Series X and Series S unless stated otherwise. So far, it looks like pretty much everything will work. Headsets with SPDIF docks like the Astro A50 will need to be connected to your TV instead of your Series X or S, though.
Jez Corden is a Senior Editor for Windows Central, focusing primarily on all things Xbox and gaming. Jez is known for breaking exclusive news and analysis as relates to the Microsoft ecosystem while being powered by caffeine. Follow on Twitter @JezCorden and listen to his Xbox Two podcast, all about, you guessed it, Xbox!
Windows Central Newsletter
Get the best of Windows Central in in your inbox, every day!
Thank you for signing up to Windows Central. You will receive a verification email shortly.
There was a problem. Please refresh the page and try again.