Best yokes for Microsoft Flight Simulator 2023
Elevate any virtual flight with these yokes for PC and Xbox.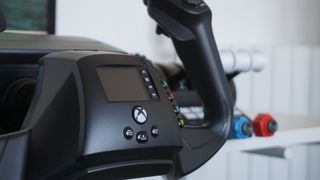 (Image credit: Matt Brown | Windows Central)
Microsoft Flight Simulator 2020 packed mapping data, artificial intelligence, and a cloud-driven traffic empire for a disruptive entry to the genre. Picking up one of the best yokes provides a considerable leap over piloting with a standard joystick, especially when looking to mirror your average light aircraft.
Primed and ready for Flight Simulator with a leading design at a palatable price, we've rounded up other top picks with options for PC and Xbox pilots, delivering incredible experiences when soaring the virtual skies.
Honeycomb Alpha Yoke & Switch Panel
The best yoke from takeoff to landing
Reasons to buy
+
Premium build quality
+
Smooth roll and pitch control
+
Value is unmatched at this price
Reasons to avoid
-
No easy upgrade opportunities
Honeycomb is the latest on the scene with its Alpha Flight Controls yoke — and it's already our preferred flight accessory. It refines upon the foundations of popular yokes, both functional and well-built, while still attaining an accessible price tag. The yoke handles smoothly, is also substantial in hand, and its integrated switch panel extends its worth far beyond roll and pitch control.
High-quality materials convey its first-rate design and durability out of the box. The ergonomic grips feel premium in hand, with a rubberized, sleek matte black finish across the yoke and exterior housing. The steel shaft also feels sturdy, with smooth 180-degree rotation and push/pull motions, and adequate tension. That results in a noticeable upgrade over the entry-level, with more precise aircraft control.
The yoke is littered with various buttons and switches, all providing a firm, satisfying click when used. It features a joystick, two-way rocker switches, push-to-talk, and other assignable buttons. An integrated panel also sits below, with a further nine labeled switches on the left and a five-stage ignition switch on the right. The button-mapping capabilities facilitate the essentials without the need to scramble for a keyboard mid-flight. And if you love your lighting, it has a red LED backlight that shines through its prismatic honeycomb panel.
Flexibility also comes with mounting this yoke, dependent on your simulation setup. The included plate locks into the device, and it is secured using two bundled steel clamps and fastened with two knobs. The optional suction pad also provides an opportunity to ditch the clamps, using an underlying 3M micro-suction pad instead. Both keep the device sturdy, with the latter ideal when wrangling a thick or fragile desk.
While Honeycomb demands a small premium over entry-level yokes, the $250 cost comes with those long-term luxuries. The attention to detail and supplementary switches reward buyers far beyond its five-year warranty while feeling great to use. This is the best flight simulator yoke out there without venturing into overkill (and expensive) enthusiast territory.
The Honeycomb Alpha Yoke & Switch Panel Flight Controls don't provide a clear upgrade path, unlike rivals with modular instruments and panel lineups. An integrated switch panel comes standard, which in the case of Logitech, would cost an additional $100. Honeycomb does have an accompanying throttle quadrant, starting at $280, or balance a keyboard on the side.
Microsoft Flight Simulator has also launched on Xbox Series X and Series S, and while accessory support has proven limited at launch, more options are headed to market. Honeycomb plans to re-release its Alpha Yoke & Switch Panel Flight Controls for consoles in 2022, redesigned with dual Xbox and Windows 10 compatibility. The manufacturer's existing Bravo throttle quadrant and Charlie pedals will also work with Xbox consoles when hooked up via this new Alpha yoke. We expect it to join the best Microsoft Flight Simulator joysticks when we get hands-on for a full review.
Logitech G Saitek PRO Flight Yoke System
Great value for pilots just getting started
Reasons to buy
+
Amazing value when compared to cost of many rivals
+
Full yoke and throttle functionality
+
Generally robust construction
Reasons to avoid
-
Pitch control isn't always smooth
-
Better quality elsewhere
While delving into yokes isn't as affordable as your traditional entry-level gear, Logitech provides the best balance of price and product with its Logitech G Saitek PRO Flight Yoke System. The full functionality of a yoke and throttle comes bundled in a much less expensive package, providing all you need to take your virtual voyages to that next level. With Saitek, an established manufacturer in the space of flight simulator accessories, now under the Logitech family, you're looking at the go-to for all budding Flight Simulator pilots.
It's no surprise that this yoke is among the most widely used on the market. Logitech's latest yoke boasts sturdy plastic construction, fortified with a premium stainless-steel shaft to control your aircraft's attitude. The set provides over two dozen assignable buttons and switches, with three throttle knobs, delivering the expected granular control of an enthusiast setup. The design also includes a handy LED display, ideal for showing flight timers. Two rubberized screw-in clamps prevent the yoke from drifting across your desk.
While opting for a higher-end yoke may provide a smoother flight experience with added luxuries, Logitech provides an astronomical leap over a simple flight stick. There's a high value on offer when looking to keep costs low without sacrificing reliability and build quality. That proposition has remarkable weight considering its product category is primarily dominated by more expensive, enthusiast-geared alternatives.
You're also looking at a modular setup, with this bundle the gateway into the full Saitek lineup. The manufacturer also sells supplementary throttle quadrants, pedals, and interchangeable components to assemble a custom instrument panel — the Logitech G Aircraft Switch Panel and Instrument Panel being our favorites. While higher-priced alternatives will bolster functionality, what's on offer here impresses, nailing to essentials at its palatable price.
The complete setup for Xbox pilots
Reasons to buy
+
Complete Flight Simulator setup
+
Full yoke and throttle functionality
+
Good build quality
Reasons to avoid
-
Cheaper alternatives on PC
-
Throttle quadrant could be improved
Microsoft Flight Simulator's expansion to consoles has spawned new Xbox-compatible accessories, including the all-inclusive VelocityOne Flight system from Turtle Beach. While better known for gaming headsets, the manufacturer recently debuted its first Flight Simulator-ready accessory, primed for Xbox consoles and Windows PCs.
The Turtle Beach VelocityOne Flight Universal Control System, extravagant naming aside, provides a simple but comprehensive setup for either beginners or seasoned pilots. The yoke, accompanying throttle quadrant, and wealth of ancillary switches and inputs each ensure complete control, from critical flight surfaces to lights and landing gear.
The yoke alone demonstrates attention to quality, with firm motions, 180-degree rotation, and responsive control over virtual aircraft. The chosen hall-effect sensor also provides extra confidence in the device's long-term durability. You get rocker switches, joysticks, various assignable buttons, and rear-mounted triggers to emulate rudder pedals. That's topped with the Flight Management Display, an integrated 1.5-inch LCD with quick access to control profiles while relaying some key flight metrics.
The accompanying throttle quadrant throws more inputs in the mix, from throttle levels to vernier controls, plus a dedicated trim wheel. There's also a status panel with various switches and LEDs, all tied to the game. While the throttle doesn't feel as refined as the yoke, it's impeccable in terms of function.
The VelocityOne Flight kit provides everything you need for a complete Flight Simulator experience on consoles or PC. But Xbox compatibility is the standout here, among the few manufacturers catering to console gamers in 2022. It's the only Xbox yoke available right now, and while more brands have pledged future support, it's by far the best way to play Flight Simulator on a console.
The VelocityOne Flight system isn't cheap, especially compared to standard Xbox gamepads. It's an all-in-one system that, while expensive compared to other yokes, comes out more affordable than rivals offering piecemeal components. It's a simple plug-and-play solution, easy to store between sessions, yet still ideal for diving in without limits. Turtle Beach condensed everything you need into one product, and for Xbox owners, there's nothing quite like it.
CH Products Flight Sim Yoke
Earn your wings on a budget
Reasons to buy
+
Cheap
+
Covers all the essentials
+
Smooth handling for the cost
Reasons to avoid
-
Mediocre build quality
-
No defining thrills and luxuries
When in the market for an entry-level yoke at the lowest available price, few hit the mark with execution like the CH Products Flight Sim Yoke. The tried and tested design hasn't evolved much in recent years, but it's an affordable, trusty, one-piece package for your flight essentials. The all-plastic design incorporates a yoke, integrated throttle, and even a handful of switches, only just surpassing $100.
Opting for this wallet-friendly peripheral won't provide the full Microsoft Flight Simulator experience. It's basic but not bad. If you pick up a yoke but watch your bank balance, it will cover your journey with steady handling and the fundamental hallmarks.
The design embraces lightweight plastic without the comfort or additional bonuses seen in other options. The yoke includes two rocker switches, four buttons, and an eight-way joystick coupled with two flip switches on the housing. CH Products also engineered integrated throttle, prop, and mixture levers up top, compacting a traditionally separate throttle quadrant into the same unit. And as with any recommended yoke, two clamps keep this tied down to your flight station.
What you see is what you get. It's an ideal buy for the casual buyer headed into Microsoft Flight Simulator or learning the ropes of virtual aviation. There are limitations, and any serious flyers will likely upgrade with time, but it's all you need to make that first leap from a controller or joystick.
---
Bottom line
Why you can trust Windows Central Our expert reviewers spend hours testing and comparing products and services so you can choose the best for you. Find out more about how we test.
Yokes provide the next immersive step beyond the best PC joysticks for civilian aircraft, with some even at affordable prices. Using a yoke better mirrors a real-world experience from the comfort of your desk, with precise control over attitude, invaluable with more advanced maneuvers.
These represent just the baseline available for Microsoft Flight Simulator, with enthusiast-geared models also available, far surpassing $1,000. But if you're dropping that cash on hyper-specialist hardware of that tier, you likely don't need our input to find which yoke is for you.
But when in the market for new accessories for the latest Microsoft Flight Simulator, the Honeycomb Alpha Yoke & Switch Panel Flight Controls provide one of the best experiences you will find at that price range. The device costs a small premium over alternatives for substantial quality-of-life adjustments, whether the comfort of its high-quality design or easy handling. But when looking for long-term value from your setup, this yoke guarantees a smooth experience throughout any virtual flight.
Get the Windows Central Newsletter
All the latest news, reviews, and guides for Windows and Xbox diehards.
Matt Brown was formerly a Windows Central's Senior Editor, Xbox & PC, at Future. Following over seven years of professional consumer technology and gaming coverage, he's focused on the world of Microsoft's gaming efforts. You can follow him on Twitter @mattjbrown.