Facebook Messenger, CloudSix, Animal Face and more are your app highlights for the week!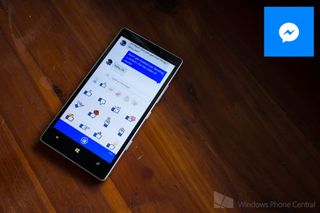 Another week has flown by. We didn't have a busy week in the Windows Phone Store, but we did pick up a few high profile applications. Facebook Messenger is now available and there's a brand new Dropbox client that's worth downloading if you're a big fan of the service. Let's check out all the best new app, app updates and new games from this week available in the Windows Phone Store.
New
Facebook Messenger – The app was announced at Mobile World Congress a few weeks ago and is now available on Windows Phone. That's right. Facebook Messenger had a fairly quick turnaround time from announcement to launch. Facebook Messenger lets you talk with all your Facebook friends, share photos, stickers and more. Download Facebook Messenger from the Windows Phone Store. (Free)
CloudSix for Dropbox – Rudy Huyn has released his first cloud storage client for Windows Phone. It's called CloudSix for Drobox and has already been met with rave reviews. The app gives you all the functionality you'd expect and more for a Dropbox app. There are also some special features to let other Windows Phone developers tap into it. Grab CloudSix for Dropbox from the Windows Phone Store. (Free/In-app purchase)
Device Shot – Looking to promote your app? Give it a professional edge with Device Shot for Windows Phone. The app allows you to create images of various Windows Phone with your apps screenshots inside the mockup. It's a great way to share screenshots of your app and make them look a bit better. Download Device Shot from the Windows Phone Store. (Trial/$0.99)
InstaPlace Pro – Instagram pictures are about to get a lot better with InstaPlace Pro for Windows Phone. The app will overlay text, like location info, onto your images. The results are fun pictures to let your friends and family members share in your adventure. Pick up InstaPlace Pro from the Windows Phone Store. ($1.49)
Animal Face – Speaking of elevating Instagram pictures. Get Animal Face. This is probably our favorite nonsense app of the week. Take pictures of yourself or friends and add hilarious animal faces to them. That's all there is to it and the results are amazing. Get Animal Face from the Windows Phone Store. (Free/In-app purchases)
Updated
Podcast Lounge – The native podcast experience on Windows Phone is a bit lacking. Sure it does the basics fine, but if you want a little more functionality you're going to need to look at other apps. Podcast Lounge for Windows Phone just picked up a big update that's worth looking at. Biggest changes in version 2.0 of Podcast Lounge? How about Smart Playlist support, backup/restore functionality, new player screen with scrubbing, revamped settings and more. Get Podcast Lounge from the Windows Phone Store. (Trial/$1.99)
Line – Windows Phone has an app for nearly every major messaging platform. Line picked up an update this week that will make fans of the service pretty happy. Version 3.3 of Line includes a sticker shop, improved call quality, custom notifications and more. Grab the latest version of Line from the Windows Phone Store. (Free)
2Flicka – The official Flickr app on Windows Phone won't be updated anytime soon. Doesn't matter if you're rocking 2Flicka. It's a great Flickr client for Windows Phone that just went to version 1.5 in the Store. It features the ability to upload single or multiple pics to photosets, toast notifications, pinning various sections of the app to the Start screen and more. Grab 2Flicka from the Windows Phone Store. (Trial/$1.29)
Games
Throne Together –Need another Xbox Live-enabled game for your phone? Then check out Throne Together for Windows Phone. It's brand new puzzle game out this week. Place blocks on the map to build castles and have fun. It's free to play. Grab it from the Windows Phone Store. (Free)
Have any favorite apps and games from the week? List them below!
Windows Central Newsletter
Get the best of Windows Central in in your inbox, every day!
Facebook Messenger was a big entry into the WP store for the week and a significant one for the growth of the WP ecosystem. Saturdays n sundays are boring. There is no activitity, no updates nothing. :P

WPCentral writers have lives too man!

They can hire someone to work weekends?

Yaah may be u can give them over time pay.....Ouch what about 24/7.....

It's days like these when you open WP central every couple of hours and feel depressed :(

im impressed with fb messenger, i must admit it.. with windows phone i've had a terrible experience with apps , some of them just dont work like they are supposed to..and at last i can send pictures via fb without having the app crashing or lasting half an hour.

Notifications are rubbish on that app for some users.

I dunno why, but notifications work only when I'm vpn+connectifying WiFi into my phone. I'm fucking loving Pandora

What, VPN? That isn't supported on WP8 is it?

Facebook messenger works well but the UI could be improved, it looks so outdated.

OT: hmm we(at least me) need Mega app. cant access le files w/ browsers

Rudy Huyn is making a Mega app. And OneDrive and Google Drive and Box.

Will be included on CloudSix? or How would be?

What happened to the official tinder app he was supposed to be working on?

I'm most impressed with Facebook Messenger. +925 for not using up one of the paltry 15 background tasks to make it work either. Here's hoping they are actually building their own officially-official Facebook app and allow me to free up another background task. Out of curiosity, does the forthcoming Windows Phone 8.1 update offer a sliding scale of sorts for the number of background tasks that can be run based on device specs? I feel as though 15 is too little since I love having my live tiles actually work for most off my apps (I use most social networks, have many news apps, chat apps, etc). If anything, I'd appreciate a warning that too many background tasks may affect performance but also give me the option to override the warning and run as many as I'd need to (maybe up to an absolute limit depending on device specs. E.G. 15 apps displays warning, but based on Lumia 925 specs, 25 could be the max).

I don't like dropbox but cloudsix is pretty cool and Facebook messenger is great since almost everyone has a Facebook. I wonder what Rudy's onedeive app is going to do tho...

I think it will add the same design of cloudsix for dropbox and with multiple accounts

The messenger built into the Os works fine for me but im going to test this app out

In built is faster actually but it doesn't have Sticker features actually. Lets see if fb integration is going to be removed then we might get official fb app from fbinc

It doesn't have group chat or last seen or typing either.

Any news about Facebook Pages Manager?

Hi , please say more about wp8.1
dose support air print ?

There isn't a save pic option, a log out option in Facebook Messenger. They have forgotten the basic features. But the performance is good.

All in all it was a pretty good week, messenger, 2flicka and the drop box client. Well honestly I've yet to test out the DB client, but its still great news that Rudy put one out. Rudy has a talent for spotting needs, and now suddenly he have apps working together. Sometimes I feel WP would die quietly without Rudy, I know it probably wouldn't, but he matters more for WP than most other devs does. I really hope he's company will turn out the way he dreamt it would be. Thank you Rudy for your amazing work, i look forward for more of your products... Sorry for rambling on, but now it was my time to give the dude some praise . Ok, a small praise to those behind wpcentral to, coders, i love your app, UI and UX. To the authors i love your work to, doesn't feel like copy/paste articles, well written and informative, even the Xbox stories that i hate seeing on this app/page is informative. I don't really see why it would be necessary to post about Xbox, or to be true why even post about windows 8?
I'm not dissatisfied with your services, truly not. So don't shoot my head of for asking

Lol, dude, we should all make a thread thanking Rudy and Wpcentral guys. Head into the forums for a All Hail Laura Knotek thread. We do know they deserve it. And Laura more so.

It is sad that FB Messenger is so nice but also a battery drainer, still I'm not uninstalling because yet again; is so nice.

I don't know if it is common or specific to my lumia 720, but after installing Facebook Messenger, I am not getting any notifications from other messenger apps like Whatsapp, Hike and WeChat.

You're not alone. I'd have to restart my phone to be able to get notifications. I love windows phone but I hope they improve all these with 8.1 cos these problems are starting to get boring and annoying.

Yeah, I think its a 720 specific problem too. There was this other guy who had a 720 who was complaining about it. And I too am a 720 user, and my notifications also didn't work. But after a couple of days, everything was fine. I advise you to just let the app be, it will work fine in a day or two.

I didn't find any problems like that in L520.

Can anyone tell me the solution. My nokia Lumia 720 when sometimes operating automatically goes to bing and when operating something on it automatically shuts down and goes back to pin menu. That's some kind of malfunction happening on ky phone sometimes. I thought to turn of the vibration of home keys from the settings but that malfunction is still there. Is anybody facing that problem what im facing???

this might be bcoz, u have turned on the setting for search on lock screen. thus, even if phone is locked, search key operated. and u may not be having passcode, thus other keys works.

I don't. Have that problems of the phone is locked. I face it while operating the phone while operating fb,using browser,using other apps. It automatically vibrates and goes to multitasking bar or to the bing. There might some malfunctioning problems with the home screen buttons.

Why don't you try doing a factory restore?

Naa only while operating apps

FB Messenger made me forget about whatsapp to be honest

FB messenger is good . A big step towards taking WP8 to more users

I love Rudy and so his apps. Facebook messenger was much needed / requested app by users , ms listened and here we finally have one. Soon we will get bbm , Photoshop , flipboard and many more.

Messenger is not getting timed toats .. It might improve in future and it would be better if messenger had there own beautiful toan

I don't like being told what my app highlights are!

i don't like facebook messenger !!
where is Notifications OFF ???
by Lumia 920

Lets hope we get all updates and official fb app at build. Facebook has monopoly in social networking sites and they mostly update the ios version only as its luxury thing and bog celebrity use ios and mac. So at times its difficult when someone has monopoly in the industry.

No i think its good enough.

How do you get all those stickers?

The 620 overlay in Device Shot looks like crap, not smooth edges :(

FB messenger: because doing a good messaging UX for our main app was too much to ask of us.

Save picture in instagram and tumblr

Anyone know of any game similar to "dumb ways to die" for WP?
Windows Central Newsletter
Thank you for signing up to Windows Central. You will receive a verification email shortly.
There was a problem. Please refresh the page and try again.