Facebook Messenger, CloudSix, Animal Face and more are your app highlights for the week!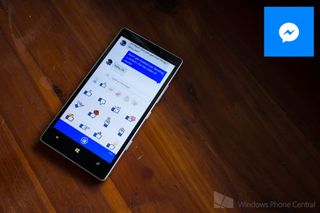 Another week has flown by. We didn't have a busy week in the Windows Phone Store, but we did pick up a few high profile applications. Facebook Messenger is now available and there's a brand new Dropbox client that's worth downloading if you're a big fan of the service. Let's check out all the best new app, app updates and new games from this week available in the Windows Phone Store.
New
Facebook Messenger – The app was announced at Mobile World Congress a few weeks ago and is now available on Windows Phone. That's right. Facebook Messenger had a fairly quick turnaround time from announcement to launch. Facebook Messenger lets you talk with all your Facebook friends, share photos, stickers and more. Download Facebook Messenger from the Windows Phone Store. (Free)
CloudSix for Dropbox – Rudy Huyn has released his first cloud storage client for Windows Phone. It's called CloudSix for Drobox and has already been met with rave reviews. The app gives you all the functionality you'd expect and more for a Dropbox app. There are also some special features to let other Windows Phone developers tap into it. Grab CloudSix for Dropbox from the Windows Phone Store. (Free/In-app purchase)
Device Shot – Looking to promote your app? Give it a professional edge with Device Shot for Windows Phone. The app allows you to create images of various Windows Phone with your apps screenshots inside the mockup. It's a great way to share screenshots of your app and make them look a bit better. Download Device Shot from the Windows Phone Store. (Trial/$0.99)
InstaPlace Pro – Instagram pictures are about to get a lot better with InstaPlace Pro for Windows Phone. The app will overlay text, like location info, onto your images. The results are fun pictures to let your friends and family members share in your adventure. Pick up InstaPlace Pro from the Windows Phone Store. ($1.49)
Animal Face – Speaking of elevating Instagram pictures. Get Animal Face. This is probably our favorite nonsense app of the week. Take pictures of yourself or friends and add hilarious animal faces to them. That's all there is to it and the results are amazing. Get Animal Face from the Windows Phone Store. (Free/In-app purchases)
Updated
Podcast Lounge – The native podcast experience on Windows Phone is a bit lacking. Sure it does the basics fine, but if you want a little more functionality you're going to need to look at other apps. Podcast Lounge for Windows Phone just picked up a big update that's worth looking at. Biggest changes in version 2.0 of Podcast Lounge? How about Smart Playlist support, backup/restore functionality, new player screen with scrubbing, revamped settings and more. Get Podcast Lounge from the Windows Phone Store. (Trial/$1.99)
Line – Windows Phone has an app for nearly every major messaging platform. Line picked up an update this week that will make fans of the service pretty happy. Version 3.3 of Line includes a sticker shop, improved call quality, custom notifications and more. Grab the latest version of Line from the Windows Phone Store. (Free)
2Flicka – The official Flickr app on Windows Phone won't be updated anytime soon. Doesn't matter if you're rocking 2Flicka. It's a great Flickr client for Windows Phone that just went to version 1.5 in the Store. It features the ability to upload single or multiple pics to photosets, toast notifications, pinning various sections of the app to the Start screen and more. Grab 2Flicka from the Windows Phone Store. (Trial/$1.29)
Games
Throne Together –Need another Xbox Live-enabled game for your phone? Then check out Throne Together for Windows Phone. It's brand new puzzle game out this week. Place blocks on the map to build castles and have fun. It's free to play. Grab it from the Windows Phone Store. (Free)
Have any favorite apps and games from the week? List them below!
Get the Windows Central Newsletter
All the latest news, reviews, and guides for Windows and Xbox diehards.