Final Fantasy and Super Monkey Ball 2 coming to Xbox Live on Windows Phone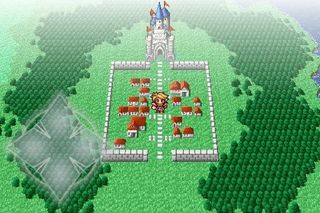 Just a week ago, we looked at a number of Xbox Live games whose Achievements were discovered by avid French gamer Zebrasqual: Mirror's Edge, Battleship, and Fling. I daresay Mr. Squal's sleuthing rivals my own, as he has uncovered two more future games' Achievement lists. Both titles will surely appeal to console gamers: Final Fantasy and Super Monkey Ball 2: Sakura Edition.
Head past the break for full details on both upcoming games.
Final Fantasy
Way back in July of 2011, Windows Phone Central asked our readers which mobile games they would most like to see ported to Xbox Live on Windows Phone. The results: a great many gamers wished for RPGs, particularly those from Japanese developer Square Enix. While the reader submission we most favored from Square Enix's iOS lineup was Chaos Rings, any of the developer's games at all is certainly a step in the right direction.
Final Fantasy is poised to be the first traditional RPG in the Windows Phone lineup (puzzle RPGs like Castlevania Puzzle and Puzzle Quest 2 don't quite count). That seems fitting, since the game is a remake of the 1987 Famicom/NES original that vaulted Square Soft (later Square Enix) to stardom.
At the beginning of the game, players choose four characters from a pool of classes: warriors, monks, thieves, black mages, white mages, and red mages. These characters become the Warriors of Light, destined to defeat the four evil Elemental Fiends, restore light to the elemental orbs, and save the world. The story and gameplay system are fairly simplistic by modern standards, but they also helped lay the groundwork for many JRPGs (Japanese Role-Playing Games) to come.
Screens from iOS version
The mobile version of Final Fantasy is based on the PSP version, so it features much-enhanced visuals and music over the NES original. The difficulty has also been toned down to more reasonable levels. Don't think the game is just a walk in the park though; the unlockable Labyrinth of Time amps up the difficulty to extreme levels while also offering the best gear in the game. It's not necessary to complete the story, thankfully.
Final Fantasy's Achievements are all secret, which means only players who have unlocked them can view their descriptions. In JRPGs, developers usually make story-based Achievements secret in order to avoid spoiling the story. We can safely assume you'll unlock all 18 of them by simply completing the game. As for Final Fantasy's price: it costs $8.99 on iOS. Expect the Windows Phone version to go for $6.99 (the current maximum price point for mobile Xbox Live titles) when it debuts.
Super Monkey Ball 2 Sakura Edition
The first Super Monkey Ball on Windows Phone was disappointing for a number of reasons (all listed in our review): fiddly, non-adjustable tilt controls; occasionally absurd difficulty; problematic Achievements (even post-update); and the lack of the series' famous minigames or multiplayer features. Of course, most of those problems stem from the iPhone original, which launched with Apple's App Store way back in 2008. It was a dark time. Fast forward to 2011 and we naturally wondered why SEGA hadn't simply ported the superior sequel…
Good thing then that Super Monkey Ball 2 improves on most of its predecessor's faults. The frustration factor has been greatly reduced by more reasonable stage design and better tilt controls (still no virtual stick, sadly). The 125 new stages spread across six themed worlds will surely be easier to enjoy as a result.
Android version
Most excitingly, SMB2 includes at least three minigames: Monkey Target (fire a monkey at a target), Monkey Golf (18 holes of golf), and Monkey Bowl (ten frames of bowling). Not only should these be great fun on their own, but they even support 4-person multiplayer via local Wi-Fi (just like Pac-Man Kart Rally).
That's all well and good, but the presence of a 4-player specific Achievement worth 20 GamerScore is quite unnecessary. Some people have trouble enough finding a second Windows Phone owner in their area, so requiring 4 phones with 4 copies of the game is screwing the pooch. The 50 GamerScore Achievement for unlocking all 10 crown levels will likely be super difficult as well, but at least that's a single-player headache.
Wondering about the Sakura Edition moniker? The original iOS Super Monkey Ball 2 launched in 2009 and received updates through 2010. SEGA then produced a hi-res edition for more powerful iOS devices and the iPad, calling it the Sakura Edition. On Windows Phone we naturally get the Sakura Edition, though it will likely lack the iOS version's online multiplayer, which was just added in April.
SEGA tells us Super Monkey Ball 2: Sakura Edition may come to Xbox Live as early as June. It will cost either $4.99 or $2.99.
Source (for Achievement lists): wp7lynx
Get the Windows Central Newsletter
All the latest news, reviews, and guides for Windows and Xbox diehards.
Paul Acevedo is the Games Editor at Windows Central. A lifelong gamer, he has written about videogames for over 15 years and reviewed over 350 games for our site. Follow him on Twitter @PaulRAcevedo. Don't hate. Appreciate!