Final Fantasy and Super Monkey Ball 2 coming to Xbox Live on Windows Phone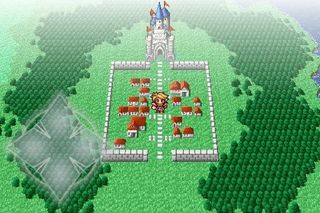 Just a week ago, we looked at a number of Xbox Live games whose Achievements were discovered by avid French gamer Zebrasqual: Mirror's Edge, Battleship, and Fling. I daresay Mr. Squal's sleuthing rivals my own, as he has uncovered two more future games' Achievement lists. Both titles will surely appeal to console gamers: Final Fantasy and Super Monkey Ball 2: Sakura Edition.
Head past the break for full details on both upcoming games.
Final Fantasy
Way back in July of 2011, Windows Phone Central asked our readers which mobile games they would most like to see ported to Xbox Live on Windows Phone. The results: a great many gamers wished for RPGs, particularly those from Japanese developer Square Enix. While the reader submission we most favored from Square Enix's iOS lineup was Chaos Rings, any of the developer's games at all is certainly a step in the right direction.
Final Fantasy is poised to be the first traditional RPG in the Windows Phone lineup (puzzle RPGs like Castlevania Puzzle and Puzzle Quest 2 don't quite count). That seems fitting, since the game is a remake of the 1987 Famicom/NES original that vaulted Square Soft (later Square Enix) to stardom.
At the beginning of the game, players choose four characters from a pool of classes: warriors, monks, thieves, black mages, white mages, and red mages. These characters become the Warriors of Light, destined to defeat the four evil Elemental Fiends, restore light to the elemental orbs, and save the world. The story and gameplay system are fairly simplistic by modern standards, but they also helped lay the groundwork for many JRPGs (Japanese Role-Playing Games) to come.
Screens from iOS version
The mobile version of Final Fantasy is based on the PSP version, so it features much-enhanced visuals and music over the NES original. The difficulty has also been toned down to more reasonable levels. Don't think the game is just a walk in the park though; the unlockable Labyrinth of Time amps up the difficulty to extreme levels while also offering the best gear in the game. It's not necessary to complete the story, thankfully.
Final Fantasy's Achievements are all secret, which means only players who have unlocked them can view their descriptions. In JRPGs, developers usually make story-based Achievements secret in order to avoid spoiling the story. We can safely assume you'll unlock all 18 of them by simply completing the game. As for Final Fantasy's price: it costs $8.99 on iOS. Expect the Windows Phone version to go for $6.99 (the current maximum price point for mobile Xbox Live titles) when it debuts.
Super Monkey Ball 2 Sakura Edition
The first Super Monkey Ball on Windows Phone was disappointing for a number of reasons (all listed in our review): fiddly, non-adjustable tilt controls; occasionally absurd difficulty; problematic Achievements (even post-update); and the lack of the series' famous minigames or multiplayer features. Of course, most of those problems stem from the iPhone original, which launched with Apple's App Store way back in 2008. It was a dark time. Fast forward to 2011 and we naturally wondered why SEGA hadn't simply ported the superior sequel…
Good thing then that Super Monkey Ball 2 improves on most of its predecessor's faults. The frustration factor has been greatly reduced by more reasonable stage design and better tilt controls (still no virtual stick, sadly). The 125 new stages spread across six themed worlds will surely be easier to enjoy as a result.
Android version
Most excitingly, SMB2 includes at least three minigames: Monkey Target (fire a monkey at a target), Monkey Golf (18 holes of golf), and Monkey Bowl (ten frames of bowling). Not only should these be great fun on their own, but they even support 4-person multiplayer via local Wi-Fi (just like Pac-Man Kart Rally).
That's all well and good, but the presence of a 4-player specific Achievement worth 20 GamerScore is quite unnecessary. Some people have trouble enough finding a second Windows Phone owner in their area, so requiring 4 phones with 4 copies of the game is screwing the pooch. The 50 GamerScore Achievement for unlocking all 10 crown levels will likely be super difficult as well, but at least that's a single-player headache.
Wondering about the Sakura Edition moniker? The original iOS Super Monkey Ball 2 launched in 2009 and received updates through 2010. SEGA then produced a hi-res edition for more powerful iOS devices and the iPad, calling it the Sakura Edition. On Windows Phone we naturally get the Sakura Edition, though it will likely lack the iOS version's online multiplayer, which was just added in April.
SEGA tells us Super Monkey Ball 2: Sakura Edition may come to Xbox Live as early as June. It will cost either $4.99 or $2.99.
Source (for Achievement lists): wp7lynx
Windows Central Newsletter
Get the best of Windows Central in in your inbox, every day!
Paul Acevedo is the Games Editor at Windows Central. A lifelong gamer, he has written about videogames for over 15 years and reviewed over 350 games for our site. Follow him on Twitter @PaulRAcevedo. Don't hate. Appreciate!
Any date for Final Fantasy, not quite a fan of the monkey ball, I'm afraid.

Final Fantasy! Outstanding!

I was hoping for Final Fantasy 4, 5, or 6. I am not really a fan of the first game even being redone.
I am excited for a real RPG to finally be on WP7, so hopefully it means more coming in the future. Crosses fingers for Crimson Gem Saga port.

If 4, 5, & 6 have Nintendo versions, they can be played via VNES Light.

Also, Dragon's Blade DX is a pretty good RPG currently on WP.

4, 5 and 6 are SNES games.

Final Fantasy? Take my money!

Wish it would get just $2-3 cheaper..

I'm thinking both of these are summer games. Hopefully in June.

Final Fantasy???!!!??! Hell yea!!! Now please port secret of mana!!!

+1 on secret of mana and Fire Eblem

Fire Emblem comes from Nintendo, so it won't be released for mobile platforms anytime soon.

yesyesyesyesyesyesyesyesyesyes
Finally an RPG on Xbox status

Shut up and take my money! I hope the SNES games comes to WP as well!

Hopefully more to come from Square Enix (FF Tactics, yes please).

MS is missing the boat on a tactics style Halo Wars game or even like the Nintendo Wars series. I wonder if at E3 there will be WP or Windows 8 gaming news.

Well, Majesty - the fantasy kingdom sim is on WP. And skulls of the shogun is coming for wp7 and win 8, they showed it at PAX East, that's more advance wars style.

FF INSTANT BUY! I got burned last time on Monkey Ball so it should be .99 now for previous pain and suffering.

Heh, that would be nice. :)

I would love to see infinity blade series

Lets hope WP8 make them consider about releasing it for WP

Infinity Blade ? Is that that Ninja Fruit game with a different skin ?

Infinity Blade is exclusive to iOS. So you won't see that anytime soon, or at all.

Or n64 emulator would be nice and snes

I'll probably get Final Fantasy, but if it was Chrono Trigger I'd probably never need another game on my Lumia again. :D

Excellent! Instant buy. Let's hope the other ones in the series follows soon enough. The first I'm least interested in but it's only logical to begin with it.

I would love, love, love!! for Final Fantasy Tactics to get ported.

Would definitely get FF, would also like a WP version of kingdom hearts, maybe port from the Nintendo series like chain of memories or the birth by sleep from psp.

Its good to see a real rpg but I would prefer a 3d world and not huge on super monkey all but hopefully its better then it's first

I have never played Final Fantasy I before. I will certainly pick it up. If we all follow suit, chances are that they will release more of these great games. We have to show that WP7 is profitable. Go MS!

I'm looking forward to Final Fantasy, day 1 buy whenever that is

Hopefully square will release the other ffs on the iPod to wp
Windows Central Newsletter
Thank you for signing up to Windows Central. You will receive a verification email shortly.
There was a problem. Please refresh the page and try again.