Forza Horizon 5 crashing: How to fix on PC and official workarounds
Playground Games has addressed Forza Horizon 5 crashes, providing some official fixes for those on PC.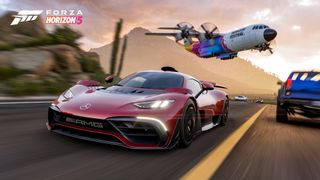 (Image credit: Xbox Game Studios)
Forza Horizon 5 is the latest open-world racer from Playground Games, bringing its virtual motoring celebration and hundreds of vehicles to the roads of Mexico. The title looks to join the best Xbox racing games of all time, allowing players to test drive hundreds of cars while equally accessible to anyone with a taste for modern motoring. The title made its formal debut on Nov. 9, 2021, on Xbox consoles and PC, also included with Xbox Game Pass.
While the latest entry has launched in a relatively polished state, we're still rounding up the outstanding bugs and launch issues you might face in Forza Horizon 5. Reports of frequent crashes are among the most common problems through launch, especially for those playing on PC. Playground Games has acknowledged the issue, chalking up hard crashes to various external factors while providing a list of potential workarounds. Here's what you need to know about Forza Horizon 5 crashing, common causes, plus the best fixes so far to get back on those virtual roads.
Some PC players may encounter unexpected crashes when playing Forza Horizon 5 via the Microsoft Store and Steam. PC issues are naturally more widespread than Xbox consoles, with a large market for various hardware configurations, software conflicts, and more. The Xbox One and Xbox Series X|S versions run in a restrictive operating system across just a handful of devices, providing a higher chance of a smoother out-of-box experience.
Forza Horizon 5 players commonly report crashes during the game's opening minutes during the opening driving sequence. It's the first time Forza Horizon 5 flexes the whole open world in action and serves as the initial opportunity for crashes to occur. Crashes may also occur during the initial loading screen when first booting the game.
Playground Games has identified the root causes of many crash scenarios, including some troubleshooting steps to address common issues. We've rounded up the best workarounds for Forza Horizon 5 crashes for those on Windows 10 and Windows 11 PCs.
Check your PC meets the requirements
Those experiencing issues with the PC version should ensure their system lines up with the Forza Horizon 5 system requirements. Playground Games has provided three tiers of hardware, spanning minimum, recommended, and ideal specifications, detailing CPU, GPU, and RAM requirements to meet these thresholds.
Those with PC components that fall below minimum specifications are likely unable to experience Forza Horizon 5, which may introduce crashes when booted on the system. Those who surpass the minimum specification may also benefit from lowering various graphics settings to accommodate your PC hardware.
It also never hurts to install the latest available version of Windows 10 or Windows 11 while also updating any associated drivers. While Forza Horizon 5 only requires the Windows 10 Nov. 2019 (1909) update on paper, we recommend updating your PC for an optimal gameplay experience.
Switch to an admin account
Playground Games also recommends users play Forza Horizon 5 with an administrator account, alleviating various restrictions on the title, leading to crashes. We have a dedicated guide on changing your user account type in Windows 10, should you need to gain administrator privileges to play Forza Horizon 5 on your PC.
Check for antivirus and other software conflicts
Some of the reported issues with Forza Horizon 5 can be traced back to additional software on your PC, which may conflict with your game installation. Antivirus software, firewalls, and various third-party apps can trigger Forza Horizon 5 to crash, and in some cases, even prevent the game from opening entirely.
Common programs include Discord, one of the top communication tools among PC gaming crowds, plus streaming software like OBS and Xsplit. Discord users have reported consistent issues when using the program's screen share function, with many crashes tied back to screen-recording software. The issue appears to affect both Steam and Microsoft Store versions of the game through the launch window.
Playground Games has outlined several popular virus checkers which can prevent Forza Horizon 5 from opening. They're regularly among the usual culprits impacting the latest game releases, impacting how various PC games can run on your system. Disabling these antivirus packages may improve your experience with the game.
Avast
Avira
Bitdefender Firewall
Comodo Antivirus
Emisoft Anti-Malware
Sophos
Trend Micro Maximum Security
Various third-party apps are also among potential causes for Forza Horizon 5 crashes, including popular utilities like MSI Afterburner, EVGA Precision, and Logitech G Hub. Popular apps like Discord, Xsplit, and OBS join the list, which may impact stability when open alongside Forza Horizon 5.
A-Volute Sound studio
Discord
EVGA Precision
Logitech G Hub
MacType
MSI Afterburner/Riva Tuner Statistics Server
Nahimic Audio
OBS
Sonic Audio
Wallpaper Engine
Warsaw Banking App
Xsplit
Disable Game Mode in Windows 10 / Windows 11
Windows 10 and Windows 11 offer a dedicated "Game Mode," a global setting designed to improve how certain games run on your system. It's especially beneficial to lower-end PCs without processing power to spare, throttling background apps to prioritize your gaming experience.
Playground Games also recommends disabling Game Mode in Windows 10 and Windows 11 when playing Forza Horizon 5. It's far from a guaranteed fix but eliminates another component that could cause the title to crash on some systems.
Reset Forza Horizon 5 via Windows 10 / Windows 11 settings
Those who downloaded Forza Horizon 5 via the Microsoft Store, including Xbox Game Pass licenses, may also find success through "resetting" the game via your PC settings. Windows 10 and Windows 11 feature the ability to reset apps downloaded from their integrated marketplaces, potentially reducing crashes in some PC scenarios. The following steps will reset your Forza Horizon 5 installation in the event of crashing upon startup.
Open the Settings app on your Windows 10 / Windows 11 PC.
Select the Apps tile.
Navigate to the Apps & features tab. Locate Forza Horizon 5 from the list of installed apps.
Click Forza Horizon 5.
Select Advanced options. Navigate to the reset subheading.
Select the Reset tile.
Select Reset to reset the app.
You can now open Forza Horizon 5 to test whether the reset has reduced the frequency of crashes.
These workarounds represent just some of the official troubleshooting steps provided by Playground Games following the launch of Forza Horizon 5. While only a subset of players, these crashing issues continue to impact a growing number of players following the game's release. The official Forza Support hub provides further documentation directly from the studio, with formal fixes likely to follow after launch.
Matt Brown is Windows Central's Senior Editor, Xbox & PC, at Future. Following over seven years of professional consumer technology and gaming coverage, he's focused on the world of Microsoft's gaming efforts. You can follow him on Twitter @mattjbrown.
Wait, is people playing it already? Didn't it come out on the 9???

If you get the Premium Edition (or Premium add-on for Game Pass) it's available from Nov. 5 :)

If you have the premium edition you can play it 5 days earlier

I wonder how many of the issues are due to not enough system resources being available to run the other processes in the background. If the minimum specs are 8GB RAM and recommended/ideal specs are 16GB, do either of those take into account background processes and the resources they might need? Also, instead of disabling your AV, maybe create an exclusion for the FH5 directory or the FH5 main executable that prevents that particular directory or file from being scanned.

I have plenty of resources, 32gb 3200, Ryzen 9, 3080, not running many background tasks, and it is unplayable for me right now. It has crashed numerous times and I've only gotten through the opening sequence. I am about to give up and wait for an update. little frustrated.
Edit: Also, I feel like it doesn't look as good as it should. It feels washed out to me. I put many hours into 4 and it felt more vibrant. But, hard to say until I actually can get into the world and play.

Same here it crashed twice in opening then at first showcase event i have 68gb ram and a thread ripper so it's definitely game side haha looks like we need to wait for update

Crashes could occur due to numerous reasons, for instance certain hardware, drivers or software. Since you're using Ryzen the drivers might be the problem in this case. most drivers are getting installed automatically in windows 10 and 11 and they could cause fps drops and crashes for some games. you have to test which one yourself since you have a different Ryzen than I have. I tested all AMD drivers with and without and came to the conclusion that you should unninstall some of them for certain games like these. by removing them I gained +10 FPS and got better CPU usage and no crashing for Forza. ingame go in windows mode, hit ctrl alt delete and go to performance tab. if your cpu usage is abnormally low, it's probably the cause. And the Vibrance thing is something you can adjust yourself with 3rd party software. Use MSI Dragon center for customization that gives you better and deeper colors and extra light without adjusting brightness (don't set this too high because the sun blinds you if you do that). and use Nvidia Control Panel to select Image Sharpening and select something between 5 and 20 (this is essential for eliminating fxaa and msaa blur in games). and slide ignore film grain all the way to the left. You should gain better colors, light and texture sharpness.

It does use a lot of RAM I'll give it that. The benchmark tool has been reporting it's using about 10GB on my PC (I've got 32 so plenty to spare). Runs fine when it's on its own but there seem to be a lot of conflicts with other software like OBS.

It completely crashed/shut down my series x yesterday 2 times while playing. Hopefully they can fix up both versions quickly.

What do people expect? This is pretty par for the course for a "triple AAA" release these days. The money always goes to pretty pictures and sounds, not stability.

XBox Controller on PC times-out and disconnects
Didn't have this issue on FH4
Anyone else suffering this?

These troubleshooting steps were all useless for me. It was still crashing every few seconds in game or in the menu. The only workaround I found was to right-click the game shortcut and selecting "Run as administrator". I hope it works for you too. Good luck!

Such a bullshit article. Why didn't you just suggest we "restart" our PC for a "fix". Waste of time

This is some crap. Thanks article, I resetted my game and now it's ******* unplayable. It does not recognize my game pass subscription anymore.

I'm running 40 GB DDR4 ram, I5-9600k, RX 460/4 GB vram
no crashes, and I run the game at medium settings... Haven't had any crashes at all, am pretty far into the game
Windows Central Newsletter
Get the best of Windows Central in in your inbox, every day!
Thank you for signing up to Windows Central. You will receive a verification email shortly.
There was a problem. Please refresh the page and try again.