Forza Horizon 5 map: Size, location, full map, and more
More area to explore, more diverse environments, and the best visuals yet.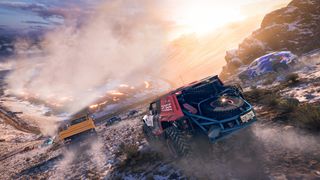 (Image credit: Xbox Game Studios | Microsoft Store)
Open world games encapsulate a wide variety of titles from different genres, with each game placing importance on their expansive worlds and how players are able to explore them. Forza Horizon 5 is one such game, and Playground Games delivers their largest, most diverse, and most detailed open world yet with the latest entry in its Forza Horizon franchise. Forza Horizon 5's incredible map is just one segment of everything that makes this gem our top pick as one of the best Xbox racing games you can play.
Here's everything you need to know about the map and location for Forza Horizon 5.
The unchallenged champion
(opens in new tab)
The best open-world racer

Playground Games has delivered their latest masterpiece with Forza Horizon 5, which features the series' most diverse map and largest car list yet. Forza Horizon 5 somehow fulfills its ambitious promises to be the best open-world racer right now, and one of the best racing games in general.
What is Forza Horizon 5?
Open-world racing games are difficult to pull off successfully, and no developer has mastered the genre like Playground Games with its exceptional Forza Horizon franchise. Forza Horizon titles are semi-simulation arcade racers with a focus on incredible visuals, beautiful and detailed worlds, and accessible gameplay that can satisfy veteran racers and newcomers alike. The latest entry in this legendary series is none other than Forza Horizon 5.
Forza Horizon 4 was practically perfect, but Playground considered community feedback and took extra development time to improve upon Forza Horizon 5's predecessor in practically every way. Forza Horizon 5 features the largest and most diverse world yet, more customization and accessibility for cars and players, and so much more. The Forza Horizon 5 car list is the largest at launch the series has ever seen, for example.
From uncovering valuable Barn Finds to upgrading your cars, Forza Horizon 5 is an epic adventure well worth exploring. In our Forza Horizon 5 review, we concluded this game is hands-down the "unchallenged champion of open-world racers."
If you desire more information, check out our ultimate guide to Forza Horizon 5. In the meantime, Forza Horizon 5 is already available across Xbox Series X, Xbox Series S, Xbox One, PC, Xbox Cloud Gaming, and the entire Xbox Game Pass suite.
What is the full map and location in Forza Horizon 5?
Forza Horizon games have always emphasized their expansive open worlds, making them as interesting as possible for the players racing through them. The decision for where a Forza Horizon game will be placed concludes early in development, and affects practically every aspect of the game, including the car list, soundtrack, story, characters, and the world-building details that make Forza Horizon games more authentic and real-feeling than many other titles.
For Forza Horizon 5, Playground Games wanted to build their largest and most diverse open world yet, which is why Forza Horizon 5 is located in Mexico. Initial rumors and community chatter suggested Forza Horizon 5 may arrive in either Mexico or Japan, but the more prevalent rumors prevailed and FH5 was confirmed to be heading back to North America, this time in Mexico.
Many in the community initially lamented this decision as an apparent "downgrade" from the possibilities contained within Japan, especially as many assumed Mexico to be primarily desert, but Forza Horizon 5 shirks all of these expectations. Mexico is a massive country, containing a myriad of different regions and ecosystems, and was the perfect locale for Playground to build its most varied world ever. Forza Horizon 5's rendition of Mexico features 11 distinct biomes, the highest point in any Forza Horizon game so far, dynamic and localized weather, the return of seasons, and several real-world locations recreated in-game, including cities and even ancient ruins.
This is in stark contrast to Forza Horizon 4, which was set in the United Kingdom. While incredible in its own right, FH4's open world came under fire from players for being too uniform. Despite featuring gorgeous British hamlets, rolling countrysides and fields, and plenty of natural landmarks, Forza Horizon 4 simply lacked variety when compared to its predecessor, which was exasperated by weather and seasons that applied to the entire map at once. With FH5, Playground refused to repeat the same mistakes.
You can see many of the environments featured in FH5 below.
Image 1 of 11
Full map & size
If you haven't already jumped into Forza Horizon 5 and laid eyes on its vast map, you can view it in all its glory above. The above map shows FH5's rendition of Mexico during the Wet Season (or Summer), which covers the landscapes in humidity, lush green foliage soaking up the abundant water, and much more. You can see landmarks that dominate the landscape like La Gran Caldera (the volcano), or the massive stadium that houses countless EventLab creations.
Unless you're familiar with Forza Horizon 4 and have driven the length of FH5's map, it can be difficult to tell for certain just how much larger the new title's world is compared to its predecessor. Thanks to @DonJoewonSong via Twitter, an influential member of the Forza Horizon community, players were able to get a rough approximation of the sheer difference in size even before Forza Horizon 5 properly launched. Forza Horizon 5 is approximately 50% bigger than FH4. Of course, FH5's diverse environments and landscapes mean the difference is even starker when you're driving in-game.
Barn Finds
Forza Horizon 5 sees the return of Barn Finds from previous Forza Horizon titles, which lets players hunt down dilapidated barns in the wild