Don't buy a Steam Deck, if you want a gaming handheld buy an ROG Ally — here's why
Each gaming handheld has a good focus, but one is better than the others.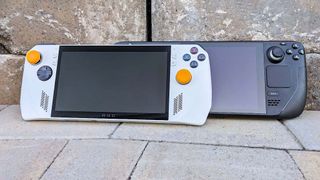 (Image credit: Rebecca Spear / Windows Central)
If you're trying to decide what gaming handheld to get this year, you should really go with the ROG Ally rather than the Steam Deck since the Z1 version is down to $399.99 at Best Buy ($200 off) and the Z1 Extreme version is down to just $599.99 at Best Buy ($100 off) right now.
I'm a big fan of handheld gaming and own every major on-the-go device, including the ROG Ally, Steam Deck, Nintendo Switch, and Legion Go. Among these devices, the ROG Ally and Steam Deck are the most popular options for playing PC games. And while each device has pros and cons, the ROG Ally stands above the rest thanks to its higher performance.

Of course, every gaming handheld is a good fit for someone. So, I'll also review the pros and cons of the Steam Deck, Nintendo Switch, and Legion Go before explaining who they are a good fit for.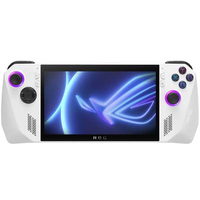 ASUS ROG Ally w/ AMD Ryzen Z1 Extreme: was $699.99 now $599.99 at Best Buy ($100 off)
The more powerful version of the ROG Ally offers excellent game performance and can be used to access any services that a gaming laptop can, thanks to the fact that it runs on Windows 11. You can also surf the web, watch shows, and more.
It proved to have very impressive performance in our testing, and it feels great to hold thanks to the good weight, excellent joysticks, large buttons, and ergonomic grips. The battery life isn't the best, but that's true with all gaming handhelds. In addition to playing in handheld mode, you can purchase a docking station separately and play ROG Ally on a TV or monitor while using a wireless controller.
There are two versions of the ROG Ally. The less expensive version features an AMD Ryzen Z1 and doesn't perform as well as the more expensive AMD Ryzen Z1 Extreme. If you're going to get one, I recommend going with the more powerful one.

🎮 AMD Ryzen Z1 version: was $599.99 now $399.99 at Best Buy ($200 off)
✅Perfect for: People who love to play various PC gaming services and want the freedom to use the handheld like a laptop, including surfing the web.
❌Avoid it if: You don't want to deal with Windows 11 or want something less expensive.
💰Price check: $699.99 at ROG ASUS (AMD Ryzen Z1 Extreme version)

👀 Alternative deal: $499.99 at ROG ASUS (AMD Ryzen Z1 version)
🔍Our experience: ASUS ROG Ally review

🤔 Why Best Buy: My Best Buy memberships get free 2-day shipping, 60-day return windows, and more.
True, the AMD Ryzen Z1 Extreme version of the ROG Ally costs $50 more than the most expensive Steam Deck OLED, but ASUS' device offers far more freedom and better performance to make this pricing worth it. However, there's much more to consider when comparing ASUS ROG Ally vs Steam Deck, so let's keep going.
During the testing I ran for my ROG Ally review, the handheld tended to run very smoothly and could even hit consistent frames of 60FPS in certain games as long as the settings were at a good spot. Steam Deck can also run relatively smoothly, but the LCD screen only supports up to 1280 x 800p, and imagery can come through looking pixelated and muddy compared to the ROG Ally's screen. Of course, the Steam Deck OLED's screen is much better than the Steam Deck LCD's, offering true black that should make colors pop, however, it still only has a resoltuion of 1280 x 800p. Meanwhile, game visuals are vibrant and crisp on the ROG Ally's IPS display, which reaches up to 1920 x 1080p.
More ROG Ally
- Legion Go vs ROG Ally
- Best ROG Ally games
- Best ROG Ally battery packs
- Best ROG Ally accessories
Since ROG Ally runs Windows 11, it can do anything a gaming laptop can. You can access any gaming service, including Battlet.net, Epic Games, Steam, Xbox Game Pass, and more. I even plugged a wireless dongle into my Ally and used a keyboard and mouse to write up Word docs on the ASUS gaming device. The tradeoff here is that ROG Ally users will have to deal with the bloatware and specific scenarios that Windows 11 comes with, but there are plenty of places online to find help for that, including right here with our own Windows 11 troubleshooting guides.
Alternatively, you could put Linux onto ROG Ally if that's the operating system you'd prefer to use.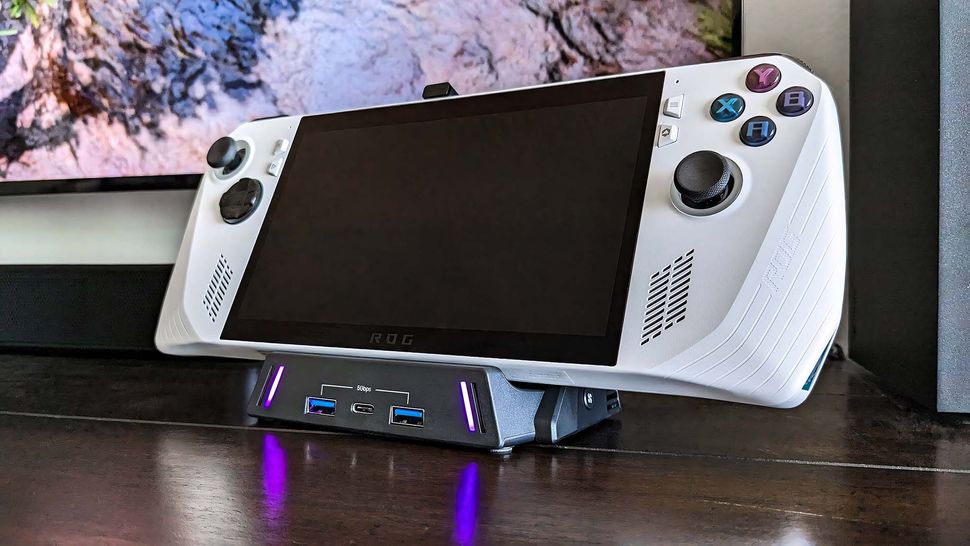 Meanwhile, the Steam Deck runs on the custom SteamOS (a Linux-based operating system) with Proton (a compatibility layer that translates Windows games to play on Linux) and is only intended to run Steam games out of the box — It can't even play all Steam games well (out of the box), only Steam Deck-playable games made compatible with the system. So, you'll need to check and see if the Steam games you want to play even works well on the Steam Deck. For instance, there have been a number of times when I've gone to play a game marked as "playable" on my Steam Deck, like Batman: Arkham City, only to have it eventually stutter, freeze, and shut down during each play session.
Of course, Linux is an open-source and very customizable operating system. If you feel comfortable doing so, you can also use custom versions of Proton to increase the number of games the Steam Deck can play. Alternatively, we can show you how to install Windows 11 on the Steam Deck if that's what you'd prefer.
Cyber Monday 2023
• LIVE: Gaming curated deals
• Convertible 2-in-1 laptops
• Unbeatable Xbox bundles
• Discounted Dell laptops
• Razer gaming accessories
• Pre-built gaming desktops
• 4K and ultrawide monitors
• The best gaming laptops
The biggest problem with ROG Ally is that it does have an overheating problem that can cause inserted microSD cards to malfunction. Fortunately, you can increase your storage without using a microSD card if you purchase a larger WD_BLACK SSD for the ROG Ally. I've even written a guide (with pictures) on how to install the WD_BLACK SSD into ROG Ally if you want help with that. It's a straightforward process that doesn't take very long.
As far as accessories go, the ROG Ally has been pretty popular, so there are plenty of third-party ROG Ally accessories to help improve the gaming experience, such as TV docks, carrying cases, screen protectors, thumb grips, and more. In fact, the device is so similar in size and usage to the Steam Deck that many Steam Deck accessories can also be used for ROG Ally. Just make sure if you get an ROG Ally battery pack that it has a 65W power flow, at least, or it won't work well with the ASUS handheld.
How to know what gaming handheld to get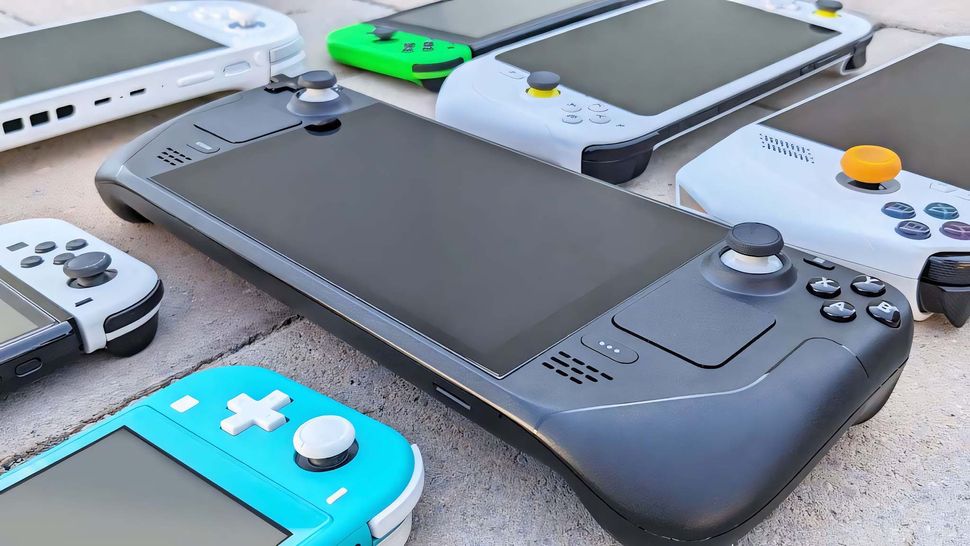 Aside from the ROG Ally, the biggest gaming handhelds on the market today are Steam Deck, Nintendo Switch, and Legion Go. I've already talked about ROG Ally at length, but these other devices all have merits and disadvantages. So here's a rundown for each device with a quick explanation of who they'll be a good fit for.
Steam Deck is perfect for Linux fans or people on a budget who primarily play Steam games
Why you can trust Windows Central Our expert reviewers spend hours testing and comparing products and services so you can choose the best for you. Find out more about how we test.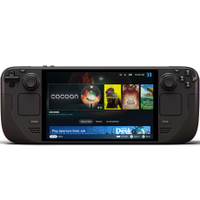 Steam Deck: Starting at $399.00 at Steam
Valve's original Steam Deck LCD gaming handheld is designed with SteamOS to play compatible games from your Steam library easily. The screen isn't the best, with only 800p resolution, but the software is straightforward to use and feels a lot like the Steam client you access on PC. Using the program, you can adjust settings, purchase games, or enjoy some older ones. Just remember that a game must be Steam Deck compatible to play it on Steam Deck.
There's also the new Steam Deck OLED, which is mostly the same but offers longer battery life with a much better screen than the original Steam Deck LCD. Thanks to a promotion celebrating the release of this new OLED version, the various configurations of the Steam Deck LCD and the Steam Deck OLED are selling at a discount right now.

🎮 Steam Deck OLED: Starting at $549 at Steam
✅Perfect for: People who want a budget handheld that runs Linux for PC gaming and primarily only use Steam.
❌Avoid it if: You want a better screen and higher performance that can access more services out of the box than just Steam.
🔍Our experience: Steam Deck review
Nintendo Switch is great for kids, Nintendo fans, or people on a budget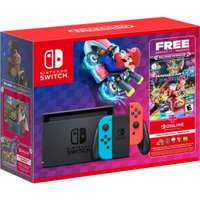 Nintendo Switch + Mario Kart 8 Deluxe & 3 Months NSO: $299.00 at Walmart

The Nintendo Switch has been the top-selling gaming handheld console for the last six years, and for good reason. The graphics capabilities are much lower than Xbox, PlayStation, and ROG Ally. Additionally, it can only play games intended explicitly for it — these titles are often incredibly fun and there are plenty of multiplayer games to share with family and friends on one screen in couch co-op. So it's an excellent device for Nintendo fans or kids. Don't worry. You can set up parental controls to keep it safe. Hook it up to your TV with the included dock, or play it in your hands while on the go.
This bundle specifically gives you the original Nintendo Switch with a dock but also gives you the best-selling Switch game, Mario Kart 8 Deluxe, and a three-month Nintendo Switch Online (NSO) membership for free. This service makes it so you can play online games and gives you access to a library of NES and SNES classics.
What's more, the Nintendo Switch costs much less than other consoles and gaming handhelds, making it a great budget buy. If you want more options, you can consider the $50 more OLED version with a much better screen or a smaller handheld-only Switch Lite that sells for $100 less.

🎮 Nintendo Switch: $299.99 at Best Buy

🎮 Nintendo Switch OLED: $349 at Best Buy

🎮 Nintendo Switch Lite: $199.99 at Best Buy
Legion Go is ideal for people who want a versatile entertainment device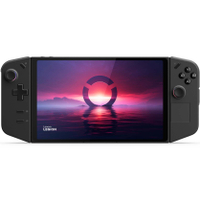 Legion Go with 1TB SSD: $749.99 at Best Buy
This one offers the best screen of all the leading gaming handhelds on the market. It's large at 8.8 inches compared to the others' 7 inches, producing much better resolution, contrast, and color accuracy. As you can guess, this helps make games look really good on this handheld. Having the largest screen does mean that this is also the most expensive handheld of those mentioned here, though.

Performance-wise, it's around the same as the ROG Ally and utilizes the same AMD Ryzen Z1 Extreme processor that the more expensive ROG Ally does. However, gameplay on the Legion Go can be a bit more choppy at times, likely due to the lack of VRR support.
Like the Nintendo Switch, the controllers can slide off, and a kickstand makes it easy to play in tabletop mode wherever you go. Alternatively, you can watch your favorite shows on that beautiful screen and use the controllers somewhat like a remote. Additionally, if you purchase a compatible docking station, you can connect it to a TV or monitor.

🎮 512GB version: $699.99 at Best Buy
Deals STILL AVAILABLE!
🚨Our HOTTEST and MOST CLICKED deals:
Gaming handheld FAQ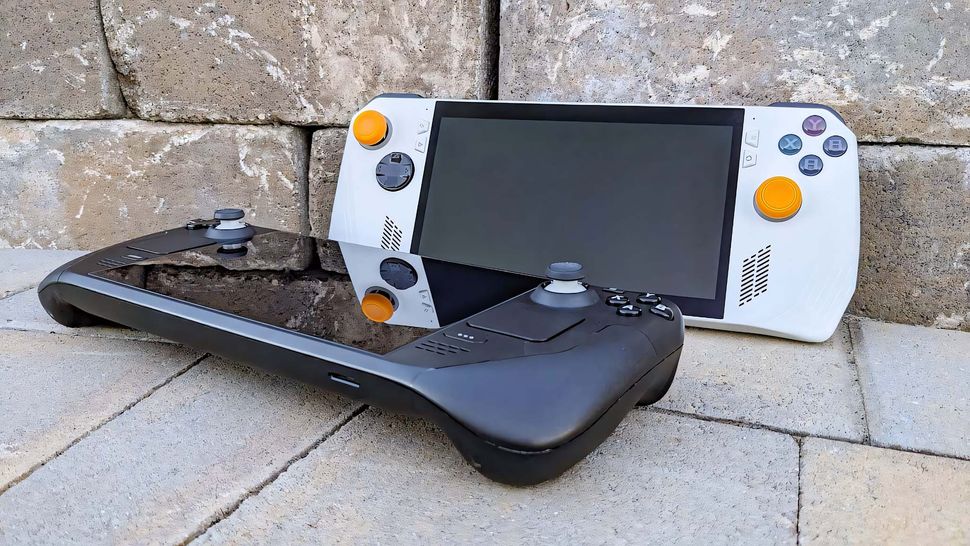 What is the best gaming handheld?
This really depends on what you're looking for in a gaming device. Nintendo Switch is the best seller and is ideal for Nintendo fans, kids, and people on a budget. ROG Ally is an excellent PC gaming device that acts like a gaming laptop with controllers attached and offers the freedom to play any game service. Steam Deck is explicitly intended for accessing Steam Deck-compatible games and is ideal for people who primarily play Steam. Meanwhile, the Legion Go offers a fantastic screen with a slightly lower performance than the ROG Ally. Thanks to the picture quality and tabletop mode, it's ideal for people who want the best viewing experience from their handhelds.
What is the best selling gaming handheld?
Nintendo Switch is the best-selling gaming handheld by far at over 132 million units sold. This is thanks to its lower price and extensive library of exclusive games, many of which are appropriate for all ages. Steam Deck comes next, having sold close to 3 million units. Then ROG Ally has sold over 500,000 units. It's unclear how many Legion Go devices have sold, as it's still relatively new. It's worth noting that the devices that have been out the longest have seen the most sales.
What are the pros and cons of a gaming handheld?
Gaming handhelds allow you to play games anywhere, so you don't have to be stuck at your desk or couch. However, they don't tend to have the best battery life, and performance isn't nearly as good as a gaming laptop or full console. Additionally, each gaming handheld has pros and cons, so you need to look into each device specifically to see if it meets your desires.
Is Steam Deck better than ROG Ally?
That depends on what you mean by better. The Steam Deck's simple software and layout are more straightforward to interact with. However, it's only intended to work with Steam out of the box, whereas ROG Ally offers far more freedom. Since it runs Windows 11, ROG Ally can access any gaming service that a regular gaming laptop can, not just Steam. Additionally, ROG Ally has more powerful internals and offers better performance and a better screen than Steam Deck (unless you get the Steam Deck OLED).
Can I use ROG Ally as a PC?
Yes. Basically, anything you can do on a computer, you can do on ROG Ally, thanks to the fact that it runs Windows 11. You can browse the internet, open any gaming service, download apps, and more. If you connect the proper accessories to it, you can even type up documents or access other programs.
Can you browse the internet on ROG Ally?
Yes. ROG Ally comes with Windows 11 installed on it, so it comes with the Microsoft Edge web browser already installed. Of course, you can download other browsers like Google Chrome, Firefox, and Opera, and use them instead.
What games are compatible with ROG Ally?
Any PC games you can run on a Windows gaming laptop can run on ROG Ally. However, you must adjust settings in each game to get the best performance out of your titles.
Get the Windows Central Newsletter
All the latest news, reviews, and guides for Windows and Xbox diehards.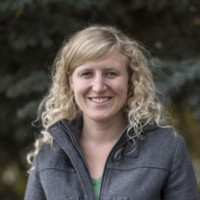 Self-professed gaming geek, Rebecca Spear, is one of Windows Central's gaming editors with a focus on Xbox and PC gaming. When she isn't checking out the latest games on Xbox Game Pass, PC, or Steam Deck; she can be found digital drawing with a Wacom tablet. She's written thousands of game guides, previews, features, and hardware reviews over the last few years. If you need information about anything gaming related, her articles can help you out. She also loves testing game accessories and any new tech on the market.