Resident Evil 4 remake: How to maximize treasure and get the Astute Appraiser achievement
Make some serious pesetas.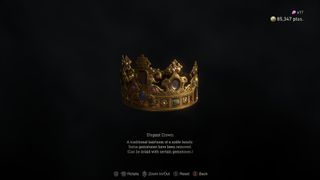 (Image credit: Jennifer Young -Windows Central)
The Resident Evil 4 Remake is here, and its a lot of fun. If you've already scoured our list of weapons in the game, you'll next want to know how you can afford the purchasable firearms, and upgrade them to their full potential. You're going to need a lot of coins, and we're here to help you get them.
Treasure can be located all around the game and sold to the dubious arms dealer for pesetas (ptas) which you can then use to fund your arsenal. Though it's not a simple case of finding and selling treasure, if you really want to make the most ptas you need to utilize the game's gem inlaying mechanic to get the most bang for your buck.
Resident Evil 4 treasure: treasure maps and locations
There are three distinct areas in Resident Evil 4 Remake, the Village, the Castle and the Island. Each area has its own treasure map that you will need to purchase from the merchant at the beginning of that area. Here's a list of the locations so you know when to check.
Swipe to scroll horizontally
| Chapter | Map Area | Vendor location |
| --- | --- | --- |
| 2 | Village | Outside factory |
| 7 | Castle | Castle Entrance |
| 13 | Island | Inside first cave |
Resident Evil 4 treasure: Trickier treasure and keys
The treasure maps themselves will mark on your map exactly where the treasures are located, however, they aren't always as obvious as a gleaming red treasure chest. Sometimes you will need to look a bit closer. The first treasure I found for instance was inside what looked like a ruined oven.
If you are struggling to find treasure at eye level, look up. Most of the valuables that initially evaded me, were simply hanging from up above in a lantern, which you must shoot down to claim the bounty.
You'll find some valuables squarely locked away from your grasp. Some behind drawers that require keys (and the keys are normally found nearby), and others require a more intricate device to plunder the riches. Rest assured if you find some locked items, the required key will not be far, and you can backtrack later.
Where is the Wayshrine key in Resident Evil 4 Remake?
The Wayshrine Key will unlock special boxes in the Village, which is found in the Mural cave, just off the lake.
This key can be used to unlock some previously forbidden treasures around the map. You can also sell it to the Merchant once you advance to the Castle.
Where is the cubic device?
Upon exploring the castle, you'll come across locked cabinets for which the key alludes you. They will have a cubic socket. For these you need a special device, which can be found in the Grand Hall down one of the corridors. See our map marker here.
Just like the Wayshrine Key, this device is exclusively for use in its map area of the Castle, therefore when moving on to the Island, you can sell it to the Merchant.
Resident Evil 4 treasure: Gemstone bonuses
Some of the more opulent treasures, can be socketed with gems to increase their value. Gems are found like other treasures, and can also drop from enemies.

To really maximize your profit, you'll want to perfect your gem combos. The gemstone bonus heirachy works very similarly to poker cards, in that 2 of the same colour, is worth more than two differing colors. However as the sockets increase on an item, slotting in up to 5 different gems will reap you the most rewards.
Swipe to scroll horizontally
| Combo Name | Gemstones needed | Reward bonus |
| --- | --- | --- |
| Two Colors | Two gemstones of differing colors. | x1.1 |
| Duo | Two gemstones of the same color. | x1.2 |
| Three Colors | Three gemstones of the same color. | x1.3 |
| Trio | Three gemstones of the same color. | x1.4 |
| Two Duos | Two duos. | x1.5 |
| Four Colors | Four gemstones of differing color. | x1.6 |
| Quartet | Four gemstones of the same color. | x1.7 |
| Duo & Trio | One duo, and one trio. | x1.8 |
| Quintet | Five gemstones of the same color. | x1.9 |
| Five Colors | Five gemstones of differing colors. | x2.0 |
There is a visual guide to the Gemstone Bonuses in the gem inlaying menu.
Resident Evil 4 treasure: Astute Appraiser achievement
There are achievements associated with sniffing out every piece of treasure in the game, each of the three areas has its own achievement for acquiring each treasure on a single playthrough. The Bandit, Raider and Burglar achievements can be obtained by checking your treasure maps and making sure you listen to the Merchant when he warns you there is no going back once you hit certain points in the story.

The Astute Appraiser achievement is itself a simple one to get and requires you to sell a single treasure to the Merchant for at least 100000 ptas. In my playthrough, I lifted a crown with a handy 5 sockets to utilize the gem bonuses.
The crown itself was found on a corpse in a corridor in The Depths, the map and location are displayed below. Right before slipping through a crack in the wall to make my way to the surface.
Selling the crown, with five different colored gems slotted into it, took the value from a respectable 19,000 ptas to exactly 100,000 ptas. Selling this item netted me the Astute Appraiser achievement. Do not fear if you miss the crown though, as there is at least one more found in the ruins of the Salazar Palace later in the game. Just remember to gem that bad boy up before selling it.

If you enjoyed this guide, we have many more to aid you in your fight against Las Plagas.

-List of all enemies and bosses
-All weapons and where to find them
-All Yellow Herb Locations (coming soon)
-Guide to all Clockwork Castellans
-All Requests and where to find them
Get the Windows Central Newsletter
All the latest news, reviews, and guides for Windows and Xbox diehards.
Jen is a News Writer for Windows Central, focused on all things gaming and Microsoft. Anything slaying monsters with magical weapons will get a thumbs up such as Dark Souls, Dragon Age, Diablo, and Monster Hunter. When not playing games, she'll be watching a horror or trash reality TV show, she hasn't decided which of those categories the Kardashians fit into. You can follow Jen on Twitter @Jenbox360 for more Diablo fangirling and general moaning about British weather.