Deal: Save $20 on the out-of-this-world Stellar Shift Xbox Controller
The gorgeous Stellar Shift controller can be yours for almost 30% off.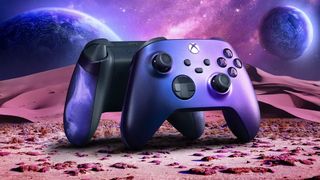 (Image credit: Microsoft)
I remember when the Stellar Shift Xbox Controller was first announced in February of this year; it's etched in my memory as I've never hit purchase so fast on a controller. Well, at that point, anyway, I reacted similarly to the Gold Shadow edition that's just launched...

The Stellar Shift was love at first sight. Imagine holding a controller with a chameleon-like color shift, an iridescent finish that mirrors the cosmos, and grips adorned with celestial purple and black. It's nothing short of perfection.

This controller is very rarely discounted; in fact it was one of the few designs that didn't drop during Amazon Prime Days, but right now, it's mysteriously dropped to $50 at Amazon, Walmart and Target. That's a $20 saving for one of the most beautiful Xbox controllers you can get.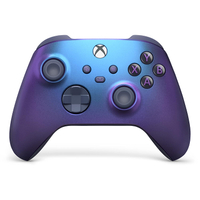 Xbox Stellar Shift Wireless Controller | $69.99 $49.99 at Amazon
This gorgeous color-changing Xbox controller is so mesmerizing you'll almost not want to use it. For a limited time, you can get it for just $50, thanks to a sweet discount, which is a rare price drop for this particular design.

Also at: Walmart | Target
But that's not all. It's not merely a discount; it's a stellar opportunity (geddit?). This deal slashes nearly 30% off the MSRP, and it's an additional $10 less expensive than your standard black or white Xbox controllers. You're not just getting a controller but a purple marvel. However, time is of the essence. Special edition controllers like the Stellar Shift are like rare celestial events—they don't come around often. So, seize this chance before it fades away like a shooting star.
The Stellar Shift controller is the third in Microsoft's lineup of tone-shifting gamepads after 2021's vibrant blue Aqua Shift and 2022's silver-gold Lunar Shift. They all look fantastic, but neither made me hit add to basket like the Stellar Shift. I didn't regret my purchase at all; in fact I wrote my love letter to the Stellar Shift here.

It also has an exclusive space-themed dynamic background for your Xbox Dashboard that's unlocked simply by connecting the controller to your console.
Of all of the standard Xbox controllers I own, this is the one I use the most, and it's undoubtedly one of the best Xbox controllers on the market. I tweeted a quick video displaying the color-changing properties from purple to blue, which you can check out below.
Have you ever fallen in love with an inanimate object? pic.twitter.com/VXmv6e01ttFebruary 10, 2023
Of course, it's not just about looks. The Stellar Shift isn't all style and no substance. Made by Microsoft, it boasts an ergonomic design, satisfying triggers and buttons, a 3.5mm audio port for gaming headsets, Bluetooth compatibility, and a convenient USB-C port for wired gameplay.

I've made it no secret that I love all things purple; I've even replaced my Xbox Series S official controller with this Atomic Purple shell from Extreme Rate. There's no doubt I'm biased in my love for this controller, and I don't regret paying full price for it. That being said I am patiently waiting for a sale on the Astral Purple, so I can complete my trio of purple controllers. Rest assured as soon as that happens I'll be posting about it on Windows Central.

So, whether you're a purple enthusiast like me or simply appreciate the sheer beauty of the Stellar Shift, it's time to make your gaming setup out-of-this-world. Grab this stunning controller today and elevate your gaming experience to cosmic heights.
Get the Windows Central Newsletter
All the latest news, reviews, and guides for Windows and Xbox diehards.
Jen is a News Writer for Windows Central, focused on all things gaming and Microsoft. Anything slaying monsters with magical weapons will get a thumbs up such as Dark Souls, Dragon Age, Diablo, and Monster Hunter. When not playing games, she'll be watching a horror or trash reality TV show, she hasn't decided which of those categories the Kardashians fit into. You can follow Jen on Twitter @Jenbox360 for more Diablo fangirling and general moaning about British weather.