Here's what's new and improved in Windows 10 Mobile build 10572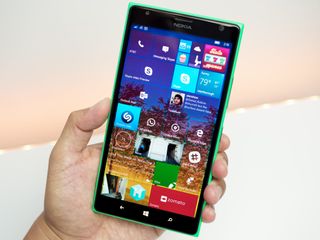 After taking a vote on it, Microsoft has pushed out a new Windows 10 Mobile build is here in the form of build number 10572. Of course, like every other build, this one brings some exciting new and improved stuff to check out, and here are the details.
Source: Microsoft
Windows Central Newsletter
Get the best of Windows Central in your inbox, every day!
Dan Thorp-Lancaster is the former Editor-in-Chief of Windows Central. He began working with Windows Central, Android Central, and iMore as a news writer in 2014 and is obsessed with tech of all sorts. You can follow Dan on Twitter @DthorpL and Instagram @heyitsdtl.
What about battery performance? That is seriously the only reason why I'm avoiding those builds

Its in the whats been fixexd section of the blog.

The battery like on my Lumia 1520 has been fine with build 10549.

any more detailed info about the battery lifemy friend? thanks!

They said on a previous build that battery performance is increased

They improved Cortana, and I think they have fixed it, it was a lot better in 10549, and they just never explicitly said they fixed it because it was never officially a known issue. The battery life is great for me honestly, just do a reset after u upgrade (not back to 8, but reset 10)

the previus build is rly good with battery on my lumia 535 it went 4 days straight and still it doesnt need to be charged...

The battery on my lu1320 is better than ever.

Can you text on your PC using the Messaging app or just through Cortana??

I think just Cortana, but I can't check yet cause I'm upgrading haha

That's odd. It seems that if anything the messaging app should be the first to get it.

But it means Cortana needs to be connected to internet, means phone has to be connected to it also, so if not you'll not be able to send texts from PC to phone.

Unfortunate because I'll never enable Cortana on my PC because I enjoy the freedom of privacy and Cortana gives up too much.

both if it just carrier text cortana does that for you

I read the Microsoft blog, this is practically rtm except if u have a dual sim phone I'd say the photo sharing is the only reason its not rtm if u have a single sim phone :D

To install it I only want to know if Htc dot view will work with this release

That's HTC's problem not Microsoft.

That's what I assumed since day one, thanks. I'd assume double tap to wake also?

Double tap to wake should work. Probably in Settings>Extras

It didn't work 2 builds ago when I tried plus there was a yellow border that drove me nuts. I've come to the conclusion that I will have to ditch the M8 for the 950 to enjoy 10. It was a "hold me over" device any way. I just want to use the preview on my daily driver. I can live without dot view, but not having double tap irks me.

He wasn't accusing anyone, just asking a question.

I didn't say he was accusing anyone, I was answering his question. It won't work because HTC has to update not Microsoft. Sorry for the confusion.

Nice build! I'll wait for 10575 though since I've already rolled back to Windows Phone 8.1 this week haha.

Dude I'm so glad I have the time tonight, I'm right there with you but I have like nothing to do tonight so... :D

Why cant I get anymore "preview for developers" builds after try to get the latest after the "roll back before updating" instructions on windows central youtube video?

Download Windows Insider app

You should be using "Windows Insider" app.

Thanks guy's, I relied on "Preview for developers" and completely forgot about "Windows Insider" even though I had it.

Waiting for build 10575 currently on the pathetic 10536

10549 will do a better job 10536 killed my 925, just up it and wait for the next one, quite a solid build

Cortana, Cortana, Cortana, Cortana, Cortana, Cortana... Why the hell is everything tied to Cortana? Most of the world doesn't have Cortana, so we're missing a lot of nice features (like quiet hours and sms via PC). It's 2015, Microsoft, the world is not flat.

Agree that linking quiet hours to Cortana is just absolutely retarded. Btw, wonder if it still doesn't know how to turn off the only alarm without asking which one? :D Posted via the Windows Central App for Android

Your right. Still no cortana in the Netherlands.

I really don't understand why quiet hours is tied to Cortana.

It's another way for Microsoft to force people to use Cortana.

This. It's absolutely bs that ms is ignoring the majority of the world. They ignored too much on international market instead focus on US where the WP market share is at all time low. What a joke.

When will the notification led on my 735 become active? It is sitting there for months just to be triggered. Just do it MS!!

Eagerly waiting for LED notifications too.Currently using Lumia 730 Dual sim on build 10572.

Decent, finally something useful new stuff. Posted via the Windows Central App for Android

Maybe a stupid question but where do I find the build/version on my pc? Windows 10 of course

Preview watermark on the right bottom corner of the screen (above the clock)
or Win + R, write 'cmd' and press Enter. You'll see something like Microsoft Windows [Version 10.0.10565]
(c) 2016 Microsoft Corporation. All rights reserved. P.S. MS already in 2016 xD

Seriously things are turning fast for mobile. In a few builds I think it'll be ready for primetime. Build 10549 is blazing on my Lumia 920. The real test is to see if the next build will keep the speed improvements without having to do a hard reset. I'm really loving the progress now.

Still no combined inbox in outlook ?

That's now an app feature request, not an OS request. I think you can assume you won't see that for a while until they figure out how to present it on PC as well, being that it's universal.

Puedo actualizar mi lumia 530?

Supongo que sí. Creo que los requisitos eran solo 1GB de RAM y más de 4GB de espacio. Claro que también hay gente descargándosela en sus 521, conque tu no deberías tener problema alguno Posted via the Windows Central app for Android because it's infinitely better than the WP/ WM one

Can you install *ndroid apps on this build ? Or has that been disabled?

No, you don't. Disabled since build 10549

These are definitely very welcome improvements and features! Does anyone know if the Astoria subsystem was also restored in this build?

I'd really like to get missed call notifications on Windows 10 without the need of Cortana, because it'll take a while until its translated over. Just integrate missed calls to the action center.

+640. Really hope the use of Cortana is merely a stopgap for internet-free phone/SMS relay

Yeah this should be integrated into action center instead of just tying to cortana.

Sorry but I storngly disagree with an earlier comment. This is not even close to RTM status; There are too many 8.1 features that simply do not work 1) Integration with the Band ( voice control ) does not exist, but it was there in 8.1 and is a heavily advertised feature. It is noted on the Feedback system repeatedly, and totally ignored. 2) Visual Voice Mail on Verizon works on 8.1 but not on 10. 3) The Store is way too touchy 4) There are far too many "hoops" for the average user to jump through. Yes, we do it because we are "insiders" but you can't market that approach to the normal consumer, if you want to sell the phones. 5) Battery performance needs to last a full day on the phones already in circulation. That is not happening 6) Apps often quit working for no reason and must be restarted numerous times. That is just not OK for normal consumers. 7) There are problems with email systems. For example, my account is on an Office 365 exchange, and works perfectly on every other device, and the settings are correct. However my phone keeps showing me a message on the top of the screens that the settings are wrong. They are not, and I can't find that notification anywhere when I seek it for further clarification. It has occurred during the past two updates, and they have both been clean, 8.1, with the full reboot. And those are all in addition to the other items Microsoft acknowledges. RTM ? Not sensible at this time.

Wow, you have got a lot of testing done in the ~2 hours that this build has been available. And MS never said anything about this being close to RTM.

Sorry ... as I said, I disagree with a previous commenter about it being ready for RTM. Now I don't see the comment which may have been on a parallel thread. See BlueWarior at: http://www.windowscentral.com/heres-whats-new-and-improved-windows-10-mo...

The things Tim mentioned wouldn't have taken more than 30 minutes for the average power user to realize, just because you notice them during setup. I, too, use O365 Exchange (2 accounts) and a few other imap and pop3 accounts, but I have yet to get these notifications as I have in the previous 3 builds. I agree, whole-heartedly, that this isn't rtm territory, to which Gabe Aul would attest, but my L1520 has been seriously unleashed with this build, just as as Daniels has. There will be a lot of fine tuning in these last few weeks and leaked/rumored/refined features will be drifting in as they become enabled by the code being written and, itself, refined. Even after rtm, features will be refined and added due to the massive input that occurs with rtm release. Stand by!

Thanks for echoing my observations. To provide some perspective, I've been a software developer for over 30 years, focused on major applications for DOS, and the Windows operating system. I'm 100% supportive of Microsoft and and Windows 10. During my tenure as a developer, I have also been a beta tester for many projects, so I do have the ability to quickly evaluate and respond to changes. Anything less is not helpful to the company I support. I have Insider dedicated devices for phone, tablet, and desktop testing. My phone is an Icon which is live on a Verizon line, though it is not my "primary" device currently. When Gabe says "GO", it's an easy process. Since I knew what I was looking for, it was very easy to discern that the reported issues ( Feedback ) have not been addressed. I simply shared my comments because others posting in parallel forums were feeling we were at, or near, RTM. I disagree. In addition to my other comments, the problems ( at least with the Icon, but I think universally ) include Motion Tracking turned off, no Voice Activation ( thus no Hey Cortana or Band integration ), and apps that work with 8.1 not working with 10. The effective app pool is not so great that we can have a final release that shuts off many of them ( ie. Visual voicemail on Verizon ). Is this a better product than in the earlier previews ? Absolutely. It just has a ways to go. Why the concern ? The future for Windows Phone on Verizon is clearly with current product already out there. If those phones can't be updated and at least retain their functionality, then the users on the country's largest carrier are history with this product line, something most of us really don't want to see happen.

About the GIF thing... Since the new Skype Messaging app takes control over the default Messaging app, does that mean that sending out receiving GIFs works over SMS? Or is that only to a Skype contact?

it doesnt take over like it did in beta, it is the messaging app. you just have to toggle what sends the message. sim or skype

HTC yellow border easily get rid of by go to settings choose personal ,color ,then pick a color rather then keep the default color, also replace the default background, you'll get rid of that yellow highlight borders. Once you done , if you want the default color and background , you can go back and select those without the yellow highlight coming back.

After updating to windows10 ,,my lumia 640 AT&T unlocked having issues with T_mobile SIM Network keeps disconnecting,,,due to this battery is also draining,,,, i rolled back to Windows8 ( Denim) This is major BUG,, Has any one faced the same issue?

On usb drive!!!! Means otg is here!!! Yay!!! N now just WiFi direct!

Yeah i am waiting for xender to work like android.

So... Cortana is the magic for bringing call and text information between PC and Phone... does that mean that those of us now 'stuck' on Android will get this feature with the new MS Dialer and Cortana apps on Android? This could be interesting!

Does this build show bluetooth or alarms icon in status bar when turned on? This was the most annoying thing in wp. There is no way to know you have bluetooth or alarm turned on until you open respective setting.

Does Cortana work with the Band yet?

I can't seem to get my Lumia Icon to update to this build and I'm stuck on Build 10536 :(

Wait a few days and you will get 10575

do you read the articles?

Is that Usb otg support mentioned in the last article? "Usb drives on BOTH phone and pc"

Not sure what article you're talking about but USB OTG isn't supported.

in the last para of the article, they said installing apps on SD card and USB drives, what USB drives mean here.

Slightly worried if Microsoft is still adding core WP 8.1 features to W10M like the ability to favourite photos.

In the last para, they write installing apps on SD card USB drives, for both Phone and PC, this means we can connect pen drives to phones with OTG, will this work on siama(Lumia 550).

I find this very disappointing as Cortana isn't available in so many regions... If they add so nice features but you need Cortana, they need to step up their game to make her available just about worldwide and yes I know that's quite a huge work...

I'm waiting until next week to get the latest build on my Daily Driver (Lumia 930) so I can update from Windows 10 Mobile directly. But I put this on my Lumia 435 and there's a very noticeable performance improvement on the lower end devices.

In the latest build on my Lumia 930, I have a Music Search button in Cortana's hamburger menu, but in this current build it seems to be gone, and there's a new help button