How to fix common Plex Media Server issues
Plex is a great tool for storing and streaming all your music and videos but sometimes issues arise. Here are a few common fixes.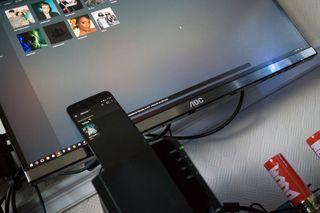 (Image credit: Windows Central)
The Plex Media Server is an awesome package enjoyed by millions. Installing the server software on a PC or NAS can turn your home or office into a connected hub that can stream all kinds of media. Unfortunately, things can go wrong, so I rounded up some common issues and solutions that can help you get back on track.
Check for updates
One thing many people seem to sometimes ignore is updates, be it on the smartphone, PC or on a server. The Plex server is something you're likely to set up and forget, but you really do need to remain on top of things, especially if you encounter a problem that has already been fixed in a newer release. The first step to carry out is a version check. Follow this process:
Log into the server web interface (http://SERVER-IP-ADDRESS:32400).
Click the settings icon in the top-right corner.
Choose the server tab. (The server should automatically check for updates and alert you if one is available.)
Install a later version.
Restart Plex Media Server.
Access the logs
To get an idea of what's going wrong (and to supply material to better assist you) be sure to download and read through the server logs. Here's how:
Log into the server web interface (http://SERVER-IP-ADDRESS:32400).
Click the settings icon in the top-right corner.
Choose the server tab.
Select help.
Click Download logs.
Suffering with Buffering
There's nothing worse than having to wait forever for a video to start playing, but this can be caused by a variety of potential issues. Should you be connecting to the network over Wi-Fi, you might want to try a wired connection to see if that remedies the problem. It's also worth checking the devices you're attempting to stream content to and make sure they are up to the job (some TVs may struggle with high-definition content, for example).
Also, check to see what powers the network attached storage (NAS) or device you have the server running on, as this handles all the transcoding (you need a beefy CPU for 1080p and 4K media). Finally, if you're attempting to connect remotely, run a speed test — is the connection the server is running capable of stable upload speeds?
Connection trouble
No remote access
If you're able to access the Plex server using a client on the same network but are unable to connect outside, the most likely cause of the problem is the router. Universal Plug and Play (uPnP) can be enabled to allow Plex to "talk" with the router and have ports and routes opened up for access from the outside world. Or you can go down the manual route by opening up a port yourself.
How to forward ports on a router differs between manufacturers but the details you need to know are as follows:
This is the required port you need to have open but others can be added (opens in new tab) for additional Plex services like DLNA.
How to enable remote access in Plex (opens in new tab)
Cannot access server on LAN
Should you be unable to access the Plex server on the network as well as outside the home or office, you may have a misconfiguration of your NAS, which may include discrepancies between the router or access point and the unit. Double check manual IP assignment to ensure all numbers match (and the IP address you reserved for the NAS is actually available and offered by the router). If all else fails, switch to DHCP to have the router assign the NAS an IP.
Related resources
Windows Central Newsletter
Get the best of Windows Central in in your inbox, every day!
Rich Edmonds was formerly a Senior Editor of PC hardware at Windows Central, covering everything related to PC components and NAS. He's been involved in technology for more than a decade and knows a thing or two about the magic inside a PC chassis. You can follow him on Twitter at @RichEdmonds.
My suggestion...Anything but Plex. There are plenty of free alternatives that work more reliably, have more features, don't force transcoding, have better support than plex. I paid for plex and I'm sorry I wasted my money.

Just curious, but what other alternatives are there? I haven't paid for Plex, I've just used the free version, but I've really enjoyed it so far. Is there really a better one?

I've been using plex for at least five years with five remote users. I've never had a problem.
Curious what alternatives there are to plex and what your issues are?

Seriously I've paid for the Plexpass and while I have some issues it's mostly due to the age of the Computer i'm using for the Transcoding.

Since you asked... A few alternatives for plex. (there are dozens more). Emby, Kodi, Universal Media Server, Mezzmo, Infuse, TVersity, Serviio, MediaPortal, MediaTomb, TVMOBiLi, OSMC, Subsonic, MiniDLNA, HomeNet, KooRaRoo, Gmediaserver, Twonky, J River (paid), PlayOn (paid), Zoom (paid), VLC, etc. etc. etc.
Too many issues to list and too little time.

Wow, it sucks that you've had so many issues with Plex. I paid for it the day PlexPass came out (I had been using it for several years before that) and I never looked back. I have had a few "issues" over the years, but mostly associated with computers or network, not Plex. I love Plex, use it every single day and would NEVER trade it for anything out there currently. I have also tried most of the "alternatives" you list, and most are not even close to an all in one encompassing replacement for Plex... Except MAYBE Kodi...which is basically Plex, since they both come from XBMC bones... But Kodi is more about streaming from external sources, not internal, and is too intermittent for my taste... It also doesn't keep track of watched/unwatched across several devices without some symlink magic. Any time I've ever had an issue or concern, I've also gone to their chat or forums, and have even spoken with the creator of Plex on several occasions... Edit: I just looked into Emby (I had never heard of it before) it seems it may actually be a realistic alternative to Plex in features. I'll have to give it a shot and see if it has any advantages.

I also spoke to the creator of plex an several occasions. I felt he was standoffish, and defensive. If fact he agreed about the issues I had with plex and said most would not care or notice. This was 6 or so years ago, and I too never looked back.. FYI, I tried plex again last month and the same issues remain. For now I use my xbox One, Microsoft's built-in video player and my Synology NAS. Everything is perfect. Perfect non-transcoded audio and non-transcoded video, all properly decoded by my fancy audio receiver and sent to my 65" oled and surround system. Plus with Synology software (no xbox) I can watch the same video, and play all my hi-res audio over the internet and watch it anywhere, using my phone, tablet, or laptop without transcoding. The ONLY thing plex gives me is a better menu system, worse video and much worse audio. By the way I'm an audio engineer, audio is very important to me. Transcoding sucks.

Lol you are way too picky. And none of those are even remotely alternatives for plex. Opinions are cool because everyone is entitled to them, including you.
But plex imho is way better than the hack jobs you'd create with the others in your list.

Plex is so 'more features, more problems'.

No reason to force transcoding.
Completely ruins plex.

I use Plex more as an indexing system than anything else. Even when playing back on the system that Plex is installed on, it has buffering issues when advancing in a video. As my system is directly connected to my Plasma display via HDMI as a second display, I just use Plex to decide on what I want to watch and then play it back in VLC on my 55".
I have no need of the streaming features as I have no interest in watching movies on my smartphone.

Plex's main issue is with HEVC and SRT subtitles causing transcoding, it is rediculous when playing a film/tv show with forced subs (i.e. Game of Thrones) and Plex causes a CPU heatwave just to rebuild and transcode a whole video for about 3 lines of text introducing Daenerys....
Also, I run Plex Cloud from my Google Drive, sharing my server with many people. Plex should give me the option that it defaults to "original" quality to each user, not 720p 2mps which means all the users basically transcode my video for more work as they don't know how to change the streaming quality. Emby allows this to be set as a default quality option... Come on Plex...
Windows Central Newsletter
Thank you for signing up to Windows Central. You will receive a verification email shortly.
There was a problem. Please refresh the page and try again.