How to fix Windows 10's Start menu and search after installing the KB4515384 update
If after installing the September 2019 update the Start menu and search aren't working, you can try this workaround to mitigate the problem until it's fixed.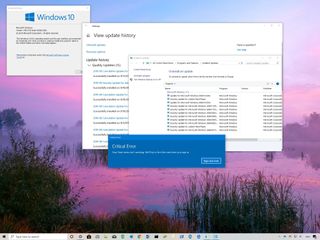 It happened again.
On September 10, Microsoft began the rollout of the update KB4515384 to devices running the Windows 10 May 2019 Update (version 1903) to address several issues, including the high CPU usage due to a problem with SearchUI.exe service. However, even though processors don't seem to spike anymore, the update now appears to be causing other complications with the Start menu and search functionalities.
According to several complaints from users seen here, here, and here on Reddit, immediately after installing cumulative update KB4515384 — which bumps the version to build 18362.356 — the patch breaks the Start menu and Windows Search in the taskbar. Some users report that when typing in the Start menu nothing will appear, the menu will not open, or they get a "Critical Error, Your Start menu isn't working. We'll try to fix it the next time you sign in" message.
The new issue only appears to be affecting a select number of devices, and while it may seem to be related to the bug on build 18362.329, this time around enabling the "BingSearchEnabled" Registry key won't resolve the issue. Currently, the more permanent fix is to remove the update and hope the next release fixes it.
In this Windows 10 guide, we walk you through the steps to fix the Start menu and search features after installing build 18362.356.
How to fix Start menu and search by uninstalling update KB4515384
The easiest method to mitigate the issue breaking the Start menu and search on Windows 10 is to remove the update from your computer.
To uninstall update KB4515384 from Windows 10, use these steps:
Open Settings.Quick tip: Because the Start menu and Windows Search will be broken, you'll need to use alternative methods to open the Settings app, including right-clicking the Start button and selecting the Settings option, or using the Windows key + I keyboard shortcut.
Click on Update & Security.
Click on Windows Update.
Click the View update history option.
Click the Uninstall updates option.
Select the "Update for Microsoft Windows (KB4515384)" item.
Click the Uninstall button.
Click the Yes button.
Click the Restart Now button.
Once you complete these steps, your laptop or desktop will roll back to the previous build, allowing you to continue using the Start menu and the search functionality.
If after removing KB4515384 your device goes back to build 18362.329, and you continue to have the same issue, make sure to follow the same instructions again, and remove update KB4512941 too, as this update also have similar problems.
Is your device having any related issues after applying Windows 10 update KB4515384? Tell us in the comments.
Windows Central Newsletter
Get the best of Windows Central in in your inbox, every day!
Mauro Huculak is technical writer for WindowsCentral.com. His primary focus is to write comprehensive how-tos to help users get the most out of Windows 10 and its many related technologies. He has an IT background with professional certifications from Microsoft, Cisco, and CompTIA, and he's a recognized member of the Microsoft MVP community.
I wish I could say this is the correct solution...didn't work for me.....and this forum won't let me show you the screenshot i took and uploaded to im gur a H15byaa

Look for KB4512941 (an August 30th update) as well. My experience was that both need to be UNINSTALLED in order for the Start Menu to work again.

thanks for the suggestion, but no, i don't have that installed either. C:\>systeminfo | find /i "4512941" C:\>

Hello IT, have you tried turning it off and back on again?

EVERY WINDOWS UPDATE BREAKS SOMETHING
...this has been repeatedly proven over the past 30 years. The solution is here: https://ubuntu.com/download/desktop

Hi all. :) I disabled Cortana/SearchUi a while ago and I haven't had any issues with the Start Menu itself. But the Action Centre has broken. However, what is really frustrating is that KB4515384 (at least for me anyway) has broken the right click menu for all the apps I've pinned to the taskbar. @WC2020 I like your fix. :) I recently decided to give Linux a try for the first time. So many versions, errr... flavors. I've Installed Mint 19.2 (Cinnamon) on my laptop in a dual boot configuration alongside a fresh Win 10 install. So far it's been excellent. I'll be trying Ubuntu soon too, not sure which flavor yet though. See ya. :)

Hi, This worked. Had to uninstall KB4512941 due to high CPU in Aug. Then had to uninstall KB4515384 as it broke my start screen. But now I notice it's installed KB4515384 again and is waiting for a restart. So I will have to uninstall again.. Will pause all updates after for 30 days so it doesn't re-install, I'm hoping I don't have to do this every month. Just want to Thank you for publishing this quick fix solution I thought I lost everything in my start, I was so relieved when I got it all back after the uninstall. Thanks again. :)

I removed KB 4515384, restarted the PC and tried to use the search window and start popup but they still didn't work (did not appear when selected). I then looked for the KB 4512941 update. It wasn't listed as installed. I still have the problem without a solution. I may have to reinstall Win 10 and select "save nothing" option during the install. However, this would present other issues for me and is not a prefered method since I'm not sure if it would work and reinstalling all of my data and programs would be a time consuming issue. Any guidance would be greatly appreciated.
Windows Central Newsletter
Thank you for signing up to Windows Central. You will receive a verification email shortly.
There was a problem. Please refresh the page and try again.