How to schedule Windows Update installations in Windows 10 Pro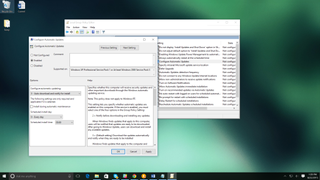 Yesterday, I showed you how to turn off Windows Update Delivery Optimization (WUDO) in case you were on a metered connection.
Today, I am going to show you how to schedule the automatic download and installation of Windows Updates based on your timetable. Indeed, there are three options, including just being notified of an update without download or installation. The trick is using a hidden tool called Local Group Policy Editor.
Note, this only works on Windows 10 Pro releases and not for Home licenses. Sorry! Need to upgrade? Read our how to upgrade to Pro tutorial!
Prelude
Before we get started let me break down what this tool enables. There are three very specific scenarios that differ from the default automatic download and installation of Windows Updates. These options are good for those with unique circumstances. For instance, 'jamearl' in comments explained why he wanted scheduled updates:
Although a rare situation, there are likely other people with similar conditions. If you fall into your camp, here are the three options you can choose from when using the Local Group Policy Editor. They are starting at number 2 because the default method on all Windows 10 PCs is technically number 1.
Local Group Policy Editor Options
2. Notify before downloading and installing any updates.
3. Download the updates automatically and notify when they are ready to be installed
4. Automatically download updates and install them on the schedule specified below.
The number 2 option – notify before downloading and installing updates – is ideal for those on a metered connection or who just do not trust Windows Update, for whatever intention. This option could also solve the user above's problem who is on a satellite connection.
Number 4 though is the most interesting as this will download the updates but only install them on a specific schedule. In other words, the PC will grab the updates but won't install them until the time specified. This option is ideal for admins, obviously, who want to have updates installed in off-hours when employees are not using the computers. Indeed, there is a 5th option too that cedes all power to a local admin.
Of course, the real power here is that you can think of your unique situation where these options may be useful. Feel free to share your circumstances in comments for others.
Note, we have not actually tested these options ourselves due to the difficulty in waiting for an update. However, we see no reason this tool no longer works (they carry-overs from previous Windows releases are not in any way new ).
Let's go!
How to schedule Windows Updates
1. Launch Local Group Policy Editor
Type (or copy/paste) gpedit.msc into the Cortana/search bar or use Win + R and paste in gpedit.msc into the Run entry box
2. Navigate
Using the Local Group Policy Editor navigate to Computer Configuration\Administrative Templates\Windows Components\Windows Update
3. Double-Click
Double-Click Configure Automatic Updates to open the configuration window
4. Choose your destiny
The console is quite clear on what are your choices. These were detailed above in the prelude section. First you need to choose Enabled in the upper left corner as it is Not Configured by default. Once Enabled the Options section becomes active. You can now choose which policy you want to enable.
5. Date Time
If you are using option #4, you can also select the day and exact time you want the updates installed. Note that the time and day options are only applicable to option #4 as the other options are just notifications for installations. Once completed you can hit Apply to make sure the setting takes and then hit OK to exit the window.
That's it!
As mentioned earlier, I have not personally tried these scenarios so hopefully it works out for you. Obviously the majority of users on a dedicated connection do not need these alternatives, but they are good to know for rare situations like the one mentioned earlier.
Let us know in comments how you would use these and if they work for you!
Big thanks to Daniel Gilbert M. for the tip!
More Resources
Remember that we have many other articles on Windows 10, if you need help you always check these other resources:
Windows Central Newsletter
Get the best of Windows Central in in your inbox, every day!
Daniel Rubino is the Editor-in-chief of Windows Central, head reviewer, podcast co-host, and analyst. He has been covering Microsoft since 2007 when this site was called WMExperts (and later Windows Phone Central). His interests include Windows, laptops, next-gen computing, and for some reason, watches. Before all this tech stuff, he worked on a Ph.D. in linguistics, watched people sleep (for medical purposes!), and ran the projectors at movie theaters because it was fun.
Yup knew this since Windows 8

Millions of rands down the drain.
Windows 10 is like a V8 gasoline hungry beast.

Ok. So a couple of days ago our laptop was indicating 'limited' network connection to the home WiFi. My wife asked me to fix it. Checking Windows update, sure enough there were 3 updates due. After a restart, checking update again, more updates and another restart I managed to get the laptop back in working order.
Two issues: 1) the resolution was far from discoverable. I despair to think how this impacts the less tech savvy. 2) This kind of rigmarole is an almost weekly occurrence on all my PC's. It was on Win7, 8, 8.1. I'm horrified it still is on Win 10.
I'm sure it isn't just me as it is on all my pc's and I use pretty standard settings.
This bullshit user experience is exactly why people are moving away from Windows to IOS, Android and Mac.
I was so hoping the Windows Update model would be fixed in Win 10. Clearly it isn't. This will be the death of Microsoft and it makes me sad.

Wait, people are moving away from Windows desktop to iOS and Android Desktop Edition?!? Ooh, I hadn't heard... /s

The reasoning is a lot of people did not keep the OS up to date. So we have 2 senarios: 1. People get updates forced upon them to reduce getting hit by malware and security and complain about it
2. People dont update and blame MS for them getting malware on the PC because its not up to date.
This is a no win for MS - they are taking the security route. I thought all OS's made you install security updates - if they are released. Honest question: as I dont know, can you refuse to install updates on Mac OS X?

How about a way to block installation of drivers? My T440s touchpad is from the T450 (physical buttons) and windows update insists on installing the wrong Synaptics drivers. I have to uninstall and reinstall the Alps drivers on a daily basis. I did check something that said don't update hardware drivers but it doesn't work. Posted via the Windows Central App for Android

Covered that yesterday, dude! "How to temporarily prevent a Windows or driver update in Windows 10"

Well I'll be damned. I didn't F5 yesterday I guess. Thanks - doing this now! Posted via the Windows Central App for Android

Not available on Home Version

Ah, interesting (and makes sense). Will add that in, thanks.

All the GPeditor does is make registry changes, it should be availabe in the home version...

Yep since xp MS has provided an Excel table with the gpedit setting and where in registry to find it

Bookmarked for future reference :), thanks for the speedy article Daniel.

Sure thing! It was a fun thing to learn.

Daniel, just got round to trying it out and it looks like you need to sign-out for it to take affect. I chose notify to download and notify to install in the local group policy editor, to verify the changes went to windows update under settings, clicked check and it downloaded + installed the the definition update for windows defender automatically. Signed out and signed back in (using local account) and when I checked windows update again it says "Some settings are managed by your organisation" with the options to choose greyed out "showing notify to download" under advanced options whereas prior to signing out didn't say that and I was able to choose notify to install or automatic despite changing the settings via the group policy editor. Just thought I'd give you some feedback :), of course your results and mine will probably differ (knowing my bad luck lol).

Thanks Daniel! Really required article!

If I own Win7 pro, will I get Win10 pro version if I update?

Yes. Posted via the Windows Central App for Android

2 Notify for download and Notify for install... No More auto reboots, cant install unless I allow it, so when I am ready, I can install them and reboot on MY SCHEDULE, not forced by Microsoft...

Group Policy is great. I use it to lock down school computers and Internet Explorer.

Thanks. Using option 2 through the gpedit. My internet is capped for 20 GB during daytime and have a bonus of 20 GB for midnight. Unlimited internet doesn't exist in indonesia.

Be careful with this, even though I activated notify for download windows kept downloading things had to kill the process with task manager and will come back with reboot, still looking for a way to stop microsoft from lagging my online gaming while keeping up to date with updates

Thanks Daniel. In previous versions of Windows, the update allowed the user to schedule when to download and install updates. This solves my situation. All of my computers are Windows 10 Pro except the Surface 3. I'm thinking of updrading it to Pro but not sure how much benefit I'll get since the hardware doesn't allow full use of Pro. Thanks again for the much appreciated info.

I have windows 10 pro somehow... I got an enterprise edition key during the preview and when I turned off the preview it was windows pro

I thought this article was about the build-in feature of Windows Update - restart at scheduled time.

Windows 8.1 = you can do it normally
Windows 10 Pro= more advanced people can do it. Its a pro, why not normally made this available for W10Pro users

I'm in a situation where I can't download/Install windows update. It's just a continous loop saying searching for updates :(

I had the same problem, and solved it by doing the security update through the update function on Windows Defender and the rest had no problem loadiong on windows update. It's a simple a work around but I have to do it every time there are updates.

I've turned off automatic updates in a registry. System went faster, no longer sudden freezes when updates are installing, and I install them when I want. Great!

Better disable windows update in services ... Lol

Very true! In previous versions of Windows, the update allowed the user to schedule when to download and install updates. This solves my situation. All of my computers are Windows 10 Pro except the Surface 3. I'm thinking of updrading it to Pro but not sure how much benefit I'll get since the hardware doesn't allow full use of Pro. Check out if windows mobile app if you are interested.

THANKS! I was considering to downgrade to windows 7. Windows 10 was killing me with awake ups in the night and staying on... It will awake itself up few times even if I put it to sleep again and again. Micrososft, you will burn in hell!

Thanks Dani!! This was really helpful..

thanks (again)
I had done this on my old Surface Pro 3 and tried recently on my new Pro 2017 but option 2 was disabled. Had another look today after some updates came thru yesterday (and killed my Pro for an hour) and option 2 is available. Yay! No longer at the mercy of Microsoft with my slow internet connection.
Windows Central Newsletter
Thank you for signing up to Windows Central. You will receive a verification email shortly.
There was a problem. Please refresh the page and try again.