How to upgrade the SSD in your Acer Nitro 5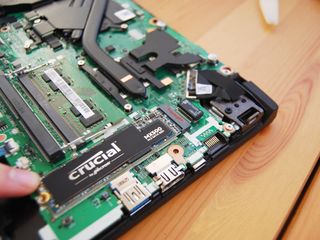 Acer's Nitro 5, a budget gaming laptop available with AMD or NVIDIA graphics, can be upgraded after purchase in order to boost RAM or storage, including an M.2 solid-state drive (SSD). If you're wondering exactly how to go about adding or upgrading the M.2 SSD, we've created this step-by-step guide to help you along.
Hardware and software to get the job done
How to upgrade the M.2 SSD in your Acer Nitro 5
Note: Before beginning any upgrades on a PC, it's a good idea to back up your data in the unlikely event something should go wrong. You'll also want to ensure you're not working in a static-filled environment, as it can cause damage to a PC's internal hardware. Consider investing in an anti-static wristband to avoid unnecessary damage.
We're using an Acer Nitro 5 with model number AN515-42 for this guide, which apparently doesn't support NVMe PCIe drives. Acer doesn't exactly make it easy to determine what's supported and what isn't, and I had to do a bunch of digging in various forums to get something that resembled a straight answer. Bottom line here is to fully research your unit's model number to see if it does support NVMe PCIe or strictly SATA like the AN515-42. In the case of a SATA M.2 SSD, Samsung's 860 EVO is a top choice and is available in a number of storage sizes.
The Nitro 5, in any case, comes with either a lone 2.5-inch 1TB hard-disk drive (HDD), a 2.5-inch 1TB HDD coupled with a 128GB M.2 SSD, or a lone 256 GB M.2 SSD with no extra HDD. In our case, the Nitro 5 has only a 1TB HDD, which leaves the M.2 slot completely free. Depending on your configuration, there are a few methods you might want to adopt when upgrading.
If your Nitro 5 came with only an HDD and you add an M.2 SSD, you'll likely want to transfer Windows 10 over to the speedier SSD for faster boot times and better overall performance. Cloning works exceptionally well in this case, and you won't need to invest in an extra external enclosure. Install the M.2 SSD using the steps below and after that follow our cloning guide to get the job done with Macrium Reflect. Alternatively, you can do a fresh install of Windows 10, or you can restore a system image on the new SSD.
If your Nitro 5 shipped with an M.2 SSD to begin with (which means it contains Windows 10 files), you'll want to clone the old SSD over to the new M.2 SSD using an external enclosure before going through with the physical upgrade steps below.
Once you've figured out which Nitro 5 configuration you're dealing with and you've completed any necessary cloning steps, you can go ahead with the following steps.
Unscrew the fasteners holding the two easy-access panels in place using a Philips-head screwdriver.
Pry up the panels with a finger or pry tool to remove them from the laptop.
Unscrew the four fasteners holding the 2.5-inch SSD mount in place.
Unscrew the 15 fasteners holding the plastic back panel of the laptop in place.
Pry up the back panel, starting with a corner and carefully working your way around the edges. Using a pry tool will make the job far easier.
Remove the back panel entirely from the laptop. Be careful to remove the 2.5-inch storage mount from the back panel to avoid damage.
Unscrew the fastener at the end of the M.2 SSD section. This may require more force than usual. If you're replacing an old M.2 SSD, remove it at this time by pulling it away from the slot.
Insert the new M.2 SSD into the slot, keeping the flat side down.
Screw in the fastener at the end of the M.2 SSD section. This secures the SSD in place.
Replace the back panel by applying pressure around the edges and in the center. You will hear some snaps as the mounts fall into place. Make sure the 2.5-inch drive mount is seated properly before continuing.
Screw in the 15 fasteners on the back panel.
Screw in the four fasteners on the 2.5-inch storage mount.
Replace the two easy-access panels by applying pressure. Be sure that the plastic teeth are seated properly. You should hear some loud snaps.
Screw in the fasteners that hold the panels in place.
You can now cross your fingers and boot up your Acer Nitro 5. If you simply added an M.2 SSD to complement the 2.5-inch HDD, you can now go ahead with any cloning of the boot drive. If, however, you cloned an existing M.2 SSD over to a new M.2 SSD using an external closure, you should be able to boot normally and have everything work properly.
Those who added an M.2 SSD to a Nitro 5 that came only with a 2.5-inch hard-disk drive (HDD) and don't want to migrate Windows 10 will have to initialize the new M.2 SSD. After that, you're free to format it how you see fit. Finally, if you moved Windows 10 over to the new M.2 SSD from the 2.5-inch HDD, you'll no doubt want to reformat your HDD in order to use it as mass storage. We've already written a guide for both of these processes for anyone who needs a bit of extra help.
Our top hardware and software picks
We recommend Samsung's 860 EVO M.2 SATA SSD as an upgrade for your Acer Nitro 5 thanks to fast read and write speeds, reliable construction, and a 5-year warranty.
M.2 SATA SSD
Up to 2 TB of speedy storage

Enjoy read speeds up to 550 MB/s and write speeds up to 520 MB/s from this M.2 SSD, and get it in sizes ranging from 250GB up to 2TB.
One of the Nitro 5's best features is how easy it is to upgrade the SSD, allowing you to boost performance and keep your laptop relevant a lot longer.
Budget gaming laptop
A laptop that's easy to upgrade

If you're a casual PC gamer who wants to stay mobile, the Acer Nitro 5 is a cheap way to get your hands on 1080p performance. Optional AMD hardware is a bonus for anyone who'd rather steer clear of Intel and NVIDIA.
Additional Equipment
Upgrading a laptop will go much smoother if you have the right tools and software for the job. We've had much success cloning with Macrium Reflect 7, the external SSD enclosure is highly rated and relatively affordable, and the Rosewill anti-static wristband can help ensure no damage comes to your PC's internal hardware.
DMLIANKE M.2 SSD enclosure ($23 at Amazon)
If you're cloning your old M.2 SSD over to the upgrade M.2 SSD, you'll no doubt want to invest in this external enclosure. It fits PCIe and SATA M.2 SSDs and connects back to your laptop with USB-A.
Macrium Reflect 7 (Free+ at Macrium)
We've had success cloning drives with Macrium Reflect 7, and have even written a complete guide on how to use it properly. A free edition is available, but you can purchase a full edition with a bunch more features for those who truly take backups seriously.
ORIA PC toolkit ($34 at Amazon)
Having the proper gear to work on your PC will always make the job much easier. Here you get a plethora of tools contained in a portable case.
Rosewill anti-static wristband ($6 at Amazon)
Static electricity can damage sensitive PC parts, so remove the risk with an anti-static wristband. Fasten it around your wrist and clip it onto your PC for peace of mind.
Get the Windows Central Newsletter
All the latest news, reviews, and guides for Windows and Xbox diehards.
Senior Editor, Laptop Reviews
Cale Hunt is formerly a Senior Editor at Windows Central. He focuses mainly on laptop reviews, news, and accessory coverage. He's been reviewing laptops and accessories full-time since 2016, with hundreds of reviews published for Windows Central. He is an avid PC gamer and multi-platform user, and spends most of his time either tinkering with or writing about tech.