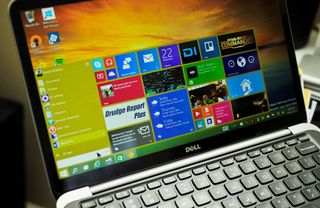 A lot can happen in a week. Seven days might not seem like much, but it can be an eternity in the tech news cycle. Between Windows news, hardware and software developments and Microsoft's fast-paced movements throughout the technology landscape, it's never easy to keep your hand on the pulse of technology. Not to mention everything that's going on right here at Windows Central!
Every week we're going to compile the biggest stories into one post, so you never fall behind – In Case You Missed It (ICYMI).
Windows
This week the big news was a new build of Windows 10 Technical Preview. The main points of interest in Build 10061 include:
New Mail and Calendar apps
Start, Taskbar, and Action Center Improvements
Continuum improvements
Task View improvements
Virtual Desktop improvements
This latest update also features a new Contact Support app, support for the upcoming new version of the Xbox app, and a new Solitaire Collection.
That's a lot of new additions. But fear not, we have everything you need to know about Build 10061 right here
Even though 10061 is as new as it gets for the general public, we did catch a glimpse of Build 10064 in a set of leaked screenshots
Speaking of leaks, it appears AMD CEO, Lisa Su, may have slipped up by revealing that Windows 10 will be released in July
It wasn't all about Windows 10, however. Windows 8.1 got a slew of patches, nearly 30 of them, in fact.
Other notable items:
Microsoft will pay you if you identify a security issue in Project Spartan for Window 10
How to make a full backup of a Windows 10 or Windows 8.1 PC
Microsoft
Microsoft released their Q3 earnings for fiscal year 2015, posting $21.7 billion in revenue. That was up from $20.4 billion the same time last year.
The bump in earnings was helped in part by the 8.6 million Lumia phones sold last quarter, not to mention in the $713 million in Surface-related revenue.
Meanwhile, another popular product, the Microsoft Band, picked up some new tracking features:
Comparative insights
Sleep recovery
Fitness benefit
V02 max
Run/exercise observations
Microsoft also tagged their former Lionhead Studio chief to work on new Xbox and HoloLens games.
That's seemingly just the tip of the iceberg, as Microsoft's General Manager of Developer Experience, Bryan Biniak, teased us this week with promises of new "products and services" to be discussed at Build 2015.
Other notable items:
Cortana allegedly 'ported' to work on Android by hacker group
Former Xbox exec's startup will use 'unannounced technology' from Microsoft
Extra and Miscellaneous
Other buzz around the technology world is that Nokia is reportedly planning to return to the smartphone arena in 2016. However, it looks like it may be without their renowned HERE Maps division, as rumor has it that they are shopping it around to other companies, including Apple.
After their profits tumbled Q2 of 2015, Qualcomm is looking to bounce back by having Samsung manufacture their Snapdragon 820 chips, taking advantage of Samsung's thinner 14-nanometer CPU wiring.
On the consumer front, we took a look at a couple of interesting media devices that are headed to market. First, is the PiPO X8 'Windows TV box + Desktop Tablet', an odd-looking fellow, that is a hybrid TV set top box and PC.
Then there was the stunning Acer 34-inch curved QHD gaming monitor Who wouldn't want to rock some video games on that thing?
Other notable items:
Comcast drops $45 billion merger deal with Time Warner Cable
Share your thoughts on this past week of news! And we'll be back again next week to do it all over again.
Windows Central Newsletter
Get the best of Windows Central in in your inbox, every day!
Yup.. MS stepping up the game somewhat.

The band picked up an update??? Which update ???
The one of the 23rd didn't materialised so far (on the 26th). No update on the health app nor on the band firmware... A news on this?

I have like 10 apps on wp10 that need to update. Unfortunately I can't seem to install them :/

Can I get that wallpaper from the Win10 picture, Seth?

Not sure they even have it anymore, that's a very old build on that picture xD

True xP they have that picture ever since W10 came out. But would love to have that wallpaper :)

H​ow to off the date when you are not using ​

I find it difficult to download video ​ ​ ​
Windows Central Newsletter
Thank you for signing up to Windows Central. You will receive a verification email shortly.
There was a problem. Please refresh the page and try again.