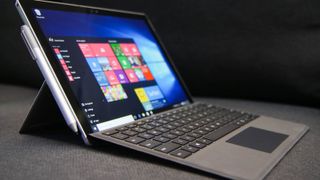 A lot can happen in a week. Seven days might not seem like much, but it can be an eternity in the tech news cycle.
Between Windows news, hardware and software developments and Microsoft's fast-paced movements throughout the technology landscape, it's never easy to keep your hand on the pulse of technology. Not to mention everything that's going on right here at Windows Central!
Every week we're going to compile the biggest stories into one post, so you never fall behind – In Case You Missed It (ICYMI).
Windows
Merry Christmas, everybody! Just like many of you, the news took most of the week off. But despite the slim pickings, we've still got you covered.
Microsoft is taking new steps to secure their Edge browser from malicious adware. Starting March 31, 2016, Microsoft will begin enforcing new standards that limit the serving of advertisements on websites to the browser, denying any other kind of access to the operating system.
The new measures will help eliminate the threat of so-called "man-in-the-middle" attacks where certain objects in web browsers can be used to changed settings in the operating system, making the computer susceptible to unwanted ads, or worse. The overall result will be a safer browsing experience for Windows 10 users.
Windows App Studio tools have picked up the ability to turn your WordPress blog into a Windows 10 app.
Microsoft says:
The new tools also added Microsoft Ad controls so developers can include ad banners in their apps that use content from Microsoft Advertising.
If Santa was kind enough to bring you a new Windows 10 computer or tablet for Christmas, and you can't wait to hit the ground running, we've put together a list of tips and tricks to make you productive like a boss on Windows 10.
Other notable items:
Save up to 50% on select apps, movies and TV shows in the Windows Store until Dec. 31
Microsoft
Microsoft bought themselves a little Christmas gift of their own, acquiring messaging app Talko. The company, which was founded by former Microsoft CTO Ray Ozzie, will be integrated into the Skype division.
There's some not-so-good news for enterprises who ordered and were looking to order the Surface Hub. Pre-orders for the Surface Hub, which were initially set to be delivered in January, have now been pushed back to "later in the first quarter."
But there's worse news for those who didn't pre-order. Microsoft has decided to jack the price up by $2,000, bringing the 55-inch model to $8,999 and the 84-inch one to $21,000.
Surface Book and Surface Pro 4 owners will be pleased to know that new graphics drivers have been released for 6th gen Intel Skylake processors and Windows 10. The updated drivers help resolve the system hangs, display flickers, and other issues that have been rampant on PCs running the new chips and Windows 10.
If you're planning to update your Surface Pro 4 or Surface Book, here's what you need to know.
And with the gift-giving season upon us, you may have been on the receiving end of an excellent new Microsoft device. Windows Central has the best guides and tips for getting acquainted with your Lumia, Band, or Windows 10 computer or tablet.
Other notable items:
Miscellaneous
Tech giant Toshiba will be cutting 7,800 jobs as it restructures its PC division after $4.5 billion in losses in 2015. The company is still trying to recover from a massive accounting scandal that came to light earlier this year.
Facebook's Free Basics initiative has been put on hold in India. Reliance, Facebook's partner in the endeavor, received a notice from the Telecom Regulatory Authority of India to halt operations on Free Basics.
Free Basics has come under heavy fire from net neutrality proponents, including Microsoft.
And finally, Steam got hit by hackers yesterday, and users were given access to other users' accounts. PC Gamer summed it up best in their coverage:
Other notable items:
Share your thoughts on this past week of news! And we'll be back again next week to do it all over again.
Just waiting on the 950xl to become available. That is the week I am waiting for

Try to think that it has been better be littlebit late, than a early adopter. They have squashed plenty of bugs till you get it.. Now it has been much better since the beginning. It was quite rough.
Windows Central Newsletter
Get the best of Windows Central in in your inbox, every day!
Thank you for signing up to Windows Central. You will receive a verification email shortly.
There was a problem. Please refresh the page and try again.